Abstract
The high financial costs and institutional constraints of adapting to climate change necessitate joint planning with other development and environmental priorities, especially in Small Island Developing States. In response, ecosystem-based adaptation (EbA) is gaining recognition as a cost-effective and synergistic approach for enhancing livelihoods through nature's services, building community resilience, and integrating marine spatial planning. Using Seychelles in the West Indian Ocean as a case study, we assess the readiness for climate change as a tool to implement and mainstream EbA across various spatial scales. Our assessment highlights certain governance mechanisms and policy processes that could contribute to joint adaptation and economic planning and in achieving multiple objectives. These include leadership, institutional mechanisms, science–policy nexus, decision-making structures, stakeholder involvement, and technological innovation. These readiness factors as well as knowledge gaps on future risks provide lessons for other SIDS in their climate change and integrated coastal management initiatives. As such, the needs to strengthen local governing capacity, secure sustainable funding, and promote adaptation research for long-term monitoring and cross-scale linkages are warranted.
Access options
Buy single article
Instant access to the full article PDF.
US$ 39.95
Tax calculation will be finalised during checkout.
Subscribe to journal
Immediate online access to all issues from 2019. Subscription will auto renew annually.
US$ 79
Tax calculation will be finalised during checkout.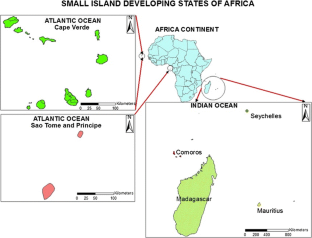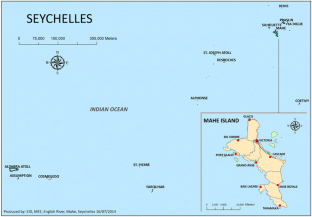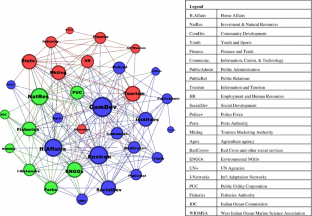 References
Adger NW (2006) Vulnerability. Glob Environ Change 16:268–281

AfDB (2013) Seychelles-Africa economic outlook. African Development Bank, Tunis

Agricole W (2009) Second national communications: draft national circumstances report. National Climate Change Committee, Victoria

Allison EH, Perry AI, Badjeck M-C et al (2009) Vulnerability to national economies to the impacts of climate change on fisheries. Fish Fish 10:173–196

Andrade A, Fernández BH, Gatti RC (eds) (2010) Building resilience to climate change: Ecosystem-based adaptation and lessons from the field. Ecosystem Management Series # 9. IUCN, Gland, Switzerland

Andrade A, Córdoba R, Dave R, Girot P, Herrera FB, Munroe R, Oglethorpe J, Paaby P, Pramova E, Watson E, Vergar W (2011) Draft principles and guidelines for integrating ecosystem-based approaches to adaptation in project and policy design: A discussion document. IUCN- CEM, CATIE. Turrialba, Costa Rica

Barbier E (2007) Valuing ecosystem services as productive inputs. Econ Policy 22:178–229

Bastian M, Heymann S, Jacomy M (2009) Gephi: an open source software for exploring and manipulating networks. www.gephi.org

Berrang-Ford L, Ford JM (2011) Are we adapting to climate change? Glob Environ Change 21:25–33

Boyd E, Folke K (eds) (2011) Adapting institutions: governance, complexity and social-ecological resilience. Cambridge University Press, Cambridge

Carlsen H, Dreborg KH, Wikman-Svahn P (2013) Tailor-made scenario planning for local adaptation to climate change. Mitig Adapt Strateg Glob Change 18:1239–1255

Central Consulting Report (2012) Project for the study for coastal erosion and flood control management in the Republic of Seychelles. Japan International Cooperation Agency and the Ministry of Environment and Energy. Interim Report. CTI Engineering Co. Ltd, Tokyo

Chang-Seng SD (2007) Climate change scenario assessment for the Seychelles. Second National Communication under the United Nations Framework Convention on Climate Change. National Climate Change Committee, Victoria, Seychelles

Charles AT (2012) People, oceans and scale: governance, livelihoods, and climate change adaptation in marine social-ecological systems. Cur Op Environ Sustain 4:351–357

Chuenpagdee R (2011) Interactive governance for marine conservation: an illustration. Bull Mar Sci 82:197–211

Chuku CA (2010) Pursuing an integrated development and climate policy framework in Africa: options for mainstreaming. Mitig Adapt Strateg Glob Change 15:41–52

Clements R, Haggar J, Quezada A, Torres J (2011) Technologies for climate change adaptation-Agriculture sector. In: Zhu X (ed) UNEP Riso Centre on Energy, Climate and Sustainable Development. Roskilde, Denmark

Colls A, Ash N, Ikkala N (2009) Ecosystem-based adaptation: a natural response to climate change. IUCN, Gland

Devisscher T (2010) Ecosystem based adaptation in Africa: rationale, pathways, and cost estimates. Report for the AdaptCost Study, Stockholm Environment Institute, Stockholm

Doswald N, Munroe R, Roe D, et al (2014) Effectiveness of ecosystem-based approaches for adaptation: review of the evidence base. Clim Dev. doi:10.1080/17565529.2013.867247

Dupuis J, Knoepfel P (2013) The adaptation policy paradox: the implementation deficit of policies framed as climate change adaptation. Ecol Soc 18:31

Ehler CN (2003) Indicators to measure governance performance in integrated coastal management. Ocean Coast Manage 46:335–345

Emerton L (1997) Seychelles biodiversity: economic assessments. Report prepared as part of the National Biodiversity Strategy and Action Plan. IUCN and the Government of Seychelles, Victoria

Ford DF, King D (2013) A framework for examining adaptation readiness. Mitig Adapt Strateg Glob Change. doi:10.1007/s11027-013-9505-8

Ford JD, Berrang-Ford L, Lesnikowski A, Barrera M, Heymann SJ (2013) How to track adaptation to climate change: a typology of approaches for national-level application. Ecol Soc 18:40

Government of Seychelles (2013). Seychelles damage, loss, and needs assessment 2013 floods. A Report by the Government of Seychelles. With support from the EU, UN, and World Bank. Victoria, Seychelles

Griffith MD (1995) Reflections on the implementation of the Programme of Action on the sustainable development of SIDS. Ocean Coast Manage 1–3:139–163

Guillotreau P, Campling L, Robinson J (2012) Vulnerability of small island fisheries economies to climate change and institutional changes. Current Opin Environ Sustain 4:287–291

Hale LZ, Meliane I, Davidson S et al (2009) Ecosystem-based adaptation in marine and coastal ecosystems. Renew Resour J 25:21–28

Hanna S, Jentoft S (1996) The human use of the environment: An overview of social and economic dimensions. In: Hanna S, Folke K, Mähler K-G, Arrow K (eds) Rights to Nature. DC Island Press, Washington, pp 35–55

Huang JCK (1997) Climate change and integrated coastal management: a challenge for small island nations. Ocean Coast Manage 37:95–107

Islam MM, Sallu S, Hubacek K, Paavola J (2014) Vulnerability of fishery-based livelihoods to the impacts of climate variability and change: insights from coastal Bangladesh. Reg Environ Change 14:281–294

Jager J, Moll P (2011) Adaptation to climate change: tools and methods. Reg Environ Change 11:213–215

Kumamoto M, Mills A (2012) What African countries perceive to be adaptation priorities: results from 20 countries in the African Adaptation Program. Clim Develop 4:265–274

Low PS (ed) (2007) Climate change and Africa. Cambridge University Press, Cambridge

McClanahan TR, Cinner JE, Graham NAJ et al (2009) Identifying reefs of hope and hopeful actions: contextualizing environmental, ecological, and social parameters to respond effectively to climate change. Cons Biol 23:662–671

Miller K, Charles A, Barange M et al (2010) Climate change, uncertainty, and resilient fisheries: institutional responses through integrative science. Prog Ocean 87:338–346

Moser SC, Ekstrom JA (2010) A framework to diagnose barriers to climate change adaptation. Proc Natl Acad Sci USA 107:22026–22031

Munang R, Thiaw I, Alverson K et al (2013) Climate change and ecosystem-based adaptation: a new pragmatic approach to buffering climate change impacts. Cur Op Environ Sustain 5:67–71

Munang R, Andrews J, Alverson K, Mebratu D (2014) Harnessing ecosystem-based adaptation to address the social dimensions of climate change. Environ Sci Policy Sustain Dev 56:18–24

Munroe R, Roe D, Doswald N, Spencer T, Möller I, Vira B, Reid H, Kontoleon A, Giuliani A, Castelli I, Stephens J (2012) Review of the evidence base for ecosystem-based approaches for adaptation for climate change. Environ Evid 1:13

Nkem J, Munang R, Jallow P (2011) CC DARE lessons for adaptation in Sub Saharan Africa. UNEP, Nairobi, UNDP, New York

OECD (2006) Putting climate change adaptation in the development Mainstream. Policy Brief. OECD, Paris

Payet RA (2004) Coral reefs in small island states: status, monitoring capacity and management priorities. Int J Island Affairs 1:57–65

Payet R (2009) Seychelles national climate change strategy. Government of Seychelles, Victoria

Payet RA, Agricole W (2006) Climate change in the Seychelles: implications for water and coral reefs. Ambio 35:182–189

Plummer R, Armitage D, de Loë R (2013) Adaptive co-management and its relationship to environmental governance. Ecol Soc 18:21

Primavera JH, Estevan JMA (2008) A review of mangrove rehabilitation in the Philippines: successes, failures and future prospects. Wetlands Ecol Manage 16:345–358

Quarless D (2007) Introduction: addressing the vulnerability of SIDS. Nat Res Forum 31:99–101

Rath J (2011) Seychelles Sustainable Tourism Label. Zwazo 23:21

Schipper ELF, Ayers J, Reid H, Huq S, Rahman A (2014) Community-based Adaptation to Climate Change. Routlegde, New York

Shah NJ (1995) Coastal zone management in the Seychelles. In: Lundin C Lindén O (eds) Integrated Coastal Zone Management in the Seychelles. Marine Science Programme, Department for Research Co-operation, SAREC and Land, Water and Natural Habitats Division, Environment Department, World Bank, Washington DC

Shah NJ (2006) Ecological restoration of islands in the Seychelles. Conserv Evid 3:1–2

Sherman K (2005) The UNEP LME regions: a perspective on changing conditions in LMEs of the world's regional seas. NOAA, UNEP, Geneva

Smit B, Wandel J (2006) Adaptation, adaptive capacity and vulnerability. Glob Environ Change 16:282–292

Sumaila R (2004) Intergenerational cost-benefit analysis and marine ecosystem restoration. Fish Fish 5:329–343

TEEB (2009) The economics of ecosystems and biodiversity for national and international policy maker—summary: responding to the value of nature 2009. http://www.teebweb.org/wp-content/uploads/Study%20and%20Reports/Reports/National%20and%20International%20Policy%20Making/Executive%20Summary/National%20Executive%20Summary_%20English.pdf

Thomalla F, Downing T, Spanger-Siegfried E, Han G, Rockstrom J (2006) Reducing hazard vulnerability: towards a common approach between disaster risk reduction and climate adaptation. Disaster 30:39–48

Turvey R (2007) Vulnerability assessment of developing countries: the case of small-island developing states. Dev Policy Rev 25(2):243–264

UNDP-UNDESA (2010) SIDs–SIDs success stories. An innovative partnership in south south cooperation. UNDP, New York

UNECA (2011) Vulnerability and climate change hotspots in Africa: mapping based on existing knowledge. UNECA working paper series 2, Addis Ababa

UNEP (2011) Taking steps towards marine and coastal ecosystem-based management: an introductory guide. UNEP, Nairobi

UNEP (2013a) Africa's adaptation gap. Climate change impacts, adaptation challenges and costs for Africa. Technical report. AMCEN, UNEP, Climate Analytics. Nairobi

UNEP (2013b) The social dimension of EbA. UNEP Policy Brief Series 12-2013

Vasileiadou E, Iler MH, Petersen AC, Hazeleger W, Betgen C, de Hoog I, Min E (2014) Adaptation to extreme weather: identifying societal perspectives in the Netherlands. Reg Environ Change 14:91–101

Vignola R, Locatelli B, Martinez C, Imbach P (2009) Ecosystem-based adaptation to climate change: what role for policy-makers, society and scientists? Mitig Adapt Strateg Glob Change 14:691–696

Vignola R, McDaniels TL, Scholz RW (2013) Governance structures for ecosystem-based adaptation: using policy network analysis to identify key organizations for bridging information across scales and policy areas. Environ Sci Policy 31:71–84

VijayaVenkataRaman S, Iniyan S, Goic R (2012) A review of climate change mitigation and adaptation. Renew Sustain Energy Rev 16:878–897

Vousden D, Stapley J (2013) Evolving new governance approaches for the Agulhas and Somali Current Large Marine Ecosystems through dynamic management strategies and partnerships. Environ Dev 7:32–45

Vousden D, Scott LEP, Sauer W, Bornman W, Ngoile M, Stapley J, Lutjeharms JRE (2008) Establishing a basis for ecosystem management in the Western Indian Ocean. S Afr J Sci 104:417–421

Vousden DH, Stapley JR, Ngoile MAK, Saurer WAH, Scott LEP (2012) Climate change and variability of the agulhas and somali current large marine ecosystems in relation to socioeconomics and governance. In: Sherman K, McGovern (eds) Frontline observations on climate change and sustainability of large marine ecosystems. UNDP GEF Large Marine Ecosystems 17: 81–96

World Bank (2009) Convenient solutions to an inconvenient truth: ecosystem-based approaches to climate change. Environment Department, The Word bank, Washington, DC
Acknowledgments
The authors are grateful for technical inputs from consultative stakeholder meetings during a GEF-SCCF project inception workshop in Seychelles on the theme "Enhancing capacity, knowledge and technology support to build climate resilience of vulnerable developing countries" in September 2012. The administrative support from Alain De Cormamond of the Climate Change Affairs Adaptation and Information in Seychelles and field support from Petra de Abreu (C4 EcoSolutions) and Ole Vestergaard (UNEP) are greatly appreciated. We also thank participants at the international EbA workshop held in Beijing in China in October 2013, especially Elvina Hoarau and Nimhan Senaratne and other presenters at the coastal session. UNEP-IEMP colleagues provided useful comments on various versions of this paper. Thanks to Erasme Mbanzamihigo for timely inputs for Fig. 1, Elyn Albert for Fig. 2, and Ling Ge for Fig. 4. The first author acknowledges funding from the CAS Young International Scientist Fellowship during his UNEP-IEMP tenure (Grant no. 2012 Y1ZA0010). Two anonymous reviewers provided helpful comments and suggestions that improved the manuscript.
About this article
Cite this article
Khan, A., Amelie, V. Assessing climate change readiness in Seychelles: implications for ecosystem-based adaptation mainstreaming and marine spatial planning. Reg Environ Change 15, 721–733 (2015). https://doi.org/10.1007/s10113-014-0662-4
Received:

Accepted:

Published:

Issue Date:
Keywords
Climate change, ecosystem-based adaptation

Adaptation readiness

Marine governance

Seychelles

West Indian Ocean