Abstract
Heat waves are expected to intensify around the globe in the future, with potential increase in heat stress and heat-induced mortality in the absence of adaptation measures. India has a high current exposure to heat waves, and with limited adaptive capacity, impacts of increased heat waves might be quite severe. This paper presents the first projections of future heat waves in India based on multiple climate models and scenarios for CMIP5 data. We find that heat waves are projected to be more intense, have longer durations and occur at a higher frequency and earlier in the year. Southern India, currently not influenced by heat waves, is expected to be severely affected by the end of the twenty-first century. Projections indicate that a sizable part of India will experience heat stress conditions in the future. In northern India, the average number of days with extreme heat stress condition during pre-monsoon hot season will reach 30. The intensification of heat waves might lead to severe heat stress and increased mortality.
Access options
Buy single article
Instant access to the full article PDF.
USD 39.95
Price excludes VAT (USA)
Tax calculation will be finalised during checkout.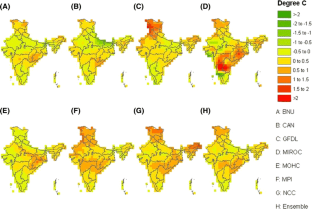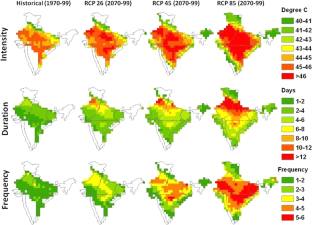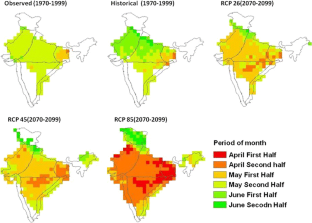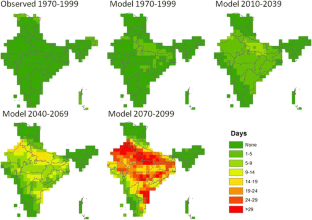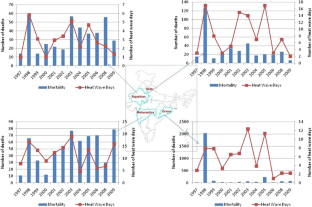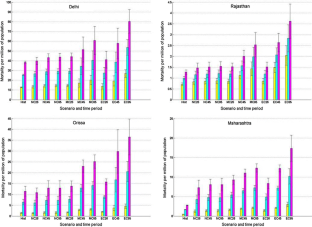 References
Chaudhury SK, Gore JM, Ray KCS (2000) Impact of heat waves over India. Curr Sci 79:153–155

Christensen JH, Boberg F (2012) Temperature dependent climate projection deficiencies in CMIP5 models. Geophys Res Lett. doi:10.1029/2012gl053650

Das S, Smith SC (2012) Awareness as an adaptation strategy for reducing mortality from heat waves: evidence from a disaster risk management program in India. Clim Change Econ 3:1250010–1250011. doi:10.1142/S2010007812500108

Dash SK, Kjellstrom T (2011) Workplace heat stress in the context of rising temperature in India. Curr Sci 101:497–503

Dash SK, Mamgain A (2011) Changes in the frequency of different categories of temperature extremes in India. J Appl Meteorol Climatol 50:1842–1858. doi:10.1175/2011jamc2687.1

De US, Dube RK, Rao GSP (2005) Extreme weather events over India in the last 100 years. J Ind Geophys Union 9:173–187

Diffenbaugh NS, Ashfaq M (2010) Intensification of hot extremes in the United States. Geophys Res Lett 37. doi:10.1029/2010GL043888

Diffenbaugh NS, Pal JS, Giorgi F, Gao X (2007) Heat stress intensification in the Mediterranean climate change hotspot. Geophys Res Lett 34. doi:10.1029/2007gl030000

Dosio A, Paruolo P (2011) Bias correction of the ENSEMBLES high-resolution climate change projections for use by impact models: evaluation on the present climate. J Geophys Res 116. doi:10.1029/2011jd015934

Dunne JP, Stouffer RJ, John JG (2013) Reductions in labour capacity from heat stress under climate warming. Nat Clim Change. doi:10.1038/nclimate1827

Epstein Y, Moran DS (2006) Thermal comfort and the heat stress indices. Ind Health 44:388–398

Fischer EM, Knutti R (2012) Robust projections of combined humidity and temperature extremes. Nat Clim Change 3:126–130. doi:10.1038/nclimate1682

Fischer EM, Schär C (2010) Consistent geographical patterns of changes in high-impact European heatwaves. Nat Geosci 3:398–403. doi:10.1038/ngeo866

Ganguly AR et al (2009) Higher trends but larger uncertainty and geographic variability in 21st century temperature and heat waves. Proc Natl Acad Sci USA 106:15555–15559. doi:10.1073/pnas.0904495106

Gosling SN, Lowe JA, McGregor GR, Pelling M, Malamud BD (2008) Associations between elevated atmospheric temperature and human mortality: a critical review of the literature. Clim Change 92:299–341. doi:10.1007/s10584-008-9441-x

Hajat S, Armstrong BG, Gouveia N, Wilkinson P (2005) Mortality displacement of heat-related deaths. Epidemiology 16:613–620. doi:10.1097/01.ede.0000164559.41092.2a

Hyatt OM, Lemke B, Kjellstrom T (2010) Regional maps of occupational heat exposure: past, present, and potential future. Glob Health Action 3. doi:10.3402/gha.v3i0.5715

IPCC (2007) The physical science basis. Contribution of working group I to the fourth assessment report of the Intergovernmental Panel on Climate Change. In: Solomon S, Qin D, Manning M, Chen Z, Marquis M, Averyt KB, Tignor M, Miller HL (eds) Cambridge University Press, Cambridge

Koppe C, Kovats S, Jendritzky G, Menne B (2004) Heat-waves: risks and responses. World Health Organization, Copenhagen. http://www.euro.who.int/__data/assets/pdf_file/0008/96965/E82629.pdf. Accessed 20 Dec 2012

Kothawale DR, Revadekar JV, Kumar KR (2010) Recent trends in pre-monsoon daily temperature extremes over India. J Earth Syst Sci 119:51–65

Kothawale DR, Kumar KK, Srinivasan G (2012) Spatial asymmetry of temperature trends over India and possible role of aerosols. Theoret Appl Climatol 110:263–280. doi:10.1007/s00704-012-0628-8

Li H, Sheffield J, Wood EF (2010) Bias correction of monthly precipitation and temperature fields from Intergovernmental Panel on Climate Change AR4 models using equidistant quantile matching. J Geophys Res 115. doi:10.1029/2009jd012882

Meehl GA, Tebaldi C (2004) More intense, more frequent, and longer lasting heat waves in the 21st century. Science 305:994–997

Meehl GA et al (2007) The WCRP CMIP3 multimodel dataset: a new era in climate change research. Bull Am Meteorol Soc 88:1383–1394. doi:10.1175/bams-88-9-1383

National Disaster Management Authority GoI (2007) National disaster management guidelines: preparation of state disaster management plans. http://www.adrc.asia/documents/dm_information/india_plan02.pdf. Accessed 20 March 2012

Oleson KW, Bonan GB, Feddema J, Vertenstein M, Kluzek E (2010) Technical description of an urban parameterization for the Community Land Model (CLMU). Technical Note NCAR/TN-480+STR, doi:10.5065/D6K35RM9

Pai DS, Thapliyal V, Kokate PD (2004) Decadal variation in the heat and cold waves over India during 1971–2000. Mausam 55:281–292

Peng RD, Bobb JF, Tebaldi C, McDaniel L, Bell ML, Dominici F (2011) Toward a quantitative estimate of future heat wave mortality under global climate change. Environ Health Perspect 119:701–706. doi:10.1289/ehp.1002430

Piani C, Haerter JO, Coppola E (2010) Statistical bias correction for daily precipitation in regional climate models over Europe. Theor Appl Climatol 99:187–192. doi:10.1007/s00704-009-0134-9

Revadekar JV, Kothawale DR, Patwardhan SK, Pant GB, Rupa Kumar K (2011) About the observed and future changes in temperature extremes over India. Nat Hazards 60:1133–1155. doi:10.1007/s11069-011-9895-4

Robine JM, Cheung SL, Le Roy S, Van Oyen H, Griffiths C, Michel JP, Herrmann FR (2008) Death toll exceeded 70,000 in Europe during the summer of 2003. C R Biol 331:171–178. doi:10.1016/j.crvi.2007.12.001

Sherwood SC, Huber M (2010) An adaptability limit to climate change due to heat stress. Proc Natl Acad Sci USA 107:9552–9555. doi:10.1073/pnas.0913352107

Srivastava AK, Rajeevan M, Kshirsagar SR (2009) Development of a high resolution daily gridded temperature data set (1969–2005) for the Indian region. Atmos Sci Lett. doi:10.1002/asl.232

Tank AMGK, Zwiers FW, Zhang X (2009) Guidelines on analysis of extremes in a changing climate in support of informed decisions for adaptation. http://eca.knmi.nl/documents/WCDMP_72_TD_1500_en_1.pdf. Accessed 20 Feb 2012

Tebaldi C, Knutti R (2007) The use of the multi-model ensemble in probabilistic climate projections. Philos Trans A Math Phys Eng Sci 365:2053–2075. doi:10.1098/rsta.2007.2076

Tebaldi C, Mearns LO, Nychka D, Smith RL (2004) Regional probabilities of precipitation change: A Bayesian analysis of multimodel simulations. Geophys Res Lett 31. doi:10.1029/2004gl021276

Unkašević M, Tošić I (2011) The maximum temperatures and heat waves in Serbia during the summer of 2007. Clim Change 108:207–223. doi:10.1007/s10584-010-0006-4

Vuuren DP et al (2011) The representative concentration pathways: an overview. Clim Change 109:5–31. doi:10.1007/s10584-011-0148-z

Wilby RL, Charles SP, Zortia E, Timbal B, Whetton P, Mearns LO (2004) Guidelines for use of climate scenarios developed from statistical downscaling methods. http://www.ipcc-data.org/guidelines/dgm_no2_v1_09_2004.pdf. Accessed 26 Dec 2011
Acknowledgments
The authors would like to acknowledge the India Meteorological Department, the Intergovernmental Panel on Climate Change, the National Center for Atmospheric Research (NCAR) and the Ministry of Home Affairs (Government of India) for making the climate model and socioeconomic data available. The authors would also like to acknowledge Louise Krol from Monash University for her help in editing the manuscript.
Electronic supplementary material
Below is the link to the electronic supplementary material.
About this article
Cite this article
Murari, K.K., Ghosh, S., Patwardhan, A. et al. Intensification of future severe heat waves in India and their effect on heat stress and mortality. Reg Environ Change 15, 569–579 (2015). https://doi.org/10.1007/s10113-014-0660-6
Received:

Accepted:

Published:

Issue Date:

DOI: https://doi.org/10.1007/s10113-014-0660-6
Keywords
Heat wave

Mortality

CMIP5

Heat stress

Adaptation

Climate extremes