Abstract
Several years with extreme floods or droughts in the past decade have caused human suffering in remote communities of the Brazilian Amazon. Despite documented local knowledge and practices for coping with the high seasonal variability characteristic of the region's hydrology (e.g., 10 m change in river levels between dry and flood seasons), and despite 'civil defense' interventions by various levels of government, the more extreme years seem to have exceeded the coping capacity of the community. In this paper, we explore whether there is a real increase in variability, whether the community perceives that recent extreme events are outside the experience which shapes their responses to 'normal' levels of variability, and what science-based policy could contribute to greater local resilience. Hydrological analyses suggest that variability is indeed increasing, in line with expectations from future climate change. However, current measures of hydrological regimes do not predict years with social hardship very well. Interviewees in two regions are able to express their strategies for dealing with 'normal' variability very well, but also identify ways in which abnormal years exceed their ability to cope. Current civil defense arrangements struggle to deliver emergency assistance in a sufficiently timely and locally appropriate fashion. Combining these insights in the context of social–ecological change, we suggest how better integration of science, policy and local knowledge could improve resilience to future trends, and identify some contributions science could make into such an arrangement.
Access options
Buy single article
Instant access to the full article PDF.
USD 39.95
Price excludes VAT (USA)
Tax calculation will be finalised during checkout.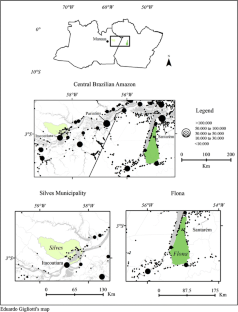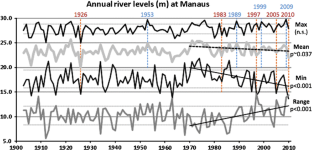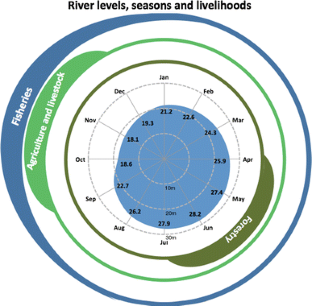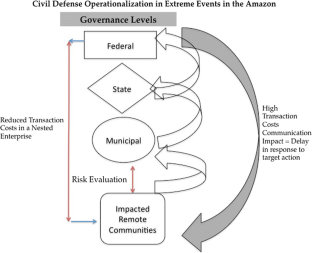 Notes
Descendants of the Amerindian population and Europeans (see Chernela and Pinho 2004).
References
Adger WN, Dessai S, Goulden M, Hulme M, Lorenzoni I, Nelson DR, Naess LO, Wolf J, Wreford A (2009) Are there social limits to adaptation to climate change? Clim Change 93:335–354

Adger WN, Brown K, Conway D (2010) Progress in global environmental change. Glob Environ Change 20:547–549

Alves DS (2007) Science and technology and sustainable development in Brazilian Amazon. In: Tscharntke T, Leuschner C, Zeller M, Guhardja E, Bidin A (eds) The stability of tropical rainforest margins, linking ecological, economic and social constraints of land use and conservation. Springer, Berlin

Araujo R, Léna P (2010) Da Predação a Sustentabilidade na Amazônia: a dificil metamorfose. In: Araujo R, Léna P (eds) Desenvolvimento Sustentável e Sociedades na Amazônia. MPEG, CNPQ, PPG-7, Belém

Bayley PB, Petrere M (1989) Amazon fisheries: assessment methods, current status and management options. Can Special Publ Fish Aquat Sci 106:385–398

Betts RA, Malhi Y, Roberts JT (2008) The future of the Amazon: new perspectives from climate, ecosystem and social sciences. Philos Trans R Soc Lond B Biol Sci 363:1729–1735

Brondizio ES, Moran EF (2008) Human dimensions of climate change: the vulnerability of small farmers in the Amazon. Philos Trans R Soc Lond B Biol Sci 363:1803–1809

Brondizio ES, Ostrom E, Young OR (2009) Connectivity and the governance of multilevel social–ecological systems: the role of social capital. Annu Rev Environ Resour 34:253–278

Chernela J, Pinho PF (2004) Constructing a supernatural landscape through talk: creation and recreation in the Central Amazon of Brazil. J Latin Am Lore 22:83–106

Dovers SR, Hezri AA (2010) Institutions and policy processes: the means to the ends of adaptation. WIREs Clim Change 1:212–231

Eakin H, Luers AL (2006) Assessing the vulnerabilitiy of social–environmental systems. Annu Rev Environ Resour 31:365–394

Finan T (2009) Storm warnings: the role of anthropology in adapting to sea-level rise in Southwestern Bangladesh. In: Crate SA, Nuttall M (eds) Anthropology and climate change: from encounters to actions. Left Coast Press, Walnut Creek

Foley JA, Botta A, Coe MT, Costa MH (2002) El Nino-Southern Oscillation and the climate, ecosystems and rivers of Amazonia. Glob Biogeochem Cycles 16

Gloor M, Brienen RJW, Galbraith D, Feldpausch TR, Schöngart J, Guyot J-L, Espinoza JC, Lloyd J, Phillips OL (2013) Intensification of the Amazon hydrological cycle over the last two decades. Geophys Res Lett 40:1–5

Hofmeijer I, Ford JD, Berrang-Ford L, Zavaleta C, Carcamo C, Llanos E, Carhuaz C, Edge V, Lwasa S, Namanya D (2013) Community vulnerability to the health effects of climate change among indigenous populations in the Peruvian Amazon: a case study from Panaillo and Nuevo Progreso. Mitig Adapt Strat Glob Change 18:957–978

IBGE (2010) Instituto Brasileiro de Geografia e Estatística. Brasil

ICMBIO (2010) Instituto Chico Mendes de Conservação da Biodiversidade. MMA, Brasil

IPCC (2007) IPCC fourth assessment report: climate change (AR4). In: Parry ML, Canziani OF, Palutikof JP, van der Linden PJ, Hanson CE (eds) Working Group II report "impacts, adaptation and vulnerability". Cambridge University Press, Cambridge, New York, NY

Junk WJ (1997) The Central Amazon floodplain: ecology of a pulsing system. Springer, New York

Kofinas GP, Stuart Chapin I (2009) Sustaining livelihoods and human well-being during social–ecological change. In: Stuart F, Chapin I, Kofinas GP, Folke C (eds) Principles of ecosystem stewardship resilience-based natural resource management in a changing world. Springer, New York

Lathrap DW (1977) Our father the cayman our mother the gourd: spinden revisited or a unitary model for the emergence of agriculture in the New World. In: Reed CA (ed) Origins of agriculture. Mouton, The Hague

Lemos MC, Roberts JT (2008) Environmental policy making networks and the future of the Amazon. Philos Trans R Soc 363:1897–1902

Lima D (1999) Equity, sustainable development, and biodiversity preservation: some questions about ecological partnerships in the Brazilian Amazon. In: Padoch C, Ayres JM, Pinedo-Vasquez M, Henderson A (eds) Várzea: diversity, development, and conservation of Amazonia's whitewater floodplains. New York Botanical Garden Press, Bronx

Marengo JA, Nobre CA, Tomasella J, Cardoso MF, Oyama MD (2008) Hydro-climatic and ecological behaviour of the drought of Amazonia in 2005. Philos Trans R Soc Lond B Biol Sci 363:1773–1778

Marengo JA, Tomasella J, Alves LM, Soares WR, Rodriguez DA (2011) The drought of 2010 in the context of historical droughts in the Amazon region. Geophys Res Lett 38:1–5

Marengo JA, Borma LS, Rodriguez DA, Pinho PF, Soares WR, Alves LM (2013) Recent extremes of drought and flooding in Amazonia: vulnerabilities and human adaptation. Am J Clim Change 2:87–96

Maru YT, Smith MS, Sparrow A, Pinho PF, Dube OP (2014) A linked vulnerability and resilience framework for adaptation pathways in remote disadvantaged communities. Glob Environ Change. doi:10.1016/j.gloenvcha.2013.12.007

Meir P, Metcalfe DB, Costa ACL, Fisher RA (2008) The fate of assimilated carbon during drought: impacts on respiration in Amazon rainforests. Philos Trans R Soc Lond B Biol Sci 363:1849–1855

Miller F, Osbahr H, Boyd E, Thomalla F, Bharwani S, Ziervogel G, Walker B, Birkmann JR, Leeuw SVD, Rockström J, Hinkel J, Downing T, Folke C, Nelson D (2010) Resilience and vulnerability: complementary or conflicting concepts? Ecol Soc 15(3):11

Nakashima DJ, Galloway McLean K, Thulstrup HD, Ramos Castillo A, Rubis JT (2012) Weathering uncertainty: traditional knowledge for climate change assessment and adaptation. UNESCO UNU, Paris

NCAR (2012) Workshop on the nature and use of new socioeconomic pathways for climate change research. National Center for Atmospheric Research (NCAR), Boulder

Nelson DR, Adger WN, Brown K (2007) Adaptation to environmental change: contributions of a resilience framework. Annu Rev Environ Resour 32:395–419

Neves EG, Petersen JB, Bartone RN, Silva CAD (2003) Historical and socio-cultural origins of Amazonian dark earths. In: Lehmann J, Kern DC, Glaser B, Woods WI (eds) Amazonian dark earths: origin, properties, management. Kluwer, Dordrecht

Orlove B (2003) How people name seasons. In: Orlove SSAB (ed) Weather, climate, culture. Oxford University Press, New York

Ostrom E (1990) Governing the commons: the evolution of institutions for collective action. Cambridge University Press, Cambridge

Ostrom E (2005) Understanding institutional diversity. Princeton University Press, Princeton

Ostrom E, Burger J, Field CB, Norgaard RB, Policansky D (1999) Sustainability—revisiting the commons: local lessons, global challenges. Science 284:278–282

Parry L, Peres CA, Day B, Amaral S (2010) Rural–urban migration brings conservation threats and opportunities to Amazonian watersheds. Conserv Lett 3:251–259

Pinho P (2007) Dynamics and consequences of natural resources management: perspectives from a local caboclo fishery in Silves. Central Brazilian Amazon. PhD dissertation, University of California

Pinho PF, Orlove B, Lubell M (2012) Overcoming barriers to collective action in community-based fisheries management in the Amazon. Hum Organ 71:99–109

Prance GATEL (1985) Amazonia. Pergamon Press, New York

Ribot J (2011) Vulnerability before adaptation: toward transformative climate action. Glob Environ Change 21:1160–1162

Schongart J, Junk WJ (2007) Forecasting the flood-pulse in Central Amazonia by ENSO-indices. J Hydrol 335:124–132

Scoones I (1998) Sustainable rural livelihoods: a framework for analysis. IDS Working Paper 72, pp 1–22

Sena JAN, Freitas MALV, Berrêdo DD, Fernandes LC (2012) Evaluation of vulnerability to extreme climatic events in the Brazilian Amazonia: methodological proposal to the Rio Acre Basin. Water Resour Manag 26:4553–4568

Seneviratne SI, Nicholls N, Easterling D, Goodess CM, Kanae S, Kossin J, Luo Y, Marengo J, Mcinnes K, Rahimi M, Reichstein M, Sorteberg A, Vera C, Zhang X (2012) Changes in climate extremes and their impacts on the natural physical environment. In: Field CB, Barros V, Stocker TF, Qin D, Dokken DJ, Ebi KL, Mastrandrea MD, Mach KJ, Plattner G-K, Allen SK, Tignor M, Midgley PM (eds) Managing the risks of extreme events and disasters to advance climate change adaptation. Cambridge University Press, Cambridge

Smith N (1981) Man, fishes, and The Amazon. Columbia University Press, New York

Smith LT, Aragao LEOC, Sabel CE, Nakaya T (2014) Drought impacts on children's respiratory health in the Brazilian Amazon. Sci Rep 4:1–8

Stafford Smith DM, McKeon GM, Watson IW, Henry BK, Stone GS, Hall WB, Howden SM (2007) Land change science special feature: learning from episodes of degradation and recovery in variable Australian rangelands. Proc Natl Acad Sci USA 104:20690–20695

Szlafsztein CF (2014) Development projects for small rural communities in the Brazilian Amazon region as potential strategies and practices of climate change adaptation. Mitig Adapt Strat Glob Change 19:143–160

Tomasella J, Pinho PF, Borma LS, Marengo JA, Nobre CA, Bittencourt ORFO, Prado MCR, Rodriguez DA, Cuartas LA (2012) The droughts of 1997 and 2005 in Amazonia: floodplain hydrology and its potential ecological and human impacts. Clim Change 116(3–4):723–746

Torres R, Lapola DM, Marengo JA, Lombardo MA (2012) Socio-climatic hotspots in Brazil. Clim Change 115:597–609

Welcomme RL (1995) Relationships between fisheries and the integrity of river systems. Regul Rivers Res Manag 11:121–136
Electronic supplementary material
Below is the link to the electronic supplementary material.
About this article
Cite this article
Pinho, P.F., Marengo, J.A. & Smith, M.S. Complex socio-ecological dynamics driven by extreme events in the Amazon. Reg Environ Change 15, 643–655 (2015). https://doi.org/10.1007/s10113-014-0659-z
Received:

Accepted:

Published:

Issue Date:

DOI: https://doi.org/10.1007/s10113-014-0659-z
Keywords
Adaptive strategies

Caboclos remote communities

Policy and conservation of natural resources and ecosystems

Brazilian Amazon