Abstract
Rapid urban expansion is a major contributor to environmental change in many parts of the world. This study investigated land cover changes that occurred between 1988 and 2010 in the Calgary–Edmonton corridor in Alberta, a region that has undergone considerable recent urban expansion. We used satellite imagery to develop land cover maps for four different snapshots in time between 1988 and 2010 and used these maps to investigate two principal questions related to urban expansion: (1) How did urban expansion affect other land cover types? and (2) How did urban expansion affect the availability of high-quality agricultural land in the region? Our results show that 60 % of new urban and peri-urban growth between 1988 and 2010 occurred on agricultural land. Nevertheless, total agricultural land increased in the region because of the greater clearing of natural vegetation for agriculture away from the urban core. Urban expansion predominantly occurred on soils that were highly suitable for farming, while new agricultural expansion occurred on soils of poorer quality. As a result, the average soil quality of land used for agriculture has declined in the Calgary–Edmonton corridor, confirming other studies of the food security implications of urbanization.
This is a preview of subscription content, log in to check access.
Access options
Buy single article
Instant access to the full article PDF.
US$ 39.95
Price includes VAT for USA
Subscribe to journal
Immediate online access to all issues from 2019. Subscription will auto renew annually.
US$ 99
This is the net price. Taxes to be calculated in checkout.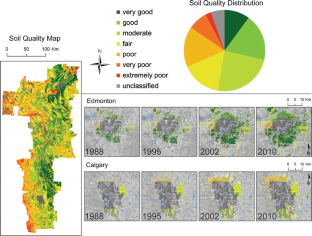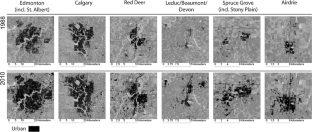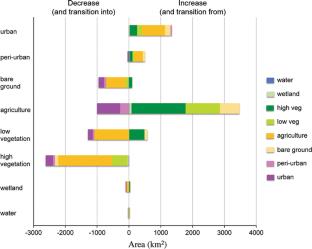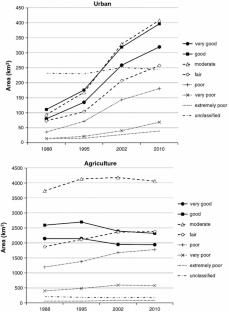 References
Agriculture and Agri-Food Canada (1998) Canada Land Inventory, National Soil DataBase,. Agriculture and Agri-Food Canada. http://sis.agr.gc.ca/cansis/nsdb/cli/

Alonso W (1964) Location and land use, toward a general theory of land rent. Harvard University Press, Cambridge

Bhatta T, Saraswati S, Bandyopadhyay D (2010) Urban sprawl measurement from remote sensing data. Appl Geogr 30(4):731–740

Brouwers T (2009) Canada's Disappearing Farmland. Organic Agriculture Centre of Canada. http://www.organicagcentre.ca/NewspaperArticles/na_disappearing_farmland_tb.asp

Burleton D, Curtis-Irving M, Philipoff I (2003) The Calgary–Edmonton Corridor: take action now to ensure tiger's roar doesn't fade. Toronto: TD Bank Financial Group http://www.tdcom/economics/special/alta03.pdf

Chen J (2007) Rapid urbanization in China: a real challenge to soil protection and food security. Catena 69(1):1–15

Congalton RG, Green K (2009) Assessing the accuracy of remote sensed data: principles and practices, 2nd edn. Lewis Publishers, Boca Raton

Cunningham DJ, Melican JE, Wemmelmann E, Jones TB (2002) GeoCover LC—a moderate resolution global landcover database. In: 22nd annual Esri international user conference, San Diego, California, 2002. ESRI

Dietzel C, Oguz H, Hemphill JJ, Clarke KC, Gazulis N (2005) Diffusion and coalescence of the Houston Metropolitan Area: evidence supporting a new urban theory. Environ Plan B Plan Des 32(2):231–246

DMTI Spatial Inc. (2004) Clutter data. Markham, ON

Environment Canada (1966-1986) Canada Land Use Monitoring Program (CLUMP). Ministry of Natural Resources, Ottawa, ON. http://geogratis.cgdi.gc.ca/download/clump/

Fazal S (2000) Urban expansion and loss of agricultural land—a GIS based study of Saharanpur City, India. Environ Urban 12(2):133–149

Foley JA, DeFries R, Asner GP, Barford C, Bonan G, Carpenter SR, Chapin FS, Coe MT, Daily GC, Gibbs HK (2005) Global consequences of land use. Science 309(5734):570–574

Foody GM (2002) Status of land cover classification accuracy assessment. Remote Sens Environ 80(1):185–201

Foody GM (2010) Assessing the accuracy of land cover change with imperfect ground reference data. Remote Sens Environ 114:2271–2285

Geobase (2009) Land cover, circa 2000—vector. Natural Resources Canada. http://www.geobase.ca

Glenn EP, Huete AR, Nagler PL, Nelson SG (2008) Relationship between remotely-sensed vegetation indices, canopy attributes and plant physiological processes: what vegetation indices can and cannot tell us about the landscape. Sensors 8:2136–2160

Government of Alberta (2007) Understanding land use in Alberta. Government of Alberta Publication No. I/270, Edmonton, Alberta, p 42

Government of Alberta (2008) Land-use framework. Government of Alberta Publication No. I/321, Edmonton, Alberta, p 54

Government of Alberta (2013) Alberta land stewardship act, statutes of Alberta, 2009, chapter A-26.8, current as of December 11 2013. Alberta Queen's Printer, Edmonton, Alberta, p 53. http://www.qp.alberta.ca/documents/acts/a26p8.pdf

Grübler A (1994) Technology. In: Meyer WB, Turner BL (eds) Changes in land use and land cover: a global perspective. Cambridge University Press, Cambridge, pp 287–328

Hadjimitsis DG, Papadavid G, Agapiou A, Themistocleous K, Hadjimitsis MG, Retalis A, Michaelides S, Chrysoulakis N, Toulios L, Clayton CRI (2010) Atmospheric correction for satellite remotely sensed data intended for agricultural applications: impact on vegetation indices. Nat Hazards Earth Syst Sci 10(1):89–95. doi:10.5194/nhess-10-89-2010

Hansen MC, DeFries RS, Townshend JRG, Sohlberg R (2000) Global land cover classification at 1 km spatial resolution using a decision tree classifier. Int J Remote Sens 21:1331–1365

Heilig GK (1994) Neglected dimensions of global land-use change: reflections and data. Popul Dev Rev 20(4):831–859

Hofmann N, Filoso G, Schofield M (2005) The loss of dependable agricultural land in Canada. Rural Small Town Can Anal Bull Ottawa 1:16

Homer C, Dewitz J, Fry J, Coan M, Hossain N, Larson C, Herold N, McKerrow A, VanDriel JN, Wickham J (2007) Completion of the 2001 national land cover database for the conterminous United States. Photogramm Eng Remote Sens 73(4):337–341

Ji W, Ma J, Twibell RW, Underhill K (2006) Characterizing urban sprawl using multi-stage remote sensing images and landscape metrics. Comput Environ Urban Syst 30(6):861–879

Kerr JT, Cihlar J (2003) Land use and cover with intensity of agriculture for Canada from satellite and census data. Glob Ecol Biogeogr 12:161–172

Lambin EF, Meyfroidt P (2011) Global land use change, economic globalization, and the looming land scarcity. Proc Natl Acad Sci 108(9):3465–3472

Lillesand TM, Kiefer RW (2000) Remote sensing and image interpretation. Wiley, New York

Lu D, Mausel P, Brondízio E, Moran E (2004) Change detection techniques. Int J Remote Sens 25(12):2365–2401

MacDonald K, Kloosterman B (1984) The Canada Soil Information System (CanSIS): general user's manual. Land Resource Research Centre, Research Branch, Agriculture Canada, Ottawa

McDonald RI (2008) Global urbanization: can ecologists identify a sustainable way forward? Front Ecol Environ 6(2):99–104. doi:10.1890/070038

Olofsson P, Foody GM, Stehman SV, Woodcock CE (2013) Making better use of accuracy data in land change studies: estimating accuracy and area and quantifying uncertainty using stratified estimation. Remote Sens Environ 129:122–131

Olson RK, Lyson TA (1999) Under the blade: the conversion of agricultural landscapes. Westview Press, Boulder

Pettapiece WW (ed) (1995) Land suitability rating system for agriculture crops: 1. Spring-seeded small grains. A technical report prepared by the Agronomic Interpretations Working Group. Technical Bulletin 1995-6E. Centre for Land and Biological Resources Research, Agriculture and Agri-Food Canada, Ottawa

Potere D, Schneider A, Angel S, Civco DL (2009) Mapping urban areas on a global scale: which of the eight maps now available is more accurate? Int J Remote Sens 30(24):6531–6558. doi:10.1080/01431160903121134

Richards JA, Jia X (2006) Remote sensing digital image analysis: an introduction, 4th edn. Springer, Berlin

Sánchez-Rodríguez R, Seto KC, Simon D, Solecki WD, Kraas F, Laumann G (2005) Urbanization and global environmental change (UGEC) science plan. Bonn, Germany, p 64

Seto KC, Fragkias M, Güneralp B, Reilly MK (2011) A meta-analysis of global urban land expansion. PLoS One 6(8):e23777

Seto KC, Güneralp B, Hutyra LR (2012) Global forecasts of urban expansion to 2030 and direct impacts on biodiversity and carbon pools. Proc Natl Acad Sci. doi:10.1073/pnas.1211658109

Smith P, Gregory PJ, van Vuuren D, Obersteiner M, Havlik P, Rounsevell M, Woods J, Stehfest E, Bellarby J (2010) Competition for land. Philos Trans R Soc B 365(1554):2941–2957. doi:10.1098/Rstb.2010.0127

Song C, Woodcock CE, Seto KC, Lenney MP, Macomber SA (2001) Classification and change detection using Landsat TM data: when and how to correct atmospheric effects? Remote Sens Environ 75(2):230–244

Statistics Canada (2001) Census of population 2001. http://geodepot.statcan.ca/Diss/Highlights/Page9/Page9d_e.cfm. June 25 2010

Statistics Canada (2002) A profile of the Canadian population: where we live; 2001 Census analysis series, Catalogue: 96F0030XIE2001001, p 9. http://geodepot.statcan.ca/Diss/Highlights/Text_e.pdf

Statistics Canada (2010) Population projections for Canada, Provinces and Territories, 2009–2036. Demography division. Catalogue no. 91-520-X, p 246. http://www.statcan.gc.ca/pub/91-520-x/91-520-x2010001-eng.pdf

Statistics Canada (2012) The Canadian population in 2011: population counts and growth. Ottawa, p 24

Stefanov WL, Ramsey MS, Christensen PR (2001) Monitoring urban land cover change: an expert system approach to land cover classification of semiarid to arid urban centers. Remote Sens Environ 77(2):173–185

Sun H, Forsythe W, Waters N (2007) Modeling urban land use change and urban sprawl: calgary, Alberta, Canada. Netw Spat Econ 7(4):353–376

Tan M, Li X, Xie H, Lu C (2005) Urban land expansion and arable land loss in China—a case study of Beijing–Tianjin–Hebei region. Land Use Policy 22(3):187–196. doi:10.1016/j.landusepol.2004.03.003

TdM López, Aide TM, Thomlinson JR (2001) Urban Expansion and the loss of prime agricultural lands in Puerto Rico. Ambio 30(1):49–54

Turner BL, Lambin EF, Reenberg A (2007) The emergence of land change science for global environmental change and sustainability. Proc Natl Acad Sci USA 104. doi:10.1073/pnas.0704119104

United Nations (2012) World urbanization prospects: the 2011 revision. Highlights, New York, p 33

U.S. Department of Agriculture (2013) Summary Report: 2010 National Resources Inventory. Washington, DC and Ames, Iowa. http://www.nrcs.usda.gov/Internet/FSE_DOCUMENTS/stelprdb1167354.pdf

Von Thunen JH (1826) Von Thunen's Isolated State. English translation: Hall P (1966) (trans: Wartenberg CM). Pergamon Press, London

Wrigley EA (1985) Urban growth and agricultural change: England and the continent in the early modern period. J Interdiscip History 15(4):683–728

Zhang Y, Guindon B (2005) Using Landsat data to assess land use conversion impacts arising from urbanization: The Canadian context. In: URS2005 conference proceedings, the international archives of the photogrammetry, remote sensing, and spatial information sciences 2005, vol 8/W27
Acknowledgments
F. Martellozzo received the Government of Canada post-doctoral research fellowship for one year, which supported this project. Funding from an NSERC Discovery Grant to N. Ramankutty also supported part of this research. F.Martellozzo is currently affiliated as a Post-Doctoral Fellow at the University of Rome "La Sapienza".
Electronic supplementary material
Below is the link to the electronic supplementary material.
About this article
Cite this article
Martellozzo, F., Ramankutty, N., Hall, R.J. et al. Urbanization and the loss of prime farmland: a case study in the Calgary–Edmonton corridor of Alberta. Reg Environ Change 15, 881–893 (2015). https://doi.org/10.1007/s10113-014-0658-0
Received:

Accepted:

Published:

Issue Date:
Keywords
Urban

Expansion

Growth

Prime farmland

Land cover

Land use