Abstract
During the past century, land use change, such as settlement development and intensification of agriculture, has led to a decreased capacity of natural floodplains to provide flood regulation across large areas of Europe. The expansion of built-up areas in flood zones has reduced retention areas, potentially leading to an increase of downstream flood risk and an increased demand for flood regulation measures. The goal of this paper was to analyse the historic development of settlements from the 1850s until 2011 in relation to flood exposure in the upper reaches of the river Main, Germany. The settlement area of pre-industrial times was derived from historical land cover maps with the aid of object-based classification. Current settlement areas were extracted from the real estate map of Bavaria. Topographic and flood exposure variables were utilized for the statistical analysis of settlement change. Results showed a strong increase in settlements in all administrative districts of the case study area since the 1850s. The total built-up area within the flooding zone of the investigated section of the Main river increased almost fivefold. Such expansion of settlement into the natural floodplains indicates a high growth in demand for flood regulation. Furthermore, our results suggest that flood exposure affected site selection of settlement in the past much stronger than it does today. Technical flood control (e.g. channels, dams and retention areas) reduced the area of settlement at risk for many towns in the case study region, but for some, it remains remarkably high.
Access options
Buy single article
Instant access to the full article PDF.
USD 39.95
Price excludes VAT (USA)
Tax calculation will be finalised during checkout.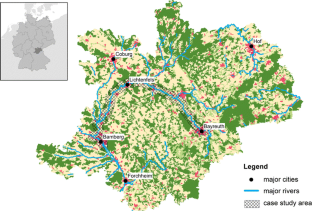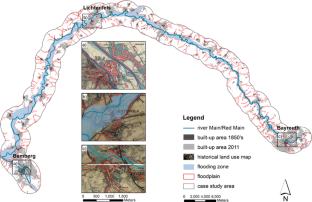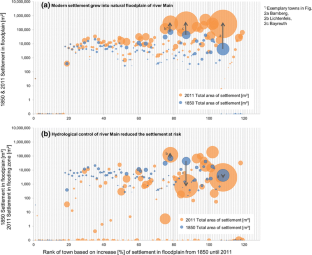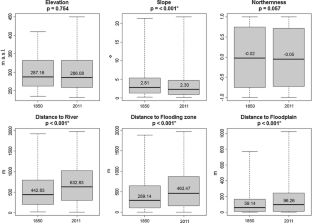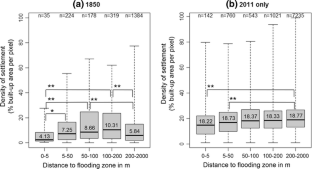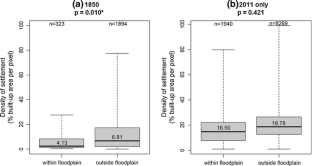 References
Antrop M (2004) Landscape change and the urbanization process in Europe. Landsc Urban Plan 67:9–26

Bätzing W (2013) Bevölkerungsentwicklung (19./20. Jahrhundert), Historisches Lexikon Bayerns. http://www.historisches-lexikon-bayerns.de/artikel/artikel_44452. Accessed 05 May 2014

Bayrisches Landesamt für Statistik und Datenverarbeitung (2012) Volkszählung und Bevölkerungsfortschreibung. München

Bender O, Boehmer HJ, Jens D, Schumacher KP (2005) Analysis of land-use change in a sector of Upper Franconia (Bavaria, Germany) since 1850 using land register records. Landsc Ecol 20:149–163

BMU & BfN (2009) Auenzustandsbericht-Flussauen in Deutschland. Bundesministerium für Umwelt, Naturschutz und Reaktorsicherheit und Bundesamt für Naturschutz. Berlin, Bonn

Bouwer LM, Crompton RP, Faust E, Höppe P, Pielke RA (2007) Confronting disaster losses. Science 318:753

Brunotte E, Dister E, Günther-Diringer D, Koenzen U, Mehl D (2009) Flussauen in Deutschland–Erfassung und Bewertung des Auenzustandes. Naturschutz und Biologische Vielfalt. Bundesamt für Naturschutz, Bonn–Bad Godesberg

Burkhard B, Kroll F, Nedkov S, Müller F (2012) Mapping ecosystem service supply, demand and budgets. Ecol Ind 21:17–29

Cammerer H, Thieken A, Verburg P (2012) Spatio-temporal dynamics in the flood exposure due to land use changes in the Alpine Lech Valley in Tyrol (Austria). Nat Hazards 68(3):1243–1270

Chan KMA, Shaw MR, Cameron DR, Underwood EC, Daily GC (2006) Conservation planning for ecosystem services. PLoS Biol 4:2138–2152

Chin A (2006) Urban transformation of river landscapes in a global context. Geomorphology 79:460–487

Costanza R, d Arge R, de Groot R, Farber S, Grasso M, Hannon M, Limburg K, Naeem S, ONeill RV, Paruelo J, Raskin RG, Sutton P, van den Belt M (1997) The value of the world's ecosystem services and natural capital. Nature 387:253–260

de Kok J-L, Grossmann M (2010) Large-scale assessment of flood risk and the effects of mitigation measures along the Elbe River. Nat Hazards 52:143–166

De Roo A, Schmuck G, Perdigao V, Thielen J (2003) The influence of historic land use changes and future planned land use scenarios on floods in the Oder catchment. Phys Chem Earth B 28:1291–1300

Eigenbrod F, Bell VA, Davies HN, Heinemeyer A, Armsworth PR, Gaston KJ (2011) The impact of projected increases in urbanization on ecosystem services. Proc R Soc B Biol Sci 278:3201–3208

Elfert S, Bormann H (2010) Simulated impact of past and possible future land use changes on the hydrological response of the Northern German lowland 'Hunte' catchment. J Hydrol 383:245–255

European Commission (2007) Directive 2007/60/EC of the European Parliament and the Council of 23 October 2007 on the assessment and management of flood risks. http://eur-lex.europa.eu/LexUriServ/LexUriServ.do?uri=OJ:L:2007:288:0027:0034:EN:PDF. Accessed 24 Oct 2013

Fisher B, Turner RK, Morling P (2009) Defining and classifying ecosystem services for decision making. Ecol Econ 68:643–653

Foken T (2007) Das Klima von Bayreuth–Status quo und Aufgaben für die Stadtplanung. Zeitschrift für Angewandte Geographie, 31:150–152

Hall J, Sayers P, Dawson R (2005) National-scale assessment of current and future flood risk in England and Wales. Nat Hazards 36:147–164

HOPLA Main (2012) Hochwasserrisikomanagement-Plan: Einzugsgebiet bayrischer Main. Regierungen von Unterfranken, Regierung von Oberfranken, Regierung von Mittelfranken, and Regierung der Oberpfalz, http://www.hopla-main.de/, last time accessed 28 Nov 2012

Huang B, Zhang L, Wu B (2009) Spatiotemporal analysis of rural–urban land conversion. Int J Geogr Inf Sci 23:379–398

IPCC (2007) Climate change: the physical science basis. Summary for policymakers. In: Solomon S, Qin D, Manning M, Chen Z, Marquis M, Averyt KB, Tignor M, Miller HL (eds) Contribution of working group I to the fourth assessment report of the intergovernmental panel on climate change. Cambridge University Press, Cambridge, New York

Jonkman SN, Brinkhuis-Jak M, Kok M (2004) Cost benefit analysis and flood damage mitigation in the Netherlands. Heron 49:95–111

Kreibich H, Seifert I, Thieken AH, Lindquist E, Wagner K, Merz B (2011) Recent changes in flood preparedness of private households and businesses in Germany. Reg Environ Chang 11:59–71

Kundzewicz ZW, Lugeri N, Dankers R, Hirabayashi Y, Doll P, Pinskwar I, Dysarz T, Hochrainer S, Matczak P (2010) Assessing river flood risk and adaptation in Europe-review of projections for the future. Mitig Adapt Strat Glob Change 15(7):641–656

Lammersen R, Engel H, van de Langemheen W, Buiteveld H (2002) Impact of river training and retention measures on flood peaks along the Rhine. J Hydrol 267:115–124

Landesamt für Vermessung und Geoinformation (2011) Digitales Basis-Landschaftsmodell (AAA-Modellierung).Bundesamt für Kartographie und Geodäsie. Leipzig

Lautenbach S, Kugel C, Lausch A, Seppelt R (2011) Analysis of historic changes in regional ecosystem service provisioning using land use data. Ecol Ind 11:676–687

LfU (2003) Hydraulik naturnaher Fließgewässer; Teil 4—Numerische Modelle zur Strömungssimulation. Landesanstalt für Umweltschutz Baden-Württemberg. Karlsruhe

Liaw A, Wiener M (2002) Classification and regression by random forest. R News 2:18–22

Menoni S, Molinari D et al (2012) Assessing multifaceted vulnerability and resilience in order to design risk-mitigation strategies. Nat Hazards 64(3):2057–2082

Millennium Ecosystem Assessment (MA) (2005) Ecosystems and human well-being: current state and trends. Island Press, Washington

Nedkov S, Burkhard B (2012) Flood regulating ecosystem services–mapping supply and demand, in the Etropole municipality, Bulgaria. Ecol Ind 21:67–79

Petrow T, Merz B (2009) Trends in flood magnitude, frequency and seasonality in Germany in the period 1951–2002. J Hydrol 371:129–141

Munich Re (2013) Überschwemmungen dominieren Naturkatastrophenstatistik im 1. Halbjahr 2013 Munich Re. Group, Munich

Schönbein J (2011) Zur Rekonstruktion von Hochwasserereignissen in Europa aus holzanatomischen Parametern und historischen Quellen. Albert-Ludwigs-Universität Freiburg i. Brsg, Freiburg

Stürck J, Poortinga A et al (2014) Mapping ecosystem services: the supply and demand of flood regulation services in Europe. Ecol Ind 38:198–211

Sui J, Koehler G, Krol F (2010) Characteristics of rainfall, snowmelt and runoff in the headwater region of the Main river watershed in Germany. Water Resour Manag 24:2167–2186

Syrbe R-U, Walz U (2012) Spatial indicators for the assessment of ecosystem services: providing, benefiting and connecting areas and landscape metrics. Ecol Ind 21:80–88

Turner RK, Georgiou S, Fisher B (2008) Valuing ecosystem services: the case of multifunctional wetlands. Earthscan, London

VanDerWal J, Falconi L, Januchowski S, Shoo L, Storlie C (2012) Species distribution modelling tools: tools for processing data associated with species distribution modelling exercises. Package 'SDMTools'

White G (1945) Human adjustment to floods. Department of geography research paper 29. The University of Chicago, Chicago

White G (1974) Natural hazards research: concepts, methods, and policy implications. In: White G (ed) Natural hazards—local, national, global. Oxford University Press, London, pp 3–15

Wood S (2011) GAMs with GCV/AIC/REML smoothness estimation and GAMMs by PQL, Version 1.7-11
Acknowledgments
We thank the Bavarian Environment Agency and the Bavarian Agency for Surveying and Geographic Information for the provisioning of spatial datasets. An earlier version of the manuscript benefitted from critical suggestions by three reviewers and the editor.
Electronic supplementary material
Below is the link to the electronic supplementary material.
About this article
Cite this article
Früh-Müller, A., Wegmann, M. & Koellner, T. Flood exposure and settlement expansion since pre-industrial times in 1850 until 2011 in north Bavaria, Germany. Reg Environ Change 15, 183–193 (2015). https://doi.org/10.1007/s10113-014-0633-9
Received:

Accepted:

Published:

Issue Date:

DOI: https://doi.org/10.1007/s10113-014-0633-9
Keywords
Flood risk

Flood regulation

Historical maps

Landscape function

GIS

Spatial pattern analysis