Abstract
Eco-certification of agricultural commodities offers an appealing option to promote more sustainable practices among smallholders, increase agricultural value, and lift farmers out of poverty through better market access. This study evaluates whether coffee cultivation is associated with changes in forest cover and forest fragmentation and whether the Rainforest Alliance eco-certification program has led to enhanced tree cover and greater landscape connectivity in the Colombian eastern Andes. Based on satellite imagery, geo-referenced coffee parcels and a pair–case comparison, we show that coffee-growing regions have larger areas in forest, larger forest patches, and better connectivity among patches than non-coffee areas. These differences, however, do not seem to be accentuated over time, except for dense forest cover in the coffee-growing region. The latter has increased since the introduction of a certification program that requires protection of forest remnants and riparian vegetation. Moreover, certified farms in the study area have increased the amount of tree cover on their plots significantly more than non-certified ones. Our study design, therefore, detects additionality in the impact of certification on tree cover increase: in a region with overall increase in tree cover, certified farms contributed significantly more to that trend than non-certified farms. This study presents the first evaluation of the impacts of certification in cultivated landscapes at the ecosystem level, detectable by Earth observation satellites.
Access options
Buy single article
Instant access to the full article PDF.
USD 39.95
Price excludes VAT (USA)
Tax calculation will be finalised during checkout.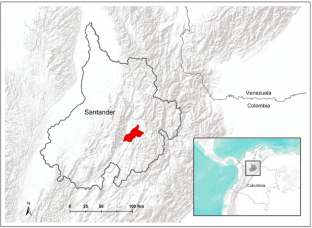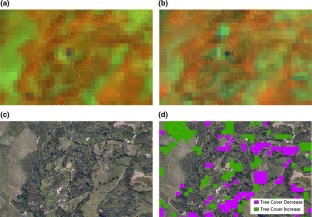 References
Beuchelt TD, Zeller M (2011) Profits and poverty: certification's troubled link for Nicaragua's organic and fairtrade coffee producers. Ecol Econ 70(7):1316–1324. doi:10.1016/j.ecolecon.2011.01.005

Blackman A, Naranjo M (2010) Does eco-certification have environmental benefits? Organic Coffee in Costa Rica. Washington, DC. RFF. Discussion Paper 10–57

Breiman L (2001) Random forests. Mach Learn 45:5–32

FNC (2010) Federacion Nacional de Cafeteros—Gerencia Tecnica—Sistema de Información Cafetera SICA Bogota

Freeman EA, Frescino TA (2009) ModelMap: an R package for modeling and map production using random forest and stochastic gradient boosting. USDA Forest Service/Rocky Mountain Research Station, Ogden, UT. http://CRAN.R-project.org

Gibbs HK, Ruesch AS, Achard F, Clayton MK, Holmgren P, Ramankutty N, Foley JA (2010) Tropical forests were the primary sources of new agricultural land in the 1980s and 1990s. Proc Natl Acad Sci USA 107(38):16732–16737. doi:10.1073/pnas.0910275107

Guhl A (2009) Café, bosques y certificación agrícola en Aratoca, Santander. Revista de estudios sociales 32:114–125

Haralick RM, Shanmugam K (1973) Textural features for image classification. IEEE Trans Syst Man Cybern 3:610–621

Hecht S (2010) The new rurality: globalization, peasants and the paradoxes of landscapes. Land Use Pol 27(2):161–169. doi:10.1016/j.landusepol.2009.08.010

Herzog S, Martínez R, Jørgensen P, Tiessen H (eds) (2011) Climate change and biodiversity in the Tropical Andes. Inter-American Institute for Global Change Research (IAI) and Scientific Committee on Problems of the Environment (SCOPE), Washington, DC

Huang C, Goward SN, Masek JG, Thomas N, Zhu Z, Vogelmann JE (2010) An automated approach for reconstructing recent forest disturbance history using dense Landsat time series stacks. Remote Sens Environ 114:183–198

Lambin E, Meyfroidt P (2011) Global land use change, economic globalization, and the looming land scarcity. Proc Natl Acad Sci USA 108:3465–3472

Mas A, Dietsch T (2004) Linking shade coffee certification to biodiversity conservation: butterflies and birds in Chiapas, Mexico. Ecol Appl 14(3):642–654. doi:10.1890/02-5225

Masek JG, Vermote EF, Saleous N, Wolfe R, Hall FG, Huemmrich KF, Gao F, Kutler J, Lim TK (2006) A Landsat surface reflectance data set for North America, 1990–2000. Geosci Remote Sens Lett 3:68–72

McGarigal K, Cushman SA, Ene E (2012) FRAGSTATS v4: spatial pattern analysis program for categorical and continuous maps. Computer software program produced by the authors at the University of Massachusetts, Amherst. http://www.umass.edu/landeco/research/fragstats/fragstats.html. Accessed 02/25/2013 2013

Mendenhall CD, Sekercioglu CH, Brenes FO, Ehrlich PR, Daily GC (2011) Predictive model for sustaining biodiversity in tropical countryside. Proc Natl Acad Sci 108(39):16313–16316. doi:10.1073/pnas.1111687108

Michon G, De Foresta H, Levang P, Verdeaux F (2007) Domestic forests: a new paradigm for integrating local communit s' f st y t t p f st s. E 12(2):1

Perfecto I, Vandermeer J (2008) Biodiversity conservation in tropical agroecosystems - A new conservation paradigm. AnnNY AcadSci 1134:173–200. doi:10.1196/annals.1439.011

Perfecto I, Mas A, Dietsch T, Vandermeer J (2003) Conservation of biodiversity in coffee agroecosystems: a tri-taxa comparison in southern Mexico. Biodiversity Conserv 12(6):1239–1252. doi:10.1023/a:1023039921916

Perfecto I, Armbrecht I, Philpott SM, Soto-Pinto L, Dietsch TV (2007) Shaded coffee and the stability of rainforest margins in northern Latin America. In: Tscharntke T, Leuschner C, Zeller M, Guhardja E, Bidin A (eds) Stability of tropical rainforets margins. Environmental science and engineering. Springer, Berlin, pp 225–261. doi:10.1007/978-3-540-30290-2_12

Philpott SM, Arendt WJ, Armbrecht I, Bichier P, Diestch TV, Gordon C, Greenberg R, Perfecto I, Reynoso-Santos R, Soto-Pinto L, Tejeda-Cruz C, Williams-Linera G, Valenzuela J, Zolotoff JM (2008) Biodiversity loss in Latin American Coffee Landscapes: review of the evidence on ants, birds, and trees. Conserv Biol 22(5):1093–1105. doi:10.1111/j.1523-1739.2008.01029.x

Potts J, Lynch M, Wilkings A, Huppe G, Cunningham M, Voora V (2014) The state of sustainability initiatives review (2014) Standards and the green economy. International Institute for Sustainable Development (IISD) and the International Institute for Environment and Development (IIED)

Production, Supply and Distribution on line (2011) United States Department of Agriculture—Foreign Agricultural Service. http://www.fas.usda.gov/psdonline/psdReport.aspx?hidReportRetrievalName=Table+01+Coffee+World+Production%2c+Supply+and+Distribution+&hidReportRetrievalID=2051&hidReportRetrievalTemplateID=13. Accessed 08/08/2011

RFA (2011) Supply for Rainforest Alliance Certified coffee. Rainforest Alliance

RFA (2012) The Rainforest Alliance Certified TM difference. The Rainforest Alliance http://www.rainforest-alliance.org/sites/default/files/sitedocuments/agriculture/documents/the_ra_certified_difference_en.pdf. Accessed Apr 12 2012

Rueda X, Lambin EF (2013a) Linking globalization to local land uses: how eco-consumers and gourmands are changing the Colombian coffee landscapes. World Dev 41:286–301. doi:10.1016/j.worlddev.2012.05.018

Rueda X, Lambin EF (2013b) Responding to globalization: impacts of certification on Colombian small-scale coffee growers. Ecol Soc 18(3):21 http://www.ecologyandsociety.org/vol18/iss3/art21/

Sánchez-Cuervo AM, Aide T, Clark M, Etter A (2012) Land cover change in Colombia: surprising forest recovery trends between 2001 and 2010. PLoS ONE 7(8):e43943. doi:10.1371/journal.pone.0043943

STAP (2010) Environmental Certification and the Global Environmental Facility. Scientific and Technical Advisory Panel to the GEF, Washington D.C.

Takahashi R, Todo Y (2014) The impact of a shade coffee certification program on forest conservation using remote sensing and household data. Environ Impact Assess Rev 44:76–81. doi:10.1016/j.eiar.2013.10.002

Trimble (2011) eCognition Developer 8.64.1; User Guide. Trimble, 8.64.1 edn., Munich

Tscharntke T, Clough Y, Bhagwat SA, Buchori D, Faust H, Hertel D, Hölscher D, Juhrbandt J, Kessler M, Perfecto I, Scherber C, Schroth G, Veldkamp E, Wanger TC (2011) Multifunctional shade-tree management in tropical agroforestry landscapes—a review. J Appl Ecol 48(3):619–629. doi:10.1111/j.1365-2664.2010.01939.x

van Kuijk M, Putz J, Zagt R (2009) Effects of forest certification on biodiversity. Tropenbos Int, Wageningen

Wunder S, Engel S, Pagiola S (2008) Taking stock: a comparative analysis of payments for environmental services programs in developed and developing countries. Ecol Econ 65:834–852
Acknowledgments
We thank the Colombian Coffee Growers Federation (FNC) for its generous support to conduct this research. We are grateful to Luis Fernando Samper and Andrés Valencia who granted us access to the information and Juan Pablo Becerra and Martha Cordoba who provided imagery and spatial data from SICA. We also thank the Ishiyama Foundation for the grant that supported this work.
About this article
Cite this article
Rueda, X., Thomas, N.E. & Lambin, E.F. Eco-certification and coffee cultivation enhance tree cover and forest connectivity in the Colombian coffee landscapes. Reg Environ Change 15, 25–33 (2015). https://doi.org/10.1007/s10113-014-0607-y
Received:

Accepted:

Published:

Issue Date:

DOI: https://doi.org/10.1007/s10113-014-0607-y
Keywords
Eco-certification

Impacts

Coffee

Colombia

Agroforestry

Remote sensing