Abstract
The Jordan River is among the world's most famous and culturally and historically significant waterways. The lower stretch of the river, however, has been a victim of development in a water scarce region, with current flows less than 5 % of historical levels. Furthermore, as it functions as an international border in a region of conflict, access to the river and its potential as a tourist attraction has been limited. Recently, there have been numerous calls for rehabilitation of the river. This study presents a first estimate of the economic benefits of such rehabilitation and compares them to the estimated costs. Identical contingent valuation method surveys were administered in Israel, Jordan, and the Palestinian Authority. Evidence from this study shows that, despite the large opportunity costs of increasing environmental flows, rehabilitation of the lower Jordan would produce positive net economic benefits. This is true even though the study estimated only the benefits to local populations, and not to international tourists or those outside the region. Net benefits are maximized when taking a regional, as opposed to strictly national, approach.
Access options
Buy single article
Instant access to the full article PDF.
US$ 39.95
Tax calculation will be finalised during checkout.
Subscribe to journal
Immediate online access to all issues from 2019. Subscription will auto renew annually.
US$ 79
Tax calculation will be finalised during checkout.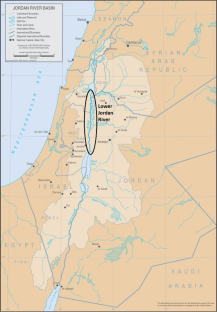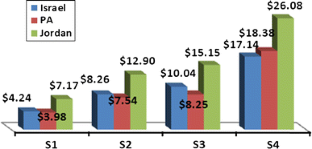 Notes
1.

Current shadow prices for marginal water in the Jordan Valley are likely lower than the price of desalination (see, for example, Fisher and Huber-Lee 2011); however, for the quantities necessary for restoration, shadow prices are likely greater than the cost of desalination, given conveyance and other costs.
References
Abramson A, Becker N, Garb Y, Lazarovitch N (2010) Willingness to pay, borrow, and work for rural water service improvements in developing countries. Water Resour Res 47:W11512

Abromovitz JN (1996) Imperiled waters, impoverished future: the decline of freshwater ecosystems. Worldwatch Institute, Washington

Alam K (2008) Cost–benefit analysis of restoring Buriganga River, Bangladesh. Water Resour Dev 24(4):593–607

Barak B (2010) How much are we willing to pay for a clean river? Summary report. Zalul. March, 2010. http://www.zalul.org.il/?p=2473 (In Hebrew)

Bateman I, Carson R, Day T, Hanemann M, Hanley N, Hett T, Jones-Lee M, Loomes G, Mouroto S, Özdemiroglu E, Pearce D (2002) Economic valuation with stated preference techniques: a manual. Edward Elgar, Cheltenham

Becker N, Freidler E (2012) Integrated hydro-economic assessment of restoration of the Alexander-Zeimar River (Israel–Palestinian Authority). Reg Environ Chang 13(1):103–114

Becker N, Katz D (2006) Economic valuation of resuscitating the Dead Sea. Water Policy 8(4):351–370

Becker N, Lavee D, Katz D (2010) Desalination and alternative water-shortage mitigation options in Israel: a comparative cost analysis. J Water Resour Prot 2(12):1040–1054

Bernhardt ES, Palmer MA et al (2005) Synthesizing U.S. river restoration efforts. Science 308:636–637

Blaine TW, Lichtkoppler FR, Jones KR, Zondag RH (2005) An assessment of household willingness to pay for curbside recycling: a comparison of payment card and referendum approaches. J Environ Manag 76:15–22

Cameron TA, Huppert DD (1989) OLS versus ML estimation of non-market resource values with payment card interval data. J Environ Econ Manag 17:230–246

Colby B (1989) Value of instream flows—can instream values compete in the market for water rights? Instream flow protection in the West. Island Press, Covelo, CA, pp 87–101

Cosens BA, Williams MK (2012) Resilience and water governance: adaptive governance in the Columbia River basin. Ecol Soc 17(4):3

Daubert JT, Young RA (1981) Recreational demands for maintaining instream flows: a contingent valuation approach. Am J Agric Econ 63(4):666–676

Dinar S (2000) Negotiations and international relations: a framework for hydropolitics. Int Negot 5(2):375–407

Dinar S (2006) Assessing side-payment and cost-sharing patterns in international water agreements: the geographic and economic connection. Polit Geogr 25:412–437

Dombrowsky I, Almog R, Becker N, Feitelson E, Klawitter S, Lindemann S, Mutlak N (2010) How widely applicable is river basin management? An analysis of wastewater management in an arid transboundary case. Environ Manag 45:1112–1126

Douglas AJ, Harpman DA (1998) Lake Powell management alternatives and values: CVM estimates of recreation benefits. Water Int 29(3):375–383

Douglas AJ, Taylor JG (1999) The economic value of Trinity River water. Water Resour Dev 15(3):309–322

Dziegielewska D, Mendelsohn R (2007) Does "no" means "no"? A protest methodology. Environ Resour Econ 38(1):71–87

Farber E, Vengosh A, Gavrieli I, Marie A, Bullen TD, Mayer B, Polak A, Shavit U (2007) The geochemistry of groundwater resources in the Jordan Valley: the impact of the Rift Valley brines. Appl Geochem 22(3):494–514

Fisher F, Huber-Lee A (2011) The value of water: optimizing models for sustainable management, infrastructure planning, and conflict resolution. Desalination Water Treat 31(1–3):1–23

Fisher A, Raucher R (1984) Intrinsic benefits of improved water quality: conceptual and empirical perspectives. In: Smith VK (ed) Advances in applied micro-economics. JAI Press, Greenwich, CT

Freeman AM (2003) The measurement of environmental and resource values: theory and methods. Resources for the Future, Washington, DC

Guimarães MH, Sousa C, Garcia T, Dentinho T, Boski T (2011) The value of improved water quality in Guadiana estuary—a transborder application of contingent valuation methodology. Lett Spatial Resour Sci 4:31–48

Hanley N, Schläpfer F, Spurgeon J (2003) Aggregating the benefits of environmental improvements: distance-decay functions for use and non-use values. J Environ Manag 68(3):297–304

Hansen L, Hallam A (1991) National estimates of the recreational value of stream flow. Water Resour Res 27(2):167–175

Holtzman R (2003) Water quality and quantities along the Jordan samples from agricultural drainages in the region. Salinization sources and mechanisms. (In Hebrew; tables, values, figures, and references in English) M.Sc. thesis. Technion, Haifa, Israel

Issar A (1996) Conflicts and covenants in the Middle East: a review of the contemporary literature on regional water problems. Israel Stud 1:267–277

Johnston DM, Braden JB, Price TH (2006) Downstream economic benefits of conservation development. J Water Resour Plan Manag 132(1):35–43

Klein M (2005) The change in flood regime along the Lower Jordan River: its influence on flood plain land use. In: Batall R, Garcia C (eds) Geomorphological processes and human impacts in river basins. IAHS Press, Wallingford, pp 205–216

Kramer RA, Eisen-Hecht JI (2002) Estimating the economic value of water quality protection in the Catawba River basin. Water Resour Res 38(9):1182

Loomis J (1989) Test-retest reliability of the contingent valuation method: a comparison of general population and visitor responses. Am J Agric Econ 71:76–84

Loomis J (1998) Estimating the public's values for instream flow: economic techniques and dollar values. J Am Water Resour Assoc 34(5):1007–1014

Loomis J (2006) Importance of including use and passive use values of river and lake restoration. J Contemp Water Res Educ 134(1):4–8

Magat W, Huber J, Viscusi WK, Bell J (2000) An iterative choice approach to valuing clean lakes, rivers, and streams. J Risk Uncertain 21(1):7–43

Mimi Z, Sawalhi B (2003) A decision tool for allocating the waters of the Jordan River Basin between all riparian parties. Water Resour Manag 17(6):447–461

NPS - National Park Service (2001) Economic benefits of conserved rivers: an annotated bibliography. U.S. Dept. of the Interior, National Park Service

Orthofer R, Daoud R, Isaac J, Shuval H (2007) Options for a more sustainable water management in the Lower Jordan Valley. Water Resour Middle East 2:69–78

Rayn M, Watson V (2009) Comparing welfare estimates from payment card contingent valuation and discrete choice experiment. Health Econ 18:389–401

Ready RC, Buzby JC, Hu D (1996) Differences between continuous and discrete contingent value estimates. Land Econ 72(3):397–411

Safier G (2011) Roadmap for the rehabilitation of the Lower Jordan River. Report prepared by DHV-MED on behalf of EcoPeace/Friends of the Earth Middle East

Shub J, Anisfeld SC (2009) Historical flows in the Lower Jordan River. Report, Yale School of Forestry & Environmental Studies, New Haven, CT

Turner M, Nassar K, Khateeb N (2005) Crossing the Jordan: concept document to rehabilitate, promote prosperity and help bring peace to the Lower Jordan River Valley. Ecopeace/Friends of the Earth Middle East (FOEME), Amman

Venot J, Molle F, Courcier R (2008) Dealing with closed basins: the case of the Lower Jordan River Basin. Int J Water Resour Dev 24(2):247–263

Weber MA, Berrens RP (2006) Value of instream recreation in the Sonoran Desert. J Water Resour Plan Manag 132(1):53–60

Willis KG, Garrod GD (2010) The benefits of alleviating low flows in rivers. Water Resour Dev 11(3):243–260

World Bank (2012) World development indicators database. http://databank.worldbank.org/data/home.aspx
Acknowledgments
The authors would like to thank Saeb Bamya of CORE Associates, Palestine and Ele Jan Saaf, of SaafConsult BV, Jordan, who collaborated on the design and administration of the surveys. We would also like to thank Friends of the Earth-Middle East (FOEME) for its financial support of the project, specifically Elizabeth Yaari for coordination, and Youval Arbel for scientific feedback.
Appendix: Visual aid to the survey describing the four scenarios
Appendix: Visual aid to the survey describing the four scenarios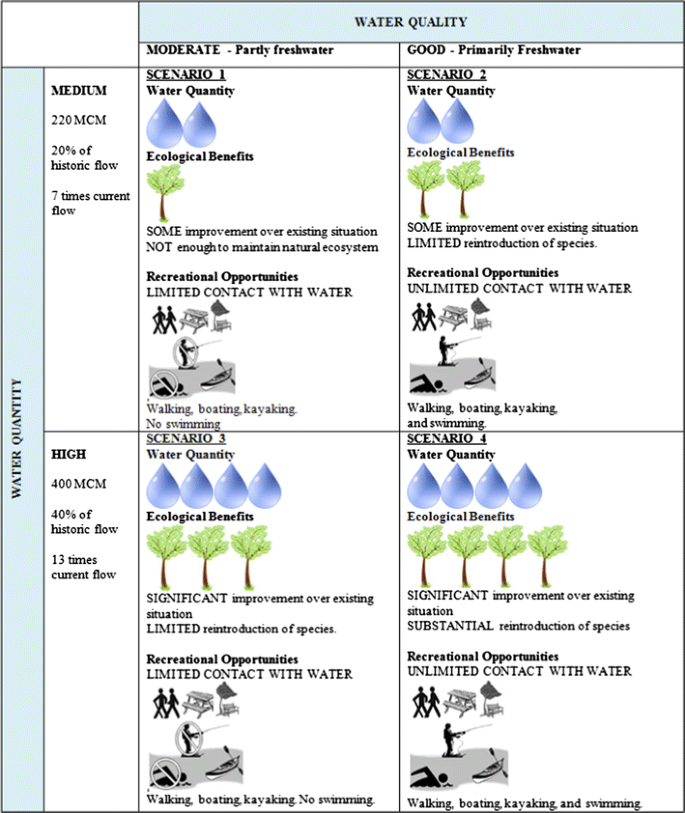 About this article
Cite this article
Becker, N., Helgeson, J. & Katz, D. Once there was a river: a benefit–cost analysis of rehabilitation of the Jordan River. Reg Environ Change 14, 1303–1314 (2014). https://doi.org/10.1007/s10113-013-0578-4
Received:

Accepted:

Published:

Issue Date:
Keywords
Arab-Israeli

Contingent valuation

Ecosystem services

Environmental economics

Non-market value

River restoration