Abstract
To address the growing need for developable land, many coastal cities are draining and filling wetlands, transforming them into urban built-up areas, and thereby substantially altering the structure and function of coastal ecosystems. We demonstrate an integrative approach for investigating the dynamics and impacts of coastal development in China's Jiangsu Province, where urban expansion has resulted in extensive wetland losses and sea reclamation (the process of creating new land from ocean or coastal waters). Remotely sensed data reveal that landscape change in the study area has been accompanied by an increase in total impervious surface area and an increase in mean surface "heat island effect." These indicators of change can be detected with remote sensing data and used to support a strategic environmental assessment (SEA) for urban coastal planning. Changes detected in Lianyungang during 2000–2006 suggest that reclaimed areas are environmentally sensitive and should be a focus of concern in future development planning, which has historically targeted coastal salt pond wetlands for conversion to land for the development. Given the current and projected rate of coastal development in China and elsewhere in the developing world, our findings and assessment approach have implications for coastal management decisions in the developing coastal zones of China and other regions of the world that are experiencing rapid urban growth.
Access options
Buy single article
Instant access to the full article PDF.
US$ 39.95
Tax calculation will be finalised during checkout.
Subscribe to journal
Immediate online access to all issues from 2019. Subscription will auto renew annually.
US$ 79
Tax calculation will be finalised during checkout.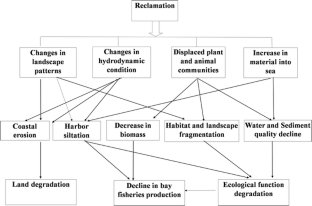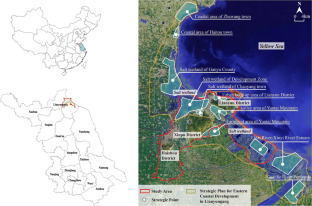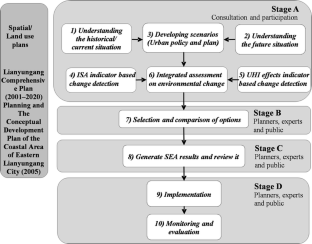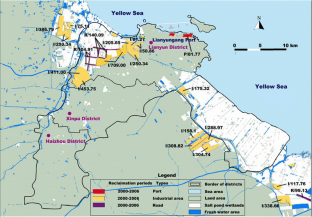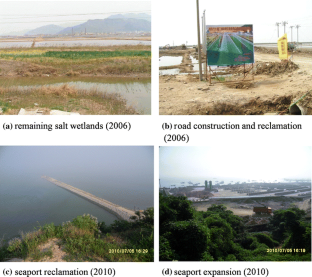 References
Byrne GF, Crapper PF, Mayo KK (1980) Monitoring land-cover change by principal component analysis of multitemporal landsat data. Remote Sens Environ 10(3):175–184. doi:10.1016/0034-4257(80)90021-8

Chander G, Markham BL, Helder DL (2009) Summary of current radiometric calibration coefficients for Landsat MSS, TM, ETM + , and EO-1 ALI sensors. Remote Sens Environ 113(5):893–903. doi:10.1016/j.rse.2009.01.007

Chang CI, Plaza A (2006) A fast iterative algorithm for implementation of pixel purity index. IEEE Geosci Remote Sens Lett 3(1):63–67. doi:10.1109/LGRS.2005.856701

Conway TM (2007) Impervious surface as an indicator of pH and specific conductance in the urbanizing coastal zone of New Jersey, USA. J Environ Manage 85(2):308–316. doi:10.1016/j.jenvman.2006.09.023

Cyranoski D (2009) Putting China's wetlands on the map. Nature 458(7235):134. doi:10.1038/458134a

Dalkman H (2007) Strategic environmental assessment—a promising instrument for sustainable urban development in China!? In Holcim Forum 2007: Green urbanism—between ecology and economy, Shanghai China, 155–160

Deng JS, Wang K, Deng YH, Qi GJ (2008) PCA-based land-use change detection and analysis using multitemporal and multisensor satellite data. Int J Remote Sens 29(16):4823–4838

Fung T, Ledrew E (1987) Application of principal components-analysis to change detection. Photogramm Eng Remote Sens 53(12):1649–1658

Government of Lianyungang (2005) Strategic plan for eastern coastal development in Lianyungang (in Chinese). http://web.lyg.gov.cn/ghzs/news/view.asp?id=445

Green AA, Berman M, Switzer P, Craig MD (1988) A transformation for ordering multispectral data in terms of image quality with implications for noise removal. IEEE Trans Geosci Remote Sens 26(1):65–74. doi:10.1109/36.3001

Grimm NB, Faeth SH, Golubiewski NE, Redman CL, Wu JG, Bai XM, Briggs JM (2008) Global change and the ecology of cities. Science 319(5864):756–760. doi:10.1126/science.1150195

Guo W, Li SH, Mao L, Yin Y, Zhu DK (2007) A model for environmental impact assessment of land reclamation. China Ocean Eng 21(2):343–354

Han QY, Huang XP, Shi P, Zhang QM (2006) Coastal wetland in South China: degradation trends, causes and protection countermeasures. Chin Sci Bull 51:121–128. doi:10.1007/s11434-006-9121-z

Jones C, Baker M, Carter J, Jay S, Short M, Wood C (2005) Strategic environmental assessment and land use planning: an international evaluation. Earthscan, London

Li X, Yeh AGO (1998) Principal component analysis of stacked multi-temporal images for the monitoring of rapid urban expansion in the Pearl River Delta. Int J Remote Sens 19(8):1501–1518. doi:10.1080/014311698215315

Li YF, Zhu XD, Wang XH (2009) New perspective of study on environmental impacts of reclaimed land in bay wetland. Marine Environ Sci 28(5):573–577 (in Chinese with English Abstract)

Li YF, Zhu XD, Sun X, Wang F (2010) Landscape effects of environmental impact on bay-area wetlands under rapid urban expansion and development policy: a case study of Lianyungang, China. Landsc Urb Plan 94(3–4):218–227. doi:10.1016/j.landurbplan.2009.10.006

Lin T, Xue XZ, Lu CY (2007) Analysis of coastal wetland changes using the "DPSIR" model: A case study in Xiamen, China. Coast Manage 35(2–3):289–303. doi:10.1080/08920750601169592

Liu JG, Diamond J (2005) China's environment in a globalizing world. Nature 435(7046):1179–1186. doi:10.1038/4351179a

Liu Y, Chen JN, He WQ, Tong QY, Li WF (2010) Application of an uncertainty analysis approach to strategic environmental assessment for urban planning. Environ Sci Technol 44(8):3136–3141. doi:10.1021/es902850q

Lu D, Mausel P, Brondizio E, Moran E (2004) Change detection techniques. Int J Remote Sens 25(12):2365–2407. doi:10.1080/0143116031000139863

Lu YJ, Zuo LQ, Ji RY, Xu X, Huang JW (2008) Effect of development of Caofeidian harbor area in Bohai Bay on hydrodynamic sediment environment. China Ocean Eng 22(1):97–112

Ma Y, Kuang YQ, Huang NS (2010) Coupling urbanization analyses for studying urban thermal environment and its interplay with biophysical parameters based on TM/ETM plus imagery. Int J Appl Earth Obs Geoinf 12(2):110–118. doi:10.1016/j.jag.2009.12.002

Mitsch WJ, Wang NM (2000) Large-scale coastal wetland restoration on the Laurentian Great Lakes: determining the potential for water quality improvement. Ecol Eng 15(3–4):267–282. doi:10.1016/s0925-8574(00)00081-1

Montenegro LO, Diola AG, Remedio EM (2005) The Environmental Costs of Coastal Reclamation in Metro Cebu. Singapore, Philippines, Economy and Environment Program for Southeast Asia (EEPSEA)

Montgomery MR (2008) The urban transformation of the developing world. Science 319(5864):761–764. doi:10.1126/science.1153012

Mulvihill R, Li YF (2010) Rapid urbanization in Eastern China: roles for SEA. IAIA 30th annual conference: the role of impact assessment in Transitioning to the Green Economy, 6–11 Apr 2010, Geneva, Switzerland. (online) http://www.iaia.org/iaia10/documents/reviewed_papers/Rapid%20Urbanization%20in%20Eastern%20China%20-%20Roles%20for%20SEA.pdf

Peng BB, Lin CC, Jin D, Rao HH, Jiang YW, Liu Y (2013) Modeling the total allowable area for coastal reclamation: a case study of Xiamen, China. Ocean Coast Manage 76:38–44. doi:10.1016/j.ocecoaman.2013.02.015

Qiu F, Abdelsalam M, Thakkar P (2006) Spectral analysis of ASTER data covering part of the neoproterozoic Allaqi-Heiani suture, Southern Egypt. J Afr Earth Sc 44(2):169–180. doi:10.1016/j.jafrearsci.2005.10.009

Rajasekar U, Weng QH (2009) Spatio-temporal modelling and analysis of urban heat islands by using landsat TM and ETM plus imagery. Int J Remote Sens 30(13):3531–3548. doi:10.1080/01431160802562289

Richards JA (1984) Thematic mapping from multitemporal image data using the principal components transformation. Remote Sens Environ 16(1):35–46. doi:10.1016/0034-4257(84)90025-7

Ridd MK (1995) Exploring a V–I–S (vegetation-impervious surface-soil) model for urban ecosystem analysis through remote sensing: comparative anatomy for cities. Int J Remote Sens 16(12):2165–2185. doi:10.1080/01431169508954549

Rojas C, Pinob J, Jaque E (2013) Strategic environmental assessment in Latin America: a methodological proposal for urban planning in the Metropolitan Area of Concepción (Chile). Land Use Policy 30:519–527. doi:10.1016/j.landusepol.2012.04.018

Suzuki T (2003) Economic and geographic backgrounds of land reclamation in Japanese ports. Mar Pollut Bull 47(1–6):226–229. doi:10.1016/s0025-326x(02)00405-8

United Nations (2010) Atlas of the Oceans, Human settlements on the Coast. Accessed June 13, 2013 at http://www.oceansatlas.org/servlet/CDSServlet?status=ND0xODc3JjY9ZW4mMzM9KiYzNz1rb3M~

Van Koningsveld M, Mulder JPM, Stive MJF, VanDervalk L, VanDerWeck AW (2008) Living with sea-level rise and climate change: a case study of the Netherlands. J Coastal Res 24(2):367–379. doi:10.2112/07a-0010.1

Voogt JA, Oke TR (2003) Thermal remote sensing of urban climates. Remote Sens Environ 86(3):370–384. doi:10.1016/S0034-4257(03)00079-8

Wang SJ, Li J, Wu DQ, Liu J, Zhang K, Wang RQ (2009) The strategic ecological impact assessment of urban development policies: a case study of Rizhao City, China. Stoch Env Res Risk Assess 23(8):1169–1180. doi:10.1007/s00477-008-0290-y

Wang XX, Shang SY, Qu ZY, Liu TX, Melesse AM, Yang WH (2010) Simulated wetland conservation-restoration effects on water quantity and quality at watershed scale. J Environ Manage 91(7):1511–1525. doi:10.1016/j.jenvman.2010.02.023

Weng Q (2001) A remote sensing-GIS evaluation of urban expansion and its impact on surface temperature in the Zhujiang Delta, China. Int J Remote Sens 22(10):1999–2014. doi:10.1080/713860788

Weng Q (2012) Remote sensing of impervious surfaces in the urban areas: requirements, methods, and trends. Remote Sens Environ 117:34–49. doi:10.1016/j.rse.2011.02.030

Xia Z, Jia P, Lei Y, Chen Y (2007) Dynamics of coastal land use patterns of Inner Lingdingyang Bay in the Zhujiang River estuary. Chin Geogr Sci 17(3):222–228. doi:10.1007/s11769-007-0222-7

Xu XG, Peng HF, Xu QZ, Xiao HY, Benoit G (2009) Land changes and conflicts coordination in coastal Urbanization: a case study of the Shandong Peninsula in China. Coastal Manage 37(1):54–69. doi:10.1080/08920750802612788

Xue XZ, Hong HS, Charles AT (2004) Cumulative environmental impacts and integrated coastal management: the case of Xiamen, China. J Environ Manage 71(3):271–283. doi:10.1016/j.jenvman.2004.03.006

Yang SL (2008) Predictive assessment of environmental impact of reclamation planning in the bays of Fujian Province. Science Press, Beijing (in Chinese)

Yuan F, Bauer ME (2007) Comparison of impervious surface area and normalized difference vegetation index as indicators of surface urban heat island effects in Landsat imagery. Remote Sens Environ 106(3):375–386. doi:10.1016/j.rse.2006.09.003

Zhang LP (2008) Retrospective assessment of environmental impact of reclamation planning in the bays of Fujian Province. Scinece Press, Beijing (in Chinese)

Zhao X, Huang J, Ye H, Wang K, Qiu Q (2010) Spatiotemporal changes of the urban heat island of a coastal city in the context of urbanisation. Int J Sustain Dev World Ecol 17(4):311–316. doi:10.1080/13504509.2010.490333

Zhou LM, Dickinson RE, Tian YH, Fang JY, Li QX, Kaufmann RK, Tucker CJ, Myneni RB (2004) Evidence for a significant urbanization effect on climate in China. Proc Natl Acad Sci USA 101(26):9540–9544. doi:10.1073/pnas.0400357101
Acknowledgments
We would like to thank two anonymous reviewers and Dr. Virginia Burkett for their valuable comments and detailed suggestions. Some ideas and comments of reviewers and Professor Luoping Zhang (Xiamen University, China) were reflected into the manuscripts. Financial support was provided by the National Natural Science Foundation of China (NSFC) Grants 41271008.
About this article
Cite this article
Li, Y., Shi, Y., Zhu, X. et al. Coastal wetland loss and environmental change due to rapid urban expansion in Lianyungang, Jiangsu, China. Reg Environ Change 14, 1175–1188 (2014). https://doi.org/10.1007/s10113-013-0552-1
Received:

Accepted:

Published:

Issue Date:
Keywords
Wetland loss

Environmental change

Sea reclamation

Urban expansion

Coastal zone