Abstract
Climate compatible development (CCD) has emerged as a new concept that bridges climate change adaptation, mitigation and community-based development. Progress towards CCD requires multi-stakeholder, multi-sector working and the development of partnerships between actors who may not otherwise have worked together. This creates challenges and opportunities that require careful examination at project and institutional levels and necessitates the sharing of experiences between different settings. In this paper, we draw on the outcomes from a multi-stakeholder workshop held in Mozambique in 2012, the final in a series of activities in a regional project assessing emerging CCD partnerships across southern Africa. The workshop involved policymakers, researchers and representatives from NGOs and the private sector. We employ a content analysis of workshop notes and presentations to identify the progress and challenges in moving four case study countries (the Democratic Republic of the Congo, Mozambique, Zambia and Zimbabwe) towards CCD pathways, by exploring experiences from both project and policy levels. To advance institutional support for the development of successful CCD policies, practices and partnerships, we conclude that there is a need for: (a) institutional development at the national level to strengthen coordination and more clearly define roles and responsibilities across sectors, based on the identification of capacity and knowledge gaps; (b) partnership development, drawing on key strengths and competences of different stakeholders and emphasising the roles of the private sector and traditional authorities; (c) learning and knowledge-sharing through national and regional fora; and (d) development of mechanisms that permit more equitable and transparent distribution of costs and benefits. These factors can facilitate development of multi-stakeholder, multi-level partnerships that are grounded in community engagement from the outset, helping to translate CCD policy statements into on-the-ground action.
Access options
Buy single article
Instant access to the full article PDF.
USD 39.95
Price excludes VAT (USA)
Tax calculation will be finalised during checkout.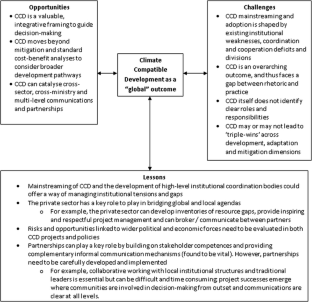 References
Adams WM, Hulme D (2001) If community conservation is the answer in Africa, what is the question? Oryx 35:193–200

Akhtar-Schuster M, Thomas RJ, Stringer LC, Chasek P, Seely MK (2011) Improving the enabling environment to combat land degradation: institutional, financial, legal and science-policy challenges and solutions. Land Degrad Dev 22:299–312

Andonova L, Betsill M, Bulkeley H (2009) Transnational climate governance. Glob Environ Polit 9:52–73

Balint PJ, Mashinya J (2008) CAMPFIRE during Zimbabwe's national crisis: local impacts and broader implications for community-based wildlife management. Soc Nat Resour 21:783–796

Blaikie P (2006) Is small really beautiful? Community-based natural resource management in Malawi and Botswana. World Dev 34:1942–1957

Boko M, Niang I, Nyong A, Vogel C, Githeko A, Medany M, Osman-Elasha B, Tabo R, Yanda P (2007) Africa. Climate change. In: Parry ML, Canziani OF, Palutikof JP, van der Linden PJ, Hanson CE (eds) Impacts, adaptation and vulnerability. Contribution of working group II to the fourth assessment report of the intergovernmental panel on climate change. Cambridge University Press, Cambridge UK, pp 433–467

Brickell E, McFarland W, Mwayafu DM (2012) Unlocking progress on REDD+ : sector coordination in Uganda. ODI Background Note, November 2012

Bryan E, Akpalu W, Yesuf M, Ringler C (2010) Global carbon markets: opportunities for sub-Saharan Africa in agriculture and forestry. Climate and development 2, 309–331

Bwalya B (2007). Katanino joint forest management area, Masaiti District. Zambia: challenges and opportunities. Department of International Environment and Development Studies. Norway. Available online at: http://www.saga.cau.edu/reports/SBawalya.pdf. Norwegian University of Life Sciences

CDKN (2012) Helping developing countries to design and deliver climate compatible development. ODI, London

Chasek P, Essahli W, Akhtar-Schuster M, Stringer LC, Thomas RJ (2011) Integrated land degradation monitoring and assessment: horizontal knowledge management at the national and international levels. Land Degrad Dev 22:272–284

Chidumayo EN (2002) Changes in the miombo woodland structure under different land tenure and use systems in central Zambia. J Biogeogr 29:1619–1626

Ciais P, Bombelli A, Williams M, Piao SL, Chave J, Ryan CM, Henry M, Brender P, Valentini R (2011) The carbon balance of Africa: synthesis of recent research studies. Philos Trans R Soc A 369:2038–2057

Dasgupta P (1993) An Inquiry into wellbeing and destitution. Oxford University Press, New York

Davis CL (2011) Climate risk and vulnerability: a handbook for Southern Africa. Council for Scientific and Industrial Research Pretoria, South Africa

De Vente J, Reed MS, Stringer LC, Newig J, Valente S (under review) How do context and design of participatory decision-making processes influence their outcomes? J Environ Manag

Dougill AJ, Stringer LC, Leventon J, Riddell M, Rueff H, Spracklen DV, Butt E (2012) Lessons from community-based payment for ecosystem service schemes: from forests to rangelands. Philos Trans R Soc B Biol Sci 367:3178–3190

Dougill AJ, Stringer LC, Dyer J (2013) Assessing institutional and governance partnerships for climate compatible development: outcomes from a southern African Regional Workshop. Available online: http://www.see.leeds.ac.uk/research/sri/cdkn

Dyer JC, Stringer LC, Dougill AJ, Leventon J, Falcao MP, Dzingirai V (2012) Synergy across sectors in pro-poor development: outcomes from a multi-stakeholder workshop for Mozambique and Zimbabwe. Available online at: http://www.see.leeds.ac.uk/research/sri/cdkn/

Dyer J, Leventon J, Stringer LC, Dougill AJ, Syampungani S, Nshimbi M, Chama F, Kafwifwi A (2013) Partnership models for climate compatible development: experiences from Zambia. Resources 2(1):1–38

Dyer JC, Stringer LC, Dougill AJ, Leventon J, Nshimbi M, Chama F, Kafwifwi A, Muledi JI, Kaumbu J-MK, Falcao M, Muhorro S, Munyemba F, Kalaba GM, Syampungani S (under review). Assessing participatory practices in community-based natural resource management: experiences in community engagement from southern Africa. J Environ Manag

Ellis F, Biggs S (2001) Evolving themes in rural development 1950s–2000s. Dev Policy Rev 19(4):437–448

Ellis K, Cambray A, Lemma A (2013) Drivers and challenges for climate compatible development. CDKN working paper, pp 13

Envirotrade (2011) Annual report: Kamoa Sustainable Livelihoods Project 2010/11

Fankhauser S, Burton I (2011) Spending adaptation money wisely. Clim Policy 11(3):1037–1049

Forsyth T (2007) Promoting the development dividend of climate technology transfer: can cross-sector partnerships help? World Dev 35:1684–1698

Füssel H (2009) Review and quantitative analysis of indices of climate change exposure, adaptive capacity, sensitivity and impacts. In: World Bank Development Report 2010: Development and climate change. World Bank: Potsdam

Gold Standard (2011) The Gold Standard in Africa: driving innovation through carbon for development. Available online: http://www.cdmgoldstandard.org/wp-content/uploads/2011/09/Africa-White-Paper.pdf. Accessed 7 Mar 2013

Groom B, Palmer C (2012) REDD+ and rural livelihoods. Biol Conserv 154:42–52

Haleaes K, Verhagen J (2007) Development based climate change adaptation and mitigation—conceptual issues and lessons learned in studies in developing countries. Mitig Adapt Strateg Glob Change 12:665–684

Kane S, Shogren JF (2000) Linking adaptation and mitigation in climate change policy. Clim Change 45:75–102

King B (2007) Conservation and community in the new South Africa: a case study on the Mahushe Shongwe Game Reserve. Geoforum 38:207–219

Klintenberg P, Seely MK, Christiansson C (2007) Local and national perceptions of environmental change in central northern Namibia: do they correspond? J Arid Environ 69:506–525

Kok M, Metz BJ, Van Rooijen S (2008) Integrating development and climate policies: national and international benefits. Clim Policy 8:103–118

Lehtonen M (2008) Mainstreaming sustainable development in the OECD through indicators and peer reviews. Sustain Dev 16(4):241–250

Lesolle D (2012) Southern Africa development community policy paper on climate change: assessing the policy options for SADC member states. SADC, Gaborone, pp 56

Leventon J, Dyer J, Stringer LC, Dougill AJ, Syampungani S, Kalaba G, Munyemba F (2012) Synergy across sectors in pro-poor development: outcomes from a multi-stakeholder workshop in Zambia and the Democratic Republic of the Congo. Available online at: http://www.see.leeds.ac.uk/research/sri/cdkn/

Mitchell T, Maxwell S (2010) Defining climate compatible development. CDKN ODI Policy Brief. November 2010/A

Nelson V, Lamboll R (2012) Exploring the linkages and guiding concepts relevant to climate change, agriculture and development. A detailed resource document. Available online: http://www.erails.net/images/fara/climate-learning/climate-learning/file/climate_learning/ExploringCCandAgricultureFINAL.pdf

NEPAD (2002) Comprehensive Africa agriculture development programme. Available online: http://www.nepad.org/system/files/caadp.pdf. Accessed 12 Mar 2013

Paavola J (2008) Governing atmospheric sinks: the architecture of entitlements in the global commons. Int J Commons 2:313–336

Palmer C, Silber T (2012) Trade-offs between carbon sequestration and rural incomes in the N'hambita Community Carbon Project, Mozambique. Land Use Policy 29(1):83–93

Patt AG, Tadross M, Nussbaumer P, Asante K, Metzger M, Rafael J, Goujon A, Brundrit G (2010) Estimating least-developed countries' vulnerability to climate-related extreme events over the next 50 years. Proc Natl Acad Sci 107:1333–1337

Peskett L, Stephenson J (2010) Is REDD+ an opportunity to support climate compatible development in developing countries? CDKN Policy Brief November 2010

Phiri M, Chirwa PW, Watts S, Syampungani S (2012) Local community of joint forest management and its implications for forest conditions: the case of Dambwa forest reserve in Southern Zambia. South For 74(1):52–59

Pinske J, Kolk A (2012) Addressing the climate change—sustainable development nexus. Bus Soc 51:176–210

Reed MS, Dougill AJ, Baker T (2008) Participatory indicator development: what can ecologists and local communities learn from each other? Ecol Appl 18(5):1253–1269

Reed MS, Buenemann M, Atlhopheng J, Akhtar-Schuster M, Bachmann F, Bastin G, Bigas H, Chanda R, Dougill AJ, Essahli W, Evely AC, Geeson N, Fleskens L, Glass JH, Hessel R, Holden J, Ioris AAR, Kruger B, Liniger HP, Mphinyane W, Nainggolan D, Perkins J, Raymond CM, Ritsema CJ, Schwilch G, Sebego R, Seely M, Stringer LC, Thomas R, Twomlow S, Verzandvoort S (2011) Cross-scale monitoring and assessment of land degradation and sustainable land management: a methodological framework for knowledge management. Land Degrad Dev 22:161–171

Rohde RF, Moleele NM, Mphale M, Allsopp N, Chanda R, Hoffman MT, Magole L, Young E (2006) Dynamics of grazing policy and practice: environmental and social impacts in three communal areas of southern Africa. Environ Sci Policy 9:302–316

Sathaye J, Najam A, Cocklin C, HellerT, Lecocq F, LlanesRegueiro J, Pan J, Petschel-Held G, Raymer S, Robinson J, Schaeffer R, Sokona Y, Swart R, Winkler H (2007) Sustainable development and mitigation. In: Metz B, Davidson O, Bosch P, Dave R, Meyer L (eds) Climate change 2007: mitigation. Contribution of working group III to the fourth assessment report of the intergovernmental panel on climate change. Cambridge University Press, Cambridge, UK

Sen A (1999) Development as freedom. Oxford University Press, Oxford

Shackleton CM, Shackleton SE (2004) The importance of non-timber forest products in rural livelihood security and as safety nets: a review of evidence from South Africa. S Afr J Sci 100:658–664

Stringer LC, Dougill AJ, Dyer JC, Kalaba FK, Mkwambisi DD, Mngoli M (2012a) Challenges and opportunities for carbon management in Malawi and Zambia. Carbon Manag 3:159–173

Stringer LC, Dougill AJ, Thomas AD, Spracklen DV, Chesterman S, Ifejika Speranza C, Rueff H, Riddell M, Williams M, Beedy T, Abson DJ, Klintenberg P, Syampungani S, Powell P, Palmer AR, Seely MK, Mkwambisi DD, Falcao M, Sitoe A, Ross S, Kopolo G (2012b) Challenges and opportunities in linking carbon sequestration, livelihoods and ecosystem service provision in drylands. Environ Sci Policy 19–20:121–135

Swart R, Raes F (2007) Making integration of adaptation and mitigation work: mainstreaming into sustainable development policies? Clim Policy 7(4):288–303

Syampungani S, Chirwa PW, Akinnifesi FK, Sileshi G, Ajayi OC (2009) The miombo woodlands at the cross roads: potential threats, sustainable livelihoods, policy gaps and challenges. Nat Resour Forum 33:150–159

Tompkins EL, Adger WN (2005) Defining response capacity to enhance climate change policy. Environ Sci Policy 8:562–571

Tompkins EL, Mensah A, King L, Long TK, Lawson ET, Hutton C, Hoang VA, Gordon C, Fish M, Dyer J, Bood N (2013) An investigation of the evidence of benefits from climate compatible development. Sustainability Research Institute Paper No. 44/Centre for Climate Change Economics and Policy Working Paper No. 124, pp 26

World Bank (2010) The economics of adaptation to climate change. World Bank, Washington, DC

Zhang ZX, Maruyama A (2001) Towards a private–public synergy in financing climate change mitigation projects. Energy Policy 29:1363–1378
About this article
Cite this article
Stringer, L.C., Dougill, A.J., Dyer, J.C. et al. Advancing climate compatible development: lessons from southern Africa. Reg Environ Change 14, 713–725 (2014). https://doi.org/10.1007/s10113-013-0533-4
Received:

Accepted:

Published:

Issue Date:

DOI: https://doi.org/10.1007/s10113-013-0533-4
Keywords