Abstract
Central and Eastern European countries are a hotspot area when analyzing the impacts of climate change on agricultural and environmental sectors. This paper conducts a socio-economic evaluation of climate risks on crop production in Hungary, using panel data models. The region has a special location in the Carpathian basin, where the spatial distribution of precipitation varies highly from humid conditions in the western part to semiarid conditions in eastern Hungary. Under current conditions, crop systems are mainly rainfed, and water licences are massively underexploited. However, water stress projected by climate change scenarios could completely change this situation. In the near future (2021–2050), most of the crops examined could have better climatic conditions, while at the end of the century (2071–2100), lower yields are expected. Adaptation strategies must be based on an integrated evaluation which links economic and climatic aspects, and since the results show important differences in the case of individual systems, it is clear that the response has to be crop and region specific.
This is a preview of subscription content, log in to check access.
Access options
Buy single article
Instant access to the full article PDF.
US$ 39.95
Price includes VAT for USA
Subscribe to journal
Immediate online access to all issues from 2019. Subscription will auto renew annually.
US$ 99
This is the net price. Taxes to be calculated in checkout.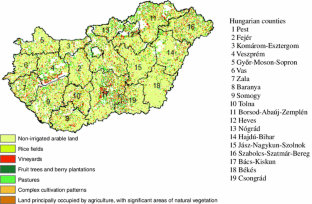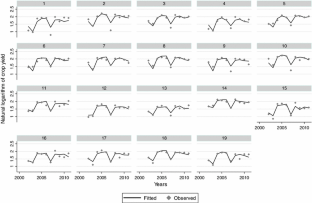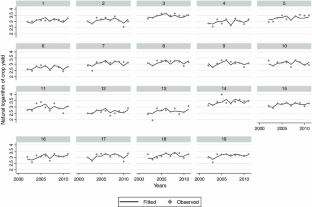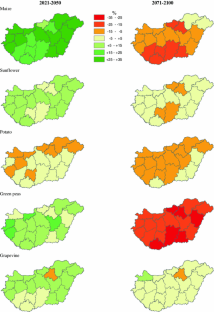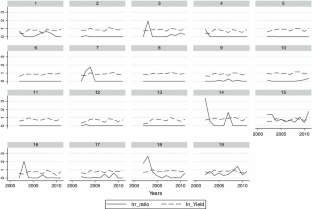 References
Aaheim A, Amundsen H, Dokken T, Ericson T, Wei T (2009) A macroeconomic assessment of impacts and adaptation to climate change in Europe. CICERO Report 2009:06, http://www.cicero.uio.no

Al-Jamal MS, Sammis TW, Ball S, Smeal D (2000) Computing the crop water production function for onion. Agric Water Manag 46:29–41

Báló B, Misik S, Miklós E, Váradi G, Szilágyi Z, Király I (2005) The effect of irrigation and fertigation on frost hardiness of 'Chardonnay' vines. XIV International GESCO viticulture congress, Geisenheim, Germany, 23–27 August, 2005, pp 527–533

Baltagi BH (2001) Econometric analysis of panel data, 2nd edn. Wiley, Chichester

Bartholy J, Pongrácz R, Gy Gelybó (2007) Regional climate change expected in Hungary for 2071–2100. Appl Ecol Environ Res 5(1):1–17

Baylis K, Paulson ND, Piras G (2011) Spatial approach to panel data in agricultural economics: a climate change application. J Agric Appl Econ 43(3):325–338

Bella Sz, Szépszó G, Szalai S (2007) Changing climate and the spatial distribution of optimal production area of maize. EFITA conference, Glasgow, Scotland, http://www.efita.net

Bojnec S, Ferto I (2010) Quality differentiation in East-West European agro-food trade during the pre-accession. Transform Bus Econ 9(3):36–51

Breusch TS, Pagan AR (1980) The Lagrange multiplier test and its applications to model specification in econometrics. Rev Econ Stud 47:239–253

Chavas J, Kim K, Lauer J, Klemme R, Bland W (2001) An economic analysis of corn yield corn profitability and risk at the edge of the Corn Belt. J Agric Resour Econ 26(1):230–247

Ciscar JC, Iglesisa A, Feyen L, Szabó L, Van Regemorted D, Amelung B, Nicholls R, Watkiss P, Christensen OB, Dankers R et al (2011) Physical and economic consequences of climate change in Europe. Proc Natl Acad Sci USA 108:2678–2683

Cs Torma, Coppola E, Giorgi F, Bartholy J, Pongrácz R (2011) Validation of a high resolution version of the regional climate model RegCM3 over the Carpathian Basin. J Hydrometeorol 12:84–100

Déqué M (2007) Frequency of precipitation and temperature extremes over France in an anthropogenic scenario: model results and statistical correction according to observed values. Glob Planet Change 57:16–26

Dixon BL, Hollinger SE, Garcia P, Tirapattur V (1994) Estimating corn yield response models to predict impacts of climate change. J Agric Res Econ 19(1):58–68

Erdélyi É (2009) Sensitivity to climate change with respect to agriculture production in hungary. In: van Henten EJ, Goense D, Lokhorst C (ed) Precision agriculture '09. Wageningen Academic Publisher, Wageningen, pp 559–567

Ferencsik I (2007) Multifunctional theory in agricultural land use planning—case study. http://www.terport.hu/webfm_send/556

Fodor N, Pásztor L (2010) The agro-ecological potential of Hungary and its prospective development due to climate change. Appl Ecol Environ Res 8(3):177–190

Gaál M (2008) Expected changes in climatic conditions of main crops. "KLÍMA-21" Füzetek 55:28–35

Gaál M, Moriondo M, Bindi M (2012) Modelling the impact of climate change on the Hungarian wine regions using Random Forest. Appl Ecol Environ Res 10(2):121–140

Garrote L, Flores F, Iglesias A (2007) Linking drought indicators to policy: the case of the Tagus basin drought plan. Water Resour Manag 21(5):873–882

González-Zeas D, Quiroga S, Iglesias A, Garrote L (2013) Looking beyond the average agricultural impacts in defining adaptation needs in Europe. Reg Environ Change. doi:10.1007/s10113-012-0388-0

Greene WH (2003) Econometric analysis, 5th edn. Pearson Education, New Jersey

Hausman JA (1978) Specification tests in econometrics. Econometrica 46:1251–1271

Hsiao Ch (2003) Analysis of panel data, 2nd edn. Cambridge University Press, Cambridge

Iglesias A, Quiroga S (2007) Measuring the risk of climate variability to cereal production at five sites in Spain. Clim Res 34:47–57

Iglesias A, Quiroga S, Moneo M, Garrote L (2012) From climate change impacts to the development of adaptation strategies: challenges for agriculture in Europe. Clim Change 112(1):143–168

Jacquin E, Willems E, Buchholzer F (1998) Agricultural situation and perspectives in the Central and Eastern European Countries, Hungary. EC DG VI. Working paper http://ec.europa.eu/agriculture/publi/peco/hungary/summary/sum_en.htm

Kapronczai I (2010) Vízhasznosítás a mezőgazdaságban. Agrárium7 http://agrarium7.hu/rovatok+agrargazdasag+vizhasznositas_a_mezogazdasagban.html

Ladányi M, Gaál M, Hegedüs A, Szenteleki K (2009) Climatic risk analysis in horticulture—a methodological approach in Hungary. International Commission of Agricultural and Biological Engineers, Section V. Conference "Technology and Management to Increase the Efficiency in Sustainable Agricultural Systems", Rosario, Argentina, 1–4 September 2009, CIGR proceedings, pp 1–9. http://journals.sfu.ca/cigrp/index.php/Proc/article/view/86/85.pdf

László M (2009) Climate change: precipitation and plant nutrition interactions on potato (Solanum tuberosum L.) yield in North-eastern Hungary. Geophysical Research Abstracts, vol 11, EGU2009-1398

Lobell DB, Burke MB, Tebaldi C, Mastrandrea MD, Falcon WP, Naylor RL (2008) Prioritizing climate change adaptation needs for food security in 2030. Science 319(5863):607–610

McKee TB, Doesken NJ, Kleist J (1993) The relationship of drought frequency and duration to time scales. 8th Conference on applied climatology, Anaheim, CA, UISA Press, pp 36–66

Mezősi G, Meyer BC, Loibl W, Aubrecht C, Csorba P, Bata T (2012) Assessment of regional climate change impacts on Hungarian landscapes. Reg Environ Change. doi:10.1007/s10113-012-0326-1

Park HM (2009) Linear regression models for panel data using SAS, Stata, LIMDEP, and SPSS, working paper. The University Information Technology Services (UITS) Center for Statistical and Mathematical Computing, Indiana University. http://www.indiana.edu/~statmath/stat/all/panel

Parry MA, Rosenzweig C, Iglesias A, Livermore M, Fischer G (2004) Effects of climate change on global food production under SRES emissions and socio-economic scenarios. Glob Environ Change 14:53–67

Petz K, Minca EL, Werners SE, Leemans R (2012) Managing the current and future supply of ecosystem services in the Hungarian and Romanian Tisza River Basin. Reg Environ Change 12:689–700

Quiroga S, Iglesias A (2009) A comparison of the climate risks of cereal, citrus, grapevine and olive production in Spain. Agric Syst 101:91–100

Quiroga S, Fernández-Haddad Z, Iglesis A (2011) Crop yields response to water pressures in the Ebro basin in Spain: risk and water policy implications. Hydrol Earth Syst Sci 15:505–518

Révész A (2008) Stochastic behaviour of heat waves and temperature in Hungary. Appl Ecol Environ Res 6(4):85–100

Stanger TF, Lauer JG, Chavas JP (2008) The profitability and risk of Long-term cropping systems featuring different rotations and Nitrogen rates. Agron J 100:105–113

Sz Biro, Kapronczai I, Székely E, Szűcs I (2011) A Nemzeti Vidékstratégia a mezőgazdasági vízgazdálkodás és az öntözésfejlesztés tükrében [Rural strategy, water management and irrigation in agriculture]. Gazdálkodás 55(3):245–250

Szenteleki K, Botos EP, Szabo A, Horvath Cs, Martinovich L, Katona Z (2007) Definition of the ecological facilities, ecological indicators and quality of products in the Hungarian vine and wine sector using updated GIS. EFITA conference, Glasgow, Scotland. http://www.efita.net

Szenteleki K, Gaál M, Ladányi M (2009) Hail data analyses. Int J Hortic Sci 15(4):99–103

Szenteleki K, Ladányi M, Gaál M, Zanathy G, Gy Bisztray (2012) Climatic risk factors of Central Hungarian grape growing regions. Appl Ecol Environ Res 10(1):87–105

Tóth O (2012) Farm structure and competitiveness in agriculture. European Association of Agricultural Economists 132nd Seminar, October 25–27, 2012, Skopje, Republic of Macedonia. http://purl.umn.edu/139504

Tsakiris G, Loukas A, Pangalou D, Vangelis H, Tigkas D, Rossi G, Cancelliere A (2007) Drought characterization in drought management guidelines technical annex, Cap. 7, pp 85–102

Varga Z, Varga-Haszonits Z, Enzsőlné Gelencsér E, Milics G (2007) Az éghajlati változékonyság hatása a szőlőtermesztésre. Kertgazdaság 39(2):27–34

WMO (2011) Weather extremes in a changing climate: hindsight on foresight. WMO-No. 1075

Wolf J (2002) Comparison of two potato simulation models under climate change. II. Application of climate change scenarios. Clim Res 21(2):187–198
Acknowledgments
Many thanks to Bojtárné Lukácsik Mónika for providing data of the Research Institute of Agricultural Economics.
About this article
Cite this article
Gaál, M., Quiroga, S. & Fernandez-Haddad, Z. Potential impacts of climate change on agricultural land use suitability of the Hungarian counties. Reg Environ Change 14, 597–610 (2014). https://doi.org/10.1007/s10113-013-0518-3
Received:

Accepted:

Published:

Issue Date:
Keywords
Climate change

Statistical models of yield response

Panel data analysis

Potential irrigation

Hungarian counties