Abstract
Global tropical deforestation continues to occur at high rates despite political attention. National-level forest baselines are being established all over the world to guide the implementation of several policy mechanisms. However, identifying the direct and indirect drivers of deforestation and understanding the complexity of their interlinkages are often difficult. We first analyzed deforestation between 1990 and 2005 at the national level and found an annual deforestation rate of 0.62 %. Next, we performed separate analyses for four natural regions in Colombia and found annual deforestation rates between 0.42 and 1.92 %. Using general linear models, we identified several direct causes and underlying factors influencing deforestation at the national level: rural population density, cattle, protected areas, and slope. Significant differences in deforestation rates and causes were found across regions. In the Caribbean region, drivers of loss are urban population, unsatisfied basic needs, slope, and precipitation and four land use variables (illicit crops, pastures, cattle, and fires). In the Orinoco region, crops are the main driver of forest loss, and in the Amazonian region, deforestation is primarily due to fires related to the colonization front. Policy mechanisms will have to take into account regional patterns to successfully balance development and forest preservation in Colombia.
Access options
Buy single article
Instant access to the full article PDF.
USD 39.95
Price includes VAT (USA)
Tax calculation will be finalised during checkout.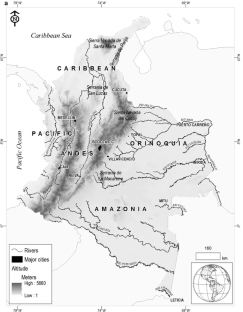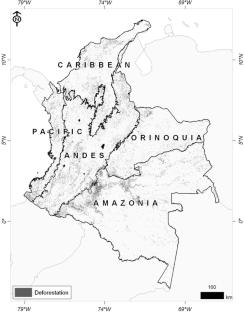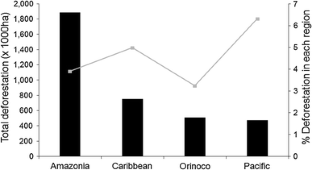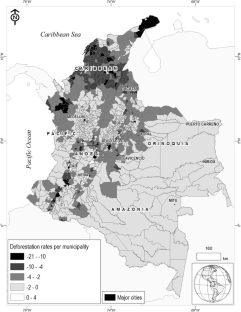 References
Achard F, Eva H, Stibig HJ, Mayaux P, Gallego J, Richards T, Malingreau JP (2002) Determination of deforestation rates of the world's humid tropical forests. Science 297:999–1002

Aguiar AP, Camara G, Sobral MI (2007) Spatial statistical analysis of land-use determinants in the Brazilian Amazonia: exploring intra-regional heterogeneity. Ecol Model 209:169–188

Angulo CP (2011) Dinámica de la deforestación en Venezuela: análisis de los cambios a partir de mapas históricos. Interciencia 36:578–587

Aragão LEOC, Malhi Y, Barbier N, Lima A, Shimabukuro Y, Anderson L, Saatchi S (2008) Interactions between rainfall, deforestation and fires during recent years in the Brazilian Amazonia. Philos T R Soc B 363:1779–1785

Armenteras D, Rudas G, Rodríguez N, Sua S, Romero M (2006) Patterns and causes of deforestation in the Colombian Amazon. Ecol Indic 6:353–368

Armenteras D, Rodríguez N, Retana J (2009) Are conservation strategies effective in avoiding the deforestation of the Colombian Guyana Shield? Biol Conserv 142:1411–1419

Armenteras D, Rodríguez N, Retana J, Morales M (2011) Understanding deforestation in montane and lowland areas of the Andes in Colombia. Reg Environ Change 11:693–705

Armenteras-Pascual D, Retana J, Molowny-Horas R, Roman-Cuesta RM, Gonzalez-Alonso F, Morales-Rivas M (2011) Characterization of fire spatial patterns interactions with climate and vegetation in Colombia. Agr For Meteorol 151:279–289

Armenteras D, Retana J (2012) Dynamics, patterns and causes of fires in Northwestern Amazonia. PLoS One 7:e35288

 Armenteras D, Rodríguez N, Retana J (2013) Landscape dynamics in northwestern amazonia: an assessment of pastures, fire and illicit crops as drivers of tropical deforestation. PLoS One 8(1):e54310. doi:10.1371/journal.pone.0054310

Barbosa RI, Fearnside PM (2005) Fire frequency and area burned in the Roraima savannas of Brazilian Amazonia. For Ecol Manag 204:371–384

Bradley AV, Millington AC (2008) Coca and colonists: quantifying and explaining forest clearance under coca and anti-narcotics policy regimes. Ecol Soc 13:31

Butler RA, Laurance WF (2008) New strategies for conserving tropical forests. Trends Ecol Evol 23:469–472

Calvo-Alvarado J, McLennan B, Sánchez-Azofeifa A, Garvin T (2009) Deforestation and forest restoration in Guanacaste, Costa Rica: putting conservation policies in context. For Ecol Manag 258:931–940

Carr D (2009) Rural migration: the driving force behind tropical deforestation on the settlement frontier. Prog Hum Geo 33:1–31

Carr DL, Suter L, Barbieri A (2005) Population dynamics and tropical deforestation: state of the debate and conceptual challenges. Popul Environ 27:89–113

Carr DL, Lopez AC, Bilsborrow RE (2009) The population, agriculture, and environment nexus in Latin America: country-level evidence from the latter half of the twentieth century. Popul Environ 30:222–246

Cochrane M, Barber CP (2009) Climate change, human land use and future fires in the Amazon. Glob Change Biol 15:601–612

Cotte Poveda A, Pardo Martínez CI (2011) Trends in economic growth, poverty and energy in Colombia: long-run and short-run effects. Energy Sys 2:281–298

Chomitz KM, Thomas TS (2003) Determinants of land use in Amazonia: a fine scale spatial analysis. Am J Agr Econ 85:1016–1028

Dávalos LM, Bejarano AC, Hall MA, Correa HL, Corthals AP, Espejo OJ (2011) Forests and drugs: coca-driven deforestation in tropical biodiversity hotspots. Environ Sci Technol 45:1219–1227

Davies DK, Ilavajhala S, Wong MM, Justice CO (2009) Fire information for resource management system: archiving and distributing MODIS active fire data. IEEE T Geosci Remote 47:72–79

Defries RS, Rudel T, Uriarte M, Hansen M (2010) Deforestation driven by urban population growth and agricultural trade in the twenty-first century. Nature Geosci 3:178–181

Egler M, Egler CAG, Franz B, Muylaert de Araujo MS, Freitas MAV (2012) Indicators of deforestation in the Southern Brazilian Pre-Amazon. Reg Environ Change. doi:10.1007/s10113-012-0331-4

Etter A, McAlpine C, Wilson L, Phinn S, Possingham H (2006) Regional patterns of agricultural land use and deforestation in Colombia. Agric Ecosyst Environ 114:369–386

Etter A, McAlpine C, Possingham H (2008) Historical patterns and drivers of landscape change in Colombia since 1500: a regionalized spatial approach. Ann Assoc Am Geogr 98:2–23

FAO (2011) State of the world's forests. FAO, Rome. http://www.fao.org/docrep/013/i2000e/i2000e.pdf

Fearnside PM (1984) Initial soil quality conditions on the Trans Amazon Highway of Brazil and their simulation in models for estimating human carrying capacity. Tropical Ecol 25:1–21

Fearnside PM (1993) Deforestation in Brazilian Amazonia: the effect of population and land tenure. Ambio 22:537–545

Forrest JL, Sanderson EW, Wallace R, Lazzo TMS, Cerveró LHG, Coppolillo P (2008) Patterns of land cover change in and around Madidi National Park, Bolivia. Biotropica 40:285–294

Geist HJ, Lambin EF (2001) What drives tropical deforestation? A meta-analysis of proximate and underlying causes of deforestation based on subnational case study evidence. LUCC International Project Office, LUCC Report Series no. 4, Louvain-la-Neuve, Belgium. http://www.pik-potsdam.de/members/cramer/teaching/0607/Geist_2001_LUCC_Report.pdf

Geist HJ, Lambin EF (2002) Proximate causes and underlying driving forces of tropical deforestation. Bioscience 52:143–150

Grau HR, Aide M (2008) Globalization and land-use transitions in Latin America. Ecol Soc 13:16

Halekoh U, Højsgaard S (2004) Generalized linear models. Master of Applied Statistics, Tjele, Denmark

Hansen MC, Stehman SV, Potapov PV (2010) Quantification of global gross forest cover loss. PNAS 107:8650–8655

Herrador Valencia D, Boada i Juncà M, Varga Linde D, Mendizábal Riera E (2011) Tropical forest recovery and socio-economic change in El Salvador: an opportunity for the introduction of new approaches to biodiversity protection. Appl Geogr 31:259–268

Hijmans RJ, Cameron SE, Parra JL, Jones PG, Jarvis A (2005) Very high resolution interpolated climate surfaces for global land areas. Int J Climatol 25:1965–1978

Huang C, Kim S, Altstatt A, Townshend JRG, Davis P, Song K, Tucker CJ et al (2007) Rapid loss of Paraguay's Atlantic forest and the status of protected areas A Landsat assessment. Remote Sens Environ 106(4):460–466

Huang C, Kim S, Song K, Townshend JRG, Davis P, Altstatt A, Rodas O et al (2009) Assessment of Paraguay's forest cover change using Landsat observations. Global Planet Change 67(1–2):1–12

IDEAM, IGAC, IAvH, Invemar, Sinchi, IIAP (2007) Ecosistemas continentales, costeros y marinos de Colombia. Instituto de Hidrología, Meteorología y Estudios Ambientales, Instituto Geográfico Agustín Codazzi, Instituto de Investigación de Recursos Biológicos Alexander von Humboldt, Instituto de Investigaciones Marinas y Costeras José Benito Vives de Andréis, Instituto Amazónico de Investigaciones Científicas Sinchi e Instituto de Investigaciones Ambientales del Pacífico Jhon von Neumann. Bogotá, DC

Instituto de Hidrología, Meteorología y Estudios Ambientales [IDEAM] (2011) Memoria Técnica Cuantificación de la Deforestación histórica para Colombia a nivel nacional, escalas gruesa y fina. Bogotá, p 85 (in press)

Instituto Geográfico Agustín Codazzi [IGAC] (2005) 1:500.00 Official cartography

Instituto Geográfico Agustín Codazzi [IGAC] (2011) Sistema de Información Geográfica para la Planeación y el Ordenamiento Territorial Nacional SIGOT, Bogotá, Colombia

Janssen R, Rutz DD (2011) Sustainability of biofuels in Latin America: risks and opportunities. Energ Policy. doi:10.1016/j.enpol.2011.01.047

Jarvis A, Touval J, Schmitz MC, Sotomayor L, Hyman GG (2010) Assessment of threats to ecosystems in South America. J Nat Conserv 18:180–188

Killeen TJ, Schroth G, Turner W, Harvey CA, Steininger MA (2011) Stabilizing the agricultural frontier: leveraging REDD with biofuels for sustainable development. Biomass Bioenerg 35(12):4815–4823

Kindermann G, Obersteiner M, Sohngen B, Sathaye J, Andrasko K, Rametsteiner E, Schlamadinger B, Wunder S, Beach R (2008) Global cost estimates of reducing carbon emissions through avoided deforestation. PNAS 105:10302–10307

Laurance WF, Albernaz AKM, Da Costa C (2001) Is deforestation accelerating in the Brazilian Amazon? Environ Conserv 28:305–311

Leica Geosystems (2005) ERDAS Imagine 9.1. Leica Geosystems, GIS and mapping division, Atlanta, GA

López S, Sierra R (2010) Tropical deforestation in the Ecuadorian Chocó: logging practices and socio-spatial relationships. Geograp Bull 51:3–22

Mittermeier RR, Myers N, Thomsen JJB, da Fonseca GAB, Olivieri S (1998) Biodiversity hotspots and major tropical wilderness areas: approaches to setting conservation priorities. Conserv Biol 12:516–520

Monzón-Alvarado C, Cortina-Villar S, Schmook B, Flamenco-Sandoval A, Christman Z, Arriola L (2012) Land-use decision-making after large-scale forest fires: analyzing fires as a driver of deforestation in Laguna del Tigre National Park, Guatemala. Appl Geogr 35:43–52

Müller R, Müller D, Schierhorn F, Gerold G, Pacheco P (2011) Proximate causes of deforestation in the Bolivian lowlands: an analysis of spatial dynamics. Reg Environ Change 2:445–459

Myers N, Mittermeier RA, Mittermeier CG, da Fonseca GA, Kent J (2000) Biodiversity hotspots for conservation priorities. Nature 403:853–858

Portillo-Quintero C, Sanchez M, Valbuena C, Gonzalez YY, Larreal JT (2012) Forest cover and deforestation patterns in the Northern Andes (Lake Maracaibo Basin): a synoptic assessment using MODIS and Landsat imagery. Appl Geog 35:152–163

Redo D, Joby Bass JO, Millington AC (2009) Forest dynamics and the importance of place in western Honduras. Appl Geog 29:91–110

Roca AM, Perez GJ (2006) Geografía física y poblamiento en la Costa Caribe colombiana. Documentos de trabajo sobre Economía Regional No 73, Junio 2006. Banco de la República, Colombia

Rodríguez N, Armenteras D, Retana J, Molowny-Horas R (2011) Patterns and trends of forest loss in the Colombian Guyana. Biotropica 44(1):123–132

Rodríguez N, Armenteras D, Retana J (2012) Land use and land cover change in the Colombian Andes: dynamics and future scenarios. J Land Use Sci. doi:10.1080/1747423X.2011.650228

Romero-Ruiz M, Etter A, Sarmiento A, Tansey K (2009) Spatial and temporal variability of fires in relation to ecosystems, land tenure and rainfall in savannas of northern South America. Glob Change Biol 16:2013–2023

Rudel TK (2006) Shrinking tropical forests, human agents of change and conservation policy. Conserv Biol 20:1604–1609

Rudel TK (2007) Changing agents of deforestation: from state-initiated to enterprise driven processes, 1970–2000. Land Use Policy 24:35–41

Rudel TK, Roper J (1997) The paths to rain forest destruction: cross-national Patterns of tropical deforestation, 1975–90. World Dev 25:53–65

Rudel TK, Defries R, Asner GP, Laurance WF (2009) Changing drivers of deforestation and new opportunities for conservation. Conserv Biol 23(6):1396–1405

Statsoft (2001) STATISTICA 6.0 package. Statsoft. Tulsa, USA

Steininger MK, Tucker CJ, Townshend JRG, Killeen TJ, Desch A, Bell V, Ersts P (2001) Tropical deforestation in the Bolivian Amazon. Environ Conserv 28:127–134

Stevens K, Campbell L, Urquhart G, Kramer D, Qi J (2011) Examining complexities of forest cover change during armed conflict on Nicaragua's Atlantic Coast. Biodivers Conserv 20:2597–2613

United Nations Office on Drugs and Crime—UNODC (2009) Colombia: Monitoreo de Cultivos de Coca 2009. UNODC, Bogotá

Urioste A (2010) Deforestación en Bolivia. Una amenaza mayor al cambio climático. Fundación Friedrich Ebert. Working paper. http://library.fes.de/pdf-files/bueros/bolivien/07570.pdf

Viloria de la Hoz J (2003) La ganadería bovina en las Llanuras del Caribe colombiano. Documentos de trabajo sobre economía regional. Banco de la República, No. 40, Cartagena de Indias, Colombia

Wassenaar T, Gerber P, Verburg PH, Rosales M, Ibrahim M, Steinfeld H (2007) Projecting land use changes in the neotropics: the geography of pasture expansion into forest. Global Environ Chang 17:86–104

Wright S, Samaniego M (2008) Historical, demographic, and economic correlates of land-use change in the Republic of Panama. Ecol Soc 13(2):17

Zeledon EB, Kelly NM (2009) Understanding large-scale deforestation in southern Jinotega, Nicaragua from 1978 to 1999 through the examination of changes in land use and land cover. J Environ Manag 90:2866–2872
Acknowledgments
We thank the Instituto de Hidrología, Meteorología y Estudios Ambientales (IDEAM) for providing the deforestation data maps from the national Colombia REDD (Reducing Emissions from Deforestation and Degradation) project funded by the Gordon and Betty Moore Foundation and its team members Maria Claudia García, Maria Fernanda Ordoñez, Gustavo Galindo, and Diana Vargas. We also thank the MODIS team for providing continuous access to active fire datasets. Thanks to Carol Franco for her continuous support in data handling. We also want to thank you the anonymous reviewers for their valuable comments and suggestions to improve the quality of the paper. The research was funded by the Universidad Nacional de Colombia through the postdoctoral position of Nelly Rodríguez and a grant from the CONVOCATORIA NACIONAL PARA EL FORTALECIMIENTO DE ALIANZAS ESTRATÉGICAS INTERINSTITUCIONALES. UN - 2012, Project 12.
About this article
Cite this article
Armenteras, D., Cabrera, E., Rodríguez, N. et al. National and regional determinants of tropical deforestation in Colombia. Reg Environ Change 13, 1181–1193 (2013). https://doi.org/10.1007/s10113-013-0433-7
Received:

Accepted:

Published:

Issue Date:
Keywords
Tropical forest

Deforestation

Drivers

Heterogeneity

Regional

Colombia