Abstract
This study estimates the social benefits of wetland conservation in the Credit River watershed, located in an urban/peri urban area in Southern Ontario, Canada. A stated preference approach was employed to value wetland conservation programs which ranged from retaining the existing wetlands to restoring various levels of acres of wetlands over the 2009–2020 period. A total of 1,407 households completed an internet-based survey which presented trade-offs in binary choice scenarios framed as referenda. Responses were analyzed using various models, one of which was a latent class analysis which segmented respondents into three classes. This econometric approach uncovered significant preference heterogeneity for wetland conservation. Assignment of respondents to the classes suggested that about one-third of the sample was willing to pay small amounts to retain the existing wetlands. An additional third was willing to pay several hundred dollars a year for retention and small positive amounts for additional restoration. The final third were apparently willing to pay considerable sums for retention, but lesser amounts for additional restoration. However, further analysis revealed that respondents in this third class largely constituted yea-sayers. These results suggest caution in interpreting associated economic valuation estimates and highlight the importance of attempting to understand hypothetical bias in wetland and other such valuation studies.
Access options
Buy single article
Instant access to the full article PDF.
USD 39.95
Price includes VAT (USA)
Tax calculation will be finalised during checkout.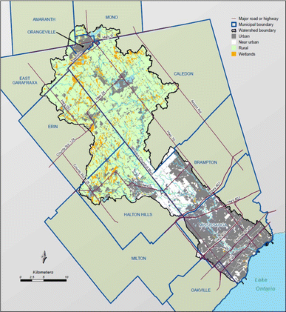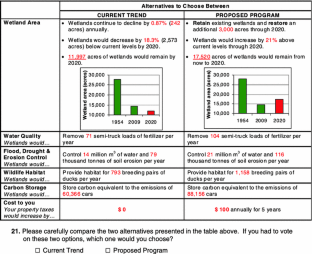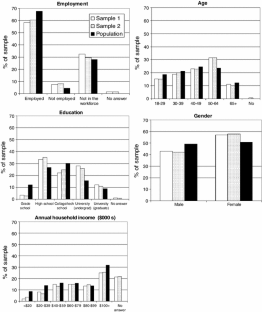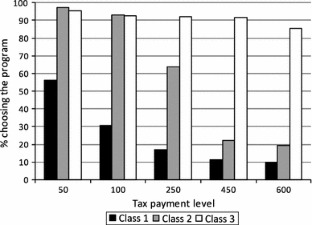 Notes
1.

2.

The referendum format is generally favored over other formats in the literature as it is thought to be incentive compatible, where respondents have an incentive to report their true WTP (Arrow et al. 1993).

3.

4.

In the survey, a distinction was not made between the ecological functioning of natural versus restored wetlands. While differences do exist, we believed that the required explanation would introduce information overload to survey respondents.

5.

In some CVM application, multiple votes are employed but the level of the environmental quality change is held constant, and the tax level is varied depending on whether the respondent agreed to pay some original level or not. This is called double-bounded CVM. This provides a great level of detail on the marginal utility of income. However, in this study, we varied the wetland level which provides more detail on preferences over the environmental quality change of interest.

6.

7.

Ipsos Reid maintains a panel of approximately 7,620 residents within municipalities located in the Credit River watershed region for survey purposes. Panel members are selected through a rigorous screening process with the intent to ensure representation of all demographic and market segments, and panel members receive various coupons and perks as an incentive to respond to various surveys that are sent to them. It is also important to note that the Ipsos Reid panel is frequently "refreshed" (new members added and old ones excused) to ensure accurate representation of the changing demographics of the current population of interest.

8.

Note that this estimate is smaller because the identified yea-sayers excluded from the estimation were more likely to vote in support of any wetland improvement program regardless of its cost.

9.

For example, moving from the 3-class to the 4-class solution improved the log likelihood value by 48 points and the rho squared by about 1 %. The 4-class solution also did not reveal classes that were markedly different from the 3-class model, except one in which all of the coefficients were not statistically significant and included a very small part of the sample (6 %). As discussed by Swait (1994), the final selection of classes in these models should be parsimonious and involves judgment rather than the formal use of specific criteria.

10.

This observation is not as puzzling as it may seem due to the fact that the large positive constant in the choice parameter vector would dominate the calculation of welfare measures for the size of wetland restoration, effectively turning the negative effect of the wetland acre parameter into an overall positive WTP for restoration. The negative sign on the restoration variable signifies declining WTP as acres restored increase.

11.

Unfortunately, we did not include a question related to where respondents grew up and therefore cannot confirm this conjecture. Future research on valuing urban and peri urban wetlands should likely include such a variable.
References
Arrow K, Solow R, Portney PR, Learner EE, Radner R, Schuman H (1993) Report of the NOAA panel on contingent valuation. Fed Reg 58:4601–4614

Barbier E, Acreman M, Knowler D (1997) Economic valuation of wetlands: a guide for policy makers and planners. Ramsar Convention Bureau, Gland, Switzerland

Bateman IJ, Willis KG, Garrod GD, Doctor P, Langford I, Turner RK (1992). Recreation and environmental preservation value of the Norfolk broads: a contingent valuation study. Technical report, Environmental Appraisal Group, University of East Anglia, UK

Bateman IJ, Carson RT, Day B, Hanemann WM, Hanley ND, Hett T et al (2002) Economic valuation with stated preference techniques: a manual. Edward Elgar, Cheltenham, UK

Berenguer J, Corraliz JA, Martín R (2005) Rural-urban differences in environmental concern, attitudes, and actions. Eur J Psychol Assess 21(2):128–138

Birol E, Karousakis K, Koundouri P (2006) Using a choice experiment to account for preference heterogeneity in wetland attributes: the case of Cheimaditida wetland in Greece. Ecol Econ 60:145–156

Blamey RK, Bennet JW, Morrison MD (1999) Yea-saying in contingent valuation surveys. Land Econ 75:126–141

Blumenschein K, Johannesson M, Blomquist GC, Liljas B, O'Conor RM (1998) Experimental results on expressed certainty and hypothetical bias in contingent valuation. South Econ J 65(1):169–177

Blumenschein K, Blomquist GC, Johannesson M, Horn N, Freeman P (2008) Eliciting willingness to pay without bias: evidence from a field experiment. Econ J 118(525):114–137

Boxall PC, Adamowicz WL (2002) Understanding heterogeneous preferences in random utility models: a latent class approach. Environ Resource Econ 23(4):421–446

Brander L, Raymond J, Vermaat J (2006) The empirics of wetland valuation: a comprehensive summary and a meta-analysis of the literature. Environ Resource Econ 33:223–250

Bromberg J (2011). Farmland prices in eastern Ontario on a significant rise in recent years. The Review (Sept. 12). Vankleek Hill, Ontario. Available at: http://www.thereview.ca/story/farmland-prices-eastern-ontario-significant-rise-recent-years. Accessed 1 June 2012

Brouwer R, Langford I, Bateman I, Crowards T, Turner R (1999) A meta-analysis of wetland contingent valuation studies. Reg Environ Change 1:47–57

Carson RT (1997) Contingent valuation surveys and tests of insensitivity to scope. In: Kopp RJ, Pommerehne WW, Schwarz N (eds) Determining the value of non-market goods: economic, psychological and policy relevant aspects of contingent valuation methods. Kluwer Academic Publishers, London, pp 127–164

Carson RT (2000) Contingent valuation: a user's guide. Environ Sci Technol 34:1413–1418

Carson RT, Hanemann WM (2005) Contingent valuation. In: Maler KG, Vincent JR (eds) Handbook of environmental economics. Elsevier B.V. 2, pp 821–936

Carson R, Mitchell R (1993) The issue of scope in contingent valuation studies. Am J Agric Econ 75:1263–1267

Caudill SB, Groothuis PA, Whitehead JC (2011) The development and estimation of a latent choice multinomial logit model with application to contingent valuation. Am J Agric Econ 93(4):983–992

Champ PA, Bishop RC, Brown TC, McCollum DW (1997) Using donation mechanisms to value nonuse benefits of public goods. J Environ Econ Manag 33:151–162

Costanza R, d'Arge R, de Groot R et al (1997) The value of the world's ecosystem services and natural capital. Nature 387:253–259

Cowardin LM, Shaffer TL, Arnold PM (1995) Evaluation of duck habitat and estimation of duck population sizes with a remote-sensing-based system. Biological Science Report 2. National Biological Service, Washington, D.C., p 26

Cox K (1993) Wetlands: a celebration of life. Final report of the Canadian wetlands conservation task force. Sustaining Wetlands Issue Paper, No. 1993-1. North American Wetlands Conservation Council (Canada). Ottawa, Ontario

Credit Valley Conservation Authority (2009) Wetland restoration strategy. Report prepared by Dougan & Associates with Snell & Ceecile Environmental Research and AMEC/Philips Engineering LTD. Credit Valley Conservation Authority, Mississauga, ON

Cummings R, Taylor L (1999) Unbiased value estimates for environmental goods: a cheap talk design for the contingent valuation method. Am Econ Rev 89(3):649–665

Cummings RG, Brookshire DS, Schulze WD (1986) Valuing environmental goods: a state of the arts assessment of the contingent valuation method. Roweman and Allanheld, Totowa, NJ

Diamond PA, Hausman JA (1994) Contingent valuation: is some number than no number? J Econ Perspect 8:45–64

Dillman DA (1999) Mail and internet surveys: the tailored design method, 2nd edn. Wiley, New York, NY

Ducks Unlimited Canada (2010) Southern Ontario wetland conservation analysis. Report prepared by Ducks Unlimited Canada. Available at: http://www.ducks.ca/aboutduc/news/archives/prov2010/pdf/duc_ontariowca.pdf. Accessed 1 June 2012

Greene WM (2007) LIMDEP Version 9.0. Econometric Software, Inc., Plainview, NY

Haab T, McConnell K (2002) Valuing environmental and natural resources: the econometrics of non-market valuation. Edward Elgar Publishing Limited, Cheltenham

Holmes T, Boyle K (2005) Dynamic learning and context-dependence in sequential, attribute-based, stated-preference valuation questions. Land Econ 81(1):114–126

Huddart-Kennedy EM, Beckley T, McFarlane BL, Nadeau S (2009) Rural-urban differences in environmental concern in Canada. Rural Social 74(3):309–329

Kahneman D, Knetsch JL (1992) Valuing public goods: the purchase of moral satisfaction. J Environ Econ Manag 22:7–70

Kanninen B (1995) Bias in discrete response contingent valuation. J Environ Econ Manag 28:114–125

Krinsky I, Robb AL (1986) On approximating the statistical properties of elasticities. Rev Econ Stat 68:715–719

List JA (2001) Do explicit warnings eliminate the hypothetical bias in elicitation procedures? Evidence from field auction for sportscards. Am Econ Rev 91(5):1498–1507

Lusk JL (2005) Effects of cheap talk on consumer willingness-to-pay for golden rice. Am J Agric Econ 85(4):840–856

Meyerhoff J, Liebe U (2005) Protest beliefs in contingent valuation: explaining their motivation. Ecol Econ 57(4):583–594

Milon JW, Scrogin D (2006) Latent preferences and valuation of wetland ecosystem restoration. Ecol Econ 56:162–175

Murphy JJ, Allen PG, Stevens TH, Weatherhead D (2005) A meta-analysis of hypothetical bias in stated preference valuation. Environ Resource Econ 30:313–325

Oglethorpe DR, Miliadou D (2000) Economic valuation of the non-use attributes of a wetland: a case-study for Lake Kerkani. Environ Plan Manag 43(6):755–767

Ontario Conservation Authorities Act (2011) Conservation Authorities Act. R.S.O. 1990, Chapter C.27 (last amendment: 2011). Available at: http://www.e-laws.gov.on.ca/html/statutes/english/elaws_statutes_90c27_e.htm. Accessed 1 June 2012

Othman J, Bennett J, Blamey R (2004) Environmental values and resource management options: a choice modeling experience in Malaysia. Environ Dev Econ 9:803–824

Pate J, Loomis J (1997) The effect of distance on willingness to pay values: a case study of wetlands and salmon in California. Ecol Econ 20:199–207

Pattison J, Boxall PC, Adamowicz WL (2011) The economic benefits of wetland retention and restoration in Manitoba. Can J Agric Econ 59:223–244

Ready RC, Whitehead J, Blomquist G (1995) Contingent valuation when respondents are ambivalent. J Environ Econ Manag 29:181–196

Schuyt K, Brander L (2004) Living waters conserving the source of life: the economic values of the world's wetlands. WWF International. Gland, Switzerland. Available at: http://assets.panda.org/downloads/wetlandsbrochurefinal.pdf. Accessed 30 Jan 2010

Spash CL, Hanley N (1995) Preferences, information, and biodiversity preservation. Ecol Econ 12:191–208

Statistics Canada (2007) The daily: Canadian internet use survey, Statistics Canada. Available at: http://www.statcan.gc.ca/daily-quotidien/070625/dq070625f-eng.htm. Accessed 20 Dec 2012

Stevens TH, Benin S, Larson JS (1995) Public attitudes and economic values for wetland preservation in New England. Wetlands 15:181–194

Swait JR (1994) A structural equation model of latent segmentation and product choice for cross-sectional revealed preference choice data. J Retail Consumer Serv 1:77–89

Thapa B, Graefe AR (2003) Forest recreationists and environmentalism. J Park Recreat Adm 21(1):75–103

Train K (1998) Recreation demand models with taste differences over people. Land Econ 74(2):230–239

Veisten K, Hoen HF, Navrud S, Strand J (2004) Scope insensitivity in contingent valuation of complex environmental amenities. J Environ Manage 73:317–331

Venkatachalam L (2004) The contingent valuation method: a review. Environ Impact Assess Rev 24:89–124

Wattage P, Mardle S (2008) Total economic value of wetland conservation in Sri Lanka: identifying use and non-use values. Wetlands Ecol Manage 16:359–369

Whitehead JC (1991) Environmental interest group behavior and self-selection bias in contingent valuation mail surveys. Growth Chang 22(1):10–20

Whitehead JC, Blomquist CG (2006) Contingent valuation and benefit-cost analysis. In: Alberini A, Kahn JR (eds) Handbook on contingent valuation. Edward Elgar Publishing, Cheltenham, UK, pp 66–91

Yang W, Wang X, Gabor TS, Boychuk L, Badiou P (2008) Water quantity and quality benefits from wetland conservation and restoration in the Broughton's creek watershed. Ducks Unlimited Canada Publication, Stonewall, Manitoba, p 48

Zedler J (2003) Wetlands at your service: reducing impacts of agriculture at the watershed scale. Front Ecol Environ 1(2):65–72
Acknowledgments
Funding and administrative assistance for this research was provided by Credit Valley Conservation, in Mississauga, Ontario, Canada.
About this article
Cite this article
Lantz, V., Boxall, P.C., Kennedy, M. et al. The valuation of wetland conservation in an urban/peri urban watershed. Reg Environ Change 13, 939–953 (2013). https://doi.org/10.1007/s10113-012-0393-3
Received:

Accepted:

Published:

Issue Date:
Keywords
Contingent valuation method

Yea-saying bias

Respondent heterogeneity

Canada