Abstract
Extreme events (low probability–high impact events) such as tropical cyclones can result in loss of life, substantial socio-economic impacts and disrupt the natural environment. Atmospheric reanalysis products provide a means for understanding these events and their impacts. This paper examines the near-surface winds and precipitation from 42 observed land-falling tropical cyclones between 1979 and 2000 in a new high-resolution (10 km) reanalysis for the Southeast United States. It is shown that the near-surface wind speeds in the tropical cyclones are underestimated by almost half compared to the observed best-track data. The regional reanalysis resolves the pattern of coastal precipitation associated with the tropical cyclones; however, the average storm maximum precipitation is too high resulting in large storm-related precipitation farther inland than observed. Possible reasons for the deficiencies are discussed.
Access options
Buy single article
Instant access to the full article PDF.
USD 39.95
Price excludes VAT (USA)
Tax calculation will be finalised during checkout.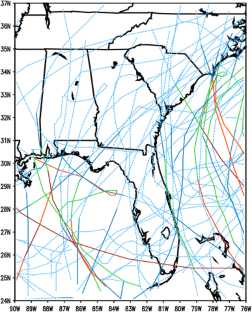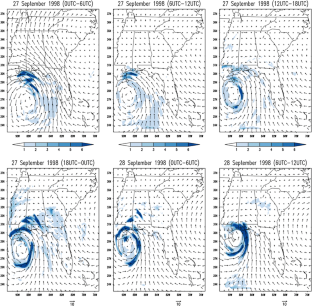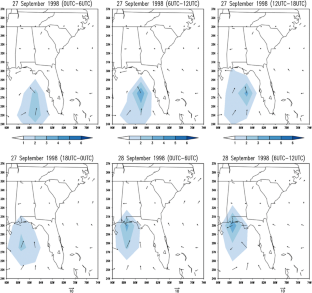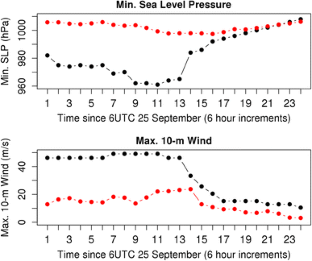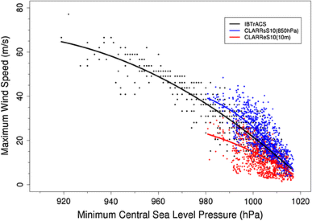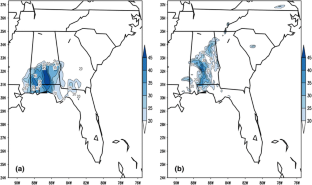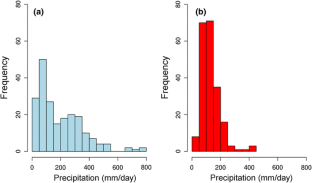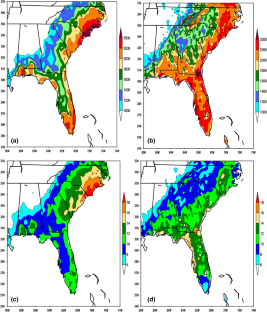 References
Au-Yeung A, Chan J (2011) Potential use of a regional climate model in seasonal tropical cyclone activity predictions in the western North Pacific. Clim Dyn. doi:10.1007/s00382-011-1268-x

Camargo S, Li H, Sun L (2007) Feasibility study for downscaling seasonal tropical cyclone activity using the NCEP regional spectral model. Int J Climatol 27:311–325

Caron LP, Jones CG, Winger K (2011) Impact of resolution and downscaling technique in simulating recent Atlantic tropical cyclone activity. Clim Dyn 37:869–892

Fronstin P, Holtmann A (1994) The determinants of residential property damage caused by Hurricane Andrew. South Econ J 61:387–397

Higgins RW, Shi W, Yarosh E, Joyce R (2000) Improved United States precipitation quality control system and analysis. NCEP/Climate Prediction Center ATLAS No. 7, 40 pp, Camp Springs, MD 20746, USA

Juang HM, Kanamitsu M (1994) The NMC regional spectral model. Mon Wea Rev 122:3–26

Kanamaru H, Kanamitsu M (2007) Scale-selective bias correction in a downscaling of global analysis using a regional model. Mon Wea Rev 135:334–350

Knapp KR, Kruk MC, Levinson DH, Diamond HJ, Neumann CJ (2010) The International Best Track Archive for Climate Stewardship (IBTrACS): unifying tropical cyclone best track data. Bull Am Meteorol Soc 91:363–376

Knutson TR, Sirutis JJ, Garner ST, Held IM, Tuleya RE (2007) Simulation of the recent multidecadal increase of Atlantic hurricane activity using an 18-km-grid regional model. Bull Am Meteorol Soc 10:1549–1565

Landman WA, Seth A, Camargo SJ (2005) The effect of regional climate model domain choice on the simulation of tropical cyclone-like vortices in the southwestern Indian Ocean. J Clim 18:1263–1274

LaRow TE, Lim YK, Shin DW, Chassignet EP, Cocke S (2008) Atlantic basin seasonal hurricane simulations. J Clim 21:3191–3206

Manganello JV et al (2012) Tropical cyclone climatology in a 10-km global atmospheric GCM: toward weather-resolving climate modeling. J Clim 25:3867–3893

Manning D, Hart R (2007) Evolution of North Atlantic ERA40 tropical cyclone representation. Geophys Res Lett. doi:10,1029/2006GL028266

Onogi K et al (2007) The JRA-25 reanalysis. J Meteorol Soc 85:369–432

Pielke RA Jr, Gratz J, Landsea CW, Collins D, Saunders M, Musulin R (2008) Normalized hurricane damages in the United States: 1900–2005. Nat Hazards Rev 9:29–42

Powell MD, Vickery PJ, Reinhold TA (2003) Reduced drag coefficient for high wind speeds in tropical cyclones. Nature 422:279–283

Rappaport EN (2000) Loss of life in the United States associated with recent Atlantic tropical cyclones. Bull Am Meteorol Soc 81:2065–2073

Saha S et al (2010) The NCEP climate forecast system reanalysis. Bull Am Meteorol Soc 91:1015–1057

Schenkel B, Hart R (2012) An examination of tropical cyclone position, intensity, and intensity life cycle within atmospheric reanalysis datasets. J Clim 25:3453–3475

Stefanova L, Misra V, Chan S, Griffin M, O'Brien J, Smith T (2012) A proxy for high-resolution regional reanalysis for the Southeast United States: assessment of precipitation variability in dynamically downscaled reanalysis. Clim Dyn 38:2449–2466

Uppala SM, Kållberg PW, Simmons AJ et al (2005) The ERA-40 re-analysis. Q J R Meteorol Soc 131:2961–3012

Walsh KJE, Nguyen KC, McGregor JL (2004) Fine-resolution regional climate model simulations of the impact of climate change on tropical cyclones near Australia. Clim Dyn 22:47–56
Acknowledgments
This research was supported by grants from the Office of Science (BER), U.S. Department of Energy and from the National Oceanic and Atmospheric Administration.
Electronic supplementary material
Below is the link to the electronic supplementary material.
About this article
Cite this article
LaRow, T. An analysis of tropical cyclones impacting the Southeast United States from a regional reanalysis. Reg Environ Change 13 (Suppl 1), 35–43 (2013). https://doi.org/10.1007/s10113-012-0374-6
Received:

Accepted:

Published:

Issue Date:

DOI: https://doi.org/10.1007/s10113-012-0374-6
Keywords
Dynamical downscaling

Tropical cyclones

Regional reanalysis