Abstract
With cities facing climate change, climate adaptation is necessary to reduce risks such as heat stress and flooding and maintain the goals of sustainable urban development. In climate change literature, the focus has been on developing a new dedicated policy domain for climate adaptation. Yet, empirical evidence shows that in practice actors are searching for solutions that not only serve climate adaptation, but integrate the adaptation objective in existing policy domains (e.g., urban planning, water management, public health). The integration of adaptation in other policy domains, also called "mainstreaming climate adaptation," can stimulate the effectiveness of policy making through combining objectives, increase efficient use of human and financial resources and ensure long-term sustainable investments. A better understanding of the process of mainstreaming is, however, lacking. The article introduces a conceptual model for mainstreaming climate adaptation to enhance our understanding of the concept as well as the barriers and opportunities that influence these integration processes and to explore strategies for overcoming barriers and creating opportunities. Two Dutch case studies—related to urban planning—are used to illustrate the value of the model. The cases demonstrate the dynamic process of mainstreaming and raise discussion of the appropriate criteria for evaluating mainstreaming in relation to the aims of climate adaptation. The paper concludes with an exploration of specific strategies to facilitate the mainstreaming of adaptation in existing and new policy domains.
This is a preview of subscription content, log in to check access.
Access options
Buy single article
Instant access to the full article PDF.
US$ 39.95
Price includes VAT for USA
Subscribe to journal
Immediate online access to all issues from 2019. Subscription will auto renew annually.
US$ 99
This is the net price. Taxes to be calculated in checkout.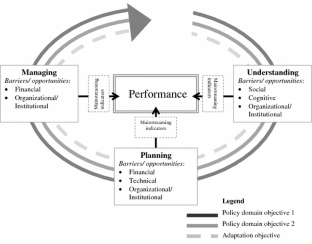 Notes
1.

Adaptation is usually defined as "adjustment in natural or human systems in response to actual or expected climatic stimuli or their effects, which moderates harm or exploits mutual opportunities" (IPCC 2007: 869). Governing climate adaptation is frequently discussed in combination with adaptive governance. Adaptive governance literature emphasizes, among other things, the complexity of governing societal problems such as climate change due to inherent uncertainties. This requires an adaptive (i.e., flexible and incremental) way of governing (see e.g., Folke et al. 2005; Herrfahrdt-Pähle 2012). In this paper we consider adaptation first and foremost in line with the above definition and less in terms of adaptive governance, because the paper focuses on the practical implementation of adaptation measures. Some of these measures, however, might be considered as examples of adaptive governance, for example, the implementation of "no regret" measures such as green roofs that act as water storage facilities irrespective of how precipitation patterns may change and have additional benefits, such as insulation.

2.

Adger et al. (2007 p. 733) draw a distinction between limitations and barriers. Limitations are largely insurmountable, while barriers can be overcome.

3.

The workshop was commissioned by the national government and organized by the Dutch consultancy firm Grontmij and the Erasmus University Rotterdam.

4.

The "Water Test" is an administrative agreement and resembles a sort of environmental impact assessment for the water system.

5.

The norms are based on the ABC storage norms. These norms imply that in the case of urban areas 325 m3/ha water storage should be applied. This figure is based on 50 % hard surface. In the case of Schieveste, the Water Board used a higher percentage of 80–90 % hard surface, advising 550 m3/ha of water storage. In addition, the Water Board added 10 % for climate change and 10 % for the coastal effect (Hoogheemraadschap van Delfland 2005).
References
Adger N, Barnett J (2009) Four reasons for concern about adaptation to climate change commentary. Environ PlanA 41(12):2800–2805

Adger N, Vincent K (2005) Uncertainty in adaptive capacity. CR Geoscience 337:399–410

Adger WN, Agrawala S, Mirza MMQ, Conde C, OBrien K, Pulhin J, Pulwarty R, Smit B, Takahashi K (2007) Assessment of adaptation practices, options, constraints and capacity. In: Parry ML, Canziani OF, Palutikof JP, Hanson CE, van der Linden PJ (eds) Climate change 2007 impacts, adaptation and vulnerability. Contribution of working group II to the fourth assessment report of the intergovernmental panel on climate change. Cambridge University Press, Cambridge, pp 719–743

Adger N, Dessai S, Goulden M, Hulme M, Lorenzoni I, Nelson D, Neass A, Woolf J, Wrefold A (2009) Are there social limits to adaptation to climate change? Clim Change 93(3):335–354

Bassett E, Shandas V (2010) Innovation and climate action planning. J Am Plan Assoc 76(4):435–450

Bedsworth L, Hanak E (2010) California transportation: planning for a better future. Public Policy Institute of California, San Francisco

Berrang-Ford L, Ford JD, Paterson J (2011) Are we adapting to climate change? Glob Environ Change 21(1):25–33

Biesbroek GR, Swart RJ, van der Knaap WGM (2009) The mitigation–adaptation dichotomy and the role of spatial planning. Habitat Int 33(3):230–237

Blanco H, Alberti M, Forsyth A, Krizek K, Rodrígues D, Talen E, Ellis C (2009) Hot, congested, crowded and diverse: emerging research agendas in planning. Prog in Plan 71(4):153–205

Bouwer L, Aerts J (2006) Financing climate change adaptation. Disasters 30(1):49–63

Bulkeley H (2009) Planning and governance of climate change. In: Davoudi S, Crawford J, Mehmood A (eds) Planning for climate change. Strategies for mitigation and adaptation for spatial planners. Earthscan, London, pp 284–296

Bulkeley H (2010) Cities and the governing of climate change. Annu Rev Environ Res 35(1):229–253

CROW (2010) Aanpassen openbare ruimte aan klimaatverandering. Gemeenten aan de slag met klimaatadaptatie. CROW, Ede

Faludi A (2000) The performance of spatial planning. Plan Pract Res 15:299–318

Fischer F (1997) Evaluating public policy. Nelson-Hall Publishers, Chicago

Folke C, Hahn T, Olsson P, Norberg J (2005) Adaptive governance of social-ecological systems. Annu Rev Environ Res 30:441–473

Füssel H-M, Klein RJT (2004) Conceptual frameworks of adaptation to climate change and their applicability to human health. PIK report no. 91, Potsdam Institute for Climate Impact Research, Potsdam, Germany

Governmental platform, Bestuurlijk Overleg Westflank Haarlemmermeer (2010) Ontwerp Programma van Eisen. Parels in de Polder. Gebiedsontwikkeling Westflank Haarlemmermeer. Januari 2010. Province of North-Holland, Haarlem

Grontmij, NIROV, EUR (Erasmus University Rotterdam) (2011) Evaluatie watertoets 2011, Rapportage Casus Westflank Haarlemmermeer, Grondmij, NIROV & EUR. Rijksoverheid, The Hague

Grothmann T, Patt A (2005) Adaptive capacity and human cognition: the process of individual adaptation to climate change. Glob Environ Change 15:199–213

Heinrichs D, Aggarwal R, Barton J, Bharucha E, Butsch C, Fragkiasm M, Johnston P, Kraas F, Krellenberg K, Lampis A, Giok Ling (2009) Adapting cities to climate change: opportunities and constraints. Paper prepared for the Worlds Bank's 5th urban research symposium cities and climate change: responding to an Urgent Agenda Marseille, France June 28–30, 2009

Herrfahrdt-Pähle E (2012) Integrated and adaptive governance of water resources: the case of South Africa. Reg Environ Change (in press)

Hoogheemraadschap van Delfland (2005) Beleidsnota normering wateroverlast. Resultaten NBW toetsing wateroverlast en uitgangspunten ABC-bergingsnormen, November 2005

Hunt A, Watkiss P (2007) Literature review on climate change impacts on urban city centres: initial findings. Working Party on Global and Structural Policies, OECD JT03237644

Huq S, Reid H (2004) Mainstreaming adaptation in development. Inst Dev Stud Bull 35:15–21

Huq S, Rahman A, Konate M, Sokona Y, Reid H (2003) Mainstreaming adaptation to climate change in least developed countries (LDCS). International Institute for Environment and Development, London

IPCC (2007) In: Parry MI, Canziani OF, Patulikof JP, Van der Linden PA, Hanson CE (eds) Climate change 2007: impacts, adaptation and vulnerability. Contribution of working group II to the fourth assessment report of the intergovernmental panel on climate change. Cambridge University Press, Cambridge

Jordan A, Huitema D, Van Asselt H, Rayner T, Berkhout F (2010) Climate change policy in the European Union. Cambridge University press, Cambridge

Kabat P, Van Vierssen W, Veraart J, Vellinga P, Aerts J (2005) Climate proofing the Netherlands. Nature 438(7066):283–284

Kern K, Alber, G (2008) Governing climate change in cities: modes of urban climate governance in multi-level systems. competitive cities and climate change. OECD conference proceedings, Milan, Italy, 9–10 October 2008, Chapter 8, Paris: OECD, pp 171–196

Kivimaa P, Mickwitz P (2006) The challenge of greening technologies: environmental policy integration in Finnish technology policies. Res Policy 35(5):729–744

Klein RJT, Nicholls RJ, Mimura N (1999) Coastal adaptation to climate change: can the IPCC technical guidelines be applied? Mitig Adapt Strat Glob Change 4(3–4):239–252

Klein RJT, Eriksen SEH, Naess LO, Hammill A, Tanner TM, Robledo C, O'Brien KL (2007) Portfolio screening to support the mainstreaming of adaptation to climate change into development assistance. Clim Change 84:23–44

Kok MTJ, De Coninck HC (2007) Widening the scope of policies to address climate change: directions for mainstreaming. Environ Sci Policy 10:587–599

Lafferty WM, Hovden E (2003) Environmental policy integration: towards an analytical framework. Environ Politics 12(3):1–22

Larsen SV (2011) Risk as a challenge in practice: investigating climate change in water management. Reg Environ Change 11:111–122

Lorenzoni I, Hulme M (2009) Believing is seeing: laypeople's views of future socio-economic and climate change in England and in Italy. Public Underst Sci 18(4):383–400

Mastop H, Faludi A (1997) Evaluation of strategic plans: the performance principle. Environ PlanB 24:815–822

Matzarakis A, Endler C (2010) Climate change and thermal bioclimate in cities: impacts and options for adaptation in Freiburg, Germany. Int J Biometeorol 54(4):479–483

Mees HLP, Driessen P (2011) Adaptation to climate change in urban areas: climate-greening London, Rotterdam, and Toronto. Clim Law 2:251–280

Miller D, de Roo G (2004) Introduction: integrating environmental quality improvement and city planning In: Miller D, de Roo G (eds) Integrating city planning and environmental improvement: practicable strategies for sustainable urban development. Ashgate Publishers, Aldershot, Hants, pp 1–16

Moser SC, Ekstrom JA (2010) A framework to diagnose barriers to climate change adaptation. PNAS, Washington, DC

Otto-Banaszak I, Matczak P, Wesseler J, Wechsung F (2010) Different perceptions of adaptation to climate change: a mental model approach applied to the evidence from expert interviews. Reg Environ Change 11(2):217–228

PBL (2009) Wegen naar een klimaatbestendig Nederland. Netherlands Environmental Assessment Agency, Bilthoven

PBL (2010) CPB Notitie. Beoordeling Westflank Haarlemmermeer. 26 januari 2010. PBL, The Hague

Provinces North- and South-Holland (2006) Gebiedsuitwerking Haarlemmermeer-Bollenstreek. May 2006. Province of North Holland, Haarlem

Randstad Urgent (2009) 48 miljoen voor Westflank Haarlemmermeer. Nieuwsflits december 2009. Nummer 22. Randstad Urgent programme, The Hague

Rauschmayer F, Berghöfer A, Omann I, Zikos D (2009) Examining processes or/and outcomes? Evaluation concepts in European governance of natural resources Environ Pol Gov 19(3):159–173

Rijksoverheid (2007) Urgentieprogramma Randstad. Naar een duurzame en concurrerende topregio. Definitieve versie 26 juni 2007. Ministry of Traffic and Water management, The Hague

Rijksoverheid (2009a) Tweede jaar raportage Randstad Urgent: Westflank Haarlemmermeer, 20 September 2009. Rijksoverheid, The Hague

Rijksoverheid (2009b) Randstad Urgent: Westflank Haarlemmermeer. Overeenkomst minister LNV en gedeputeerde RO, Schiphol en Grondzaken Provincie Noord-Holland. 29 November 2009. Rijksoverheid, The Hague

RIONED (2007) Climate change, heavier rainstorms and the urban drainage system. RIONED Foundation, Ede

Risbey J, Kandlikar M, Graetz D, Dowlatabadi H (1999) Scale, context, and decision making in agricultural adaptation to climate variability and change. Mitig Adapt Strat Global Change 4(2):137–165

Rossi PH, Lipsey MW, Freeman HE (2004) Evaluation, a systematic approach, 7th edn. Sage, Thousand Oaks

Runhaar H, Driessen P, Snoer L (2009) Sustainable urban development and the challenge of policy integration: an assessment of planning tools for integrating spatial and environmental planning in the Netherlands. Environ PlanB 36(3):417–431

Runhaar H, Mees H, Wardekker A, van der Sluijs J, Driessen PPJ (2012) Adaptation to climate change-related risks in Dutch urban areas: stimuli and barriers. Reg Environ Change. doi:10.1007/s10113-012-0292-7

Schipper L (2007) Climate change adaptation and development: exploring the linkages. Tyndall Centre for Climate Change Research. Working paper 107

Schipper L, Pelling M (2006) Disaster risk, climate change and international development: scope for, and challenges to, integration. Disasters 10(1):19–38

Smit B, Wandel J (2006) Adaptation, adaptive capacity, and vulnerability. Glob Environ Change 16:282–292

Sterman JD (2011) Communicating climate change risks in a skeptical world. Clim Change 108:811–826

Susskind L (2010) Policy and practice responding to the risks posed by climate change; cities have no choice but to adapt. TPR 81(3):217–235

Swart RR, Bernstein L, Ha-Duong M, Petersen A (2009) Agreeing to disagree: uncertainty management in assessing climate change, impacts and responses by the IPCC. Clim Change 92:1–2

Swart R, Raes F (2007) Making integration of adaptation and mitigation work: mainstreaming into sustainable development policies? Clim Policy 7(4):288–303

Tompkins EL, Adger WN, Boyd E, Nicholson-Cole S, Weatherhead K, Arnell N (2010) Observed adaptation to climate change: UK evidence of transition to a well-adapted society. Glob Environ Change 20(4):627–635

Van den Brink M (2009) Rijkswaterstaat on the horns of a dilemma. Delft: Eburon. PhD thesis. Radboud University Nijmegen

Wheeler SM, Beatley T (2004) The sustainable urban development reader. Routledge, London

Wheeler SM, Randolph J, London JB (2009) Chapter 3. Planning and climate change: an emerging research agenda. Prog in Plan 72:195–250
Appendix
Appendix
List of interviews and planning documents
Schieveste case interviews:
Project manager, municipality of Schiedam

Civil Engineer, municipality of Schiedam

System manager (maintenance), municipality of Schiedam

Adviser, Water Board of Delfland

Consultant, Royal Haskoning
Planning documents on Schieveste:
Municipality of Schiedam (2002) Masterplan Schieveste

Municipality of Schiedam (2004) De beeldkwaliteit van de Openbare Ruimte en de

Gebouwen in Fase 2 van Schieveste. December 2004.

Municipality of Schiedam (2006) Schieveste, Stedenbouwkundig plan &

beeldkwaliteit fase 2. Februari 2006.

Municipality of Schiedam (2007) Milieueffectrapportage schieveste. 20 juli 2007.

RBOI (2010) Schiedam, Schieveste, Bestemmingsplan. 25 augustus 2010.
Westflank case interviews/actors present at workgroup Westflank:
Two Advisers, Water Board of Rijnland

Senior project manager, Municipality of Haarlemmermeer

Policy adviser, Province of North Holland
Planning documents on Westflank:
Governmental platform, Bestuurlijk Overleg Westflank Haarlemmermeer (2010) Ontwerp Programma van Eisen. Parels in de Polder. Gebiedsontwikkeling Westflank Haarlemmermeer. Januari 2010. Province of North-Holland, Haarlem

Grontmij, NIROV, EUR (Erasmus University Rotterdam) (2011) Evaluatie watertoets 2011, Rapportage Casus Westflank Haarlemmermeer, Grondmij, NIROV & EUR. Rijksoverheid, The Hague

PBL (2010) CPB Notitie. Beoordeling Westflank Haarlemmermeer. 26 januari 2010. PBL, The Hague

Provinces North- and South-Holland (2006) Gebiedsuitwerking Haarlemmermeer-Bollenstreek. May 2006. Province of North Holland, Haarlem

Randstad Urgent (2009) 48 miljoen voor Westflank Haarlemmermeer. Nieuwsflits december 2009. Nummer 22. Randstad Urgent programme, The Hague

Rijksoverheid (2007) Urgentieprogramma Randstad. Naar een duurzame en concurrerende topregio. Definitieve versie 26 juni 2007. Ministry of Traffic and Water management, The Hague

Rijksoverheid (2009a) Tweede jaar raportage Randstad Urgent: Westflank Haarlemmermeer, 20 September 2009. Rijksoverheid, The Hague

Rijksoverheid (2009b) Randstad Urgent: Westflank Haarlemmermeer. Overeenkomst minister LNV en gedeputeerde RO, Schiphol en Grondzaken Provincie Noord-Holland. 29 November 2009. Rijksoverheid, The Hague
About this article
Cite this article
Uittenbroek, C.J., Janssen-Jansen, L.B. & Runhaar, H.A.C. Mainstreaming climate adaptation into urban planning: overcoming barriers, seizing opportunities and evaluating the results in two Dutch case studies. Reg Environ Change 13, 399–411 (2013). https://doi.org/10.1007/s10113-012-0348-8
Received:

Accepted:

Published:

Issue Date:
Keywords
Urban planning

Climate adaptation

Mainstreaming

The Netherlands

Policy process