Abstract
Numerous studies have shown that collective action affects the type and efficiency of short- and long-term adaptation to climate change. This empirical study contributes to the body of the literature on collective action and adaptive capacity by demonstrating how organizations frame responses to climate variability and change in rural Kenya by promoting local rural institutions. By analyzing interviews, role-playing games, and household surveys, we ask how local rural organizations shape coping strategies to climate variability and how they may structure future adaptations to climate change. We also investigate what types of households participate in those organizations and how their participation may impact their vulnerability to climate change and variability. Our analysis shows that in places rendered especially vulnerable to climate change by arid climatic conditions, the disengagement of governmental services, and a limited access to income-generating activities, local rural organizations increase livelihood security. Those organizations reduce local vulnerabilities and enhance collective action. In contrast to common diversification and livelihood security strategies which rely on the access to urban or peri-urban structures, local rural institutions and organizations allow for rural and grassroots sustainable adaptation strategies. In that respect, they constitute a resilient and mostly untapped resource for visibly strengthening livelihood security and adaptive capacities in rural Kenya.
Access options
Buy single article
Instant access to the full article PDF.
USD 39.95
Price excludes VAT (USA)
Tax calculation will be finalised during checkout.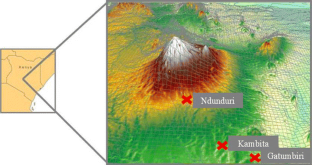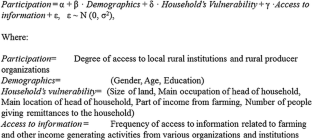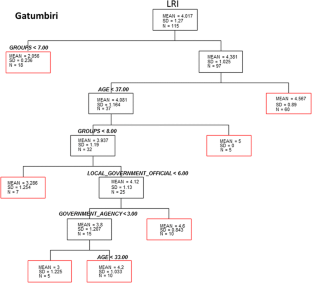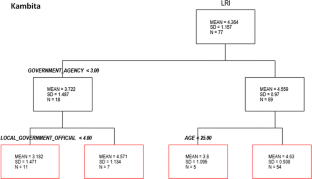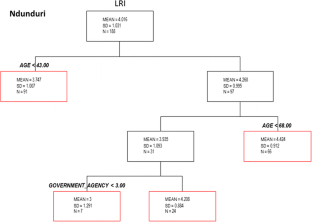 References
Adams A, Cekan J, Sauerborn R (1998) Towards a conceptual framework of household coping: reflections from rural West Africa. Africa 68(2):263–283

Adger WN (1999) Social vulnerability to climate change and extremes in coastal Vietnam. World Dev 27(2):249–269

Adger WN (2006) Vulnerability. Global Environ Change 16(3):268–281

Adger WN, Arnell NW, Tompkins EL (2005) Successful adaptation to climate change across scales. Global Environ Change 15:77–86

Adger WN, Agrawala S, Mirza MMQ, Conde C, O'Brien K, Pulhin J, Pulwarty R, Smit B, Takahashi K (2006) Assessment of adaptation practices, options, constraints and capacity. In: Parry ML, Canziani OF, Palutikof JP, van der Linden PJ, Hanson CE (eds) Climate change 2007: impacts, adaptation and vulnerability. Contribution of working group II to the fourth assessment report of the intergovernmental panel on climate change. Cambridge University Press, Cambridge, pp 717–743

Agrawal A (2008) The role of local institutions in adaptation to climate change. IFRI working paper # W081-3

Agrawal A, Gupta K (2005) Decentralization and participation: the governance of common pool resources in Nepal's Terai. World Dev 33(7):1101–1114

Amnesty International (2007) Amnesty international report Kenya. 23 May 2007. Available at: http://www.unhcr.org/refworld/docid/46558ed120.html. Accessed 13 July 2009

Armendáriz B, Morduch J (2007) The economics of microfinance. MIT Press, Cambridge

Beckerleg S (2006) What harm? Kenyan and Ugandan perspectives on Khat. Afr Aff 105(419) 219–241

Berkes F, Jolly D (2001) Adapting to climate change: social-ecological resilience in a Canadian western arctic community. Conserv Ecol 5(2):18. [online] URL:http://www.consecol.org/vol5/iss2/art18/

Besley T, Coate S, Loury G (1993) The economics of rotating savings and credit associations. Am Econ Rev 83(4):792–810

Bosc P-M, Eychenne D, Hussein K, Losch B, Mercoiret M-R, Rondot P, Mackintosh-Walker S (2002) The role of rural producer organizations in the world bank rural development strategy. Rural development strategy background paper #8

Bouman F (1995) Rotating and accumulating savings and credit associations: a development perspective. World Dev 23:371–384

Brown M, Funk C (2008) Food security under climate change. Science 319(5863):580–581

Campbell DJ (1999) Response to drought among farmers and herders in Southern Kajiado District, Kenya: a comparison of 1972–1976 and 1994–1995. Human Ecol 27(3):377–413

Carrier N (2005) The need for speed: contrasting timeframes in the social life of Kenyan miraa. Africa 75:539–558

Chambers R, Conway G (1992) Sustainable rural livelihoods: practical concepts for the 21st century. IDS discussion paper 296, IDS, University of Sussex, Brighton, UK

Corbett J (1988) Famine and households coping strategies. World Dev 16(9):1099–1112

De'ath G, Fabricius KE (2000) Classification and regression trees: a powerful yet simple technique for ecological data analysis. Ecology 81(11):3178–3192

Easterling WE, Aggarwal PK, Batima P, Brander KM, Erda L, Howden S, Kirilenko A, Morton J, Soussana J-F, Schmidhuber J, Tubiello FN (2007) Food, fibre and forest products. Climate change 2007: Impacts, adaptation and vulnerability. In: Parry ML, Canziani OF, Palutikof JP, van der Linden PJ, Hanson CE (eds) Contribution of working Group II to the fourth assessment report of the intergovernmental panel on climate change. Cambridge University Press, Cambridge, pp 273–313

Eriksen S, Brown K, Kelly M (2005) The dynamics of vulnerability: locating coping strategies in Kenya and Tanzania. Geogr J 171(4):287–305

Gugerty MK (2007) You can't save alone: commitment in rotating savings and credit associations in Kenya. Econ Dev Cultural Change 55(2):251–282

Haugerud A (1993) The culture of politics in modern Kenya. Cambridge University Press, Cambridge

Holstein J, Gubrium J (2003) Inside interviewing: new lenses, new concerns. Sage Publication, CA

Kelly P, Adger N (2000) Theory and practice in assessing vulnerability to climate change and facilitating adaptation. Clim Change 47:325–352

Leary N, Adejuwon J, Bailey W, Barros V, Caffera M, Chinvanno S, Conde C, De Comarmond A, De Sherbinin A, Downing T, Eakin H, Nyong A, Opondo M, Osman B, Payet R, Pulhin F, Pulhin J, Ratnasiri J, Sanjak E, von Maltitz G, Wehbe M, Yin Y, Ziervogel G (2006) For whom the bell tolls: vulnerability in a changing climate. A Synthesis from the AIACC project. AIACC working paper no. 21. Florida: International START Secretariat

Maitima JM, Mbugua SM, Atieno F, Mathai S (2004) Impacts of land use on vegetation species composition, distribution, structure and diversity: the case of Embu and Mbeere District, Kenya. http://www.lucideastafrica.org/publications/Maitima_LUCID_WP32.pdf

Mimuyu PK (1999) Rotating saving and credit associations in rural east Africa. World Dev 7:1299–1308

Moore N, Alagarswamy G, Pijanowski B, Thornton P, Olson J, Lofgren B, Andresen J, Campbell D (2010) Food production risks associated with land use change and climate change in East Africa. Earth Environ Sci 6. IOP Publishing Ltd. doi:10.1088/1755-1307/6/4/342003

Moris J (1991) Extension Alternatives in Tropical Africa. Overseas Development Institute, London

Mwaniki HSK (1975) The living history of the Embu and Mbeere people. East Afr Lit Bureau

Olson JM, Butt B, Atieno F, Maitima J, Smucker TA, Muchugu E, Murimi G, Hong X (2003) Multi-scale analysis of the root causes of land use and cover change in Embu and Mbeere Districts, Kenya. LUCID working paper series number 20. http://www.lucideastafrica.org/publications/Olson_LUCID_WP20.pdf

Olson J, Alagarswamy G, Andresen J, Campbell D, Davis A, Ge J, Huebner M, Lofgren B, Lusch D, Moore N, Pijanowski B, Qi J, Thornton P, Torbick N, Wang J (2008) Integrating diverse methods to understand climate-land interactions in East Africa. GeoForum 39:898–911

Osman Elasha B (2006) Human resilience to climate change: lessons for Eastern and Northern Africa. A final report of AIACC project no. AF 14. International START Secretariat, Washington, USA

Ostrom Elinor (2005) Understanding institutional diversity. Princeton University Press, Princeton

Ostrom E (2010) A long polycentric journey. Ann Rev Polit Sci 13(1):1–23

Schneider SH, Semenov S, Patwardhan A, Burton I, Magadya CHD, Oppenheimer M, Pittock AB, Rahman A, Smith JB, Suarez A, Yamin F (2007) Assessing key vulnerability and the risk from climate change" in intergovernmental panel on climate change (IPCC), (2007) In Parry ML, Canziani OF, Palutikof JP, van der Linden PJ, Hanson CE (eds) Climate change 2007: impacts, adaptation and vulnerability. Contribution of working group II to the fourth assessment report. Cambridge University Press, Cambridge

Shaftel F, Shaftel G (1967) Role-Playing for the social values: decision-making in the social studies. Prentice-Hall, NJ, p 431

Smithers J, Smit B (1997) Human adaptation to climatic variability and change. Global Environ Change 7(2):129–146

Uphoff N, Buck L (2006) Strengthening rural local institutional capacities for sustainable livelihoods and equitable development. Paper prepared for the Social Development Department of the World Bank

Washington-Ottombre C (2010) The role of local institutions in shaping household responses to climate change and variability: a case study along the slopes of Mt. Kenya. Ph.D. Thesis, Purdue University

Washington-Ottombre C, Pijanowski B, Campbell D, Olson J, Maitima J, Musili A, Kibaki T, Kaburu H, Hayombe P, Owango E, Irigia B, Gichere S, Mwangi A (2010) Using a role-playing game to inform the development of land-use models for the study of a complex socio-ecological system. Agricult Syst 103(3):117–126. doi:10.1016/j.agsy.2009.10.002

Watson DJ, van Binsbergen J (2008) Livelihood diversification opportunities for pastoralists in Turkana, Kenya. ILRI Research Report 5. ILRI (International Livestock Research Institute), Nairobi, Kenya, p 43
About this article
Cite this article
Washington-Ottombre, C., Pijanowski, B.C. Rural organizations and adaptation to climate change and variability in rural Kenya. Reg Environ Change 13, 537–550 (2013). https://doi.org/10.1007/s10113-012-0343-0
Received:

Accepted:

Published:

Issue Date:

DOI: https://doi.org/10.1007/s10113-012-0343-0
Keywords