Abstract
Inhabitants of mountainous regions in least developed countries are recognized to be among the most vulnerable to climate change globally. Despite this, human dimensions work is in its infancy in mountain regions where we have limited understanding of who is vulnerable (or adaptable), to what stresses, and why. This study develops a baseline understanding of vulnerability to climate-related hydrological changes in the mountainous Khumbu region of eastern Nepal. Using a vulnerability approach, 80 interviews combining fixed and open-ended questions were conducted in four communities representing the geographic and livelihood variability of the region. The study identifies four region-wide vulnerabilities currently affecting residents: reduced water access for household uses, declining crop yields, reduced water access for meeting the high water demands of tourists, and reduced hydro-electricity generation. These vulnerabilities are widespread among the population but arrange spatially as a function of varying exposure-sensitivity to hydrological change, livelihood opportunities, and access to foreign financial assistance. Our findings indicate that precipitation change (not glacial change) is the greatest biophysical driver of vulnerability.
Access options
Buy single article
Instant access to the full article PDF.
US$ 39.95
Tax calculation will be finalised during checkout.
Subscribe to journal
Immediate online access to all issues from 2019. Subscription will auto renew annually.
US$ 79
Tax calculation will be finalised during checkout.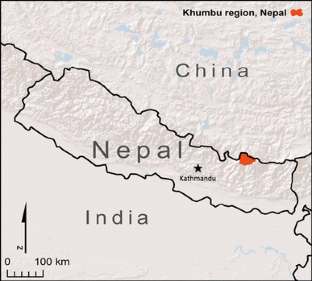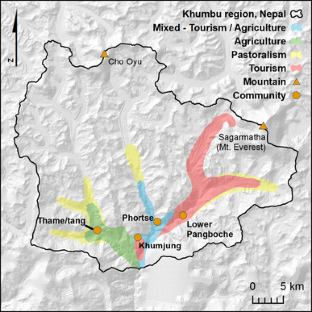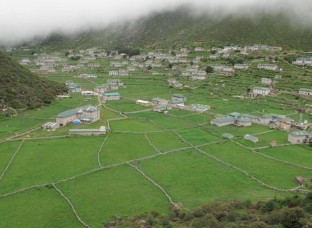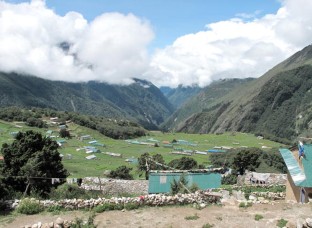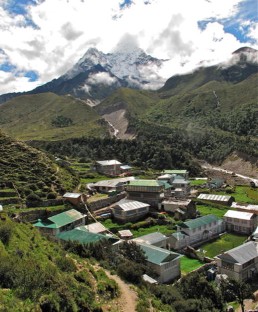 References
Adger WN (2006) Vulnerability. Global Environ Change 16:268–281

Ageta Y, Higuchi K (1984) Estimation of mass balance components of a summer-accumulation type glacier in the Nepal Himalaya. Geogr Ann 66A:249–255

Bajracharya S, Mool P (2009) Glaciers, glacial lakes and glacial lake outburst floods in the mount everest region, Nepal. Ann Glaciol 50:81–86

Beniston M (2003) Climatic change in mountain regions: a review of possible impacts. Clim Change 59:5–31

Berrang-Ford L, Ford JD, Patterson J (2011) Are we adapting to climate change? Global Environ Change 21:25–33

Birendra B, Shrestha AB, Lokap R (2007) Glacial lake outburst floods in the sagarmatha region: Hazard assessment using gis and hydrodynamic modeling. Mt Res Dev 27(4):336–344

Bolch T, Pieczonka T, Benn D (2010) Longest time series of glacier mass changes in the Himalaya based on stereo imagery. Cryosphere Discuss 4:2593–2613

Brower B (1991) Sherpa of Khumbu: people, livestock, and landscape. Oxford University Press, Delhi

Brower B (1996) Geography and history in the Solukhumbu landscape, Nepal. Mt Res Dev 16(3):249–255

Burke M, Lobell D (2010) Food security and adaptation to climate change: What do we know? Clim Chang Food Secur 37:133–153

Byers A (2008) An assessment of contemporary glacier fluctuations in Nepal's Khumbu Himal using repeat photography. Himal J Sci 4:21

DNPWC (2006) Sagarmatha National Park. Government of Nepal/Department of National Parks and Wildlife Conservation, Kathmandu

Ford J (2012) Indigenous health and climate change. Am J Public Health (in press)

Ford J, Pearce T (2012) Climate change vulnerability and adaptation research focusing on the Inuit subsistence sector in Canada: directions for future research. Can Geogr 56(2):275–287

Ford JD, Smit B (2004) A framework for assessing the vulnerability of communities in the Canadian arctic to risks associated with climate change. Arctic 57:389–400

Ford JD, Smit B, Wandel J (2006) Vulnerability to climate change in the arctic: a case study from arctic bay, Canada. Global Environ Change 16:145–160

Ford JD, Smit B, Wandel J, Allurut M, Shappa K, Ittusarjuat H, Qrunnut K (2008) Climate change in the arctic: current and future vulnerability in two inuit communities in canada. Geogr J 174:45–62

Ford JD, Berrang Ford L, King M, Furgal C (2010a) Climate change policy responses for Canada's Inuit population: the importance of and opportunities for adaptation. Global Environ Change 20:177–191

Ford JD, Berrang-Ford L, King M, Furgal C (2010b) Vulnerability of aboriginal health systems in Canada to climate change. Global Environ Change-Hum Policy Dimen 20:668–680

Fussel HM, Klein RTJ (2006) Climate change vulnerability assessments: an evolution of conceptual thinking. Global Environ Change 75:301–329

HKKH (2009) Situation analysis of Sagarmatha National Park and buffer zone: a review of park, tourism management and stakeholder participation, Hindu Kush-Karakoram-Himalaya Partnership, Kathmandu

Howden SM, Soussana JF, Tubiello FN, Chhetri N, Dunlop M, Meinke H (2007) Adapting agriculture to climate change. Proc Natl Acad Sci 104:19691

Huddleston B, Ataman E, de Salvo P, Zanetti M, et al (2003) Towards a gis-based analysis of mountain environments and populations. Food and Agriculture Organization of the United Nations

Huntington HP (2000) Using traditional ecological knowledge in science: methods and applications. Ecol Appl 10:1270–1274

IPCC (2007) Climate change 2007: impacts, adaptation and vulnerability. In: Parry ML, Canziani OF, Palutikof JP, van der Linden PJ, Hanson CE (eds) Contribution of working group ii to the fourth assessment report of the intergovernmental panel on climate change, Cambridge

Ives JD (2004) Himalayan perceptions: environmental change and the well-being of mountain peoples. Routledge, Abingdon

Kadota T, Seko K, Aoki T, Iwata S, Yamaguchi S (2000) Shrinkage of the khumbu glacier, east nepal from 1978 to 1995. IAHS Publication, Wallingford, pp 235–244

Lang T, Barros A (2004) Winter storms in the central Himalayas. J Meteor Soc Jap 82:829–844

Mool P, Bajracharya S, Joshi S (2001) Inventory of glaciers, glacial lakes and glacial lake outburst floods. ICIMOD, Kathmandu

Nepal S (2005) Tourism and remote mountain settlements: spatial and temporal development of tourist infrastructure in the Mt Everest region, Nepal. Tourism Geogr 7:205–227

O'Brien K, Eriksen S, Nygaard LP, Schjolden A (2007) Why different interpretations of vulnerability matter in climate change discourses. Climate Policy 7:73–88

Padoa-Schioppa E, Baietto M (2008) Effects of tourism pressure on herd composition in the Sherpa villages of Sagarmatha National Park (Everest, Nepal). Int J Sustain Dev World Ecol 15:412–418

Papatheodorou A, Rossellu J, Xiao H (2010) Global economic crisis and tourism: consequences and perspectives. J Travel Res 49:39

Pappas N (2010) Terrorism and tourism: the way travellers select airlines and destinations. J Air Transp Stud 1:76–96

Pearce TD, Ford JD, Laidler GJ, Smit B et al (2009) Community collaboration and climate change research in the Canadian arctic. Polar Res 28:10–27

Salerno F, Buraschi E, Bruccoleri G, Tartari G, Smiraglia C (2008) Glacier surface-area changes in Sagarmatha National Park, Nepal, in the second half of the 20th century, by comparison of historical maps. J Glaciol 54:738–752

Sharma E, Chetri N, Tse-ring K, Shrestha A, Jing F, Mool P, Eriksson M (2009) Climate change impacts and vulnerability in the Eastern Himalayas. ICIMOD, Kathmandu

Sherman M, et al. (in press) Balancing indigenous principles and institutional research guidelines for informed consent: a case study from the Peruvian Amazon. AJOB Prim Res

Sherpa L (2008) Through a Sherpa window: illustrated guide to traditional sherpa culture. Vajra Publications, Gainesville

Sherpa L, Bajracharya B (2009) View of a high place: natural and cultural landscape of Sagarmatha National Park. HKKH partnership Project/ICIMOD, Kathmandu

Sherpa Y, Kayastha R (2009) A study of livestock management patterns in Sagarmatha National Park, Khumbu region: trends as affected by socio-economic and climate change. Kathmandu Univ J Sci Eng Technol 5:110–120

Shrestha AB, Aryal R (2011) Climate change in Nepal and its impact on Himalayan glaciers. Reg Environ Change 11:65–77

Smit B, Wandel J (2006) Adaptation, adaptive capacity and vulnerability. Global Environ Change 16:282–292

Spoon J (2009) Beyul Khumbu: the Sherpa and Sagarmatha (Mount Everest) National Park and buffer zone, Nepal. Report No. 3925064605, Earthprint

Stevens S (1993a) Claiming the high ground: sherpas, subsistence, and environmental change in the highest Himalaya. Motilal Banarsidass Publishers, Delhi

Stevens SF (1993b) Tourism, change, and continuity in the Mount Everest region, Nepal. Geograph Rev 83:410–427

Thapa K, Shakya B (2008) Integrated study on hydrology and meteorology of Khumbu region with climate change perspectives. WWF Nepal, Kathmandu

Thayyen RJ, Gergan JT (2010) Role of glaciers in watershed hydrology: a preliminary study of a "Himalayan catchment". Cryosphere 4:115–128

UNESCO (2007) Case studies on climate change and world heritage. UNESCO, Paris

Viviroli D, Archer D, Buytaert W, Fowler H et al (2010) Climate change and mountain water resources: overview and recommendations for research, management and politics. Hydrol Earth Syst Sci Discuss 7:2829–2895

World Bank (2010) World development report: development and climate change. World Bank, Washington, DC

Xu JC, Grumbine RE, Shrestha A, Eriksson M, Yang XF, Wang Y, Wilkes A (2009) The melting Himalayas: cascading effects of climate change on water, biodiversity, and livelihoods. Conserv Biol 23:520–530
Acknowledgments
Special thanks to the Government of Nepal for their interest and support of this study; ICIMOD and WWF Nepal for perspective, recommendations, and research facilities; the Nepal Department of Parks and Wildlife Conservation for productive feedback and practical assistance; and the many individuals in Kathmandu who informed the early stages of this study. Gratitude is also expressed to the residents of Khumbu, whose hospitality and willingness to share information about their lives was extremely generous. The Department of Geography and Faculty of Science at McGill University provided financial support for this study. Thanks to two anonymous reviewers who provided constructive feedback on the article.
Electronic supplementary material
Below is the link to the electronic supplementary material.
About this article
Cite this article
McDowell, G., Ford, J.D., Lehner, B. et al. Climate-related hydrological change and human vulnerability in remote mountain regions: a case study from Khumbu, Nepal. Reg Environ Change 13, 299–310 (2013). https://doi.org/10.1007/s10113-012-0333-2
Received:

Accepted:

Published:

Issue Date:
Keywords
Mountain regions

Climate change

Hydrology

Water resources

Vulnerability

Nepal

Khumbu

LDC