Abstract
A study was conducted to investigate hydrological impacts of land cover changes in the degradation of the hydrological on flow regimes of the Upper Shire river, Malawi. Remote sensing techniques were used to inventory temporal changes of land cover changes in the catchment. Hydrological data were analyzed to reveal the alterations and trends for two periods; 1989 and 2002. The study revealed significant changes in magnitude and direction that have occurred in the catchment between 1989 and 2002, mainly in areas of human habitation. Trends in land cover change in the Upper Shire river catchment depict land cover transition from woodlands to mostly cultivated/grazing and built-up areas. The land cover mapping showed that 23% of the land was covered by agricultural land in 1989. Subsistence agricultural area has increased by 18%, occupying 41% of the study area in 2002. The effects of the derived land cover changes on river flow in the Upper Shire river were investigated using the semi distributed soil and water assessment tool (SWAT) model. River flows were found to be highly variable and sensitive to land cover changes. Simulation results show that 2002 land cover data produces higher flow peaks and faster travel times compared to the 1989 land cover data. The changes detected indicate the effects of land use pressure in the catchment. The study highlights the importance of considering effects of land use and land cover changes on ecosystems, and water resources for an informed decision on proper catchment planning and management.
Access options
Buy single article
Instant access to the full article PDF.
USD 39.95
Price excludes VAT (USA)
Tax calculation will be finalised during checkout.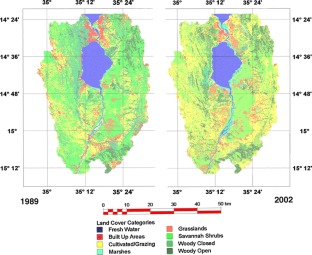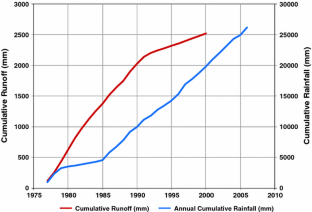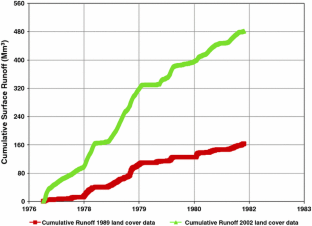 Notes
Over the last three decades, population density in the Southern Region of Malawi (Shire River catchment located within this region) has shown an upward trend. The population density is given as 139 people km−², 105 people km−², and 85 people km−² in the period 2008, 1998 and 1987, respectively.
References
Allan JD (2004) Landscapes and Riverscapes: the influence of land use on stream ecosystems. Ann Rev Ecol Evol Syst 35:257–284

Arnell NW, Reynard NS (1996) The effects of climate change due to global warming on river flows in Great Britain. J Hydrol 183(3–4):397–424

Arnold JG, Fohrer N (2005) SWAT 2000, current capabilities and research opportunities in applied watershed modeling. Hydrol Process 19:563–572

Arnold JG, Williams JR, Srinivasan R, King KW, Griggs RH (1995) SWAT: soil water assessment tool, US Department of Agriculture, Agricultural Research Service, Grassland, Soil and Water Research Laboratory, Temple, TX

Bonell M (2004) Selected issues in mountain hydrology of the humid tropics. IHP-VI technical document in hydrology No. 70. UNESCO Working series SC-2004/WS/51

Bonell M et al (2010) The impact of forest use and reforestation on soil hydraulic conductivity in the Western Ghats of India: Implications for surface and sub-surface hydrology. J Hydrol 391:47–62

Bradley PN, McNamara K (1993) Living with trees: policies for forestry management in Zimbabwe. World Bank Technical Paper, Washington, DC

Brown AE, Zhang L, McMahon TA, Western AW, Vertessy RA (2005) A review of paired catchment studies for determining changes in water yield resulting from alterations in vegetation. J Hydrol 310:28–61

Bruijnzeel LA (2004) Hydrological functions of tropical forests: Not seeing the soil for the trees? Agric Ecosyst Environ 104:185–228

Calder IR (2002) Forests and hydrological services: Reconciling science and public perceptions. Land Use Water Resour Res 2:2.1–2.12

Costa MH, Botta A, Cardille JA (2003) Effects of large-scale changes in land cover on the discharge of the Tocantins Rivers, Southeastern Amazonia. J Hydrol 283:206–217

Croke BFW, Merrit WS, Jakeman AJ (2004) A dynamic model for predicting hydrologic response to land cover change in gauged and ungauged catchments. J Hydrol 291:115–131

Dagnachew L, Vallet-Coulomb C, Gasse F (2003) Hydrological response of a catchment to climate and land use changes in Tropical Africa: case study South Central Ethiopia. J Hydrol 275:67–85

De Roo A, Odijk M, Schmuck G, Koster E, Lucieer A (2001) Assessing the effects of land use changes on floods in the Meuse and Oder catchment. Phys Chem Earth B 26:593–599

Desanker PV, Frost PG, Justice CO, Scholes RJ (1997) The Miombo network: framework for a terrestrial transect study of land use and land cover change in the Miombo ecosystem of central Africa. International Geosphere–Biosphere Programme, Stolkholm

Dewees PA (1994) Social and economic aspects of Miombo woodland management in southern Africa: options and opportunities for research. Center for International Forestry Research, Bogor, Indonesia

Di Luzio M, Srinivasan R, Arnold JG, Neitsch S (2001) ArcView interface for SWAT 2000 user's guide. Texas Water Resources Institute, College Station, Texas

FAO/UNESCO (2003) Digital soil map of the world and derived soil properties, version 3.6. CD-ROM, information division, FAO, Viale delle Terme di Caracalla, 00100 Rome, Italy

Fohrer N, Haverkamp S, Eckhardt K, Frede HG (2001) Hydrologic response to land use changes on the catchment scale. Phys Chem Earth B 26:577–582

Githui FW (2008) Assessing the impacts of environmental change on the hydrology of the Nzoia catchment, in the Lake Victoria Basin. PhD dissertation, Vrije Universiteit Brussel, Belgium

Hindall SM (1991) Temporal trends in fluvial-sediment in Ohio, 1950–1987. J Soil Water Conserv 46(4):311–313

Hu Q, Wilson GD, Chen X, Akyuz A (2005) Effects of climate and land cover change on stream discharge in the Ozark Highlands, USA. Environ Modell Assess 10:9–19. doi:10.1007/s10666-004-4266-0

IPCC (2001): Climate Change 2001: Impacts, Adaptation and Vulnerability. Contribution of the Working Group II to the Third Assessment Report of Intergovernmental Panel on Climate Change, J.J. McCarthy, O.F. Canziani, L.A. Neil, D.J. Dokken, and K.S. White, Eds., Cambridge University Press, UK

IPCC (2008): Climate and Water Technical Paper VI. B.C. Bates, Z.W. Kundzewicz, S. Wu, and J.P. Palutikof, Eds., IPCC Secretariat, Geneva

Jensen JR (2005) Introductory digital image processing: a remote sensing perspective. Prentice Hall, USA

Kashaigili JJ (2008) Impacts of land-use and land-cover changes on flow regimes of the Usangu wetland and the Great Ruaha River, Tanzania. Phys Chem Earth 33:640–647

Kiersch B (2000) Land use impacts on water resources: a literature review. FAO E—workshop on land-water linkages in rural watersheds. http://www.fao.org/ag/agl/watershed/watershed/en/mainen/index.stm. Accessed on 22/07/2008

Lillesand TM, Kiefer RW, Chipman JW (2004) Remote sensing and image interpretation, 5th edn. Wiley, New York

Lin Y, Hing N, Wu P, Wu C, Verburg PH (2007) Impacts of land use change scenarios on hydrology and land use patterns in the Wu-Tu watershed in Northern Taiwan. Landsc Urban Plan 80:111–126

Makarieva AM, Gorshkov VG (2007) Biotic pump of atmospheric moisture as driver of the hydrological cycle on land. Hydrol Earth Syst Sci 11:1013–1033

Malawi Government (1998) State of the environment report for Malawi. Likuni press, Lilongwe, Malawi

Malawi Government (2001) State of the environment report for Malawi. Likuni press, Lilongwe, Malawi

Malawi Government (2006) Malawi's National Adaptation Programmes of Action (NAPA) under the United Nations Framework Convention on Climate Change (UNFCCC) 1st edition. Environmental Affairs Department, Lilongwe Malawi. http://www.unfccc.int/resource/doc/napa/mwi01.pdf

Malawi Institute of Education (2001) In: Simbeye EK (ed) Malawi senior secondary atlas. MacMillan Malawi Ltd, Blantyre

Masamba WR, Mazvimavi D (2008) Impact on water quality of land uses along Thamalakane-Boteti River: an outlet of the Okavango Delta. Phys Chem Earth 33:687–694

Morris B (1995) Woodland village: reflections on the "animal estate" in rural Malawi. Royal Anthropological Institute, 1

National Statistical Office (2008) In: NS Office (ed) Malawi population and housing census 2008: Summary of preliminary results. Government printer, Zomba

O'Keeffe J, Davies B (1991) Conservation and management of the rivers of Kruger National Park: suggested methods for calculating instream flow needs. Aquatic Conserv Marine Freshwater Ecosyst 1:55–71

Onuchin A, Burenina T, Gaparov K, Ziryukina N (2009) Land use impacts on river hydrological regimes in Northern Asia. Hydroinformatics in hydrology, hydrogeology and water resources. Proceedings of Symposium JS.4 at the Joint IAHS and IAH Convention, Hyderabad, India, September 2009. IAHS Publ. 331, pp 163–170

Palamuleni LG (2009) Land cover change and hydrological regimes in the Shire River Catchment, Malawi. University of Johannesburg. Unpublished PhD thesis

Robinson M (1990) Impact of improved drainage on river flows. Institute of Hydrology, Oxon, UK

Rockström J, Barron J, Fox P (2002) Rainwater management for increased productivity among small-holder farmers in drought prone environments. Phys Chem Earth 27:949–959

SADC: Drought Monitoring Centre, Special bulletins: El Nino/La Nina update. http://www.sadc.int.dmc. Accessed June 2008

Schulze RE (2000) Modelling hydrological responses to land use and climate change: a Southern African perspective. AMBIO J Human Environ 29:12–22

Searcy JK, Hardison CH (1960) Double mass curves. Manual of hydrology: part 1 general surface water techniques. Geological survey water supply paper, p 66

Stohlgren TJ, Chase TN, Pielke RA Sr, Kittel TGF, Baron J (1998) Evidence that local land use practices influence regional climate, vegetation, and stream flow patterns in adjacent natural areas. Global Change Biol 4:495–504

Tadele K, Förch G (2007) Impact of land use/cover change on streamflow: the case of Hare River Watershed, Ethiopia. Catchment and lake research, proceedings 2nd Lake Abaya research symposium (LARS), Arba Minch, Ethiopia 7–11th May, 2007

USDA-SCS (1972) Soil conservation service, urban hydrology for small watersheds, US Government Printing Office, Washington, DC

USGS (2006) United States geological survey digital elevation model data. http://edc2.usgs/geodata. Accessed 26/11/2006

Yanda PZ, Munishi PKT (2007) Hydrologic and land use/cover change analysis for the Ruvu River (Uluguru) and Sigi River (East Usambara) watersheds. http://www.easternarc.or.tz/downloads/Uluguru/finalreport.pdf

Yang S, Zhao Q, Belkin IM (2002) Temporal variation in the sediment load of the Yangtze River and the influences of human activities. J Hydrol 263:56–71

Zhang L, Hickel K, Dawes WR (2001) A rational function approach for estimating mean annual evapotranspiration. Water Resour Res 40:W02502

Zhao WW, Fu BJ, Meng QH, Zhang QJ, Zhang YH (2004) Effects of land-use pattern change on rainfall-runoff and runoff-sediment relations: a case study in Zichang watershed of the loess plateau of China. J Environ Sci 16(3):436–442
Acknowledgments
This research was facilitated by a grant from Deutscher Akademischer Austausch Dienst (DAAD) through the African Network of Scientific and Technological Institutions (ANSTI) for collaborative University level training and research in the fields of science and technology. Besides, the authors wish to express their gratitude to the anonymous reviewers, who helped to improve this paper through their thorough review.
About this article
Cite this article
Palamuleni, L.G., Ndomba, P.M. & Annegarn, H.J. Evaluating land cover change and its impact on hydrological regime in Upper Shire river catchment, Malawi. Reg Environ Change 11, 845–855 (2011). https://doi.org/10.1007/s10113-011-0220-2
Received:

Accepted:

Published:

Issue Date:

DOI: https://doi.org/10.1007/s10113-011-0220-2
Keywords
Hydrological regimes

Shire River

Land cover change

Malawi

Mass curves