Abstract
The current state of Mediterranean mountain areas has been driven by two main factors: intense traditional human activity and the dynamics of the ecosystem itself. In this study, we examine land-cover changes in a National Park in the Pyrenees mountains (NE Iberian Peninsula), which was designated a protected area 55 years ago. First, we have analyzed spatio-temporal changes in land-cover pattern and forest dynamics from 1957 to 2005. During this period, land-cover dynamics consisted of two main processes: (i) expansion of the forest area and (ii) increasing cover of forests already present in 1957. To analyze the role of the conservation level of the park, we have also compared the results obtained within the park with those of unprotected, peripheral areas. In the two areas with different protection level, dense forests increased throughout the period because of the reduction in forestry activities. The peripheral area showed a higher rate of forest-cover change from 1957 to 2005 compared to the National Park. This higher increase in forest cover in the peripheral area could be related to a higher proportion in the National Park of screes and rocky areas and to the decline and transformation of forest activities in these peripheral, lower elevation areas.
Access options
Buy single article
Instant access to the full article PDF.
US$ 39.95
Tax calculation will be finalised during checkout.
Subscribe to journal
Immediate online access to all issues from 2019. Subscription will auto renew annually.
US$ 79
Tax calculation will be finalised during checkout.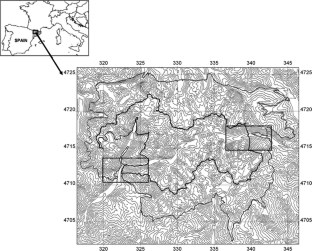 References
Abella J (2002) Actividades tradicionales. In: Vilaplana JM, Martín Vide J, Catalán J, Carrillo E, Ninot JM, Piqué J, Gracia M, Serra-Cobo J, Martínez-Rica JP, Canut J, Aniz M, Abella J, Rispa JM (eds) Parque Nacional de Aigüestortes i Estany de Sant Maurici. Canseco Editores, Talavera de la Reina, pp 275–290

Agnoletti M (2007) The degradation of traditional landscape in a mountain area of Tuscany during the 19th and 20th centuries: implications for biodiversity and sustainable management. For Ecol Manag 249:5–17

Armenteras D, Rodríguez N, Retana J (2009) Are conservation strategies effective in avoiding the deforestation of the Colombian Guyana Shield? Biol Cons 142:1411–1419

Arnan X, Gracia M, Comas L, Retana J (2009) Forest management conditioning ground ant community structure and composition in temperate conifer forests in the Pyrenees Mountains. For Ecol Manag 258:51–59

Blondel J, Aronson J (1999) Biology and wildlife of the Mediterranean region. Oxford University Press, Oxford

Bolli JC, Rigling A, Bugmann H (2007) The influence of changes in climate and land-use on regeneration dynamics of Norway spruce at the treeline in the Swiss Alps. Silva Fennica 41:55–70

Burriel JA, Ibàñez JJ (2004) Actualización del mapa de cubiertas del suelo de Cataluña: aportaciones a la cartografía detallada del territorio catalán. In: Conesa C, Álvarez Y, Martínez JB (eds) El empleo de los SIG y la Teledetección en Planificación Territorial. Publ. Asociación de Geógrafos Españoles and Universidad de Murcia, Murcia, pp 333–342

Butzer KW (2005) Environmental history in the Mediterranean world: cross-disciplinary investigation of cause-and effect for degradation and soil erosion. J Archaeol Sci 32:1773–1800

Caplat P, Lepart J, Marty P (2006) Landscape patterns and agriculture: modelling the long-term effects of human practices on Pinus sylvestris spatial dynamics (Causse Mejean, France). Landscape Ecol 21:657–670

Casteller A, Stoeckli V, Villalba R, Mayer AC (2007) An evaluation of dendroecological indicators of snow avalanches in the Swiss Alps. Arct Antarct Alp Res 39:218–228

Cernusca A, Tappeiner U, Bahn M, Bayfield N, Chemini C, Fillat F, Graber W, Rosset M, Siegwolf R, Tenhunen J (1997) ECOMONT—ecological effects of land use changes on European terrestrial mountain ecosystems. Pirineos 147–148:145–172

Cernusca A, Bahn M, Chemini C, Graber W, Siegwolf R, Tappeiner U, Tenhunen J (1998) ECOMONT: a combined approach of field measurements and process-based modelling for assessing effects of land-use changes in mountain landscapes. Ecol Model 113:167–178

Chauchard S, Carcaillet C, Guibal F (2007) Patterns of land-use abandonment control tree-recruitment and forest dynamics in Mediterranean mountains. Ecosystems 10:936–948

Debussche M, Lepart J, Dervieux A (1999) Mediterranean landscape changes: evidence from old postcards. Global Ecol Biogeogr 8:3–15

DeFries R, Hansen A, Newton AC, Hansen MC (2005) Increasing isolation of protected areas in tropical forests over the past twenty years. Ecol Appl 15:19–26

Duguy B, Vallejo VR (2008) Land-use and fire history effects on post-fire vegetation dynamics in eastern Spain. J Veg Sci 19:97–108

Farina A (2000) The cultural landscape as a model for the integration of ecology and economics. Bioscience 50:313–320

García-Ruiz JM, Lasanta T (1993) Land use conflicts as a result of land use change in the Central Spanish Pyrenees: a review. Mt Res Dev 13:295–304

Garcia-Ruiz JM, Lasanta T, Ruiz-Flano P, Ortigosa L, White S, González C, Martí C (1996) Land-use changes and sustainable development in mountain areas: a case study in the Spanish Pyrenees. Landscape Ecol 11:267–277

González-Bernáldez F (1991) Ecological consequences of the abandonment of traditional land use systems in central Spain. Options Méditérranéennes 15:23–29

Gracia M, Retana J (2004) Effect of site quality and shading on sprouting patterns of holm oak coppices. For Ecol Manag 188:39–49

Hietala-Koivu R (2002) Landscape and modernizing agriculture: a case study of three areas in Finland in 1954–1998. Agric Ecosyst Environ 91:273–281

Hietel E, Waldhardt R, Otte A (2004) Analysing land-cover changes in relation to environmental variables in Hesse, Germany. Landscape Ecol 19:473–489

Joppa LN, Loarie SR, Pimm SL (2008) On the protection of "protected areas". PNAS 105:6673–6678

Kadmon R, Harari-Kremer R (1999) Landscape-scale regeneration dynamics of disturbed Mediterranean maquis. J Veg Sci 10:393–402

Köhler R, Olschofsky K, Gerard F (eds) (2006) Land cover change in Europe from the 1950'ies to 2000. Institute for Woldforestry, Hamburg

Kristensen LS, Thenail C, Kristensen SP (2004) Landscape changes in agrarian landscapes in the 1990 s: the interaction between farmers and the farmed landscape. A case study from Jutland, Denmark. J Environ Manage 71:231–244

Lasanta T, González-Hidalgo JC, Vicente-Serrano SM, Sferi E (2006) Using landscape ecology to evaluate an alternative management scenario in abandoned Mediterranean mountain areas. Landsc Urban Plan 78:101–114

MacDonald D, Crabtree JR, Wiesinger G, Dax T, Stamou N, Fleury P, Gutierrez Lazpita J, Gibon A (2000) Agricultural abandonment in mountain areas of Europe: environmental consequences and policy response. J Environ Manage 59:47–69

Martín Vide J (2002) Clima. In: Vilaplana JM, Martín Vide J, Catalán J, Carrillo E, Ninot JM, Piqué J, Gracia M, Serra-Cobo J, Martínez-Rica JP, Canut J, Aniz M, Abella J, Rispa JM (eds) Parque Nacional de Aigüestortes i Estany de Sant Maurici. Canseco Editores, Talavera de la Reina, pp 55–74

Mazzoleni S, di Pasquale G, Mulligan M, di Martino P, Rego FC (eds) (2004) Recent dynamics of the Mediterranean vegetation and landscape. Wiley, Chichester

Millington JAD, Perry GLW, Romero-Calcerrada R (2007) Regression techniques for examining land use/cover change: a case study of a Mediterranean landscape. Ecosystems 10:562–578

Mitchley J, Price M, Tzanopoulos J (2006) Integrated futures for Europe's mountain regions: reconciling biodiversity conservation and human livelihoods. J Mt Sci 3:276–286

Molinillo M, Lasanta T, García Ruiz JM (1997) Managing mountainous degraded landscapes after farmland abandonment in the Central Spanish Pyrenees. Environ Manage 21:587–598

Moreira F, Rego FC, Ferreira PG (2001) Temporal (1958–1995) pattern of change in a cultural landscape of northwestern Portugal: implications for fire occurrence. Landscape Ecol 16:557–567

Mottet A, Ladet S, Coqué S, Gibon A (2006) Agricultural land-use change and its drivers in mountain landscapes: a case study in the Pyrenees. Agr Ecosyst Environ 114:296–310

Nikodemus O, Bell S, Grine I, Liepins I (2005) The impact of economic, social and political factors on the landscape structure of the Vidzeme Uplands in Latvia. Landsc Urban Plan 70:57–67

Oliveira PJC, Asner GP, Knapp DE, Almeyda A, Galván-Gildemeister R, Keene S, Raybin RF, Smith RC (2007) Land-use allocation protects the Peruvian Amazon. Science 317:1233

Ordóñez JL, Retana J, Espelta JM (2005) Effects of tree size, crown damage, and tree location on post-fire survival and cone production of Pinus nigra trees. For Ecol Manag 206:109–117

Pan D, Domon G, de Blois S, Bouchard A (1999) Temporal (1958–1993) and spatial patterns of land use changes in Haut-Saint-Laurent (Quebec, Canada) and their relation to landscape physical attributes. Landscape Ecol 14:35–52

Peñuelas J, Boada M (2003) A global change-induced biome shift in the Montseny mountains (NE Spain). Global Change Biol 9:131–140

Peñuelas J, Ogaya R, Boada M, Jump AS (2007) Migration, invasion and decline: changes in recruitment and forest structure in a warming-linked shift of European beech forest in Catalonia (NE Spain). Ecography 30:829–837

Pigott CD, Pigott S (1993) Water as a determinant of the distribution of trees at the boundary of the Mediterranean zone. J Ecol 81:557–566

Piqué J, Gracia M (2002) Paisaje forestal. In: Vilaplana JM, Martín Vide J, Catalán J, Carrillo E, Ninot JM, Piqué J, Gracia M, Serra-Cobo J, Martínez-Rica JP, Canut J, Aniz M, Abella J, Rispa JM (eds) Parque Nacional de Aigüestortes i Estany de Sant Maurici. Canseco Editores, Talavera de la Reina, pp 153–164

Poyatos R, Latron J, Llorens P (2003) Land use and land cover change after farmland abandonment. The case of a Mediterranean Mountain area (Catalan Pre-Pyrenees). Mt Res Dev 23:362–368

Pueyo T, Alados CL (2007) Effects of fragmentation, abiotic factors and land use on vegetation recovery in a semi-arid Mediterranean area. Basic Appl Ecol 8:158–170

Read J, Stokes A (2006) Plant biomechanics in an ecological context. Am J Bot 93:1546–1565

Rickebusch S, Gellrich M, Lischke H, Guisan A, Zimmermann NE (2007) Combining probabilistic land-use change and tree population dynamics modelling to simulate responses in mountain forests. Ecol Model 209:157–168

Roura-Pascual N, Pons P, Etienne M, Lambert B (2005) Transformation of a rural landscape in the Eastern Pyrenees between 1953 and 2000. Mt Res Dev 25:252–261

Serra P, Pons X, Sauri D (2008) Land-cover and land-use change in a Mediterranean landscape: a spatial analysis of driving forces integrating biophysical and human factors. Appl Geogr 28:189–209

Taillefumier F, Piégay H (2003) Contemporary land use changes in prealpine Mediterranean mountains: a multivariate GIS-based approach applied to two municipalities in the Southern French Prealps. Catena 51:267–296

Tappeiner U, Tasser E, Tappeiner G (1998) Modelling human and naturally triggered changes in the landscape: first experiences with a GIS based model applied to an Alpine area. Ecol Model 113:225–237

Tasser E, Tappeiner U (2002) Impact of land use changes on mountain vegetation. Appl Veg Sci 5:173–184

Torta G (2004) Consequences of rural abandonment in a Northern Apenines landscape (Tuscany, Italy). In: Mazzoleni S, Di Pasquale G, Mulligan M, Di Martino P, Rego F (eds) Recent dynamics of the Mediterranean vegetation and landscape. John Wiley & Sons Ltd, Chichester, pp 157–165

Tzanopoulos J, Mitchley J, Pantis JD (2007) Vegetation dynamics in abandoned crop fields on a Mediterranean island: development of succession model and estimation of disturbance thresholds. Agric Ecosyst Environ 120:370–376

Vallejo VR, Alloza JA (1998) The restoration of burned lands: the case of eastern Spain. In: Moreno JM (ed) Large forest fires. Backhuys, Leiden, pp 91–108

Verhulst J, Baǐldi A, Kleijn D (2004) Relationship between land-use intensity and species richness and abundance of birds in Hungary. Agric Ecosyst Environ 104:465–473

Zomeni M, Tzanopoulos J, Pantis JD (2008) Historical analysis of landscape change using remote sensing techniques: an explanatory tool for agricultural transformation in Greek rural areas. Landsc Urban Plan 86:38–46
Acknowledgments
This study was partly funded by the project CONSOLIDER INGENIO 2010 CSD2008-0040 MONTES and by projects from Fundació Territori i Paisatge and from Obra Social Caixa de Pensions.
About this article
Cite this article
Gracia, M., Meghelli, N., Comas, L. et al. Land-cover changes in and around a National Park in a mountain landscape in the Pyrenees. Reg Environ Change 11, 349–358 (2011). https://doi.org/10.1007/s10113-010-0138-0
Received:

Accepted:

Published:

Issue Date:
Keywords
National Park

Pyrenees

Mountain areas

Land-use changes

Forest cover

Forest dynamics