Abstract
This paper examines the weaknesses in the current understanding of Integrated Water Resources Management (IWRM) from the perspective of livelihoods. Empowering poor people, reducing poverty, improving livelihoods, and promoting economic growth ought to be the basic objectives of IWRM. But as currently understood and used, IWRM often tends to focus on second-generation issues such as cost recovery, reallocation of water to "higher value" uses, and environmental conservation. This paper argues that IWRM needs to be placed in the broader context of both modern Integrated Natural Resource Management (INRM) and the livelihoods approach, which together take a holistic and people-centered approach. The paper concludes with an alternative definition of IWRM as involving the promotion of human welfare, especially the reduction of poverty, encouragement of better livelihoods and balanced economic growth through effective democratic development and management of water and other natural resources in an integrated multilevel framework that is as equitable, sustainable, and transparent as possible, and conserves vital ecosystems. Transparent user-friendly information and models for assisting decision making are essential features of livelihood-oriented IWRM.
Access options
Buy single article
Instant access to the full article PDF.
US$ 39.95
Tax calculation will be finalised during checkout.
Subscribe to journal
Immediate online access to all issues from 2019. Subscription will auto renew annually.
US$ 79
Tax calculation will be finalised during checkout.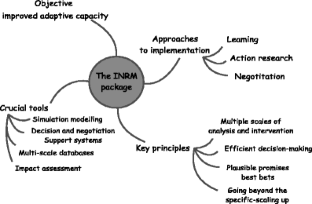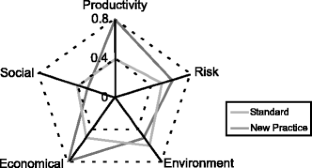 References
Campbell B, Sayer JA, Frost P, Vermeulen S, Perez MR, Cunningham A, Prabhu R (2001) Assessing the performance of natural resource systems. Conservation Ecol 5(2):22. (http://www.consecol.org/vol5/iss2/art22)

Campbell B (2003) Rising the challenge of poverty and environmental sustainability: towards a conceptual and operational framework for INRM. Keynote paper for the SSA-CP programme formulation workshop, FARA, Accra

Cosgrove WJ, Rijsberman FR (2000) World water vision: making water everybody's business. Earthscan, London, p 108

de Lange M, Penning de Vries FWT (2003) Integrated approaches to natural resource management: theory and practice. paper presented at the international symposium on water conservation technologies for sustainable dryland agriculture in sub-Saharan Africa. Glen, South Africa, 8–11 April 2003

Global Water Partnership (GWP) (2000) Integrated water resources management. GWP Technical Committee Background Paper 4 Stockholm: GWP. http://www.gwpforum.org/gwp/library/TACofSP.pdf

Global Water Partnership (GWP) (2003) Poverty reduction and IWRM. Final version. GWP Technical Committee Background Paper 8, prepared for the Water and Poverty Initiative. GWP, Stockholm, 16 January 2003. http://www.gwpforum.org/gwp/library/TEC8.pdf

International Water and Sanitation Centre (IRC), Natural Resources Institute (NRI), International Water Management Institute (IWMI), Department of Water Affairs & Forestry (DWAF) (2003) Promoting poverty and productive uses of water at the household level, proceedings, international symposium, Johannesburg, 21–23 January 2003. http://www.irc.nl/prodwat

International Water Management Institute (IWMI) (2003) Position Paper in volume 2 of Sub-Saharan Africa Challenge Program Proposal, "Building Sustainable Livelihoods through Integrated Agricultural Research for Development". Submission to the Consultative Group for International Agricultural Research prepared by the Forum for Agricultural Research in Africa (FARA). FARA, Accra

Lankford B, van Koppen B (2002) Critical analysis of river basin management in the Great Ruaha, Tanzania. Case 121 Toolbox Global Water Partnership. http://www.gwpforum.org

Lipton M, Litchfield J et al. (2003) Preliminary review of the impact of irrigation on poverty, with special emphasis on Asia. Food and Agriculture Organization (AGL/MISC/34/2003), Rome

Maglinao AR (2001) Management of Soil Erosion Consortium (MSEC), Annual report. IWMI, Colombo

Meinzen-Dick R, Zwarteveen M (1998) Gender participation in water management: issues and illustrations from water user associations in South Asia. In: Merrey D, Baviskar S (eds) Gender analysis and reform of irrigation management: concepts, cases, and gaps in knowledge. Proceedings of the workshop on gender and water. IWMI, Colombo, 15–19 September 1997

Moench M, Dixit A, Janakarajan S, Rathore MS, Mudrakartha S (2003) The fluid mosaic: water governance in the context of variability, uncertainty and change. Synthesis Paper.Nepal Water Conservation Foundation, Kathmandu, and Institute for Social and Environmental Transition, Boulder

Molden D, Sakthivadivel R, Keller J (2001) Hydronomic zones for developing basin water conservation strategies. IWMI Research Report 56. IWMI, Colombo. http://www.iwmi.cgiar.org/pubs/pub056/Report56.pdf

Ngigi SN (2003) Rainwater harvesting for improved food security: promising technologies in the Greater Horn of Africa. Greater Horn of Africa Rainwater Partnership (GHARP) and Kenya Rainwater Harvesting Association (KRA), Nairobi, p 266

Penning de Vries FWT, Acquai H, Molden DJ, Scherr S, Valentin C, Cofie O (2002) Integrated land and water management for food and environmental security. Comprehensive Assessment Research Report 1, International Water Management Institute, Sri Lanka and Global Environmental Facility. Washington, p 70

Polak P, Adhikari D, Nanes B, Suryawanshi S (2002) Transforming village water access into profitable business opportunities. Unpublished paper, International Development Enterprises

Renwick ME (2001) Valuing water in irrigated agriculture and reservoir fisheries: a multiple use irrigation system in Sri Lanka. IWMI Research Report 51. IWMI, Colombo. http://www.iwmi.cgiar.org/pubs/pub051/Report51.pdf

Sakthivadivel R, Fernando N, Brewer JD (1997) Rehabilitation planning for small tanks in cascades: a methodology based on rapid assessment. IWMI Research Report 13. IWMI, Colombo. http://www.iwmi.cgiar.org/pubs/pub031/REPORT13.PDF

Sayer JA, Campbell B (2001) Research to integrate productivity enhancement, environmental protection, and human development. Conservation Ecol 5(2). (http://www.consecol.org/vol5/iss2/ar32)

Schreiner B, van Koppen B (2002) Catchment management agencies for poverty eradication in South Africa. Physics and Chemistry of the Earth 27. Elsevier, pp 969–976

Shah T, Makin IW, Sakthivadivel R (2001) Limits to leapfrogging: issues in transposing successful river basin management institutions in the developing world. In: Abernethy C (ed) Intersectoral management of river basins: proceedings of an international workshop on "Integrated Water Management in Water-Stressed River Basins in Developing Countries: Strategies for Poverty Alleviation and Agricultural Growth," Loskop Dam, 16021 October 2000 Colombo: IWMI and German Foundation for International Development (DSE)

Teng PS, Kropff MJ, Ten Berge HFM, Dent JB, Lansigan FP, Van laar HH (eds) (1995) Applications of systems approaches at the farm and regional levels, vol 1. Kluwer, in cooperation with IRRI and ICASA, Dordrecht, 468 pp

Wester P, Merrey DJ, de Lange M (2003) Boundaries of consent: representation in River Basin management in Mexico and South Africa. World Dev 31(5):797–812
Acknowledgements
The authors would like to thank K.A.U.S. Imbulana for his suggestions while reviewing the paper; and we thank the other two reviewers appointed by the editors for their useful suggestions. We also thank Ernst Mwape of the Community-based Natural Resources and Sustainable Agriculture (CONASA) for drawing our attention to the concept of Community-Based Natural Resources Management (CBNRM). The authors alone are responsible for the final product.
About this article
Cite this article
Merrey, D.J., Drechsel, P., de Vries, F.W.T.P. et al. Integrating "livelihoods" into integrated water resources management: taking the integration paradigm to its logical next step for developing countries. Reg Environ Change 5, 197–204 (2005). https://doi.org/10.1007/s10113-004-0088-5
Received:

Accepted:

Published:

Issue Date:
Keywords
Water Supply System

Integrate Water Resource Management

Livelihood Approach

International Water Management Institute

Poverty Reduction Strategy Paper