Abstract
The Ethiopian rift is characterized by a chain of lakes of various sizes and hydrological and hydrogeological settings. The rift lakes and feeder rivers are used for irrigation, soda extraction, commercial fish farming, and recreation, and they support a wide variety of endemic birds and wild animals. The levels of some of these lakes have changed dramatically over the last three decades. Lakes that are relatively uninfluenced by human activities (Langano and Abaya) remain stable except for the usual inter-annual variations, strongly influenced by rainfall. Some lakes have shrunk due to excessive abstraction of water; others have expanded due to increases in surface runoff and groundwater flux from percolated irrigation water. Lakes Abiyata and Beseka, both heavily impacted by human activities, show contrasting lake level trends: the level of Abiayata has dropped by about 5 m over three decades because of the extraction of water for soda and an upstream diversion for irrigation. Beseka has expanded from an area of 2.5 to 40 km2 over the last three decades because of increased groundwater inputs from percolated irrigation water. Lake Awassa has risen slightly due to land use changes resulting in increased runoff in its catchment. This paper addresses these lake level changes and their environmental repercussions, based on evidence from hydrometeorological records, hydrogeological field mapping supported by aerial photography and satellite imagery interpretations, water balance estimation, and hydrological modeling. A converging evidence approach is used to reconstruct the temporal and spatial variations of lake levels. The results reveal that the major changes in the rift valley are mainly related to anthropogenic factors. These changes appear to have grave environmental consequences for the fragile rift ecosystem. These consequences demand the very urgent implementation of integrated basin wide water management practice.
Access options
Buy single article
Instant access to the full article PDF.
USD 39.95
Price excludes VAT (USA)
Tax calculation will be finalised during checkout.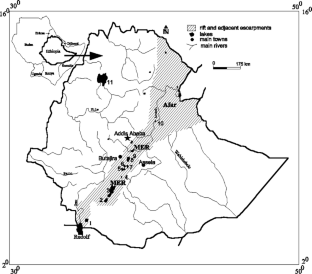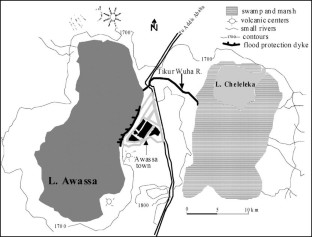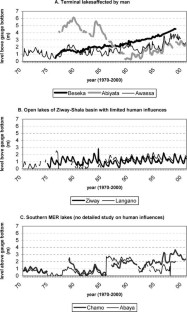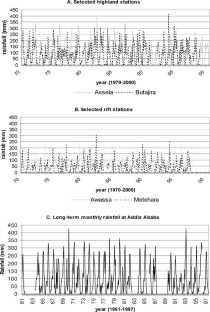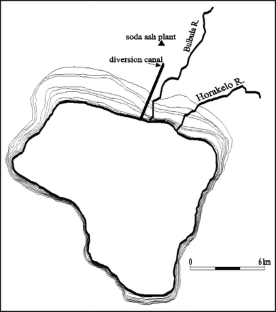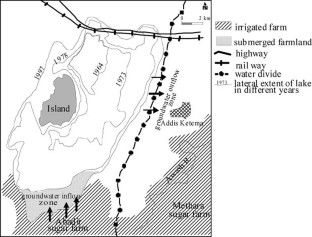 References
Atkins and Partners (1965) Development of the fishing industry in Ethiopia (unpublished report). Atkins and Partners Technical Agency, Addis Ababa, Ethiopia

Ayenew T (1998) The hydrogeological system of the Lake District basin. Central Main Ethiopian Rift. PhD Thesis, Free University of Amsterdam, The Netherlands, pp 259

Ayenew T (2001) Numerical groundwater flow modelling of the Central Main Ethiopian Rift lakes basin. SINET: Ethiop J Sci 24(2):167–184

Ayenew T (2002) Recent changes in the level of Lake Abiyata, central main Ethiopian Rift. Hydrol Sci J 47(3):493–503

Ayenew T (2003) Environmental isotope-based integrated hydrogeological study of some Ethiopian rift lakes. J Radioanal Nucl Ch 257(1):11–16

Baker BH, Wohlenberg J (1971) Structure and rift evolution of the Kenyan rift valley. Nature 229:538–542

Barbieri F, Ferrara G, Santacroce R, Varet J (1975) Structural evolution of the Afar tipple junction. Schweizerbart, Stuttgart, pp 38–54

Belay A, Wood RB (1982) Limnological aspects of an algal bloom on Lake Chamo In Gamo Goffa Administration region of Ethiopia in 1978. SINET: Ethiop J Sci 5:1–19

Benvenuti M, Dainelli N, Iasio I, Sagri M, Ventra D (1995) Report on EEC funded project "Land resources inventory, environmental change analysis and their applications to agriculture in the Abaya lakes region" (Report No 4). University of Florence, Italy, pp 6–27

Chernet T (1982) Hydrogeologic map of the lakes region (with memo). Ethiopian Institute of Geological Surveys, Addis Ababa, Ethiopia

Gebremariam Z (1994) Long-term changes in indices of chemical and productive status of a group of tropical Ethiopian lakes with different exposure to human influence. Arch Hydrobiol 132:115–125

Gebremariam Z (2002) The Ethiopian rift valley lakes: major threats and strategies for conservation. In: Tudorancea C, Taylor WD (eds) Ethiopian Rift Valley lakes. Backhuys, Leiden, The Netherlands, pp 259–271

Gebremariam Z, Dadebo E (1989) Water resources and fisheries management in the rift valley lakes. SINET: Ethiop J Sci 12(2):95–109

Geremew Z (2000) Engineering geological investigation and lake level changes in the Awassa basin. MSc thesis, Department of Geology and Geophysics, Addis Ababa University, Addis Ababa, Ethiopia, pp 185

Golobtsov AS, Dgebuadze YY, Mina MV (2002) Fishes of the Ethiopian Rift. In: Tudorancea C, Taylor WD (eds) Ethiopian Rift Valley lakes. Backhuys, Leiden, The Netherlands, pp 167–256

Gouin P (1979) Earthquake history of Ethiopia and the Horn of Africa. International Development Research Center, Ottawa, Canada, pp 247

Hailu D, Hess M, Ayenew T (1996) The problem of high rise groundwater in Amibara irrigation project, Middle Awash basin (unpublished report). Ethiopian Science and Technology Commission, Addis Ababa, Ethiopia

Halcrow and Partners (1989) Master plan for the development of surface water resources in ten Awash basin, vol 6. Ministry of Water Resources, Addis Ababa, Ethiopia

Hillman JC (1988) Abijata-Shala lakes: National park reports on status and proposals. Mimeo, Addis Ababa, Ethiopia

Karrow PF (1963) Pleistocene geology of the Hamilton Galt area (Geology Report No 16). Ontario Department of Mines, Toronto, Canada pp 68

Makin MJ, Kingham TJ, Waddams AE, Birchall CJ, Eavis BW (1976) Prospects for irrigation development around lake Ziway, Ethiopia (Study 26). Land Resources Division, Ministry of Overseas Development, Tolworth, UK, pp 270

Mamo S (2002) Water balance evaluation, leakage rate and total water loss of Koka reservoir, Ethiopia. Comments on previous studies and new determinations. SINET: Ethiop J Sci 25(1):141–150.

MWR (1999) Study of Lake Beseka (Main Report, Vol 1). Ministry of Water Resources, Addis Ababa, Ethiopia, pp 203

Nedaw D (1997) Hydrogeology of Awassa Area. MSc thesis, Department of Geology and Geophysics, Addis Ababa University, Addis Ababa, Ethiopia, pp 106

Servat E, Hughes D, Fritsch JM, Hulme M (eds)(1998) Water resources variability in Africa during the XXth century. Int Assoc Hydrol Sci 252:462

Slay PG (1973) Sediment processes in Great Lakes. In: Fluvial processes and sedimentation (Proc Hydrology Symp, University of Alberta, Edmonton, 8–9 May 1973). National Research Council Canada, Ottawa, pp 465–492

Street FA (1979) Late Quaternary Lakes in the Ziway Shala Basin, Southern Ethiopia. PhD thesis, University of Cambridge, UK, pp 457

Street Perrott FA (1982) Twentieth century fluctuations in lake level in the Ziway-Shala basin, Ethiopia. Palaeoecol Afr 15:99–110

Tessema Z (1998) Hydrochemical and water balance approach in the study of high water level rise of Lake Beseka. MSc thesis, University of Birmingham, UK, pp 90

Vallet Coulomb C, Legesse D, Gasse, F, Travi Y, Chernet T (2001) Lake evaporation estimates in tropical Africa (Lake Ziway, Ethiopia). J Hydrol 245:1–18

Wodajo K (1982) Comparative limnology of Lake Abijata and Lake Langano in relation to primary and secondary production. MSc thesis, Addis Ababa University, Addis Ababa, Ethiopia

Wood RB, Talling JF (1988) Chemical and algal relationship in a salinity series of Ethiopian inland waters. Hydrobiologia 158:29–67

WWDSE (2001) The study of Lake Awassa level rise (Main Report, Vol II). Unpublished report of the Water Works Design and Supervision Enterprise, Addis Ababa, Ethiopia, pp 291

Zanettin B, Justin Visentin E, Niccoletti M, Piccirllo EM (1980) Correlation among Ethiopian volcanic formations with special references to the chronological and stratigraphic problems of the Trap series. Accademia Nazionale dei Lincei 47:231–252
Acknowledgements
The author is grateful to the Department of Geology and Geophysics, Addis Ababa University for the logistic field support it has provided since 1994. Thanks go to the Ethiopian Meteorological Services Agency, the Ministry of Water Resources, the Ethiopian Mapping Authority, the Geological Survey of Ethiopia, and the Abiyata Soda Ash Factory for providing relevant data.
About this article
Cite this article
Ayenew, T. Environmental implications of changes in the levels of lakes in the Ethiopian Rift since 1970. Reg Environ Change 4, 192–204 (2004). https://doi.org/10.1007/s10113-004-0083-x
Received:

Accepted:

Published:

Issue Date:

DOI: https://doi.org/10.1007/s10113-004-0083-x
Keywords
Environmental changes

Ethiopian Rift

Lakes

Over-irrigation

Salinization

Water resources