Abstract
The landscape and nature of knowledge work is changing due to digitalization. There are many expectations set for the digitalization and its impact on knowledge work performance. In this paper, the purpose is to critically examine the effects of digitalization on knowledge work performance through an empirical study consisted of multiple datasets representing knowledge workers in four different professions and three vocation sectors. The study is able to show that even though knowledge workers gain several benefits from digitalization, the effects of opposite, value destroying factors, are still stronger. This study contributes to the timely discussion on modern work by identifying the potential restraints and showing their relation to performance. Moreover, based on the results of the study, the critical areas that need managerial attention in digitalizing knowledge work are highlighted.
Access options
Buy single article
Instant access to the full article PDF.
USD 39.95
Price excludes VAT (USA)
Tax calculation will be finalised during checkout.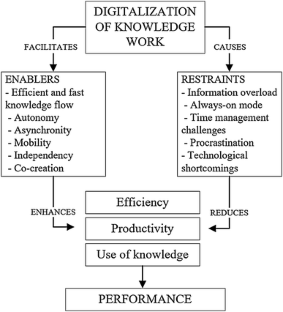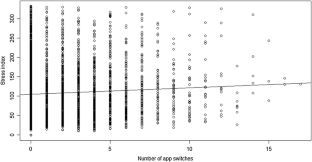 References
Agnihotri R, Troutt MD (2009) The effective use of technology in personal knowledge management: a framework of skills, tools and user context. Online Inf Rev 33(2):329–342

Airila A, Hakanen JJ, Luukkonen R, Lusa S, Punakallio A (2013) Positive and negative mood trajectories and their relationship with work ability, self-rated health, and life satisfaction. J Occup Environ Med 55(7):779–785

Alexandre B, Reynaud E, Osiurak F, Navarro J (2018) Acceptance and acceptability criteria: a literature review. Cognit Technol Work 20(1):1–3

Amabile TM, Conti R, Coon H, Lazenby J, Herron M (1996) Assessing the work environment for creativity. Acad Manag J 39(5):1154–1184

Anderson C (2006) The long tail: why the future of business is selling less of more. Hyperion, New York

Barber LK, Santuzzi AM (2015) Please respond ASAP: workplace telepressure and employee recovery. J Occup Health Psychol 20(2):172

Barley SR, Meyerson DE, Grodal S (2011) Email as a source and symbol of stress. Organ Sci 22(4):887–906

Bekdik B (2017) Improving productivity in building construction—by repetitions in products, processes, and organisations. Doctoral dissertation, DTU Management

Ben-Arieh D, Pollatscheck MA (2002) Analysis of information flow in hierarchical organizations. Int J Prod Res 40(15):3561–3573

Blackler F (1995) Knowledge, knowledge work and organizations: an overview and interpretation. Organ Stud 16(6):1021–1046

Bontis N, Richards D, Serenko A (2011) Improving service delivery: investigating the role of information sharing, job characteristics, and employee satisfaction. Learn Organ 18(3):239–250

Bordi L, Okkonen J, Mäkiniemi JP, Heikkilä-Tammi K (2017) Employee-developed ways to enhance information ergonomics. In: Proceedings of the 21st international academic Mindtrek conference, pp 90–96. ACM

Brown R, Duck J, Jimmieson N (2014) E-mail in the workplace: the role of stress appraisals and normative response pressure in the relationship between e-mail stressors and employee strain. Int J Stress Manag 21(4):325–347

CardioMood (2015) How to check stress level with CardioMood. Retrieved from http://blog.cardiomood.com/post/107832125256/how-to-check-stress-level-with-cardiomood

CardioMood (2017a) Expert tools for heart rate analysis: mobile apps and web dashboard for HRV analysis. Retrieved from http://www.cardiomood.com

CardioMood (2017b) Methods of HRV analysis. Retrieved from http://blog.cardiomood.com/post/112068958936/methods-of-hrv-analysis

Castells M (2010) The rise of the network society. Wiley-Blackwell, Malden

Charlton SG (2002) Measurement of cognitive states in test and evaluation. In: Charlton SG, O'Brien TG (eds) Handbook of human factors testing and evaluation. Lawrence Erlbaum, Mahwah, pp 97–126

Chen W (2013) Internet use, online communication, and ties in Americans' networks. Soc Sci Comput Rev 31(4):404–423

Choi JN (2007) Change-oriented organizational citizenship behavior: effects of work environment characteristics and intervening psychological processes. J Organ Behav 28(4):467–484

Chou Y-C, Chuang HHC, Shao BBM (2014) The impacts of information technology on total factor productivity: a look at externalities and innovations. Int J Prod Econ 158(2014):290–299

Darr ED, Kurtzberg TR (2000) An investigation of partner similarity dimensions on knowledge transfer. Organ Behav Hum Decis Process 82(1):28–44

Day A, Scott N, Kelloway EK (2010) Information and communication technology: implications for job stress and employee well-being. In: Perrewé PL, Ganster DC (eds) New developments in theoretical and conceptual approaches to job stress. Emerald Group Publishing, Bingley, pp 317–350

Dayasindhu N (2002) Embeddedness, knowledge transfer, industry clusters and global competitiveness: a case study of the Indian software industry. Technovation 22(9):551–560

Drucker PF (1999) Knowledge-worker productivity: the biggest challenge. Calif Manag Rev 41(2):79–94

Dyer JH, Nobeoka K (2000) Creating and managing a high-performance knowledge-sharing network: the Toyota case. Strateg Manag J 21(3):345–367

Erlich A, Bichard JA (2008) The welcoming workplace: designing for ageing knowledge workers. J Corp Real Estate 10(4):273–285

Ferreira A, Du Plessis T (2009) Effect of online social networking on employee productivity. S Afr J Inf Manag 11(1):1–16

Franssila H, Okkonen J, Savolainen R (2015) Developing measures for information ergonomics in knowledge work. Ergonomics 59(3):435–448

Gaudioso F, Turel O, Galimberti C (2017) The mediating roles of strain facets and coping strategies in translating technostressors into adverse job outcomes. Comput Hum Behav 69:189–196

Goldman AS (1959) Information flow and worker productivity. Manag Sci 5(3):270–278

Gonzalez I, Morer P (2016) Ergonomics for the inclusion of older workers in the knowledge workforce and a guidance tool for designers. Appl Ergon 53:131–142

Greene C, Myerson J (2011) Space for thought: designing for knowledge workers. Facilities 29(1/2):19–30

Grudin J (2006) Enterprise knowledge management and emerging technologies. In: Proceedings of the 39th annual Hawaii international conference on system sciences, p 57. IEEE Computer Society, Washington, DC

Haas MR, Hansen MT (2007) Different knowledge, different benefits: toward a productivity perspective on knowledge sharing in organizations. Strateg Manag J 28(11):1133–1153

Kim SW, Narasimhan R (2002) Information system utilization in supply chain integration efforts. Int J Prod Res 40(18):4585–4609

Kowalkowski C, Kindström D, Gebauer H (2013) ICT as a catalyst for service business orientation. J Bus Ind Mark 28:506–513

Kraft P (2012) Programmers and managers: the routinization of computer programming in the United States. Springer, New York

Lahti RK, Darr ED, Krebs VE (2002) Developing the productivity of a dynamic workforce: the impact of informal knowledge transfer. J Org Excell 21(2):13–21

Laschinger HKS, Finegan J, Shamian J (2002) The impact of workplace empowerment, organizational trust on staff nurses' work satisfaction and organizational commitment. Adv Health Care Manag 3:59–85

Lerch C, Gotsch M (2015) Digitalized product-service systems in manufacturing firms: a case study analysis. Res Technol Manag 58:45–52

Magsamen-Conrad K, Upadhyaya S, Joa CY, Dowd J (2015) Bridging the divide: using UTAUT to predict multigenerational tablet adoption practices. Comput Hum Behav 50(3):186–196

Maier C, Laumer S, Weinert C, Weitzel T (2015) The effects of technostress and switching stress on discontinued use of social networking services: a study of facebook use. Inf Syst J 25(3):275–308

ManicTime (2017) Manic Time website. Retrieved from http://www.manictime.com

Mark G, Voida S, Cardello A (2012) A pace not dictated by electrons: an empirical study of work without email. In: Proceedings from SIGCHI'12: conference on human factors in computing systems, pp 555–564. ACM, Austin, TX

Mark G, Iqbal ST, Czerwinski M, Johns P (2014) Bored mondays and focused afternoons: the rhythm of attention and online activity in the workplace. In: Proceedings of the 32nd annual ACM conference on human factors in computing systems, pp 3025–3034. ACM, Toronto, Canada

Mark G, Iqbal S, Czerwinski M, Johns P, Sano A (2016) Email duration, batching and self-interruption: patterns of email use on productivity and stress. In: Proceedings of the 2016 CHI conference on human factors in computing systems, pp 1717–1728. ACM, San Jose, CA

Michaelis B, Wagner JD, Schweizer L (2015) Knowledge as a key in the relationship between high-performance work systems and workforce productivity. J Bus Res 68(5):1035–1044

Miller KI, Monge PR (1986) Participation, satisfaction, and productivity: a meta-analytic review. Acad Manag J 29(4):727–753

Neumeier A, Wolf T, Oesterle S (2017) The manifold fruits of digitalization-determining the literal value behind. In: Proceedings of the 13th international conference on Wirtschaftsinformatik (WI), St. Gallen, Switzerland, pp 484–498

Norman DA (1999) Affordance, conventions, and design. Interactions 6(3):38–43

Okkonen J (2004) The use of performance measurement in knowledge work context. Tampere University of Technology, Tampere

Okkonen J (2009) Measuring knowledge work performance, practical implications. Lambert Academic Publishing, Lambert

Okkonen J, Heimonen T, Bordi L (2017) Off-the-shelf assessment of information ergonomics. In: Proceedings of the 21st international academic Mindtrek conference, pp 83–89. ACM

Orlikowski W (1992) Learning from notes: organizational issues in groupware implementation. In: Proceedings of the 1992 ACM conference on computer-supported cooperative work, pp 362–369. ACM, Toronto, Ontario

Osiurak F, Jarry C, Le Gall D (2010) Grasping the affordances, understanding the reasoning: toward a dialectical theory of human tool use. Psychol Rev 117(2):517

Palvalin M, Vuori V, Helander N (2017) Knowledge transfer and work productivity. In: Spender JC, Schiuma G, Gavrilova T (eds) Proceedings of 12th international forum on knowledge asset dynamics, pp 1120–1134. St. Petersburgh, Russia

Parida V, Sjödin DR, Lenka S, Wincent J (2015) Developing global service innovation capabilities: how global manufacturers address the challenges of market heterogeneity. Res Technol Manag 58(5):35–44

Patterson ES, Woods DD, Cook RI, Render ML (2007) Collaborative cross-checking to enhance resilience. Cognit Technol Work 9(3):155–162

Paulin D, Suneson K (2012) Knowledge transfer, knowledge sharing and knowledge barriers—three blurry terms in KM. Electron J Knowl Manag 10(1):81–91

Polar (2017) Polar website. Retrieved from http://www.polar.com

Porta M, House B, Buckley L, Blitz A (2008) Value 2.0: eight new rules for creating and capturing value from innovative technologies. Strategy Leadersh 36(4):10–18

Porter ME, Heppelmann JE (2014) How smart, connected products are transforming competition. Harvard Bus Rev 92(11):64–88

Prensky M (2001) Digital natives, digital immigrants. On Horizon 9(5):1–6

Ragu-Nathan TS, Tarafdar M, Ragu-Nathan BS, Tu Q (2008) The consequences of technostress for end users in organizations: conceptual development and empirical validation. Inf Syst Res 19(4):417–433

Riege A (2005) Three-dozen knowledge-sharing barriers managers must consider. J Knowl Manag 9(3):18–35

Salanova M, Llorens S, Cifre E (2013) The dark side of technologies: technostress among users of information and communication technologies. Int J Psychol 48(3):422–436

Sassen S (1998) Globalization and its discontents: essays on the new mobility of people and money. New Press, New York

Schmenner RW (2004) Service businesses and productivity. Decis Sci 35(3):333–347

Schneckenberg D (2009) Web 2.0 and the empowerment of the knowledge worker. J Knowl Manag 13(6):509–520

Selkämaa R (2018) Decreasing time-waste in production through digitalization. Aalto University, Helsinki

Shu Q, Tu Q, Wang K (2011) The impact of computer self-efficacy and technology dependence on computer-related technostress: a social cognitive theory perspective. Int J Hum Comput Interact 27:923–939

Shujahat M, Sousa MJ, Hussain S, Nawaz F, Wang M, Umer M (2017) Translating the impact of knowledge management processes into knowledge-based innovation: the neglected and mediating role of knowledge-worker productivity. J Bus Res (article in press)

Sink DS (1983) Much ado about productivity: where do we go from here. Ind Eng 15(10):36–48

Soroor J, Tarokh M, Keshtgary M (2009) Preventing failure in IT-enabled systems for supply chain management. Int J Prod Res 47(23):6543–6557

Tarafdar M, Tu Q, Ragu-Nathan TS, Ragu-Nathan BS (2011) Crossing to the dark side: examining creators, outcomes, and inhibitors of technostress. Commun ACM 54(9):113–120

Titus S, Bröchner J (2005) Managing information flow in construction supply chains. Constr Innov 5(2):71–82

Treldal N (2017) Digitalization as driver for standardized specification and design of buildings: in search of an efficient building design management methodology. Doctoral dissertation, Technical University of Denmark, Department of Civil Engineering

Tuomi I (2004) Economic productivity in the knowledge society: a critical review of productivity theory and the impacts of ICT. First Monday 9(7)

Turel O, Gaudioso F (2018) Techno-stressors, distress and strain: the roles of leadership and competitive climates. Cognit Technol Work 20(2):309–324

van Ark B (2015) Productivity and digitalisation in Europe: paving the road to faster growth. Digiworld Econ J 100:107–124

Voth D (2002) Why enterprise portals are the next big thing. Learn Train Innov 3(9):24–29

Wajcman J, Rose E (2011) Constant connectivity: rethinking interruptions at work. Organ Stud 32(7):941–961

Woods DD, Patterson ES, Roth EM (2002) Can we ever escape from data overload? A cognitive systems diagnosis. Cognit Technol Work 4(1):22–36

Wu F, Huberman BA, Adamic LA, Tyler JR (2004) Information flow in social groups. Physica A 337(1–2):327–335

Yu Y, Chen Y, Shi Q (2018) Cellular automaton and tacit knowledge sharing. In: Strategy and performance of knowledge flow: university-industry collaborative innovation in China, pp 109–120

Zhuge H (2002) A knowledge flow model for peer-to-peer team knowledge sharing and management. Expert Syst Appl 23(1):23–30
About this article
Cite this article
Vuori, V., Helander, N. & Okkonen, J. Digitalization in knowledge work: the dream of enhanced performance. Cogn Tech Work 21, 237–252 (2019). https://doi.org/10.1007/s10111-018-0501-3
Received:

Accepted:

Published:

Issue Date:

DOI: https://doi.org/10.1007/s10111-018-0501-3
Keywords