Abstract
Consultations are a critical part of healthcare for many patients; however, they pose macrocognitive challenges at both individual and system levels. Coordination between primary care and specialty clinics is challenging, because information must be shared across clinics, roles, and time. We conducted a study of the consultations process in the U.S. Department of Veterans Affairs. Using interviews, observations, and document review, we identified five limitations in the current documentation of information flow: scheduling is omitted, information transfers appear to be standardized and well understood, all information relevant to consultations appears to be efficiently tracked from beginning to end, CPRS appears to support critical communication about consultations, and follow-up is de-emphasized. We offer a more ecologically oriented, descriptive model of information flow, and highlight common breakdowns in the consultations process.
Access options
Buy single article
Instant access to the full article PDF.
US$ 39.95
Tax calculation will be finalised during checkout.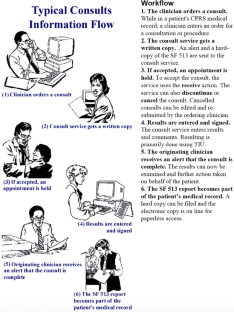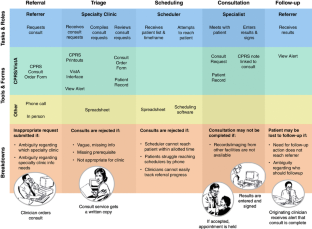 Notes
1.

TIU refers to the Text Integration Utilities package used for managing clinical documents. It is generally not available to end-users such as clinicians and staff.
References
Bennett KB, Flach JM (2011) Display and interface design. Subtle science and exact art. CRC Press, Boca Raton

Blandford A, Furniss D, Vincent C (2014) Patient safety and interactive medical devices: realigning work as imagined and work as done. Clinical risk 20(5):107–110

Borst C, Flach JM, Ellerbroek J (2015) Beyond ecological interface design: Lessons from concerns and misconceptions. IEEE Trans Human Mach Syst 45(2):164–175

Department of Veterans Affairs Office of Information & Technology Product Development (2016) Consult/request tracking user manual. Washington DC: Department of Veterans Affairs. https://www.va.gov/vdl/documents/Clinical/CPRS-Consult_Request_Tracking/consum.pdf

Flach JM, Bennett KB, Woods DD, Jagacinski RJ (2015) Interface Design: A Control Theoretic Context for a Triadic Meaning Processing Approach. Cambri Handb Appl Percept Res 32:647–668

Green J, Thorogood N (2013) Qualitative methods for health research. Sage, Los Angeles

Hawkins M (2017) Survey of physician appointment wait times and medicaid and medicare acceptance rates. Merritt Hawkins, Irving

Hoffman R, Militello LG (2008) Perspectives on cognitive task analysis: historical origins and modern communities of practice. Taylor and Francis, New York

Hollnagel E (August 2014) Why WAI is different from WAD. In: Presented at the third resilience health care net meeting. Middlefart, Denmark, pp 12–14

Humphrey CM, Adams JA (2013) Cognitive information flow analysis. Cogn Technol Work 15(2):133–152

Hysong SJ, Esquivel A, Sittig DF, Paul LA, Espadas D, Singh S, Singh H (2011) Towards successful coordination of electronic health record based-referrals: a qualitative analysis. Implement Sci 6(1):84

Militello LG, Patterson ES, Bowman L, Wears R (2007) Information flow during crisis management: challenges to coordination in the emergency operations center. Cogn Technol Work 9(1):25–31

Militello LG, Diiulio J, Russ AL, Savoy A, Flanagan ME, Patel H, Weiner M (2016). Design Concepts to support management of consultations in the veterans health adminstration. In: Extended Abstract in Proceedings of the Human Factors and Ergonomics Society, 60(1), 1475–1476. Los Angeles: Sage

Miller A, Militello LG (2015) The role of cognitive engineering in improving clinical decision support. In: Bisantz AM, Burns CM, Fairbanks RJ (eds) Cognitive engineering applications in health care. CRC Press, New York

Naikar N, Hopcroft R, Moylan A (2005) Work domain analysis: Theoretical concepts and methodology. No. DSTO-TR-1665. Defence Science and Technology Organisation Victoria (Australia) Air Operation Division, Victoria

Oppel RA (June 20, 2015) Wait lists grow as many more veterans seek care and funding falls short. New York Times. https://www.nytimes.com/2015/06/21/us/wait-lists-grow-as-many-more-veterans-seek-care-and-funding-falls-far-short.html?_r=0

Saleem JJ, Russ AL, Justice CF, Hagg H, Ebright PR, Woodbridge PA, Doebbeling BN (2009) Exploring the persistence of paper with the electronic health record. Int J Med Inf 78(9):618–628

Schultz K, Carayon P, Hundt AS, Springman SR (2007) Care transitions in the outpatient surgery preoperative process: facilitators and obstacles to information flow and their consequences. Cogn Technol Work 9(4):219–231

Singh H, Esquivel A, Sittig DF, Murphy D, Kadiyala H, Schiesser R et al (2011) Follow-up actions on electronic referral communication in a multispecialty outpatient setting. J Gen Intern Med 26(1):64–69

Smith SW, Koppel R (2013) Healthcare information technology's relativity problems: a typology of how patients' physical reality, clinicians' mental models, and healthcare information technology differ. J Am Med Inform Assoc 21(1):117–131

Wagner EH, Sandhu N, Coleman K, Phillips KE, Sugarman JR (2014) Improving care coordination in primary care. Med Care 1;52:S33-8

Wu J, Militello LG, Flanagan ME, Barker B, Rehman S, Porter BW, Weiner M (2016) Barriers and facilitators to using electronic health records for referrals between primary and specialty care clinics. In: Proceedings of the American Medical Informatics Association Annual Symposium, Washington DC: AMIA

Xiao Y, Hu P, Moss J, de Winter JC, Venekamp D, Mackenzie CF, … Perkins S (2008) Opportunities and challenges in improving surgical work flow. Cogn Technol Work 10(4):313–321
Acknowledgements
This work was supported by VA HSR&D Grant No. IIR #12–102 and the Center for Health Information and Communication, Department of Veterans Affairs, Veterans Health Administration, Health Services Research and Development Service CIN 13–416. Views expressed in this article are those of the authors and do not necessarily represent the views of the US Department of Veterans Affairs or the U.S. government.
About this article
Cite this article
Militello, L.G., Savoy, A., Porter, B. et al. Hidden complexities in information flow between primary and specialty care clinics. Cogn Tech Work 20, 565–574 (2018). https://doi.org/10.1007/s10111-018-0486-y
Received:

Accepted:

Published:

Issue Date:
Keywords
Coordination

Health

Consultations

Information flow

Ecological design