Abstract
This paper reports a study of sensemaking in operating theatres. We explored the role of sensemaking processes in the safe and efficient performance of surgical procedures. The study is based on observations, semi-structured interviews, and informal conversations with surgeons, anaesthetists, operating nurses, and anaesthetic nurses. We found that the members of the operating team paid great attention to what might happen during the next seconds, minutes, and hours. They thus built a capacity for anticipation which enabled them to collaborate smoothly and prepared them to handle undesired but foreseeable occurrences. According to Karl Weick, organisational sensemaking is retrospective in the sense that we make sense of our actions and experience after they have occurred. However, our findings suggest that prospective sensemaking is a precondition for safe and successful completion of surgical procedures. Instead of waiting for things to happen and making sense of them in retrospect, the operating team constructed plausible projections of what might happen and how they might handle such plausible futures. Prospective sensemaking is thus less event-driven than retrospective sensemaking. We argue that safe and efficient performance of surgical procedures depends on the quality of prospective sensemaking. We comment on how technology (including procedures) can support prospective sensemaking. Finally, we discuss the relationships between "prospective sensemaking" and related terms, such as "heedful interrelating", "mindfulness", "situation awareness", and "anticipatory thinking".
Access options
Buy single article
Instant access to the full article PDF.
US$ 39.95
Tax calculation will be finalised during checkout.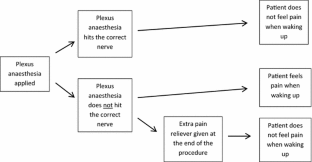 Notes
1.

An intracranial aneurysm is a cerebrovascular disorder in which weakness in the wall of a cerebral artery or vein causes a localised dilation or ballooning of the blood vessel.
References
Alvesson M, Sköldberg K (2009) Reflexive methodology. New vistas for qualitative research. SAGE, London

Battles JB, Dixon NM, Borotkanics RJ, Rabin-Fastmen B, Kaplan H (2006) Sensemaking of patient safety risks and hazards. Health Serv Res 41(4):1555–1575

Carmeli A, Schaubroeck J (2008) Organisational crisis-preparedness: the importance of learning from failures. Long Range Plan 41(2):177–196

Dekker S (2013) On the epistemology and ethics of communicating a cartesian consciousness. Saf Sci 56:96–99

Dervin B (1983) An overview of sense-making research: concepts, methods and results. In: Paper presented at the annual meeting of the international communication association, Dallas, TX, May. http://faculty.washington.edu/wpratt/MEBI598/Methods/An%20Overview%20of%20Sense-Making%20Research%201983a.htm. Accessed 19 Dec 2014

Dourish P, Bellotti V (1992) Awareness and coordination in shared workspaces. In: Proceedings of the 1992 ACM conference on computer-supported cooperative work, ACM, Toronto, Ontario, Canada

Endsley MR (1995) Toward a theory of situation awareness in dynamic systems. Hum Factors 37:32–64

Ericson M (2010) Towards a sensed decision-making approach. From déjà vu to vu jade. Manag Decis 48(1–2):132–155

Flin RH, O'Connor P, Crichton M (2008) Safety at the sharp end: training non-technical skills. Ashgate, Aldershot

Gioia DA, Corley KG, Fabbri T (2002) Revising the past (while thinking in the future perfect tense). J Organ Change Manag 15(6):622–634

Grote G (2008) Rules management as a source for loose coupling in high-risk systems. In: Hollnagel E, Nemeth CP, Dekker S (eds) Resilience engineering perspectives. Volume 1: remaining sensitive to the possibility of failure. Ashgate, Aldershot

Hallier J, Forbes T (2004) In search of theory development in grounded investigations: doctors' experiences of managing as an example of fitted and prospective theorizing. J Manag Stud 41(8):1379–1410

Heath C, Svensson MS, Hindmarsh J, Luff P, vom Lehn D (2002) Configuring awareness. Comput Support Coop Work (CSCW) 11:317–347

Hollnagel E (2009) The ETTO principle: efficiency-thoroughness trade-off. Ashgate, Farnham

Hollnagel E (2014) Safety-I and safety-II: the past and future of safety management. Ashgate, Farnham

Høyland S, Aase K, Hollund JG, Haugen AS (2013) What is it about checklists? Exploring safe work practices in surgical teams. In: Bieder C, Bourrier M (eds) Trapping safety into rules: how desirable or avoidable is proceduralization?. Ashgate, Farnham

Hutchins E (1995a) Cognition in the wild. MIT Press, Cambridge

Hutchins E (1995b) How a cockpit remembers its speeds. Cogn Sci 19(3):265–288

Hutchins E (2000) Distributed cognition. In Smelser NJ, Baltes PB (eds) International encyclopedia of the social and behavioral sciences. http://www.sciencedirect.com/science/article/pii/B0080430767016363 Accessed 1 Juni 2015

Jacobs CD, Steyaert C, Uberbacher F (2013) Anticipating intended users: prospective sensemaking in technology. Technol Anal Strateg Manag 25(9):1027–1043

Klein G, Moon B, Hoffman RR (2006a) Making sense of sensemaking 1: alternative perspectives. IEEE Intell Syst 21(4):70–73

Klein G, Moon B, Hoffman RR (2006b) Making sense of sensemaking 2: a macrocognitive model. IEEE Intell Syst 21(5):88–92

Klein G, Snowden D, Pin CL (2010) Anticipatory Thinking. In: Mosier K, Fischer UM (eds) Informed by knowledge: expert performance in complex situations. Taylor & Francis Group, New York, pp 235–246

Klemets J, Evjemo TE (2014) Technology-mediated awareness: facilitating the handling of (un)wanted interruptions in a hospital setting. Int J Med Inform 83:670–682

Klemola U-M, Norros L (2001) Practice-based criteria for assessing anaesthetists' habits of action: outline for a reflexive turn in practice. Med Educ 35:455–464

Miles MB, Huberman AM (1994) Qualitative data analysis. SAGE Publications, Thousand Oaks

Moriarty JP (2012) Theorising scenario analysis to improve future perspective planning in tourism. J Sustain Tour 20(6):779–800

Roubelat F (2000) Scenario planning as a networking process. Technol Forecast Soc Change 65(1):99–112

Schmidt K (2002) The problem with 'awareness': introductory remarks on 'awareness in CSCW'. Comput Support Coop Work (CSCW) 11:285–298

Seeger MW, Ulmer RR, Novak JM, Sellnow T (2005) Post-crisis discourse and organizational change, failure and renewal. J Organ Change Manag 18(1):78–95

Selsky JW, Parker B (2010) platforms for cross-sector social partnerships: prospective sensemaking devices for social benefit. J Bus Ethics 94:21–37

Stanton NA, Chambers PRG, Piggott J (2001) Situational awareness and safety. Saf Sci 39:189–204

Stanton NA, Salmon PM, Walker GH (2014) Let the reader decide: a paradigm shift for situation awareness in sociotechnical systems. J Cogn Eng Decis Mak. doi:10.1177/1555343414552297

Stigliani I, Ravasi D (2012) Organizing thoughts and connecting brains: material practices and the transition from individual to group-level prospective sensemaking. Acad Manag J 55(5):1232–1259

Strauss A (1987) Qualitative analysis for social scientists. Cambridge University Press, New York

Strauss A, Corbin J (1990) Basics of qualitative research. Grounded theory procedures and techniques. SAGE, Newbury Park

Suttcliffe KM, Weick KE (2013) Mindful organising and resilient health care. In: Hollnagel E, Braithwaite J, Wears RL (eds) Resilient health care. Ashgate, Farnham

Tjora AH (2009) Fra nysgjerrighet til innsikt. Kvalitative forskningsmetoder i praksis. (From curiosity to insight. Qualitative research methods in practice.) Sosiologisk forlag, Trondheim

Vincent C (2010) Patient safety. Elsevier Churchill Livingstone, Edinburg

Wallas G (1926) The art of thought. Harcourt Brace, New York (Cited by Weick 1995)

Weick KE (1987) Organizational culture as a source of high reliability. Calif Manag Rev 29(2):112–128

Weick KE (1993) The collapse of sensemaking in organizations: the Mann Gulch disaster. Adm Sci Q 38:628–652

Weick KE (1995) Sensemaking in organizations. SAGE, Thousand Oaks

Weick KE (2009) Making sense of the organisation, vol 2. Wiley, Chichester

Weick KE (2011) Organizing for transient reliability: the production of dynamic non-events. J Conting Crisis Manag 19(1):21–27

Weick KE, Roberts KH (1993) Collective mind in organizations: heedful interrelating on flight decks. Adm Sci Q 38:357–381

Weick KE, Sutcliffe KM (2001) Managing the unexpected. Assuring high performance in an age of complexity. Jossey-Bass, San Francisco

Weick KE, Sutcliffe KM, Obstfeld D (1999) Organizing for high reliability: Processes of collective mindfulness. In: Staw BM, Cummings LI (eds) Research in organizational behavior, vol 21., JAI PressGreenwich, CT, pp 81–123

Weick KE, Sutcliffe KM, Obstfeld D (2005) Organizing and the process of sensemaking. Organ Sci 16(4):409–421

Woods DD, Hollnagel E (2006) Joint cognitive systems: patterns in cognitive systems engineering. CRC Press, Boca Raton
Acknowledgments
This research was funded by the Center for Integrated Operations in the Petroleum Industry, Norway. The preparation of the paper was also partly funded by the Research Council of Norway through the project Learning from Successful Operations, which is sponsored by the PETROMAKS research programme. The study was made possible by collaboration with Operating Room of the Future, St. Olavs Hospital, Trondheim University Hospital (FOR—"Fremtidens operasjonsrom"). FOR was a partner in the project. They introduced us to the two surgical departments and gave us access to their research infrastructure during the project period. The authors thank Tor Olav Grøtan for valuable comments to a draft of the paper.
Ethics declarations
Ethical approval
Our most important ethical considerations were (1) to make sure that we did not interfere with the work of the operating teams in any way that might have adverse consequences for the patients, and (2) that we respected the privacy of patients and personnel involved. We were seated in a corner of the operating room and left to the operating team to decide when and how much they would communicate with us, e.g. by explaining the procedures. We took care to comply with the local hygiene rules. With a few exceptions, one of them discussed in this paper, the surgical interventions took place under general anaesthesia, and we were present in the operating theatre only when the patient was asleep. No names or other information that could identity patients or personnel were recorded. The personnel involved were informed in advance about the purpose of the study. Nobody had reservations against our presence in the operating theatre. The feedback meetings gave the personnel an opportunity to pinpoint accounts or interpretations that they might find erroneous or biased. The observation routines and reporting routines of the study were discussed with and approved by Operating Rooms of the Future and the involved departments before the observations started.
About this article
Cite this article
Rosness, R., Evjemo, T.E., Haavik, T. et al. Prospective sensemaking in the operating theatre. Cogn Tech Work 18, 53–69 (2016). https://doi.org/10.1007/s10111-015-0346-y
Received:

Accepted:

Published:

Issue Date:
Keywords
Sensemaking

Safety

Organisations

Operating theatre