Abstract
Technology is a mobile and integral part of many work places, and computers and other information and communication technology have made many users' work life easier, but technology can also contribute to problems in the cognitive work environment and, over time, create technostress. Much previous research on technostress has focused on the use of digital technology and its effects, measured by questionnaires, but in order to further examine how technostress arises in the modern workplace, a wider perspective on interactions between people and technology is needed. This paper applies a distributed cognition perspective to human–technology interaction, investigated through an observational field study. Distributed cognition focuses on the organisation of cognitive systems, and technostress in this perspective becomes an emergent phenomenon within a complex and dynamic socio-technical system. A well-established questionnaire was also used (for a limited sample), to gain a frame of reference for the results from the qualitative part of the study. The implications are that common questionnaire-based approaches very well can and should be complemented with a broader perspective to study causes of technostress. Based on the present study, a redefinition of technostress is also proposed.
Access options
Buy single article
Instant access to the full article PDF.
USD 39.95
Price includes VAT (USA)
Tax calculation will be finalised during checkout.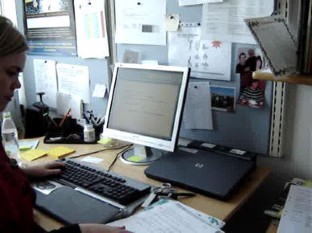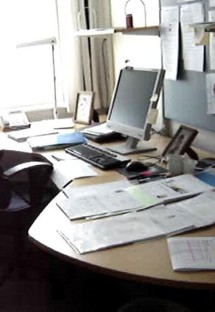 Notes
1.

Paper is sometimes considered as technology, but we separate the two since previous research on technostress does not include paper in the concept of technology, and for clarity on their respective roles (for further discussion on technology and the related concepts of tools and artefacts, see Susi 2006).
References
Åborg C (2002) How does IT feel @ work? - And how to make IT better. Dissertation, University of Uppsala

Ackerman MS (2000) The intellectual challenge of CSCW: the gap between social requirements and technical feasibility. Human Comput Interact 15:179–203. doi:10.1207/S15327051HCI1523_5

Appelbaum S, Marchionni A, Fernandez A (2008) The multi-tasking paradox: perceptions, problems and strategies. Manage Dec 46(9):1313–1325. doi:10.1108/00251740810911966

Arnetz B, Wiholm C (1997) Technological stress: psychophysiological symptoms in modern offices. J Psychosom Res 43(1):3542. doi:10.1016/S0022-3999(97)00083-4

Artman H, Wærn Y (1999) Distributed cognition in an emergency co-ordination center. Cogn Tech Work 1(4):237–246

Benyon D (2010) Designing interactive systems: a comprehensive guide to HCI and interaction design, 2nd edn. Addison Wesley, Harlow

Boardman R, Sasse MA (2004) "Stuff goes into the computer and doesn't come out" A cross-tool study of personal information management. Proc SIGCHI Conf Human Factor Comput Syst 2004:583–590. doi:1-58113-702-8/04/0004

Botta D, Muldner K, Hawkey K, Beznosov K (2010) Toward understanding distributed cognition in IT security management: the role of cues and norms. Cogn Tech Work 13(2):121–134. doi:10.1007/s10111-010-0159-y

Brillhart P (2004) Technostress in the workplace: managing stress in the electronic workplace. J Am Acad Bus Camb 5:302–307

Brod C (1984) Technostress: the human cost of the computer revolution. Addison-Wesley, Reading

Galliers J, Wilson S, Fone J (2007) A method for determining information flow breakdown in clinical systems. Int J Med Inform 76(1):113–121. doi:10.1016/j.ijmedinf.2006.05.015

Gärdenfors P (2003) Fängslande information, 2nd edn. Bokförlaget Natur och Kultur, Stockholm

Hollan J, Hutchins E, Kirsh D (2000) Distributed cognition: toward a new foundation for human-computer interaction research. ACM Trans Comput Human Interact 7(2):174–196. doi:10.1145/353485.353487

Hutchins E (1995) Cognition in the wild. MIT Press, Cambridge

Johansson G, Aronsson G (1984) Stress reactions in computerized administrative work. J Occup Behav 5(3):159–181. doi:10.1002/job.4030050302

Kirsh D (1995) The intelligent use of space. Artif Intell 73:31–38

Kirsh D (2001) The context of work. Hum Comput Interact 16:305–322. doi:10.1207/S15327051HCI16234_12

Korac-Kakabadse N, Kouzmin A, Korac-Kakabadse A (2001) Emerging impacts of on-line connectivity. The 9th European conference on information systems. Bled, Slovenien

Levi L (2001) Stress och hälsa. Stockholm, Skandia. http://www.lennartlevi.se/dokument/stress_o_halsa.pdf. Accessed 11 Jan 2013

Lincoln YS, Guba EG (1985) Naturalistic inquiry. Sage Publications, Newbury Park

Lind M, Nygren E, Sandblad B (1991) Kognitiva arbetsmiljöproblem och gränssnittsdesign. Rapport nr. 20. Uppsala Universitets Centrum för Studium av Människan och Datorn: http://www.it.uu.se/research/hci/publications/papers/20/20.pdf. Accessed 11 Jan 2013

Maruna S, Mann RE (2006) A fundamental attribution error? Rethinking cognitive distortions. Legal Criminol Psychol 11:155–177. doi:10.1348/135532506X114608

Moore JL, Rocklin TR (1998) The distribution of distributed cognition: multiple interpretations and uses. Educ Psychol Rev 10(1):97–113. doi:10.1007/s10648-012-9215-x

Nielsen J (1994) Heuristic evaluation. In: Nielsen J, Mack RL (eds) Usability evaluation methods. Wiley, New York

Norman D (1999) The invisible computer. MIT Press, London

Norman D (2002) The design of everyday things. Basic Books, New York

Orlikowski W (1992) Learning from Notes: Organizational issues in groupware implementation. In: Proceedings of the conference on computer-supported cooperative work. Toronto

Patton MQ (2002) Qualitative research & evaluation methods, 3rd edn. Sage publications Inc., London

Perry M (2003) Distributed cognition. In: Carroll JM (ed) HCI models, theories, and frameworks: toward a multidisciplinary science. Morgan Kaufman Publishers, Amsterdam, pp 193–223

Şahin YL, Çoklar AN (2009) Social networking users' views on technology and the determination of technostress levels. Procedia—Social and Behavioral Sciences, 1, 1, 1437–1442. World conference on educational sciences—New trends and issues in educational sciences, Nicosia, North Cyprus, 4–7 February 2009

Salanova M., Llorens S, Cifre E (2012) The dark side of technologies: Technostress among users of information and communication technologies. Int J Psychol 1–15. doi: 10.1080/00207594.2012.680460

Sellen A, Harper R (2002) The myth of the paperless office. MIT Press, Cambridge

Shepherd S (2004) Relationship between computer skills and technostress: How does this affect me? In: Proceedings of the 2004 ASCUE Conference, Myrtle Beach

Soraji Y, Furuta K, Kanno T, Aoyama H, Inoue S (2012) Cognitive model of team cooperation in en-route air traffic control. Cogn Tech Work 14(2):93–105. doi:10.1007/s10111-010-0168-x

Suchman LA (2006) Human-machine reconfigurations: plans and situated actions. Cambridge University Press, Cambridge

Susi T (2006) The puzzle of social activity—the significance of tools in cognition and cooperation. Doctoral Dissertation, University of Linköping, Sweden

Tarafdar M, Ragu-Nathan B, Ragu-Nathan T, Tu Q (2005) Exploring the impact of technostress on productivity. In: Proceedings of the 36th annual meeting of the decision sciences institute, San Francisco

Tarafdar M, Tu Q, Ragu-Nathan B, Ragu-Nathan T (2007) The impact of technostress on role stress and productivity. J Manag Inf Syst 24(1):301–328. doi:10.2753/MIS0742-1222240109

Thomée S, Eklöf M, Gustafsson E, Nilsson R, Hagberg M (2007) Prevalence of perceived stress, symptoms of depression and sleep disturbances in relation to information and communication technology (ICT) use among young adults—an explorative prospective study. Comput Hum Behav 23(3):1300–1321. doi:10.1016/j.chb.2004.12.007

Tu Q, Tarafdar M, Ragu-Nathan B, Ragu-Nathan T (2007) How end-user characteristics affect technostress: An exploratory investigation. In: Proceedings of the 38th annual meeting of the decision sciences institute. Phoenix, Arizona

Vyas D, van der Veer G, and Nijholt A (2012) Creative practices in the design studio culture: collaboration and communication. Cogn Tech Work. Online First™, 23 June 2012. doi:10.1007/s10111-012-0232-9

Wang K, Shu Q, Tu Q (2008) Technostress under different organizational environments: an empirical investigation. Comput Hum Behav 24:3002–3013. doi:10.1016/j.chb.2008.05.007

Wästlund E, Reinikka H, Norlander T, Archer T (2005) Effects of VDT and paper presentation on consumption and production of information: psychological and physiological factors. Comput Hum Behav 21(2):377–394. doi:10.1016/j.chb.2004.02.007

Weil M, Rosen L (1997) Technostress: coping with technology @work @home @play. Wiley, New York
Acknowledgments
We would like to thank all the employees at the Office of Education, for participating in the study. The authors would also like to thank three anonymous reviewers for their helpful comments.
About this article
Cite this article
Sellberg, C., Susi, T. Technostress in the office: a distributed cognition perspective on human–technology interaction. Cogn Tech Work 16, 187–201 (2014). https://doi.org/10.1007/s10111-013-0256-9
Received:

Accepted:

Published:

Issue Date:
Keywords
Technostress

Distributed cognition

Cognitive work environment

Information and communication technology (ICT)

Human–computer interaction