Abstract
This paper discusses challenges to coordination in the emergency operations center (EOC). A county-level EOC is made up of representatives from a range of organizations including local government, fire, police, hospital, utility, and Red Cross representatives. These ad hoc teams are tasked with coming together during an emergency to obtain and deliver resources to first responders on the scene of the disaster, as well coordinating transportation of casualties, tracking of fatalities, and establishment of shelters. Two county-level exercises were observed. Themes were identified across the two exercises. Recommendations for better supporting coordination in crisis management are offered.
Access options
Buy single article
Instant access to the full article PDF.
US$ 39.95
Tax calculation will be finalised during checkout.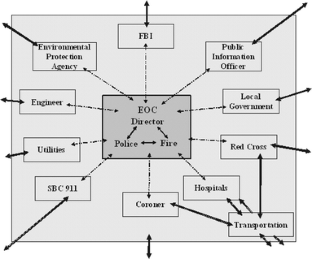 References
Aubrey L (2002) The hard lessons of September. Mod Healthc 32(4):50

Endsley MR, Garland DJ (2000) Situation awareness analysis and measurement. Lawrence Erlbaum Associates, Mahwah

Grudin J (1994) Computer-supported cooperative work: history and focus. IEEE Comput 27(5):19–27

Hackman JR (1990) Groups that work (and those that don't): creating conditions for effective teamwork. Jossey-Bass, San Francisco

McEntire DA (2002) Coordinating multi-organizational responses to disaster: lessons from the March 28, 2000, Fort Worth tornado. Disaster Prev Manag 11(5):369–379

Patterson ES, Watts-Perotti J, Woods DD (1999) Voice loops as coordination aids in space shuttle mission control. Comput Support Coop Work 8(4):353–371

Perry RW (2003) Emergency operations centers in an era of terrorism: policy and management functions. J Contingencies Crisis Manag 11(4):151–159

Salas E, Fiore SM (2004) Team cognition: understanding the factors that drive process and performance. American Psychological Association, Washington

The 9/11 Commission (2004) Final report of the national commission on terrorist attacks upon the United States. Retrieved September 2004 from http://www.gpoaccess.gov/911/

Tierney KJ, Lindell MK, Perry RW (2001) Facing the unexpected: disaster preparedness and response in the United States. Joseph Henry, Washington
Acknowledgments
This work was funded in part by contract # F33615-99-D-6001 and was sponsored by the Air Force Research Laboratory, Logistics Readiness Branch (AFRL/HEAL).
About this article
Cite this article
Militello, L.G., Patterson, E.S., Bowman, L. et al. Information flow during crisis management: challenges to coordination in the emergency operations center. Cogn Tech Work 9, 25–31 (2007). https://doi.org/10.1007/s10111-006-0059-3
Received:

Accepted:

Published:

Issue Date:
Keywords
Emergency operations center

Crisis management

Team decision making

Team coordination

Cross agency collaboration