Abstract
Using the 1% National Population Sampling Survey, collected in 2015, this paper performs sensitivity analysis of the parameters in a spatial interaction model to evaluate and compare the locational benefits of origins and destinations among different hukou (locals and migrants) and educational types in a large Chinese city (Shanghai). While the macro patterns are consistent with other case studies, Shanghai presents some unique features that include residency status and differential educational levels, and these factors result in notable patterns of spatial organization. Compared with migrants, locals have longer trip lengths, and higher rents and wages. Well-educated workers travel longer and have higher rents and wages than the poorly-educated. The presence of high-tech, high-prestige employers (e.g., Huawei) in the east-central area both attracts longer distance educated commuters, as well as generating higher wages, and potentially higher rents for those who choose to live and work in the same area, especially for locals. However, it is reassuring to see that there is a marked rent gradient over the distance from the CBD.
Access options
Buy single article
Instant access to the full article PDF.
USD 39.95
Price excludes VAT (USA)
Tax calculation will be finalised during checkout.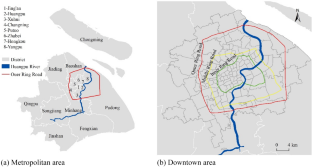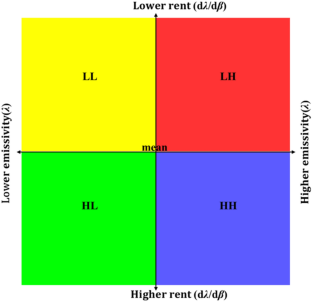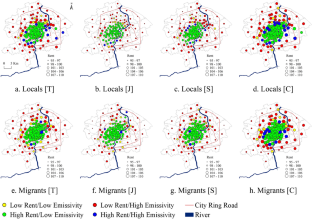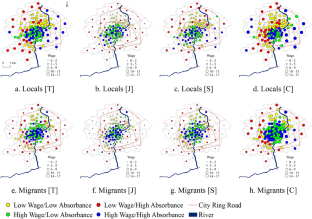 Notes
In 2015, the proportion of walking, bike, e-bike, motorcycle, car, bus, subway and others was 17.78%, 6.34%, 28.90%, 0.99%, 17.59%, 10.67%, 13.60%, 4.13% respectively.

In this paper, delta is 0.000001.
References
Chai Y, Zhang Y, Liu Z (2011) Spatial differences of home-work separation and the impacts of housing policy and urban sprawl: evidence from household survey data in Beijing. Acta Geogr Sin 66(2):157–166

Chan KW (2013) The Chinese hukousystem at 50. Eurasian Geogr Econ 50(2):197–221

Ding L, Niu X, Song X (2020) Validating gravity model in multi-centre city: a study based on individual mobile trajectory. Acta Geogr Sin 75(2):268–285

El-Geneidy A, Levinson D, Diab E, Boisjoly G, Verbich D, Loong C (2016) The cost of equity: assessing transit accessibility and social disparity using total travel cost. Trans Res Part a: Policy Practice 91:302–316

Ford AC, Barr SL, Dawson RJ, James P (2015) Transport accessibility analysis using GIS: assessing sustainable transport in London. ISPRS Int J Geo Inf 4(1):124–149

Frost M, Linneker B, Spence N (1998) Excess or wasteful commuting in a selection of British cities. Trans Res Part a: Policy Practice 32(7):529–538

Geurs KT, Van Wee B (2004) Accessibility evaluation of land-use and transport strategies: review and research directions. J Transp Geogr 12(2):127–140

Grigg T (1984) Probabilistic versions of the short-run Herbert-Stevens model. Environ Plan A 16(6):715–732

Gu H, Logan JR, Wu R (2020) Remaking Shanghai: New divisions in an expanding metropolis. Int J Urban Reg Res 45(1):80–98

Hanson A, Schnier K, Turnbull GK (2012) Drive 'til you qualify: credit quality and household location. Reg Sci Urban Econ 42(1):63–77

Horner MW (2002) Extensions to the concept of excess commuting. Environ Plan A 34(3):543–566

Jv O, Rietveld P, Nijkamp P (1997) Commuting: In search of jobs and residences. J Urban Econ 42:402–421

Kanaroglou PS, Higgins CD, Chowdhury TA (2015) Excess commuting: a critical review and comparative analysis of concepts, indices, and policy implications. J Transp Geogr 44:13–23

Li S (2010) Evolving residential and employment locations and patterns of commuting under hyper growth: the case of Guangzhou. China Urban Studies 47(8):1643–1661

Li S, Liu Y (2016) The jobs-housing relationship and commuting in Guangzhou, China: Hukou and dual structure. J Transp Geogr 54:286–294

Liu D, Kwan MP (2020a) Measuring job accessibility through integrating travel time, transit fare and income: a study of the Chicago metropolitan area. Tijdschr Econ Soc Geogr 111(4):671–685

Liu D, Kwan MP (2020b) Measuring spatial mismatch and job access inequity based on transit-based job accessibility for poor job seekers. Travel Behav Soc 19:184–193

Murphy E, Killen JE (2011) Commuting economy: an alternative approach for assessing regional commuting efficiency. Urban Studies 48(6):1255–1272

O'Kelly ME, Niedzielski MA, Gleeson J (2011) Spatial interaction models from Irish commuting data: variations in trip length by occupation and gender. J Geogr Syst 14(4):357–387

O'Kelly ME, Lee W (2005) Disaggregate journey-to-work data: implications for excess commuting and jobs–housing balance. Environ Plan A 37(12):2233–2252

O'Kelly ME, Niedzielski MA (2009) Are long commute distances inefficient and disorderly? Environ Plan A 41(11):2741–2759

Pagliara F, Wilson AG (2010) The state-of-the-art in building residential location models. Springer, Berlin Heidelberg

Prashker J, Shiftan Y, Hershkovitch SP (2008) Residential choice location, gender and the commute trip to work in Tel Aviv. J Transp Geogr 16(5):332–341

Sun B, Wei X (2014) Spatial distribution and structure evolution of employment and population in Shanghai Metropolitan Area. Acta Geogr Sin 69(6):747–758

Sun B, Tu T, Shi W, Guo Y (2013) Test on the performance of polycentric spatial structure as a measure of congestion reduction in megacities: the case study of Shanghai. Urban Plann Forum 2(1):63–69

Ta N, Chai Y, Zhang Y, Sun D (2017) Understanding job-housing relationship and commuting pattern in Chinese cities: Past, present and future. Transp Res Part d: Transp Environ 52(1):562–573

Tian J, Wang D, Xie D, Zhu W (2017) Identifying the commuting features and patterns of typical employment areas in Shanghai using cellphone signaling data: a case study in Zhangjiang. Jinqiao and Lujiazui Geogr Res 36(1):134–148

van Ommeren J, Rietveld P, Nijkamp P (1997) Commuting: in search of jobs and residences. J Urban Econ 42:402–421

Wang D, Chai Y (2009) The jobs–housing relationship and commuting in Beijing, China: the legacy of Danwei. J Transp Geogr 17(1):30–38

Wang C, Yang S, He J, Liu L (2018) On the social space evolution of Shanghai: in dual dimensions of the Hukou and the occupation. Geogr Res 37(11):2236–2248

Webber MJ, O'Kelly ME (1981) Empirical tests and sensitivity analysis of a model of residential and facility location. Geogr Anal 13(4):398–411

Wheaton W (1974) Linear programming and locational equilibrium: the Herbert-Stevens model revisited. J Urban Econ 1(3):278–287

Willekens F (1983) Log-linear modelling of spatial interaction. Papers Regional Sci Assoc 52(1):187–205

Williams HC (1976) Travel demand models, duality relations and user benefit analysis. J Reg Sci 16(2):147–166

Wilson AG (1970) Inter-regional commodity flows: entropy maximizing approaches. Geogr Anal 2(3):255–282

Wilson AG (1971) A family of spatial interaction models, and associated developments. Environ Plan A 3(1):1–32

Wilson AG (1974) Urban and regional models in geography and planning. Wiley, London

Yang J, Ferreira J (2008) Choices versus choice sets: a commuting spectrum method for representing job-housing possibilities. Environ Plann B Plann Des 35(2):364–378

Yue L, O'Kelly ME, Wu R (2021) An empirical study of commuting efficiency among different educational categories of workers in Shanghai. Geograph Anal Forthcoming. https://doi.org/10.1111/gean.12306

Zhang H, Xu S, Liu X, Liu C (2021a) Near "real-time" estimation of excess commuting from open-source data: evidence from China's megacities. J Transp Geogr 91(4):1–14

Zhang X, Song J, Wang Z, Sheng Y (2021b) Differences in the formation paths of the jobs-housing spatial relationship between local and non-local registered residents in Beijing based on the perception of residential location. Geogr Res 41(7):2005–2019

Zhao P, Lü B, Roo Gd (2011) Impact of the jobs-housing balance on urban commuting in Beijing in the transformation era. J Transp Geogr 19(1):59–69

Zhou J, Zhang C, Chen X, Huang W, Yu P (2014) Has the legacy of Danwei persisted in transformations? The jobs-housing balance and commuting efficiency in Xi'an. J Transp Geogr 40(1):64–76

Zhu L (2003) The hukou system of the People's Republic of China: a critical appraisal under international standards of internal movement and residence. Chinese J Inter Law 2(2):519–566
Additional information
Publisher's Note
Springer Nature remains neutral with regard to jurisdictional claims in published maps and institutional affiliations.
Rights and permissions
Springer Nature or its licensor holds exclusive rights to this article under a publishing agreement with the author(s) or other rightsholder(s); author self-archiving of the accepted manuscript version of this article is solely governed by the terms of such publishing agreement and applicable law.
About this article
Cite this article
Yue, L., O'Kelly, M.E. Rents and wages derived from spatial interaction analysis in Shanghai. J Geogr Syst 25, 59–75 (2023). https://doi.org/10.1007/s10109-022-00394-6
Received:

Accepted:

Published:

Issue Date:

DOI: https://doi.org/10.1007/s10109-022-00394-6
Keywords
Commuting

Land use

Sensitivity analysis

Accessibility

Hukou

Shanghai
JEL Classification