Abstract
The present study aims to demonstrate the importance of digital data for investigating space–time dynamics of aggregated human activity in urban systems. Such dynamics can be monitored and modelled using data from mobile phone operators regarding mobile telephone usage. Using such an extensive dataset from the city of Amsterdam, this paper introduces space–time explanatory models of aggregated human activity patterns. Various modelling experiments and results are presented, which demonstrate that mobile telephone data are a good proxy of the space–time dynamics of aggregated human activity in the city.
Access options
Buy single article
Instant access to the full article PDF.
US$ 39.95
Tax calculation will be finalised during checkout.
Subscribe to journal
Immediate online access to all issues from 2019. Subscription will auto renew annually.
US$ 79
Tax calculation will be finalised during checkout.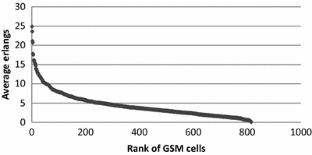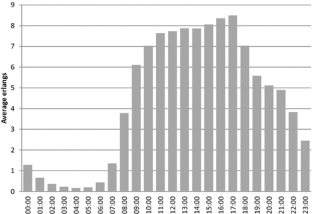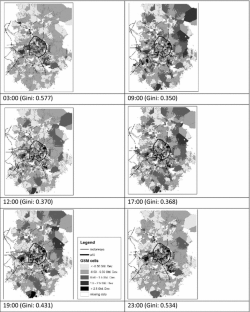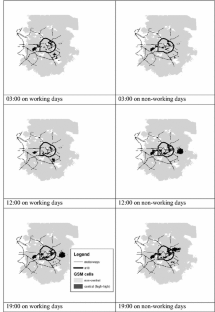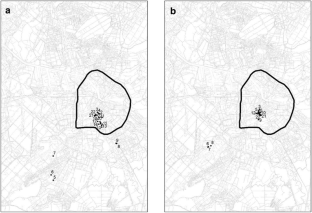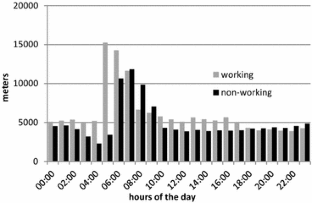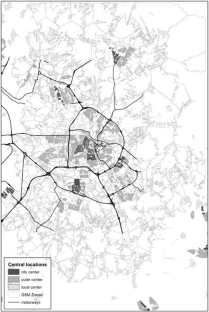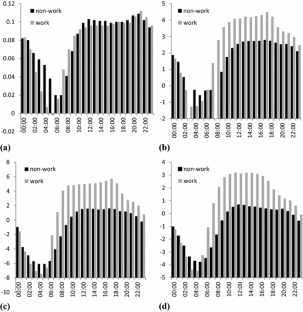 Notes
1.

The initial data was provided at a 6-digit post code level (CBS 2012) and then aggregated to the GSM areas.

2.

The data only includes mobile phone usage for 11 months for 2010 and one month is excluded due to co-linearity.
References
ADUML (1991) Plan de Developpement Urbain de la Communication. Agence de Developpement d'Urbanisme de la Metropole Lilloise, 2 place du Concert, F 59043, Lille, France

Ahas R, Mark Ü (2005) Location based services—new challenges for planning and public administration? Futures 37(6):547–561

Anselin L (1995) Local indicators of spatial association – LISA. Geogr Anal 27(2):93–115

Arribas-Bel D (2014) Accidental, open and everywhere: emerging data sources for the understanding of cities. Appl Geogr 49:45–53

Batty M (1997a) The computable city. Int Plan Stud 2(2):155–173

Batty M (1997b) Virtual geography. Futures 29(4/5):337–352

Batty M (2010) The pulse of the city. Environ Plan B Plan Des 37(4):575–577

Becker RA, Caceres R, Hanson K, Loh JM, Urbanek S, Varshavsky A, Volinsky C (2011) A tale of one city: using cellular network data for urban planning. Pervasive Comput 10(4):18–26

Bisker S, Gross M, Carter D, Paulos E, Kuznetsov S (2010) Personal, public: using DIY to explore citizen-led efforts in urban computing. In: CHI 2010 proceedings, Atlanta, Georgia

Caceres N, Wideberg J, Benitez F (2008) Review of traffic data estimations extracted from cellular networks. IET Intel Transp Syst 2(3):179–192

Calabrese F, Di Lorenzo G, Ratti C (2010) Human mobility prediction based on individual and collective geographical preferences. In: Intelligent transportation systems (ITSC), 2010 13th international IEEE conference on. IEEE, pp 312–317

Calabrese F, Smoreda Z, Blondel VD, Ratti C (2011) Interplay between telecommunications and face-to-face interactions: a study using mobile phone data. PLoS ONE 6(7):e20814

Calabrese F, Diao M, Di Lorenzo G, Ferreira J Jr, Ratti C (2013) Understanding individual mobility patterns from urban sensing data: a mobile phone trace example. Trans Res C Emerg Technol 26:301–313

Calabrese F, Ferrari L, Blondel VD (2014) Urban sensing using mobile phone network data: a survey of research. ACM Comput Surv (CSUR) 47(2):25

Candia J, Gonzalez MC, Wang P, Schoenharl T, Madey G, Barabási A-L (2008) Uncovering individual and collective human dynamics from mobile phone records. J Phys A Math Theor 41(22):224015

Castells M (1996) The rise of the network society. Blackwell, Oxford

CBS (2012) Land use dataset. Centraal Bureau voor de Statistiek (Statistics Netherlands), Den Haag

Evans-Cowley J (2010) Planning in the real-time city: the future of mobile technology. J Plan Lit 25(2):136–149

Fridstrøm L (1999) Econometric models of road use, accidents, and road investment decisions, vol II. Institute of Transport Economics, Oslo

Graham S (1997) Cities in the real-time age: the paradigm challenge of telecommunications to the conception and planning of urban space. Environ Plan A 29(1):105–127

Graham S, Healey P (1997) Relational concepts of space and place: issues for planning theory and practice. Eur Plan Stud 7(5):623–646

Graham S, Marvin S (1996) Telecommunications and the city. Routledge, London, New York

Graham S, Marvin S (2001) Splintering urbanism. Routledge, London, New York

Jacobs-Crisioni C, Rietveld P, Koomen E, Tranos E (2014) Evaluating the impact of land-use density and mix on spatiotemporal urban activity patterns: an exploratory study using mobile phone data. Environ Plan A 46(11):2769–2785

KNMI (2012) Daily weather data of the Netherlands. Royal Netherlands Meteorological Institute, De Bilt

Koetse MJ, Rietveld P (2009) The impact of climate change and weather on transport: an overview of empirical findings. Transp Res Part D Transp Environ 14(3):205–221

Lambiotte R, Blondel VD, de Kerchove C, Huens E, Prieur C, Smoreda Z, Van Dooren P (2008) Geographical dispersal of mobile communication networks. Phys A 387:5317–5532

Licoppe C, Diminescu D, Smoreda Z, Ziemlicki C (2008) Using mobile phone geolocalisation for 'socio-geographical' analysis of co-ordination, urban mobilities, and social integration patterns. Tijdschrift voor Economische en Sociale Geografie 99(5):584–601

Louail T, Lenormand M, García Cantú O, Picornell M, Herranz R, Frias-Martinez E, Ramasco JJ, Barthelemy M (2014) From mobile phone data to the spatial structure of cities. arXiv:1401.4540

Massey D (1992) Politics and space/time. New Left Rev 196:65–84

Miller HJ (2010) The data avalanche is here. Shouldn't we be digging? J Reg Sci 50(1):181–201

NDW (2012) National data warehouse for traffic estimation. http://www.ndw.nu/pagina/en/78/database/79/real-time_traffic_data/. Accessed 28 Dec 2014

Pei T, Sobolevsky S, Ratti C, Shaw S-L, Li T, Zhou C (2014) A new insight into land use classification based on aggregated mobile phone data. Int J Geogr Inf Sci 28(9):1988–2007

Ratti C, Pulselli RM, Williams S, Frenchman D (2006) Mobile Landscapes: using location data from cell phones for urban analysis. Environ Plan B 33(5):727–748

Reades J, Calabrese F, Ratti C (2009) Eigenplaces: analyzing cities using the space-time structure of the mobile phone network. Environ Plan B 36(5):824–836

Sassen S (1991) The global city. New York, London, Tokyo. Princeton University Press, Princeton, New Jersey

Sevtsuk A, Ratti C (2010) Does urban mobility have a daily routine? Learning from the aggregate data of mobile networks. J Urban Technol 17(1):41–60

Soja E (1989) Postmodern geographies. Verso, London

Song C, Koren T, Wang P, Barabási A-L (2010a) Modelling the scaling properties of human mobility. Nat Phys 6:818–823

Song C, Qu Z, Blumm N, Barabási A-L (2010b) Limits of predictability in human mobility. Science 327:1018–1021

Steenbruggen J, Tranos E, Nijkamp P (2014) Data from mobile phone operators: a tool for smarter cities? Telecommun Policy (in press)

Thrift N (1996) Inhuman geographies: landscapes of speed, light and power. In: Thrift N (ed) Spatial formation. Sage, London, pp 256–311

Toole JL, Ulm M, Gonzalez MC, Bauer D (2012) Inferring land use from mobile phone activity. In: UrbComp '12, Beijing, China, pp 1–8

Townsend AM (2000) Life in the real-time city: mobile telephones and urban metabolism. J Urban Technol 7(2):85–104

Tranos E (2013) The geography of the internet: cities, regions and the internet infrastructure in Europe. New horizons in regional science. Edward Elgar, Cheltenham

Tranos E, Nijkamp P (2014) Urban and regional analysis and the digital revolution: challenges and opportunities. In: Derruder B, Conventz S, Thierstein A, Witlox F (eds) Hub cities in the knowledge economy. Ashgate, Surrey, pp 145–162
Acknowledgments
This research is funded by the Urban Regions in the Delta programme, Netherlands Organisation for Scientific Research (NWO) and by the Dutch Ministry of Infrastructure and the Environment (RWS). The authors would also like to acknowledge the support of John Steenbruggen for his help with data acquisition.
Electronic supplementary material
Below is the link to the electronic supplementary material.
Appendices
Appendix 1
Appendix 2
Estimation of (4) based on OLS
Time
Land use
Non-working days
Working days
Land use
Non-working days
Working days
00
Habitants (ln)
0.082***
0.083***
Industrial (share)
−1.037***
−1.246***
 
(40.24)
(60.56)
(−20.39)
(36.44)
01
0.080***
0.070***
−1.746***
−2.282***
 
(39.35)
(50.78)
(−34.32)
(66.35)
02
0.066***
0.045***
−2.523***
−3.394***
 
(32.42)
(32.87)
(−49.33)
(99.17)
03
0.059***
0.024***
−3.376***
−4.388***
 
(28.75)
(17.81)
(−66.37)
(128.27)
04
0.053***
0.007***
−3.716***
−4.491***
 
(25.99)
(4.78)
(−73.06)
(131.32)
05
0.038***
−0.002*
−3.794***
−3.248***
 
(18.58)
(−1.75)
(−74.6)
(95)
06
0.020***
0.016***
−3.490***
−1.079***
 
(9.97)
(11.52)
(−68.62)
(31.56)
07
0.020***
0.048***
−2.671***
0.803***
 
(9.88)
(35.15)
(−52.52)
(23.48)
08
0.041***
0.070***
−1.662***
2.078***
 
(19.89)
(51.05)
(−32.48)
(60.68)
09
0.068***
0.085***
−0.558***
2.841***
 
(33.1)
(61.99)
(−10.91)
(83.1)
10
0.087***
0.092***
0.134***
3.103***
 
(42.69)
(67.14)
(2.63)
(90.74)
11
0.099***
0.094***
0.501***
3.191***
 
(48.14)
(69.03)
(9.8)
(93.3)
12
0.103***
0.096***
0.677***
3.120***
 
(50.25)
(70.17)
(13.25)
(91.23)
13
0.102***
0.096***
0.652***
3.181***
 
(50.06)
(70.25)
(12.75)
(93.03)
14
0.101***
0.096***
0.541***
3.173***
 
(49.28)
(70.45)
(10.58)
(92.98)
15
0.101***
0.096***
0.518***
3.096***
 
(49.18)
(70.26)
(10.13)
(90.57)
16
0.099***
0.098***
0.432***
2.929***
 
(48.57)
(72.09)
(8.44)
(86.26)
17
0.100***
0.100***
0.379***
2.549***
 
(48.93)
(73.48)
(7.42)
(75.07)
18
0.100***
0.099***
0.307***
1.887***
 
(49)
(73.07)
(6.01)
(55.59)
19
0.102***
0.099***
0.282***
1.415***
 
(49.86)
(73.02)
(5.51)
(41.59)
20
0.107***
0.106***
0.354***
1.167***
 
(52.15)
(78.18)
(6.88)
(34.3)
21
0.109***
0.112***
0.178***
1.021***
 
(53.46)
(81.85)
(3.49)
(29.93)
22
0.102***
0.105***
−0.121**
0.608***
 
(49.89)
(77.18)
(−2.37)
(17.79)
23
0.094***
0.096***
−0.583***
−0.088**
 
(45.7)
(70.41)
(−11.4)
(2.57)
00
Railways (share)
1.869***
1.653***
Business (share)
−1.465***
−1.860***
 
(14.04)
(18.54)
(−26.08)
(49.33)
01
1.465***
0.785***
−2.502***
−3.183***
 
(11.01)
(8.77)
(−44.41)
(83.86)
02
0.534***
−0.261***
−3.372***
−4.349***
 
(3.99)
(−2.93)
(−59.71)
(115.12)
03
−0.073
−1.269***
−3.815***
−5.132***
 
(−0.55)
(−14.24)
(−67.91)
(135.84)
04
−0.242*
−1.242***
−4.529***
−5.526***
 
(−1.82)
(−13.94)
(−80.61)
(146.2)
05
−0.576***
−0.922***
−4.737***
−5.289***
 
(−4.33)
(−10.35)
(−84.33)
(139.53)
06
−0.287**
−0.249***
−4.706***
−3.633***
 
(−2.15)
(−2.79)
(−83.59)
(96.34)
07
−0.253*
1.378***
−3.508***
−0.546***
 
(−1.9)
(15.44)
(−62.45)
(14.47)
08
0.092
2.773***
−2.015***
1.480***
 
(0.68)
(31.09)
(−35.56)
(39.17)
09
0.850***
3.574***
−0.739***
2.431***
 
(6.35)
(40.11)
(−13.09)
(64.46)
10
1.747***
3.866***
0.167***
2.681***
 
(13.06)
(43.43)
(2.95)
(71.13)
11
2.297***
4.077***
0.620***
2.795***
 
(17.16)
(45.76)
(10.97)
(74.11)
12
2.550***
4.097***
0.848***
2.712***
 
(19.06)
(45.98)
(15.02)
(71.88)
13
2.689***
4.202***
0.847***
2.758***
 
(20.1)
(47.19)
(15)
(73.18)
14
2.725***
4.178***
0.724***
2.785***
 
(20.36)
(47.03)
(12.81)
(73.98)
15
2.719***
4.239***
0.606***
2.741***
 
(20.32)
(47.61)
(10.74)
(72.75)
16
2.732***
4.307***
0.615***
2.616***
 
(20.42)
(48.69)
(10.9)
(69.86)
17
2.786***
4.486***
0.655***
2.501***
 
(20.82)
(50.71)
(11.59)
(66.77)
18
2.739***
4.211***
0.408***
2.128***
 
(20.47)
(47.6)
(7.23)
(56.83)
19
2.623***
3.562***
0.210***
1.522***
 
(19.6)
(40.17)
(3.72)
(40.53)
20
2.519***
3.314***
−0.004
1.026***
 
(18.73)
(37.38)
(−0.06)
(27.33)
21
2.547***
3.213***
0.042
0.893***
 
(19.04)
(36.13)
(0.74)
(23.7)
22
2.409***
2.966***
−0.276***
0.583***
 
(18)
(33.35)
(−4.89)
(15.5)
23
2.103***
2.474***
−0.941***
−0.300***
 
(15.72)
(27.78)
(−16.66)
(7.98)
00
Motorways (share)
−0.974***
−1.584***
City centre (share)
1.533***
1.166***
 
(−8.48)
(−20.59)
(52.2)
(58.84)
01
−3.754***
−4.354***
0.888***
0.231***
 
(−32.68)
(−56.19)
(30.21)
(11.57)
02
−4.893***
−6.067***
0.479***
−0.477***
 
(−42.37)
(−78.71)
(16.23)
(24.04)
03
−5.713***
−7.045***
0.184***
−0.890***
 
(−49.73)
(−91.43)
(6.28)
(44.91)
04
−6.086***
−7.468***
−0.134***
−1.200***
 
(−52.99)
(−96.96)
(4.55)
(60.51)
05
−6.078***
−6.590***
−0.490***
−1.683***
 
(−52.91)
(−85.56)
(16.68)
(84.87)
06
−5.678***
−2.110***
−1.039***
−0.890***
 
(−49.43)
(−27.4)
(35.39)
(44.92)
07
−4.058***
1.100***
−0.773***
0.607***
 
(−35.33)
(14.27)
(26.33)
(30.58)
08
−2.276***
4.073***
0.163***
1.825***
 
(−19.69)
(52.82)
(5.52)
(91.98)
09
−0.707***
4.796***
1.099***
2.518***
 
(−6.12)
(62.28)
(37.22)
(127.03)
10
0.453***
4.814***
1.794***
2.810***
 
(3.92)
(62.53)
(60.76)
(141.79)
11
1.162***
4.938***
2.196***
2.958***
 
(10.06)
(64.11)
(74.34)
(149.16)
12
1.515***
4.991***
2.397***
2.992***
 
(13.12)
(64.8)
(81.15)
(150.91)
13
1.580***
5.048***
2.459***
3.021***
 
(13.68)
(65.56)
(83.27)
(152.5)
14
1.543***
5.086***
2.450***
3.019***
 
(13.36)
(66.18)
(82.97)
(152.63)
15
1.450***
5.231***
2.437***
3.024***
 
(12.56)
(67.93)
(82.53)
(152.65)
16
1.479***
5.420***
2.445***
3.022***
 
(12.8)
(70.88)
(82.8)
(153.51)
17
1.607***
5.718***
2.440***
3.047***
 
(13.92)
(74.77)
(82.62)
(154.76)
18
1.516***
5.084***
2.369***
2.974***
 
(13.13)
(66.48)
(80.24)
(151.06)
19
1.221***
3.684***
2.229***
2.759***
 
(10.58)
(48.07)
(75.48)
(139.83)
20
1.162***
2.754***
2.166***
2.632***
 
(10.01)
(35.93)
(72.97)
(133.4)
21
0.941***
2.495***
2.138***
2.599***
 
(8.15)
(32.48)
(72.41)
(131.32)
22
0.531***
1.986***
1.983***
2.436***
 
(4.6)
(25.83)
(67.16)
(123.14)
23
−0.224*
0.765***
1.684***
2.004***
 
(−1.94)
(9.94)
(57.02)
(101.21)
00
Retail (share)
2.031***
1.249***
Outer city centre (share)
1.351***
1.310***
 
(60.65)
(54.87)
(43.52)
(62.8)
01
1.566***
0.605***
0.809***
0.533***
 
(46.76)
(26.47)
(26.05)
(25.39)
02
1.173***
−0.021
0.291***
−0.202***
 
(34.85)
(−0.94)
(9.33)
(9.68)
03
0.686***
−0.642***
−0.188***
−0.823***
 
(20.49)
(−28.27)
(6.05)
(39.44)
04
0.279***
−1.386***
−0.620***
−1.230***
 
(8.32)
(−61.01)
(19.97)
(58.95)
05
−0.306***
−2.617***
−0.942***
−1.342***
 
(−9.13)
(−115.19)
(30.34)
(64.33)
06
−1.408***
−2.153***
−1.029***
−0.696***
 
(−42.03)
(−94.76)
(33.16)
(33.39)
07
−1.346***
−0.238***
−0.549***
0.467***
 
(−40.21)
(−10.48)
(17.69)
(22.36)
08
−0.639***
0.990***
0.363***
1.524***
 
(−18.91)
(43.49)
(11.63)
(72.94)
09
0.410***
1.918***
1.222***
2.064***
 
(12.17)
(84.39)
(39.15)
(98.93)
10
1.341***
2.464***
1.805***
2.294***
 
(39.82)
(108.45)
(57.87)
(109.99)
11
1.968***
2.773***
2.131***
2.403***
 
(58.45)
(122.02)
(68.29)
(115.16)
12
2.441***
2.994***
2.263***
2.427***
 
(72.51)
(131.68)
(72.52)
(116.29)
13
2.688***
3.120***
2.252***
2.415***
 
(79.82)
(137.5)
(72.17)
(115.81)
14
2.826***
3.174***
2.188***
2.403***
 
(83.94)
(139.94)
(70.14)
(115.42)
15
2.949***
3.238***
2.129***
2.428***
 
(87.61)
(142.65)
(68.25)
(116.43)
16
2.994***
3.279***
2.127***
2.469***
 
(88.93)
(145.27)
(68.17)
(119.19)
17
2.953***
3.320***
2.155***
2.531***
 
(87.73)
(147.09)
(69.09)
(122.17)
18
2.762***
3.157***
2.135***
2.590***
 
(82.04)
(139.87)
(68.45)
(125.05)
19
2.519***
2.857***
2.119***
2.543***
 
(74.83)
(126.31)
(67.91)
(122.48)
20
2.401***
2.677***
2.133***
2.518***
 
(70.93)
(118.32)
(68)
(121.28)
21
2.279***
2.540***
2.113***
2.506***
 
(67.7)
(111.8)
(67.74)
(120.38)
22
2.148***
2.363***
1.974***
2.341***
 
(63.81)
(104.19)
(63.26)
(112.42)
23
1.950***
2.046***
1.671***
1.938***
 
 
(57.92)
(90.05)
(53.57)
(92.99)
 
 
t_sub0
−0.321***
 
March
0.158***
 
 
 
(−58.7)
 
 
−36.14
 
 
t_0_5
−0.185***
 
April
0.151***
 
 
 
(−47.91)
 
 
−34.23
 
 
t_5_10
−0.132***
 
May
0.081***
 
 
 
(−49.63)
 
 
−18.43
 
 
t_15_20
0.079***
 
June
−0.019***
 
 
 
(28.21)
 
 
−3.87
 
 
t_above20
0.186***
 
July
−0.267***
 
 
 
(44.03)
 
 
−51.22
 
 
r
0
 
August
−0.277***
 
 
 
(0.06)
 
 
−55.55
 
 
s
0.037***
 
September
−0.096***
 
 
 
(5.48)
 
 
−20.84
 
 
area_ln
0.648***
 
October
−0.041***
 
 
 
(573.58)
 
 
−9.4
 
 
January
0.284***
 
November
Omitted
 
 
 
(45.35)
 
Constant
−8.586***
 
 
February
0.233***
 
 
−576.32
 
 
 
(46.86)
 
R-squared
0.7
 
 
 
 
 
N
1,874,207
About this article
Cite this article
Tranos, E., Nijkamp, P. Mobile phone usage in complex urban systems: a space–time, aggregated human activity study. J Geogr Syst 17, 157–185 (2015). https://doi.org/10.1007/s10109-015-0211-9
Received:

Accepted:

Published:

Issue Date:
Keywords
Mobile phone

Human activity

Land use

Urban dynamics
JEL Classification