Abstract
Scientists have noted that recent shifts in the earth's climate have resulted in more extreme weather events, like stronger hurricanes. Such powerful storms disrupt societal function and result in a tremendous number of casualties, as demonstrated by recent hurricane experience in the US Planning for and facilitating evacuations of populations forecast to be impacted by hurricanes is perhaps the most effective strategy for reducing risk. A potentially important yet relatively unexplored facet of people's evacuation decision-making involves the interpersonal communication processes that affect whether at-risk residents decide to evacuate. While previous research has suggested that word-of-mouth effects are limited, data supporting these assertions were collected prior to the widespread adoption of digital social media technologies. This paper argues that the influence of social network effects on evacuation decisions should be revisited given the potential of new social media for impacting and augmenting information dispersion through real-time interpersonal communication. Using geographic data within an agent-based model of hurricane evacuation in Bay County, Florida, we examine how various types of social networks influence participation in evacuation. It is found that strategies for encouraging evacuation should consider the social networks influencing individuals during extreme events, as it can be used to increase the number of evacuating residents.
Access options
Buy single article
Instant access to the full article PDF.
US$ 39.95
Tax calculation will be finalised during checkout.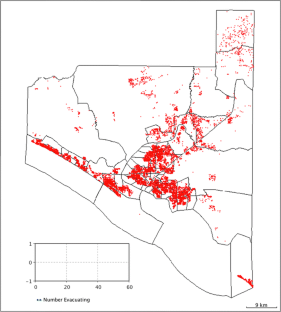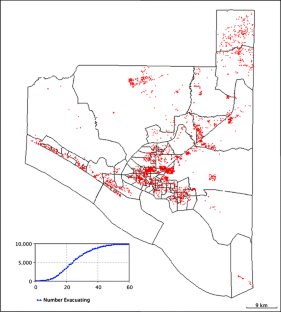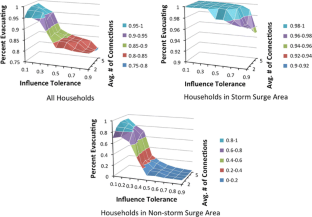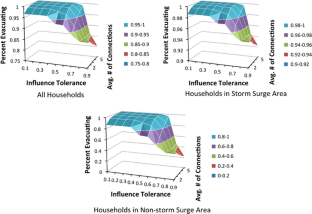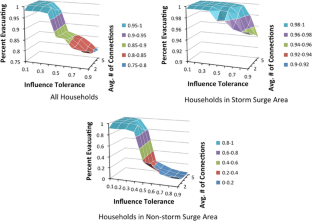 References
Adams PC (1995) A reconsideration of personal boundaries in space-time. Ann Assoc Am Geogr 85(2):267–285

Adams P (1998) Network topologies and virtual place. Ann Assoc Am Geogr 88(1):88–106

Baker EJ (1991) Hurricane evacuation behavior. Int J Mass Emerg Disasters 9(2):287–310

Batty M (2005) Cities and complexity. MIT Press, Cambridge

Chakraborty J, Tobin GA, Montz BE (2005) Population evacuation: assessing spatial variability in geophysical risk and social vulnerability to natural hazards. Nat Hazards Rev 6(1):23–33

Chen X (2008) Microsimulation of hurricane evacuation strategies of Galveston Island. Prof Geogr 60(2):160–173

Chen X, Zhan FB (2006) Agent-based modelling and simulation of urban evacuation: relative effectiveness of simultaneous and staged evacuation strategies. J Oper Res Soc 59(1):25–33

Chen X, Meaker JW, Zhan FB (2006) Agent-based modeling and analysis of hurricane evacuation procedures for the Florida Keys. Nat Hazards 38(3):321–338

Christakis NA, Fowler JH (2007) The spread of obesity in a large social network over 32 years. N Engl J Med 357:370–379

Crowe A (2011) The social media manifesto: a comprehensive review of the impact of social media on emergency management. J Bus Contin Emer Plan 5(1):409–420

Davis JA, Smith TW, Marsden PV (2005) General social surveys 1972–2004. ICPSR04295-v2. National Opinion Research Center, Chicago

Dow K, Cutter SL (2002) Emerging hurricane evacuation issues: hurricane Floyd and South Carolina. Nat Hazards Rev 3(1):12–18

Dugundji E, Páez A, Arentze T (2008) Social networks, choices, mobility and travel. Environ Plan B 35(6):956–960

Eisenman DP, Cordasco KM, Asch S, Golden JF, Glik D (2007) Disaster planning and risk communication with vulnerable communities: lessons from Hurricane Katrina. Am J Public Health 97(Supplement 1):S109–S115

Ellison NB, Steinfield C, Lampe C (2007) The benefits of Facebook friends: social capital and college students use of online social network sites. J Comput Med Commun 12(4):1143–1168

Epstein JM, Axtell R (1996) Growing artificial societies: social science from the bottom up. The MIT Press, Cambridge

Erdös P, Rényi A (1960) On the evolution of random graphs. Publ Math Inst Hung Acad Sci 5:17–61

Farahmand K (1997) Application of simulation modeling to emergency population evacuation. In: Proceedings of the 1997 winter simulation conference, Atlanta. IEEE, Piscataway, pp 1181–1188

Fu H, Wilmot CG (2004) Sequential logit dynamic travel demand model for hurricane evacuation. Transp Res Rec J Transp Res Board 1:19–26

Granovetter M (1978) Threshold models of collective behavior. Am J Sociol 83(6):1420–1443

Grimm V, Railsback SF (2005) Individual-based modeling and ecology. Princeton University Press, Princeton, NJ

Hamilton J (2009) Ourplace: the convergence of locative media and online participatory culture. In: OZCHI 2009 conference of the Australian computer-human interaction special interest group, Melbourne, Australia. ACM, pp 393–396

Heath SE, Beck AM, Kass PH, Glickman LT (2001) Risk factors for pet evacuation failure after a slow-onset disaster. J Am Vet Med Assoc 218(12):1905–1910

Horner MW, Downs JA (2007) Testing a flexible geographic information system-based network flow model for routing hurricane disaster relief goods. Transp Res Rec J Transp Res Board 2022(1):47–54

Hughes AL, Palen L (2009) Twitter adoption and use in mass convergence and emergency events. Int J Emerg Manag 6(3):248–260

HurricaneCity (2011) Panama City, Florida's history with tropical systems. http://www.hurricanecity.com/city/panamacity.htm. Accessed 05 January 2011

Kar B, Hodgson ME (2008) A GIS based model to determine site suitability of emergency evacuation shelters. Trans in GIS 12(2):227–248

Kim S, Shekhar S, Min M (2008) Contraflow transportation network reconfiguration for evacuation route planning. Knowl Data Eng, IEEE Trans 20(8):1115–1129

Lazo JK, Waldman DM, Morrow BH, Thacher JA (2010) Household evacuation decision making and the benefits of improved hurricane forecasting: developing a framework for assessment. Weather Forecast 25(1):207–219

Lindell MK, Lu JC, Prater CS (2005) Household decision making and evacuation in response to Hurricane Lili. Nat Hazards Rev 6(4):171–179

Milgram S (1967) The small world problem. Psychol Today 2(1):60–67

NOAA, FEMA, Florida So, Engineers UACo (1999) Northwest Florida Hurricane evacuation study technical data report for Escambia, Santa Rosa, Okaloosa, Walton, Bay, Holmes, Jackson and Washington Counties, Florida

Páez A, Scott DM (2007) Social influence on travel behavior: a simulation example of the decision to telecommute. Environ Plan A 39(3):647–665

Páez A, Scott DM, Volz E (2008) A discrete choice approach to modeling social influence on individual decision making. Environ Plan B 35(6):1055–1069

Robinson JP, Kestnbaum M, Neustadtl A, Alvarez A (2000) Mass media use and social life among Internet users. Soc Sci Comput Rev 18(4):490–501

Sakaki T, Okazaki M, Matsuo Y (2010) Earthquake shakes Twitter users: real-time event detection by social sensors. In: WWW2010 19th international conference on World Wide Web, Raleigh, North Carolina. ACM, pp 851–860

Starbird K, Palen L, Hughes AL, Vieweg S (2010) Chatter on the red: what hazards threat reveals about the social life of microblogged information. In: CSCW 10 conference on computer supported cooperative work, Savannah, Georgia. ACM, pp 241–250

Sutton J, Palen L, Shklovski I (2008) Backchannels on the front lines: emergent uses of social media in the 2007 southern California wildfires. Crisis (May):1–9

Urbina E, Wolshon B (2003) National review of hurricane evacuation plans and policies: a comparison and contrast of state practices. Transp Res Part A Policy Pract 37(3):257–275

Watts DJ (2003) Small worlds: the dynamics of networks between order and randomness. Princeton University Press, Princeton

Westervelt JD (1999) Modeling mobile individuals in dynamic landscapes. Int J Geogr Inf Sci 13(3):191–208

Whitehead JC, Edwards B, Van Willigen M, Maiolo JR, Wilson K, Smith KT (2000) Heading for higher ground: factors affecting real and hypothetical hurricane evacuation behavior. Global Environ Chang Part B Environ Hazards 2(4):133–142

Widener MJ, Horner MW (2011) A hierarchical approach to modeling hurricane disaster relief goods distribution. J Transp Geogr 19(4):821–828

Williams BM, Tagliaferri AP, Meinhold SS, Hummer JE, Rouphail NM (2007) Simulation and analysis of freeway lane reversal for coastal hurricane evacuation. J Urban Plan Dev 133(1):61–72

Wolshon B, Catarella-Michel A, Lambert L (2006) Louisiana highway evacuation plan for Hurricane Katrina: proactive management of a regional evacuation. J Transp Eng 132(1):1–10

Young HP (2001) Individual strategy and social structure: an evolutionary theory of institutions. Princeton University Press, Princeton
About this article
Cite this article
Widener, M.J., Horner, M.W. & Metcalf, S.S. Simulating the effects of social networks on a population's hurricane evacuation participation. J Geogr Syst 15, 193–209 (2013). https://doi.org/10.1007/s10109-012-0170-3
Received:

Accepted:

Published:

Issue Date:
Keywords
Hurricane evacuation

Agent-based model

Social networks

Social media
JEL Classification