Abstract
Tinnitus is a perception disorder of sound with no hearing impulse. It is a very common otology complaint that leads to worsening quality of life. The experience of sound is only the product of neural system activity, with no matching mechanical or vibratory activity in the cochlea, and is unrelated to any external stimuli. Low-level laser therapy (LLLT) is a medical treatment of tinnitus that uses low-energy-level lasers or light-emitting diodes to stimulate or inhibit cellular function. The study included nine patients aged 20–68 years with unilateral or bilateral tinnitus. It was a self-controlled clinical trial study on subjective tinnitus. All patients attended the ENT outpatient Department, Rzgari Teaching Hospital, Erbil, Iraq. Two types of low-level laser therapy (LLLT) devices were used for patients. The first tool, a soft laser called a Tinnitool, has a wavelength of 660 nm and a power of 100 mW. The second tool is a Tinnitus Pen, which has a wavelength of 650 nm and a power of 5 mW. Seven females (77.7%) and two males (22.2%) participated in this study during one month. The mean age of the study sample was 44 years, with a standard deviation of 15.59 years. There was a significant improvement in the comparison of both types of therapy low-level laser before and after treatment, which reduced the tinnitus level among patients from 70% before treatment to 59% and 65.50%, respectively, after one month of treatment. A paired t test was applied to assess this difference before and after treatment. LLLT devices can be an effective device tool for the treatment of tinnitus and can reduce the symptoms of annoyance that affect the life of the sufferer.
This is a preview of subscription content,
to check access.
Access this article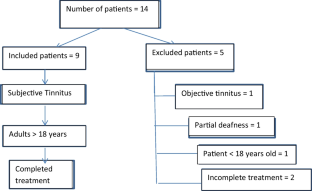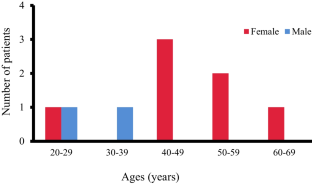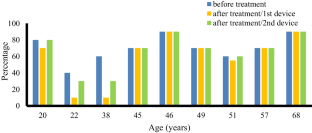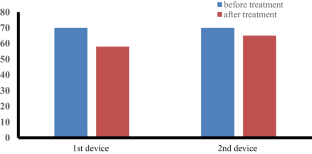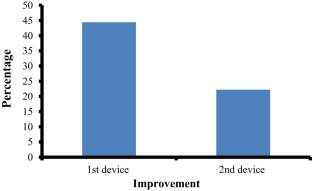 References
Møller AR (2011) Pathology of the auditory system that can cause tinnitus. In: Møller AR, Langguth B, De Ridder D, Kleinjung T (eds) Textbook of Tinnitus. Springer, New York, pp 77–93

Brozoski TJ, Spires TJD, Bauer CA (2007) Vigabatrin, a GABA transaminase inhibitor, reversibly eliminates tinnitus in an animal model. J Assoc Res Otolaryngol 8:105–118

Okhovat A, Berjis N, Okhovat H, Malekpour A, Abtahi H (2011) Low-level laser for treatment of tinnitus: a self-controlled clinical trial. J Res Med Sci 16:33–38

Moon T-H, Lee MY, Jung JY, Ahn J-C, Chang S-Y, Chung P-S, Rhee C-K, Kim Y-H, Suh M-W (2016) Safety assessment of trans-tympanic photobiomodulation. Lasersn Med Sci 31:323–333

Stausholm MB, Naterstad IF, Joensen J, Lopes-Martins RÁB, Sæbø H, Lund H, Fersum KV, Bjordal JM (2019) Efficacy of low-level laser therapy on pain and disability in knee osteoarthritis: systematic review and meta-analysis of randomised placebo-controlled trials. BMJ Open 9:e031142

Huang Z, Ma J, Chen J, Shen B, Pei F, Kraus VB (2015) The effectiveness of low-level laser therapy for nonspecific chronic low back pain: a systematic review and meta-analysis. Arthritis Res Ther 17:360

Düzenli U, Bozan N, Aslan M, Özkan H, Turan M, Kıroğlu AF (2018) A retrospective analysis of haemotologic parameters in patients with bilateral tinnitus. East J Med 23:264–268

Hauptmann C, Williams M, Vinciati F, Haller M (2017) Technical feasibility of acoustic coordinated reset therapy for tinnitus delivered via hearing aids: a case study. Case Rep Otolaryngol 2017:5304242

Ballenger JJ, Snow JB (2003) Tinnitus and hyperacusis. In: Ballenger's Otorhinolaryngology Head and Neck Surgery, 16th edn. BC Decker, Hamilton, Ontario, Canada, pp 456–475

Hiller W, Goebel G (2004) Rapid assessment of tinnitus-related psychological distress using the Mini-TQ. Int J Audiol 43:600–604

Lockwood AH, Salvi RJ, Burkard RF (2002) Tinnitus. N Engl J Med 347:904–910

Makar SK, Biswas A, Shatapathy P (2014) The impact of tinnitus on sufferers in Indian population. Indian J Otolaryngol Head Neck Surg 66:37–51

Roberts LE, Eggermont JJ, Caspary DM, Shore SE, Melcher JR, Kaltenbach JA (2010) Ringing ears: the neuroscience of tinnitus. J Neurosci 30:14972

Han BI, Lee HW, Kim TY, Lim JS, Shin KS (2009) Tinnitus: characteristics, causes, mechanisms, and treatments. J Clin Neurol 5:11–19

Langguth B (2011) A review of tinnitus symptoms beyond 'ringing in the ears': a call to action. Curr Med Res Opin 27:1635–1643

Miguel GS, Yaremchuk K, Roth T, Peterson E (2014) The effect of insomnia on tinnitus. Ann Otol Rhinol Laryngol 123:696–700

Seydel C, Haupt H, Olze H, Szczepek AJ, Mazurek B (2013) Gender and chronic tinnitus: differences in tinnitus-related distress depend on age and duration of tinnitus. Ear and Hear 34:661–672

Bhatt JM, Lin HW, Bhattacharyya N (2016) Prevalence, severity, exposures, and treatment patterns of tinnitus in the united states. JAMA Otolaryngol Head Neck Surgery 142:959–965

Malouff JM, Noble W, Schutte NS, Bhullar N (2010) The effectiveness of bibliotherapy in alleviating tinnitus-related distress. J Psychosom Rese 68:245–251

Nondahl DM, Cruickshanks KJ, Dalton DS, Klein BEK, Klein R, Schubert CR, Tweed TS, Wiley TL (2007) The impact of tinnitus on quality of life in older adults. J Am Acad Audiol 18:257–266

Monzani D, Genovese E, Marrara A, Gherpelli C, Pingani L, Forghieri M, Rigatelli M, Guadagnin T, Arslan E (2008) Validity of the Italian adaptation of the tinnitus handicap inventory; focus on quality of life and psychological distress in tinnitus-sufferers. Acta Otorhinolaryngol Ital 28:126–134
Ethics declarations
Ethics approval
The Human Research Ethics Committee (Medical) at the University of Hawler, Medical University, as well as all other relevant authorities, including the heads of the departments where the data was collected, gave their approval before the study could be carried out.
Informed consent
Guided by the ethical principles of the Iraq Medical Research Council, informed consent was obtained from participants before they were included in the study, and they were assured of the study's confidentiality and their ability to withdraw at any time. Permission to conduct and collect data from the hospital was obtained from relevant doctors in hospitals. Information letters, consent letters, and the THI questionnaires were distributed to the hospital.
Conflict of interest
The authors declare no competing interests.
Additional information
Publisher's note
Springer Nature remains neutral with regard to jurisdictional claims in published maps and institutional affiliations.
Rights and permissions
Springer Nature or its licensor (e.g. a society or other partner) holds exclusive rights to this article under a publishing agreement with the author(s) or other rightsholder(s); author self-archiving of the accepted manuscript version of this article is solely governed by the terms of such publishing agreement and applicable law.
About this article
Cite this article
Ali, R.T., Abdullah, T.N. & Emin, A.K. The effectiveness of two types of low-level laser therapy in patients with persistent tinnitus. Lasers Med Sci 38, 132 (2023). https://doi.org/10.1007/s10103-023-03797-z
Received:

Accepted:

Published:

DOI: https://doi.org/10.1007/s10103-023-03797-z
Keywords