Abstract
Recently, jawline rejuvenation and jowl fat treatment methods have received a lot of attention. Many people are extremely upset and complain about the excess fat under the chin or neck and jowl. The study suggests a new procedure for targeting the jowl fat using Endolift laser, highlighting on the feasibility, convenience, and safety of the technique. Nine patients with pinchable fat on the jawline were enrolled in the study. The Endolift laser was performed for jowl fat treatment for each patient. The results of the treatment were measured by biometric assessment. Also the results were evaluated by 3 board-certified dermatologists (blind). Furthermore, patients' satisfaction was appraised at the end of the treatment. The biometric results showed that Endolift laser can increase the thickness, density, and elasticity of the skin in the jowl area. The patients' satisfaction results showed good and very good improvement in all of the patients (90%). The results by the dermatologist displayed good and very good improvement in about 90% of the patients. The outcomes of this experience displayed that Endolift laser is a safe and effective nonsurgical method for jowl reduction.
This is a preview of subscription content,
to check access.
Access this article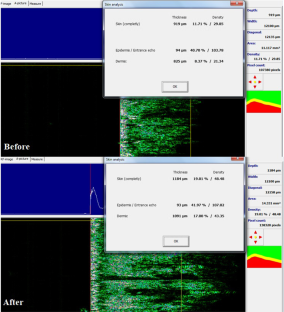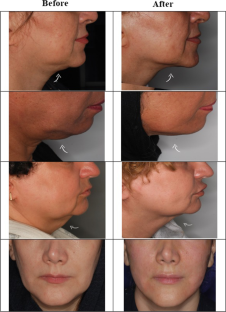 References
Honigman R, Castle DJ (2006) Aging and cosmetic enhancement. Clin Interv Aging 1(2):115

Ellenbogen R, Karlin JV (1980) Visual criteria for success in restoring the youthful neck. Plast Reconstr Surg 66(6):826–837

Reece EM, Pessa JE, Rohrich RJ (2008) The mandibular septum: anatomical observations of the jowls in aging—implications for facial rejuvenation. Plast Reconstr Surg 121(4):1414–1420

Shridharani SM (2020) Improvement in jowl fat following ATX-101 treatment: results from a single-site study. Plast Reconstr Surg 145(4):929

Nilforoushzadeh MA et al (2021) Efficacy evaluation of Endolift-based subcision on acne scar treatment. J Cosmet Dermatol 20(8):2579–2582

Roberto M 2020 Endolift for the best face and body non-surgical lifting. Plastic Surgery: Case Studies 1 2

Braz A et al (2015) Lower face: clinical anatomy and regional approaches with injectable fillers. Plast Reconstr Surg 136(5S):235S-257S

Dallara JM et al (2014) Calcium hydroxylapatite for jawline rejuvenation: consensus recommendations. J Cosmet Dermatol 13(1):3–14

Levy PM (2007) The 'Nefertiti lift': a new technique for specific re-contouring of the jawline. J Cosmet Laser Ther 9(4):249–252

Sullivan PK et al (2010) An anatomical evaluation and surgical approach to the perioral mound in facial rejuvenation. Plast Reconstr Surg 126(4):1333–1340

Newman J, Levin J (1988) "Jowling": introduction of a new surgical treatment for the jowl. Am J Cosmet Surg 5(3):185–189

Chrisman BB, Field LM (1984) Facelift surgery update: suction-assisted rhytidectomy and other improvements. J Dermatol Surg Oncol 10(7):544–548

Reece EM, Rohrich RJ (2008) The aesthetic jaw line: management of the aging jowl. Aesthetic Surg J 28(6):668–674

Nahm WK et al (2004) Objective changes in brow position, superior palpebral crease, peak angle of the eyebrow, and jowl surface area after volumetric radiofrequency treatments to half of the face. Dermatol Surg 30(6):922–928

Montes JR, Santos E, Chillar A (2020) Jowl reduction with deoxycholic acid. Dermatol Surg 46(1):78–85

Shridharani SM 2019 Novel surface anatomic landmarks of the jowl to guide treatment with ATX-101. Plastic Reconstr Surg Glob Open 7 10
Acknowledgements
We admiringly acknowledge the colleagues and staffs in Skin and Stem Cell Research Center, Tehran University of Medical Sciences, Tehran, Iran, and Jordan Dermatology and Hair Transplantation Center, Tehran, Iran.
Ethics declarations
Ethics approval
The authors state that the patients have given their informed consent for the photographs and details.
Conflict of interest
The authors declare no competing interests.
Additional information
Publisher's Note
Springer Nature remains neutral with regard to jurisdictional claims in published maps and institutional affiliations.
No one of the authors listed in the manuscript is employed by a government agency.
No one of the authors is an official representative or on behalf of the government
About this article
Cite this article
Nilforoushzadeh, M.A., Heidari-Kharaji, M., Fakhim, T. et al. Endolift laser for jowl fat reduction: clinical evaluation and biometric measurement. Lasers Med Sci 37, 2397–2401 (2022). https://doi.org/10.1007/s10103-021-03494-9
Received:

Accepted:

Published:

Issue Date:

DOI: https://doi.org/10.1007/s10103-021-03494-9
Keywords