Abstract
Different studies highlight photo-receptors' presence on the hair follicle that seems to be capable of eliciting hair growth. This study aims to demonstrate blue light's effectiveness on hair growth in patients affected by androgenetic alopecia. Twenty patients enrolled at Magna Graecia University Unit of Dermatology, affected by androgenetic alopecia, were treated with a blue LED light device at 417 ± 10 nm, fluence of 120 J/cm2, and power intensity of 60 mW/cm2 ± 20%. The treatments were performed twice a week for ten consecutive weeks. Patients were evaluated before and 1 month after the end of therapy clinically using standardized global photographs and dermoscopically estimating hair density and hair shaft width. An increase in hair density and hair shaft width was recorded in 90% of patients after 10 weeks. Photographic improvement was noted in 80% of the patients. No serious adverse events have been reported. The only side effect consisted in a darkening of the hair, perhaps due to melanic stimulation due to blue light in 2 patients. Blue light therapy is a promising therapy for patients affected by androgenetic alopecia and other diseases characterized by hair loss. Further studies will be necessary to confirm the findings of this preliminary study.
Access options
Buy single article
Instant access to the full article PDF.
USD 39.95
Price excludes VAT (USA)
Tax calculation will be finalised during checkout.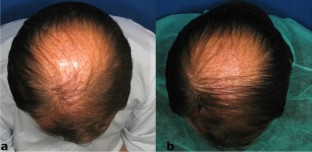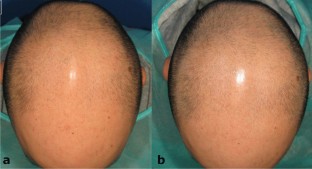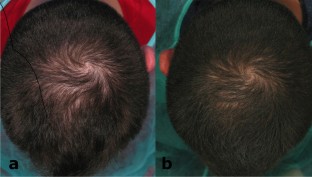 Data availability
Available after request due to privacy from corresponding author.
References
Dhurat R, Sharma A, Rudnicka L, Kroumpouzos G, Kassir M, Galadari H, Wollina U, Lotti T, Golubovic M, Binic I, Grabbe S, Goldust M (2020) 5-Alpha reductase inhibitors in androgenetic alopecia: shifting paradigms, current concepts, comparative efficacy, and safety. Dermatol Ther 33(3):e13379

Katzer T, Leite Junior A, Beck R, da Silva C (2019) Physiopathology and current treatments of androgenetic alopecia: going beyond androgens and anti-androgens. Dermatol Ther 32(5):e13059

Zhou Y, Chen C, Qu Q, Zhang C, Wang J, Fan Z, Miao Y, Hu Z (2020) The effectiveness of combination therapies for androgenetic alopecia: a systematic review and meta-analysis. Dermatol Ther 33(4):e13741

Keaney T (2015) Emerging therapies for androgenetic alopecia. J Drugs Dermatol 14(9):1036–1040

Avci P, Gupta GK, Clark J, Wikonkal N, Hamblin MR (2014) Low-level laser (light) therapy (LLLT) for treatment of hair loss. Lasers Surg Med 46(2):144–151. https://doi.org/10.1002/lsm.22170

Afifi L, Maranda EL, Zarei M, Delcanto GM, Falto-Aizpurua L, Kluijfhout WP, Jimenez JJ (2017) Low-level laser therapy as a treatment for androgenetic alopecia. Lasers Surg Med 49(1):27–39. https://doi.org/10.1002/lsm.22512

Lanzafame RJ, Blanche RR, Chiacchierini RP, Kazmirek ER, Sklar JA (2014) The growth of human scalp hair in females using visible red light laser and LED sources. Lasers Surg Med 46(8):601–607. https://doi.org/10.1002/lsm.22277

Guarrera M, Cardo P, Arrigo P, Rebora A (2009) Reliability of hamilton-norwood classification. Int J Trichol 1(2):120–122

Tsutsumi M, Ikeyama K, Denda S, Nakanishi J, Fuziwara S, Aoki H, Denda M (2009) Expressions of rod and cone photoreceptorlike proteins in human epidermis. Exp Dermatol 18(6):567–570

Buscone S, Mardaryev AN, Raafs B, Bikker JW, Sticht C, Gretz N, Farjo N, Uzunbajakava NE, Botchkareva NV (2017) A new path in defining light parameters for hair growth: discovery and modulation of photoreceptors in human hair follicle. Lasers Surg Med 49(7):705–718. https://doi.org/10.1002/lsm.22673

Serre C, Busuttil V, Botto J-M (2018) Intrinsic and extrinsic regulation of human skin melanogenesis and pigmentation. Int J Cosmet Sci 40(4):328–347. https://doi.org/10.1111/ics.12466

Karu TI (2014) Cellular and molecular mechanisms of photobiomodulation (low-power laser therapy). IEEE J Sel Top Quantum Electron 20(2):143–148

Wang Y, Huang YY, Wang Y, Lyu P, Hamblin MR (2016) Photobiomodulation (blue and green light) encourages osteoblasticdifferentiation of human adipose-derived stem cells: role of intracellular calcium and light-gated ion channels. Sci Rep 6:33719

Oplander C, Deck A, Volkmar CM et al (2013) mechanism and biological relevance of blue-light (420–453nm)-induced nonenzymatic nitric oxide generation from photolabile nitric oxide derivates in human skin in vitro and in vivo. Free Radic Biol Med 65:1363–1377

Mignon C, Botchkareva NV, Uzunbajakava NE, Tobin DJ (2016) Photobiomodulation devices for hair regrowth and wound healing: a therapy full of promise but a literature full of confusion. Exp Dermatol 25:745–749

Wicks NL, Chan JW, Najera JA, Ciriello JM, Oancea E (2011) UVA phototransduction drives early melanin synthesis in human melanocytes. Curr Biol 21(22):1906–1911

Ozdeslik RN, Olinski LE, Trieu MM, Oprian DD, Oancea E (2019) Human nonvisual opsin 3 regulates pigmentation of epidermal melanocytes through functional interaction with melanocortin 1 receptor. Proc Natl Acad Sci U S A 116(23):11508–11517. https://doi.org/10.1073/pnas.1902825116

Subba Rao Setty (2018) Opsin3-A link to visible light-induced skin pigmentation. J Invest Dermatol 138(1):13–15. https://doi.org/10.1016/j.jid.2017.09.025

Regazzetti C, Sormani L, Debayle D, Bernerd F, Tulic MK, De Donatis GM, Chignon-Sicard B, Rocchi S, Passeron T (2018) Melanocytes sense blue light and regulate pigmentation through Opsin-3. J Invest Dermatol. 138(1):171–178. https://doi.org/10.1016/j.jid.2017.07.833

Wang Yu, Lan Y, Hongguang Lu (2020) Opsin3 downregulation induces apoptosis of human epidermal melanocytes via mitochondrial pathway. Photochem Photobiol 96(1):83–93. https://doi.org/10.1111/php.13178

Lanzafame RJ, Blanche RR, Bodian AB, Chiacchierini RP, Fernandez-Obregon A, Kazmirek ER (2013) The growth of human scalp hair mediated by visible red light laser and LED sources in males. Laser Surg Med 45(8):487–495

Jimenez JJ, Wikramanayake TC, Bergfeld W, Hordinsky M, Hickman JG, Hamblin MR, Schachner LA (2014) Efficacy and safety of a low-level laser device in the treatment of male and female pattern hair loss: a multicenter, randomized, sham devicecontrolled, double-blind study. Am J Clin Dermatol 15(2):115–127

Sorbellini E, De Padova MP, Rinaldi F (2020) Coupled blue and red light-emitting diodes therapy efficacy in patients with rosacea: two case reports. J Med Case Rep 14(1):22. https://doi.org/10.1186/s13256-019-2339-6

Kromer C, Nühnen VP, Pfützner W et al (2019) Treatment of atopic dermatitis using a full-body blue light device (AD-Blue): protocol of a randomized controlled trial. JMIR Res Protoc 8(1):e11911. https://doi.org/10.2196/11911
Ethics declarations
Ethics approval
The study was approved by the local ethical committee.
Consent to participate/publication
All patients gave their informed consent to participate to the study.
Competing interests
The authors declare no competing interests.
Additional information
Publisher's note
Springer Nature remains neutral with regard to jurisdictional claims in published maps and institutional affiliations.
About this article
Cite this article
Lodi, G., Sannino, M., Cannarozzo, G. et al. Blue light-emitting diodes in hair regrowth: the first prospective study. Lasers Med Sci 36, 1719–1723 (2021). https://doi.org/10.1007/s10103-021-03327-9
Received:

Accepted:

Published:

Issue Date:

DOI: https://doi.org/10.1007/s10103-021-03327-9
Keywords
Blue light

Hair regrowth

Androgenetic alopecia