Abstract
Diabetes mellitus is mostly interrelated to deficiency in wound healing. Low-level laser therapy has been shown to exert reliable effects on the acceleration of wound healing process. This study aimed to determine the potential influence of low-level laser therapy (LLLT) on the healing of extraction sockets in diabetic rats. A total of 24 healthy male Wistar rats were selected for this study. After diabetes induction, the maxillary first molars of all rats were extracted bilaterally. Then, the animals were subjected either to Ga-Al-As laser at 808 nm or to Al-Ga-In-P laser at 660 nm at the right extracted socket every day for the next 14 days. The left sockets served as controls. Rats were sacrificed on the 3rd, 5th, 7th, and 14th days after tooth extraction. The samples were examined by a pathologist. LLLT at 808 nm was able to significantly repress inflammation, improve osteoid formation, and promote vascularization in comparison to the non-treated sockets. LLLT at 660 nm significantly suppressed inflammation and developed vascularization in comparison to the non-treated sockets, but failed to improve osteoid formation in the treated sockets. This study suggests that LLLT could be considered as a reliable treatment for wound healing in diabetic experimental rats.
Access options
Buy single article
Instant access to the full article PDF.
US$ 39.95
Tax calculation will be finalised during checkout.
Subscribe to journal
Immediate online access to all issues from 2019. Subscription will auto renew annually.
US$ 79
Tax calculation will be finalised during checkout.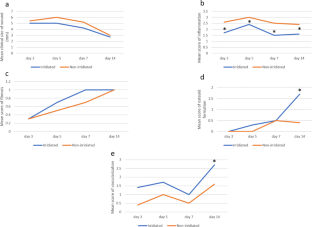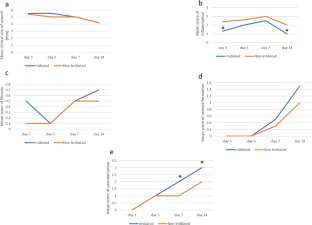 References
1.

Al-Watban FA, Zhang XY, Andres BL (2007) Low-level laser therapy enhances wound healing in diabetic rats: a comparison of different lasers. Photomed Laser Surg 25(2):72–77

2.

Sousa RG, Batista KNM (2016) Laser therapy in wound healing associated with diabetes mellitus-Review. An Bras Dermatol 91(4):489–493

3.

Wilson MH, Fitpatrick JJ, McArdle NS (2010) Diabetes mellitus and its relevance to the practice of dentistry

4.

Adie S, Harris IA, Naylor JM, Rae H, Dao A, Yong S et al (2011) Pulsed electromagnetic field stimulation for acute tibial shaft fractures: a multicenter, double-blind, randomized trial. JBJS. 93(17):1569–1576

5.

Fındık Y, Baykul T (2014) Effects of low-intensity pulsed ultrasound on autogenous bone graft healing. Oral Surg Oral Med Oral Pathol Oral Radiol 117(3):e255–ee60

6.

Taberner-Vallverdú M, Nazir M, Sánchez-Garcés MÁ, Gay-Escoda C (2015) Efficacy of different methods used for dry socket management: a systematic review. Med Oral Patol Oral Cir Bucal 20(5):e633

7.

Al Wardi NA, Al-Maliky M, Mahmood A. Evaluation of coagulation and healing effect of laser and hemostatic sponge on post extraction dental socket for a diabetic: a case report

8.

Chung H, Dai T, Sharma SK, Huang Y-Y, Carroll JD, Hamblin MR (2012) The nuts and bolts of low-level laser (light) therapy. Ann Biomed Eng 40(2):516–533

9.

Chittoria RK, Kumar SH (2018) Low-level laser therapy (LLLT) in wound healing

10.

Chaves MEA, Araújo AR, Piancastelli ACC, Pinotti M (2014) Effects of low-power light therapy on wound healing: LASER x LED. An Bras Dermatol 89(4):616–623

11.

Gogia PP, Hurt BS, Zirn TT (1988) Wound management with whirlpool and infrared cold laser treatment: a clinical report. Phys Ther 68(8):1239–1242

12.

Laubach H, Robijns J (2018) Laser and light therapy for treatment of radiation dermatitis. Hautarzt Z Dermatol Venerol Verwandte Geb 69(1):5–9

13.

Allendorf JD, Bessler M, Huang J, Kayton ML, Laird D, Nowygrod R et al (1997) Helium-neon laser irradiation at fluences of 1, 2, and 4 J/cm2 failed to accelerate wound healing as assessed by both wound contracture rate and tensile strength. Lasers Surg Med: Off J Am Soc Laser Med Surg 20(3):340–345

14.

Park JJ, Kang KL (2012) Effect of 980-nm GaAlAs diode laser irradiation on healing of extraction sockets in streptozotocin-induced diabetic rats: a pilot study. Lasers Med Sci 27(1):223–230

15.

Shafieian R, Matin MM, Rahpeyma A, Fazel A, Sedigh HS, Sadr-Nabavi A et al (2017) The effect of platelet-rich plasma on human mesenchymal stem cell-induced bone regeneration of canine alveolar defects with calcium phosphate-based scaffolds. Iran J Basic Med Sci 20(10):1131

16.

Shafieian R, Matin MM, Rahpeyma A, Fazel A, Sedigh HS, Nabavi AS et al (2017) Effects of human adipose-derived stem cells and platelet-rich plasma on healing response of canine alveolar surgical bone defects. Arch Bone Joint Surg 5(6):406

17.

Ali-Erdem M, Burak-Cankaya A, Cemil-Isler S, Demircan S, Soluk M, Kasapoglu C et al (2011) Extraction socket healing in rats treated with bisphosphonate: animal model for bisphosphonate related osteonecrosis of jaws in multiple myeloma patients. Med Oral Patol Oral Cir Bucal 16(7):e879–e883

18.

Scardino M, Swaim S, Sartin E, Hoffman C, Oglivie G, Hanson R, et al (1999) The effects of omega-3 fatty acid diet enrichment on wound healing

19.

El-Maghraby EM, El-Rouby DH, Saafan AM (2013) Assessment of the effect of low-energy diode laser irradiation on gamma irradiated rats' mandibles. Arch Oral Biol 58(7):796–805

20.

Garcia VG, Da Conceição JM, Fernandes LA, de Almeida JM, Nagata MJH, Bosco AF et al (2013) Effects of LLLT in combination with bisphosphonate on bone healing in critical size defects: a histological and histometric study in rat calvaria. Lasers Med Sci 28(2):407–414

21.

Shakouri SK, Soleimanpour J, Salekzamani Y, Oskuie MR (2010) Effect of low-level laser therapy on the fracture healing process. Lasers Med Sci 25(1):73

22.

Takeda Y (1988) Irradiation effect of low-energy laser on alveolar bone after tooth extraction. Experimental study in rats. Int J Oral Maxillofac Surg 17(6):388–391

23.

Hamed MS, Elmorsy KA, Moutamed GM, Safaan AM (2013) The effect of low level laser therapy on osseointegration of immediate implants in maxillary central incisors. J Am Sci 9(4):241–249

24.

Youssef M, Ashkar S, Hamade E, Gutknecht N, Lampert F, Mir M (2008) The effect of low-level laser therapy during orthodontic movement: a preliminary study. Lasers Med Sci 23(1):27–33

25.

Nicola RA, Jorgetti V, Rigau J, Pacheco MT, dos Reis LM, Zaˆngaro RA (2003) Effect of low-power GaAlAs laser (660 nm) on bone structure and cell activity: an experimental animal study. Lasers Med Sci 18(2):89–94

26.

Schaffer CJ, Nanney LB (1996) Cell biology of wound healing. International review of cytology. 169. Elsevier, pp 151–181

27.

Colombo F, Neto AAPV, Sousa APC, Marchionni AMT, Pinheiro ALB, Reis SRA (2013) Effect of low-level laser therapy (660 nm) on angiogenesis in wound healing: a immunohistochemical study in a rodent model. Braz Dent J 24(4):308–312

28.

Galiano RD, Tepper OM, Pelo CR, Bhatt KA, Callaghan M, Bastidas N et al (2004) Topical vascular endothelial growth factor accelerates diabetic wound healing through increased angiogenesis and by mobilizing and recruiting bone marrow-derived cells. Am J Pathol 164(6):1935–1947

29.

Walsh L (1997) The current status of low level laser therapy in dentistry, Part 1. Soft tissue applications. Aust Dent J 42(4):247–254

30.

Gupta A, Keshri GK, Yadav A, Gola S, Chauhan S, Salhan AK et al (2015) Superpulsed (Ga-As, 904 nm) low-level laser therapy (LLLT) attenuates inflammatory response and enhances healing of burn wounds. J Biophotonics 8(6):489–501

31.

Sharma A, Singh AK, Warren J, Thangapazham RL, Maheshwari RK (2006) Differential regulation of angiogenic genes in diabetic wound healing. J Investig Dermatol 126(10):2323–2331

32.

Mester E, Spiry T, Szende B, Tota JG (1971) Effect of laser rays on wound healing. Am J Surg 122(4):532–535

33.

Posten W, Wrone DA, Dover JS, Arndt KA, Silapunt S, Alam M (2005) Low-level laser therapy for wound healing: mechanism and efficacy. Dermatol Surg 31(3):334–340

34.

Kuffler DP (2016) Photobiomodulation in promoting wound healing: a review. Regen Med 11(1):107–122

35.

Noda M, Aoki A, Mizutani K, Lin T, Komaki M, Shibata S et al (2016) High-frequency pulsed low-level diode laser therapy accelerates wound healing of tooth extraction socket: an in vivo study. Lasers Surg Med 48(10):955–964

36.

Daigo Y, Daigo E, Hasegawa A, Fukuoka H, Ishikawa M, Takahashi K (2020) Utility of high-intensity laser therapy combined with photobiomodulation therapy for socket preservation after tooth extraction. Photobiomodulation, Photomed Laser Surg 38(2):75–83

37.

Korany NS, Mehanni SS, Hakam HM, El-Maghraby EM (2012) Evaluation of socket healing in irradiated rats after diode laser exposure (histological and morphometric studies). Arch Oral Biol 57(7):884–891

38.

Khalil NM, Noureldin MG (2019) Comparison of single versus multiple low-level laser applications on bone formation in extraction socket healing in rabbits (histologic and histomorphometric study). J Oral Maxillofac Surg 77(9):1760–1768
Funding
This paper has been financially supported by the Vice Chancellor for Research of Mashhad University of Medical Sciences (MUMS) (Grant number: 931747). The results described in this study was part of a D.D.S student thesis.
Ethics declarations
Conflict of interest
The authors declare no competing interests.
Additional information
Publisher's note
Springer Nature remains neutral with regard to jurisdictional claims in published maps and institutional affiliations.
About this article
Cite this article
Dalirsani, Z., Ghazi, N., Delavarian, Z. et al. Effects of diode low-level laser therapy on healing of tooth extraction sockets: a histopathological study in diabetic rats. Lasers Med Sci (2021). https://doi.org/10.1007/s10103-021-03270-9
Received:

Accepted:

Published:
Keywords
Low-level laser therapy

Diabetes mellitus

Tooth socket