Abstract
This study was conducted in order to compare the safety and efficacy of LLLT, 5% minoxidil, and combination therapy in the treatment of FPHL. A randomized controlled trial was developed to study the effect of LLLT on FPHL using a device called iHelmet®, which is equipped with 200 5mW laser diode source (650 nm) arrays. Ninety Ludwig's types II–III FPHL patients were randomly divided into 3 groups: LLLT group (A), 5% minoxidil group (B), and combination group(C). Hair density, hair diameter, and scalp oil-secretion were detected to evaluate the treatment effect. Significant improvement of hair density and hair diameter was observed in all stages of FPHL after treatment. Oil-secretion of the three groups was decreased after treatment. The effectiveness of reducing oil-secretion in LLLT group and combination group was higher than minoxidil group (P < 0.05). For improving hair diameter and hair density, combination group was better than LLLT and minoxidil groups. No side effects were reported. Our study illustrated that LLLT is a safe and effective treatment for FPHL. Besides, LLLT can significantly improve its efficacy when used in combination with 5% minoxidil.
Access options
Buy single article
Instant access to the full article PDF.
USD 39.95
Price excludes VAT (USA)
Tax calculation will be finalised during checkout.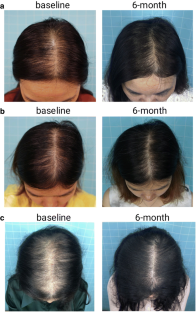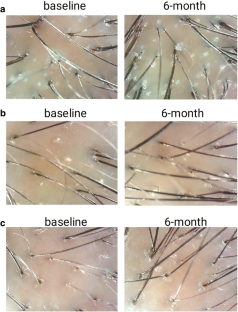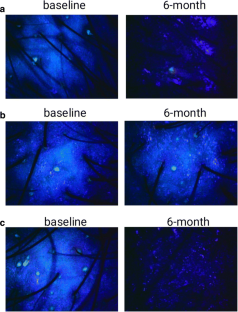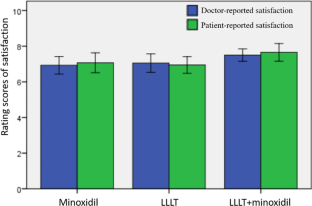 References
Gordon KA, Tosti A (2011) Alopecia: evaluation and treatment. Clin Cosmet Investig Dermatol 4:101–106

Chan L, Cook DK (2018) Female pattern hair loss. Aust J Gen Pract 47(7):459–464

Manabe M, Tsuboi R, Itami S et al (2018) Guidelines for the diagnosis and treatment of male-pattern and female-pattern hair loss, 2017 version. J Dermatol 45(9):1031–1043

Poonia K, Thami GP, Bhalla M, Jaiswal S, Sandhu J (2019) Nonscarring diffuse hair loss in women: a clinico-etiological study from tertiary care center in North-West India. J Cosmet Dermatol 18(1):401–407

Davis DS, Callender VD (2018) Review of quality of life studies in women with alopecia. Int J Womens Dermatol 4(1):18–22

Mester E, Ludany G, Sellyei M et al (1968) Studies on the inhibiting and activating effects of laser beams. Langenbecks Arch Chir 322:1022–1027

Barikbin B, Khodamrdi Z, Kholoosi L et al (2017) Comparison of the effects of 665 nm low level diode Laser Hat versus and a combination of 665 nm and 808nm low level diode Laser Scanner of hair growth in androgenic alopecia. J Cosmet Laser Ther

Esmat SM, Hegazy RA, Gawdat HI et al (2017) Low level light-minoxidil 5% combination versus either therapeutic modality alone in management of female patterned hair loss: a randomized controlled study. Lasers Surg Med 49(9):835–843

Friedman S, Schnoor P (2017) Novel approach to treating androgenetic alopecia in females with photobiomodulation (low-level laser therapy). Dermatol Surg 43(6):856–867

Blum K, Han D, Madigan MA, Lohmann R, Braverman ER (2014) "Cold" X5 Hairlaser used to treat male androgenic alopecia and hair growth: an uncontrolled pilot study. BMC Res Notes 7:103

Jimenez JJ, Wikramanayake TC, Bergfeld W et al (2014) Efficacy and safety of a low-level laser device in the treatment of male and female pattern hair loss: a multicenter, randomized, sham device-controlled, double-blind study. Am J Clin Dermatol 15(2):115–127

Lanzafame RJ, Blanche RR, Chiacchierini RP, Kazmirek ER, Sklar JA (2014) The growth of human scalp hair in females using visible red light laser and LED sources. Lasers Surg Med 46(8):601–607

Munck A, Gavazzoni MF, Trueb RM (2014) Use of low-level laser therapy as monotherapy or concomitant therapy for male and female androgenetic alopecia. Int J Trichol 6(2):45–49

Kim H, Choi JW, Kim JY et al (2013) Low-level light therapy for androgenetic alopecia: a 24-week, randomized, double-blind, sham device-controlled multicenter trial. Dermatol Surg 39(8):1177–1183

Lanzafame RJ, Blanche RR, Bodian AB et al (2013) The growth of human scalp hair mediated by visible red light laser and LED sources in males. Lasers Surg Med 45(8):487–495

Leavitt M, Charles G, Heyman E, Michaels D (2009) HairMax LaserComb laser phototherapy device in the treatment of male androgenetic alopecia: a randomized, double-blind, sham device-controlled, multicentre trial. Clin Drug Investig 29(5):283–292

Avram MR, Rogers NE (2009) The use of low-level light for hair growth: part I. J Cosmet Laser Ther. 11(2):110–117

Avram MR, Leonard RJ, Epstein ES, Williams JL, Bauman AJ (2007) The current role of laser/light sources in the treatment of male and female pattern hair loss. J Cosmet Laser Ther. 9(1):27–28

Zhang T, Liu L, Fan J et al (2017) Low-level laser treatment stimulates hair growth via upregulating Wnt10b and beta-catenin expression in C3H/HeJ mice. Lasers Med Sci 32(5):1189–1195

Kim JE, Woo YJ, Sohn KM, Jeong KH, Kang H (2017) Wnt/beta-catenin and ERK pathway activation: a possible mechanism of photobiomodulation therapy with light-emitting diodes that regulate the proliferation of human outer root sheath cells. Lasers Surg Med 49(10):940–947

Wikramanayake TC, Rodriguez R, Choudhary S et al (2012) Effects of the Lexington LaserComb on hair regrowth in the C3H/HeJ mouse model of alopecia areata. Lasers Med Sci 27(2):431–436

Ghanaat M (2010) Types of hair loss and treatment options, including the novel low-level light therapy and its proposed mechanism. South Med J 103(9):917–921

Rasheed H, Mahgoub D, Hegazy R et al (2013) Serum ferritin and vitamin d in female hair loss: do they play a role? Skin Pharmacol Physiol 26(2):101–107

Olsen EA, Whiting DA, Savin R et al (2012) Global photographic assessment of men aged 18 to 60 years with male pattern hair loss receiving finasteride 1 mg or placebo. J Am Acad Dermatol 67(3):379–386

Eells JT, Wong-Riley MT, VerHoeve J et al (2004) Mitochondrial signal transduction in accelerated wound and retinal healing by near-infrared light therapy. Mitochondrion. 4(5–6):559–567

Chung H, Dai T, Sharma SK et al (2012) The nuts and bolts of low-level laser (light) therapy. Ann Biomed Eng 40(2):516–533

Lohr NL, Keszler A, Pratt P et al (2009) Enhancement of nitric oxide release from nitrosyl hemoglobin and nitrosyl myoglobin by red/near infrared radiation: potential role in cardioprotection. J Mol Cell Cardiol 47(2):256–263

Makihara E, Masumi S (2008) Blood flow changes of a superficial temporal artery before and after low-level laser irradiation applied to the temporomandibular joint area. Nihon Hotetsu Shika Gakkai Zasshi 52(2):167–170

Kure K, Isago T, Hirayama T (2015) Changes in the sebaceous gland in patients with male pattern hair loss (androgenic alopecia). J Cosmet Dermatol 14(3):178–184

Lattanand A, Johnson WC (1975) Male pattern alopecia a histopathologic and histochemical study. J Cutan Pathol 2(2):58–70

Heilmann S, Kiefer AK, Fricker N et al (2013) Androgenetic alopecia: identification of four genetic risk loci and evidence for the contribution of WNT signaling to its etiology. J Invest Dermatol. 133(6):1489–1496

Leiros GJ, Attorresi AI, Balana ME (2012) Hair follicle stem cell differentiation is inhibited through cross-talk between Wnt/beta-catenin and androgen signalling in dermal papilla cells from patients with androgenetic alopecia. Br J Dermatol 166(5):1035–1042

Kretzschmar K, Cottle DL, Schweiger PJ, Watt FM (2015) The androgen receptor antagonizes Wnt/beta-catenin signaling in epidermal stem cells. J Invest Dermatol 135(11):2753–2763

Joo HJ, Jeong KH, Kim JE, Kang H (2017) Various wavelengths of light-emitting diode light regulate the proliferation of human dermal papilla cells and hair follicles via Wnt/beta-catenin and the extracellular signal-regulated kinase pathways. Ann Dermatol 29(6):747–754

Liu B, Chen X, Yi H et al (2017) beta-Catenin is involved in oleanolic acid-dependent promotion of proliferation in human hair matrix cells in an in vitro organ culture model. Fitoterapia 121:136–140

Gupta AK, Charrette A (2015) Topical minoxidil: systematic review and meta-analysis of its efficacy in androgenetic alopecia. Skinmed. 13(3):185–189

Gupta AK, Foley KA (2014) 5% minoxidil: treatment for female pattern hair loss. Skin Therapy Lett 19(6):5–7

Blume-Peytavi U, Hillmann K, Dietz E, Canfield D, Garcia BN (2011) A randomized, single-blind trial of 5% minoxidil foam once daily versus 2% minoxidil solution twice daily in the treatment of androgenetic alopecia in women. J Am Acad Dermatol 65(6):1126–1134.e2

Badri T, Kumar DD (2019) Minoxidil. Reactions Weekly 1778:309. https://doi.org/10.1007/s40278-019-71112-6

Lee IJ, Jung JH, Lee YR, Kim JC, Hwang ST (2016) Guidelines on hair restoration for East Asian patients. Dermatol Surg 42(7):883–892
Funding
This study was funded by the National Natural Science Foundation of China (Grant No. 81772104, No. 81701929), the Natural Science Foundation of Guangdong Province (Grant No. 2017A030310120), and Guangdong Basic and Applied Basic Research Foundation (Grant No. 2019A1515012170).
Ethics declarations
Conflict of interest
The authors declare that they have no conflict of interest.
Ethics approval
This study was reviewed and approved by the research ethics board at Nanfang Hospital, Southern Medical University, Guangzhou, China. All contents were adhered to the tenets of the Declaration of Helsinki.
Informed consent
Informed consent was obtained from all individual participants included in the study, as all patients provided the written informed consents before participating.
Additional information
Publisher's note
Springer Nature remains neutral with regard to jurisdictional claims in published maps and institutional affiliations.
About this article
Cite this article
Liu, Y., Jiang, Ll., Liu, F. et al. Comparison of low-level light therapy and combination therapy of 5% minoxidil in the treatment of female pattern hair loss. Lasers Med Sci 36, 1085–1093 (2021). https://doi.org/10.1007/s10103-020-03157-1
Received:

Accepted:

Published:

Issue Date:

DOI: https://doi.org/10.1007/s10103-020-03157-1
Keywords