Abstract
Oral squamous cell carcinoma (OSCC) is the most common head and neck malignancy; it has been shown that cancer stem cells (CSC) are present in OSCC and associated with tumor growth, invasion, metastasis, and therapeutic resistance. Photobiomodulation (PBM) is an alternative tool for oncologic treatment adverse effects such as oral mucositis (OM); however, controversy exists regarding the undesirable effects of PBM on tumor or CSC. This study aimed to evaluate in vitro, the effects of PBM, with the same dosimetric parameters as those used in the clinic for OM prevention and treatment, on OSCC cellular viability, as well as PBM's effect on CSC properties and its phenotype. OSCC cell lines were submitted to single or daily PBM with 3 J/cm2 and 6 J/cm2 and then the cellular viability was evaluated by MTT, NRU (neutral red uptake), and CVS (crystal violet staining). The CSC populations were evaluated by clonogenic formation assay, flow cytometry, and RT-qPCR. The single PBM with the 3 J/cm2 group was associated with increased cellular viability. Daily PBM with 3 J/cm2 and 6 J/cm2 was associated with a significant decrease in cellular viability. Additionally, daily PBM was not able to promote CSC self-renewal or the CD44high/ESAlow and CD44high/ESAhigh cellular phenotypes. Moreover, a decrease in the number of spheres and in the expression of the CSC related gene BMI1 was observed after daily PBM with 6 J/cm2. Daily PBM with 3 J/cm2 and 6 J/cm2 showed an inhibitory effect on cellular viability and was not able to promote the CSC self-renewal or phenotype.
Access options
Buy single article
Instant access to the full article PDF.
USD 39.95
Price excludes VAT (USA)
Tax calculation will be finalised during checkout.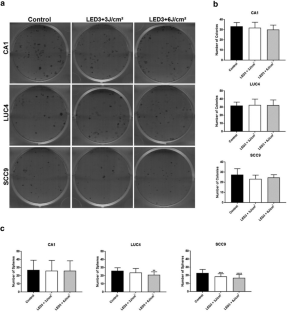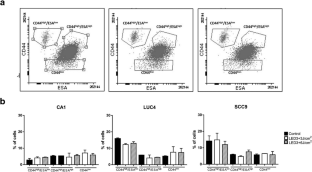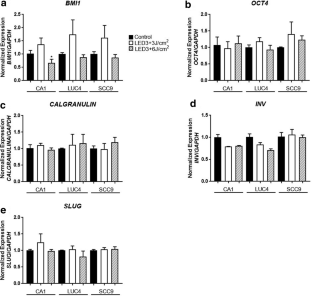 Funding
This study was financed in part by the Nove de Julho University (UNINOVE) and Coordenação de Aperfeiçoamento de Pessoal de Nível Superior – Brasil (CAPES) – Finance Code 001.
Ethics declarations
Conflict of interest
The authors declare that they have no conflict of interest.
Additional information
Publisher's note
Springer Nature remains neutral with regard to jurisdictional claims in published maps and institutional affiliations.
About this article
Cite this article
Ibarra, A.M.C., Garcia, M.P., Ferreira, M. et al. Effects of photobiomodulation on cellular viability and cancer stem cell phenotype in oral squamous cell carcinoma. Lasers Med Sci 36, 681–690 (2021). https://doi.org/10.1007/s10103-020-03131-x
Received:

Accepted:

Published:

Issue Date:

DOI: https://doi.org/10.1007/s10103-020-03131-x
Keywords
Cancer stem cells

Low-level laser therapy

Oral squamous cell carcinoma

Photobiomodulation