Abstract
A new outpatient non-surgical method using Er:YAG laser for snoring has been demonstrated. The aim of this systematic review and meta-analysis was to investigate the effects of this treatment on snoring. Relevant 1548 articles were searched from various databases from 1 January 2000 to September 2018 including PubMed, MEDLINE, EMBASE, Cochrane Library, Web of Science, and Scopus and reference lists. Meta-analysis was performed with RevMan software. Cochran's Q and I2 statistics were used to assess heterogeneity. The overall effect was evaluated using z-tests. Seven studies and two hundred forty-seven participants treated with two to three sessions of Er:YAG 2940 nm laser (long pulse mode, 10 Hz, fluence 1.6 J/cm2) were included. There was a statistically significant reduction of pooled snoring VAS (mean difference (MD) (95% CI), − 6.89 (− 7.62, − 6.15)). Patient satisfaction rate after laser treatment was 80% (95% CI, 70.69, 89.05) of cases. A widening of the upper airway dimension was revealed; however, changes in apnea-hypopnea index (AHI) and respiratory disturbance index (RDI) were not significantly different. Mean follow-up period was 3 to 36 months. Patients tolerated the procedure well without anesthesia. There were minimal side effects without serious adverse effects. Er:YAG laser is shown to be effective in a way to reduce snoring without significant AHI or RDI changes. However, randomized controlled trials, objective data, multicenter cooperation, and long-term outcomes are needed to confirm the benefits of this laser for snoring.
Access options
Buy single article
Instant access to the full article PDF.
US$ 39.95
Tax calculation will be finalised during checkout.
Subscribe to journal
Immediate online access to all issues from 2019. Subscription will auto renew annually.
US$ 79
Tax calculation will be finalised during checkout.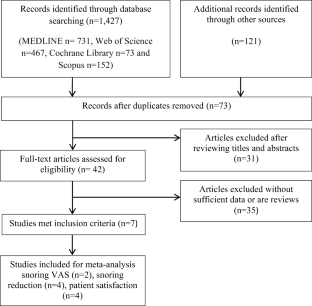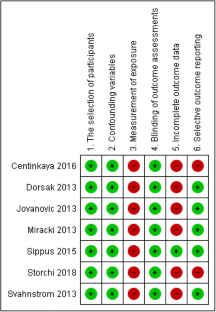 References
1.

Olson LG, King MT, Hensley MJ, Saunders NA (1995) Community study of snoring and sleep-disordered breathing. Health outcomes. Am J Respir Crit Care Med 152:717–720

2.

Young T, Palta M, Dempsey, Skatrud J, Weber S, Badr S (1993) The occurrence of sleep-disordered breathing among middle-aged adults. N Engl J Med 328:1230–1235

3.

Achuthan S, Medhi B (2015) A systematic review of the pharmacological approaches against snoring: can we count on the chickens that have hatched? Sleep Breath 19:1035–1042

4.

Benoist LBL, Beelen AMEH, Torensma B, de Vries N (2018) Subjective effects of the sleep position trainer on snoring outcomes in position-dependent non-apneic snorers. Eur Arch Otorhinolaryngol 275:2169–2176

5.

Braver HM, Block AJ, Perri MG (1995) Treatment for snoring. Combined weight loss, sleeping on side, and nasal spray. Chest 107:1283–1288

6.

Camacho M, Guilleminault C, Wei JM, Song SA, Noller MW, Reckley LK, Fernandez-Salvador C, Zaghi S (2018) Oropharyngeal and tongue exercises (myofunctional therapy) for snoring: a systematic review and meta-analysis. Eur Arch Otorhinolaryngol 275:849–855

7.

Demko BG (2018) The evolution of oral appliance therapy for snoring and sleep apnea: where did we come from, where are we, and where are we going? Sleep Med Clin 13:467–487

8.

Herzog M, Riemann R (2004) Alcohol ingestion influences the nocturnal cardio-respiratory activity in snoring and non-snoring males. Eur Arch Otorhinolaryngol 261:459–462

9.

Krieger J (1992) Long-term compliance with nasal continuous positive airway pressure (CPAP) in obstructive sleep apnea patients and nonapneic snorers. Sleep 15:S42–S46

10.

Shokouhi F, Meymaneh Jahromi A, Majidi MR, Salehi M (2015) Montelukast in adenoid hypertrophy: its effect on size and symptoms. Iran J Otorhinolaryngol 27:443–448

11.

Stuck BA, Dreher A, Heiser C, Herzog M, Kühnel T, Maurer JT, Pistner H, Sitter H, Steffen A, Verse T (2015) Diagnosis and treatment of snoring in adults-S2k guideline of the German Society of Otorhinolaryngology, head and neck surgery. Sleep Breath 19:135–148

12.

Trenchea M, Deleanu O, Suta M, Arghir OC (2013) Smoking, snoring and obstructive sleep apnea. Pneumologia 62:52–55

13.

Brietzke SE, Mair EA (2001) Injection snoreplasty: how to treat snoring without all the pain and expense. Otolaryngol Head Neck Surg 124:503–510

14.

Choi JH, Cho JH, Chung YS, Kim JW, Kim SW (2015) Effect of the pillar implant on snoring and mild obstructive sleep apnea: a multicenter study in Korea. Laryngoscope 125:1239–1243

15.

Main C, Liu Z, Welch K, Weiner G, Jones SQ, Stein K (2009) Surgical procedures and non-surgical devices for the management of non-apnoeic snoring: a systematic review of clinical effects and associated treatment costs. Health Technol Assess 13:1–208

16.

Neruntarat C (2001) Laser-assisted uvulopalatoplasty: short-term and long-term results. Otolaryngol Head Neck Surg 124:90–93

17.

Neruntarat C (2003) Uvulopalatal flap for snoring on an outpatient basis. Otolaryngol Head Neck Surg 129:353–359

18.

Veer V, Yang WY, Green R, Kotecha B (2014) Long-term safety and efficacy of radiofrequency ablation in the treatment of sleep disordered breathing: a meta-analysis. Eur Arch Otorhinolaryngol 271:2863–2870

19.

Unver T, Aytugar E, Ozturan O, Kiran T, Ademci E, Usumez A (2016) Histological effects of Er:YAG laser irradiation with snoring handpiece in the rat soft palate. Photomed Laser Surg 34:321–325

20.

Lee CYS, Lee CCY (2015) Evaluation of a non-ablative Er: YAG laser procedure to increase the oropharyngeal airway volume: a pilot study. Dent Oral Craniofac 1:56–59

21.

Kim SY, Park JE, Lee YJ, Seo HJ, Sheen SS, Hahn S, Jang BH, Son HJ (2013) Testing a tool for assessing the risk of bias for nonrandomized studies showed moderate reliability and promising validity. J Clin Epidemiol 66:408–414

22.

Moher D, Liberati A, Tetzlaff J, Altman DG, PRISMA Group (2009) Preferred reporting items for systematic reviews and meta-analyses: the PRISMA statement. PLoS Med 6:e1000097

23.

Higgins JP, Thompson SG, Deeks JJ, Altman DG (2003) Measuring inconsistency in meta-analyses. BMJ 327:557–560

24.

Jovanovic J (2011) NightLaseTM – laser –assisted snoring and apnea reduction, 9 months of experience. J Laser Health Acad 1:11

25.

Dovsak D, Gabrijelcic J, Vizintin Z (2011) NightLaseTM –a new laser treatment method for reduction of snoring and sleep apnea-a pilot study. J Laser Health Acad 1:9–10

26.

Miracki K, Vizintin Z (2013) Nonsurgical minimally invasive Er:YAG laser snoring treatment. J Laser Health Acad 1:36–41

27.

Svahnström K (2013) Er:YAG laser treatment of sleep-disordered breathing. J Laser Health Acad 2:13–16

28.

Sippus J (2015) Case report: NightLaseR procedure- laser snoring and sleep apnea reduction treatment. J Laser Health Acad 1:1–5

29.

Cetinkaya EA, Turker M, Kiraz K, Gulkesen HK (2016) Er:Yag laser treatment of simple snorers in an outpatient setting. ORL J Otorhinolaryngol Relat Spec 78:70–76

30.

Storchi IF, Parker S, Bovis F, Benedicenti S, Amaroli A (2018) Outpatient erbium:YAG (2940 nm) laser treatment for snoring: a prospective study on 40 patients. Lasers Med Sci 33:399–406

31.

Drnovsek-Olup B, Beltram M, Pizem J (2004) Repetitive Er:YAG laser irradiation of human skin: a histological evaluation. Lasers Surg Med 35:146–151

32.

Majaron B, Srinivas SM, Huang H, Nelson JS (2000) Deep coagulation of dermal collagen with repetitive Er:YAG laser irradiation. Lasers Surg Med 26:215–222
Funding
No funding was received for this research.
Ethics declarations
Conflict of interest
The authors declare that they have no competing interests.
Ethical approval
This article does not contain any studies with human and animals participants performed by any of the authors.
Additional information
Publisher's note
Springer Nature remains neutral with regard to jurisdictional claims in published maps and institutional affiliations.
About this article
Cite this article
Neruntarat, C., Khuancharee, K. & Shoowit, P. Er:YAG laser for snoring: a systemic review and meta-analysis. Lasers Med Sci 35, 1231–1238 (2020). https://doi.org/10.1007/s10103-020-02987-3
Received:

Accepted:

Published:

Issue Date:
Keywords
Er:YAG laser

Snoring

Obstructive sleep apnea

Laser treatment

Sleep disorders