Abstract
The aim of this study was to investigate if laser-assisted resection is appropriate for large and/or central lung metastases, when stapler wedge resection is not feasible, to determine whether this technique can be an alternative to lobectomy. All patients who underwent laser-assisted resection for large and/or central metastases were selected for the study. For comparison, patients who underwent lobectomy for metastases between 2005 and 2017 were reviewed. All resections were performed with a 1318-nm Nd:YAG laser. Perioperative features and long-term oncological outcomes were investigated. Some aspects and drawbacks of laser resection were also investigated. Among 89 patients, 42 (47%) underwent laser resection and 47 underwent lobectomy. Complete resection was achieved in 91% of laser resections and in 98% of lobectomies. The operative time, postoperative drainage time, and length of stay were significantly shorter in patients who underwent laser resection than in those who underwent lobectomy. Severe postoperative complications tended to be more frequent after lobectomy. The 5-year survival was 66% and 54% after laser resection and lobectomy respectively; the 5-year disease-free survival was 35% and 32% after laser resection and lobectomy respectively. No differences were found in long-term outcomes between the two techniques. Our experience showed that laser resection, when performed for large/central metastases, resulted in comparable survival and obtained better perioperative outcomes with respect to lobectomy. We believe that laser resection can be proposed as a reliable and advantageous lung-sparing technique, as an alternative to lobectomy for metastasectomy, when stapler wedge resection is not feasible.
Access options
Buy single article
Instant access to the full article PDF.
US$ 39.95
Tax calculation will be finalised during checkout.
Subscribe to journal
Immediate online access to all issues from 2019. Subscription will auto renew annually.
US$ 79
Tax calculation will be finalised during checkout.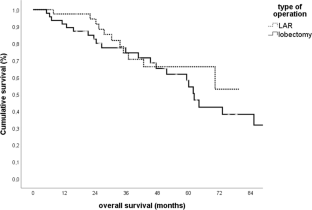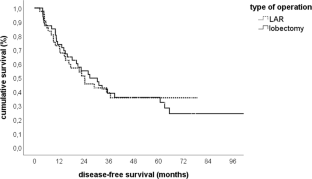 References
1.

Treasure T, Milosevic M, Fiorentino F, Macbeth F (2014) Pulmonary metastasectomy: what is the practice and where is the evidence for effectiveness? Thorax 69:946–949

2.

Patrini D, Panagiotopoulos N, Lawrence D, Scarci M (2017) Surgical management of lung metastases. Br J Hosp Med 78:192–198

3.

Pastorino U, Buyse M, Friedel G, Ginsberg RJ, Girard P, Goldstraw P et al (1997) Long-term results of lung metastasectomy: prognostic analyses based on 5206 cases. J Thorac Cardiovasc Surg 113:37–49

4.

Lang C, Hoetzenecker K, Schweiger TS (2019) Emerging biomarkers in pulmonary metastasectomy. J Vis Surg 5:44

5.

Mineo TC, Ambrogi V, Pompeo E, Nofroni I (1998) The value of the Nd:YAG laser for the surgery of lung metastases in a randomized trial. Chest 113:1402–1407

6.

Moghissi K, Dench M, Neville E (1989) Effect of the non-contact mode of YAG laser on pulmonary tissues and its comparison with electrodiathermy: an anatomic-pathological study. Lasers Med Sci 4:17–23

7.

Rolle A, Pereszlenyi A, Koch R, Richard M, Baier B (2006) Is surgery for multiple lung metastases reasonable? A total of 328 consecutive patients with multiple-laser metastasectomies with a new 1318-nm Nd:YAG laser. J Thorac Cardiovasc Surg 131:1236–1242

8.

Franzke K, Natanov R, Zinne N, Rajab TK, Biancosino C, Zander I et al (2017) Pulmonary metastasectomy: a retrospective comparison of surgical outcomes after laser-assisted and conventional resection. Eur J Surg Oncol 43:1357–1364

9.

Welter S, Arfanis E, Christoph D, Hager T, Roesel C, Aigner C et al (2017) Growth patterns of pulmonary metastases: should we adjust resection techniques to primary histology and size? Eur J Cardiothorac Surg 52:39–46

10.

Porrello C, Gullo R, Vaglica A, Scerrino G, Salamone G, Licari L et al (2018) Pulmonary laser metastasectomy by 1318-nm neodymium-doped yttrium-aluminium garnet laser: a retrospective study about laser metastasectomy of the lung. Surg Innov 25:142–148

11.

Ojanguren A, Karenowics W, Dackam S, Demarchi M, Triponez F (2019) Laser pulmonary metastasectomy by video-assisted thoracic surgery. J Vis Surg 5:40 (April 12th 2019)

12.

Mineo TC, Ambrogi V, Tonini G, Nofroni I (2001) Pulmonary metastasectomy: might the type of resection affect survival? J Surg Oncol 76:47–52

13.

Caristo JM, Tian DH, Yan TD (2018) Pulmonary metastasectomy: a cross sectional survey. J Thorac Dis 10:3757–3766

14.

Baier B, Kern A, Kederali L, Bis B, Koschel D, Rolle A (2015) Retrospective survival analysis of 237 consecutive patients with multiple pulmonary metastases from advanced renal cell carcinoma exclusively resected by a 1318-nm laser. Interact Cardiovasc Thorac Surg 21:211–217

15.

Schmid S, Le UT, Zeisal C, Haager B, Passlick B (2018) Pulmonary metastasectomy in sarcoma - experiences with laser-assisted resection. J Thorac Dis 10:314–320

16.

Rolle A, Unsold E, Ruprecht L, Permanetter W, Frank F et al (1988) Morphologic aspects of Nd:YAG laser application: wavelength 1064 nm and 1318 nm on lung tissue. Laser Med Surg 4:10–14

17.

Osei-Agyemang T, Palade E, Haderthauer J, Ploenes T, Yaneva V, Passlick B (2013) Pulmonary metastasectomy: an analysis of technical and oncological outcomes in 301 patients with a focus on laser-resection. Zentralbl Chir 138:S45–S51

18.

McLaughlin JB, O'Sullivan KE, Brown RH, Eaton D (2018) Limax Nd:YAG laser-assisted thoracoscopic resection of pulmonary metastases; a single centre's initial experience. Ir J Med Sci 188(3):771–776

19.

Kirschbaum A, Steinfeldt T, Gockel A, DiFazio P, Quint K, Bartsch DK (2014) Airtighness of lung parenchyma without a closing suture after atypical resection using the Nd:YAG laser LIMAX 120. Interact Cardiovasc Thorac Surg 18:92–95

20.

Meyer C, Bartsch D, Mirow N, Kirschbaum A (2017) Video-assisted laser resection of lung metastases - feasibility of a new surgical technique. Thorac Cardiovasc Surg 65:382–386

21.

Marulli G, Droghetti A, DiChiara F, Calabrese F, Rebusso A, Perissinotto E et al (2013) A prospective randomized trial comparing stapler and laser techniques for interlobar fissure completion during pulmonary lobectomy. Lasers Med Sci 28:505–511
Ethics declarations
Conflict of interest
The authors declare that they have no conflict of interest.
Ethical approval
All the procedures performed in this study were in accordance with the ethical standards of the Institutional Ethical Committee (Ethical Committee of the Area Vasta Emilia Nord—No.: CE547/2018).
Informed consent was waived because of the observational retrospective nature of the study.
Additional information
Publisher's note
Springer Nature remains neutral with regard to jurisdictional claims in published maps and institutional affiliations.
About this article
Cite this article
Stefani, A., Oricchio, F., Cinquepalmi, A. et al. Is laser-assisted resection preferable to lobectomy for pulmonary metastasectomy?. Lasers Med Sci 35, 611–620 (2020). https://doi.org/10.1007/s10103-019-02856-8
Received:

Accepted:

Published:

Issue Date:
Keywords
Lung

Metastases

Laser

Lobectomy