Abstract
The purpose of this in vitro study was to evaluate the effect of a clinical preventive treatment using Er,Cr:YSGG laser irradiation on bovine enamel susceptibility after erosive challenge. Twelve sound bovine incisors were used and twenty-four enamel specimens were prepared in total. Two experimental groups (n = 12) were assigned as follows: Group 1 was the control group and in Group 2, the enamel specimens were irradiated with an Er,Cr:YSGG (2780 nm) laser system for 20 s, with average output power of 0.25 W, pulse repetition rate at 20 Hz without water or air flow and the pulse duration was fixed at 140 μsec. The tip diameter was 600 μm, the tip to tissue distance was 1 mm, the speed of handpiece movement was 2 mm/s, the power density was 88.34 W/cm2, and the fluence was 31.25 J/cm2. The specimens were submitted to erosive challenge using a common soft drink. Surface microhardness changes, surface roughness changes, and surface loss were evaluated after erosive challenge. The data were statistically analyzed using one-way ANOVA and Tukey's post-hoc test at a level of significance a = 0.05. Er,Cr:YSGG laser-treated enamel exhibited significantly less decrease in surface microhardness and significant less surface loss compared to control enamel after the erosive challenge (p < 0.05). The experimental groups did not show significant differences in surface roughness increase after the erosive challenge (p > 0.05). Er,Cr:YSGG laser treatment may be promising for the limitation of enamel erosive tooth wear induced by excessive consumption of soft drinks. Clinical studies are needed to clarify whether this protective effect is clinically significant.
Access options
Buy single article
Instant access to the full article PDF.
USD 39.95
Price excludes VAT (USA)
Tax calculation will be finalised during checkout.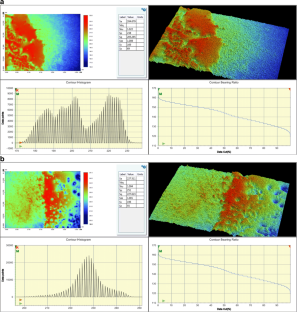 References
Carvalho TS, Colon P, Ganss C, Huysmans MC, Lussi A, Schlueter N et al (2016) Consensus report of the European Federation of Conservative Dentistry: erosive tooth wear – diagnosis and management. Swiss Dent J 126:342–346

Lussi A, Schlueter N, Rakhmatullina E, Ganss C (2011) Dental erosion – an overview with emphasis on chemical and histopathological aspects. Caries Res 45:2–12

Shellis RP, Barbour ME, Jesani A, Lussi A (2013) Effects of buffering properties and undissociated acid concentration on dissolution of dental enamel in relation to pH and acid type. Caries Res 47:601–611

Lussi A, Carvalho TS (2014) Erosive tooth wear: a multifactorial condition of growing concern and increasing knowledge. Monogr Oral Sci 25:1–15

Lussi A, Hellwig E, Cans C, Jaeggi T (2009) Dental erosion. Oper Dent 34:251–262

Derceli JR, Faraoni JJ, Pereira-da-Silva MA, Palma-Dibb RG (2016) Analysis of the early stages and evolution of dental enamel erosion. Braz Dent J 27:313–317

Featherstone JD, Lussi A (2006) Understanding the chemistry of dental erosion. Monogr Oral Sci 20:66–76

Esteves-Oliveira M, Wollgarten S, Liebegall S, Jansen P, Bilandzic M, Meyer-Lueckel H et al (2017) A new laser-processing strategy for improving enamel erosion resistance. J Dent Res 96:1168–1175

Ganss C, von Hinckeldey J, Tolle A, Schulze K, Klimek J, Schlueter N (2012) Efficacy of the stannous ion and a biopolymer in toothpastes on enamel erosion/abrasion. J Dent 40:1036–1043

Huysmans MC, Young A, Ganns C (2014) The role of fluoride in erosion therapy. Monogr Oral Sci 25:230–243

Geraldo-Martins VR, Lepri CP, Palma-Dibb RG (2013) Influence of Er,Cr:YSGG laser irradiation on enamel caries prevention. Lasers Med Sci 28:33–39

Scatolin RS, Colucci V, Lepri TP, Alexandria AK, Maia LC, Galo R et al (2015) Er:YAG laser irradiation to control the progression of enamel erosion: an in situ study. Lasers Med Sci 30:1465–1473

Pereira L, Joao-Souza SH, Bezerra S, Borges AB, Aranha A, Scaramucci T (2017, 2017) Nd:YAG laser irradiation associated with fluoridated gels containing photo absorbers in the prevention of enamel erosion. Lasers Med Sci. https://doi.org/10.1007/s10103-017-2226-6

Dionysopoulos D, Strakas D, Koliniotou-Koumpia E, Koumpia E (2017) Effect of Er,Cr:YSGG laser irradiation on bovine enamel surface during in-office tooth bleaching ex vivo. Odontology 105:320–328

Wang CP, Huang SB, Liu Y, Li JY, Yu HY (2014) The CPP-ACP relieved enamel erosion from a carbonated soft beverage: an in vitro AFM and XRD study. Arch Oral Biol 59:277–282

Tantbirojn D, Huang A, Ericson MD, Poolthong S (2008) Change in surface hardness of enamel by a cola drink and a CPP-ACP paste. J Dent 36:74–79

Yuan M, Zhang Q, Gao XJ (2016) Influence of Coca Cola on early erosion and surface microhardness of human enamel: an in situ study. Zhonghua Kou Qiang Yi Xue Za Zhi 51:357–361

Ramalho KM, Hsu CS, de Freitas PM, Aranha ACC, Esteves-Oliveira M, Rocha RG et al (2015) Erbium lasers for the prevention of enamel and dentin demineralization: a literature review. Photomed Laser Surg 33:301–319

de Oliveira RM, de Souza VM, Esteves CM, de Oliveira Lima-Arsati YB, Cassoni A, Rodrigues JA et al (2017) Er,Cr:YSGG laser energy delivery: pulse and power effects on enamel surface and erosive resistance. Photomed Surg Med 35:639–646

Harashima T, Kinoshita J, Kimura Y, Brugnera A, Zanin F, Pecora JD et al (2005) Morphological comparative study on ablation of dental hard tissue at cavity preparation by Er:YAG and Er,Cr:YSGG lasers. Photomed Laser Surg 23(2005):52–55

Ivanov B, Hakimian AM, Peavy GM, Haglund RF (2003) Mid-infrared laser ablation of hard biocomposite material: mechanistic studies of pulse duration and interface effects. Appl Surf Sci 208-209:77–84

Fowler BO, Kuroda S (1986) Changes in heated and in laser irradiated human tooth enamel and their probable effects on solubility. Calcif Tissue Int 38:197–208

Holcomb DW, Young RA (1980) Thermal decomposition of human tooth enamel. Calcif Tissue Int 31:189–201

Maung NL, Wohland T, Hsu CYS (2007) Enamel diffusion modulated by Er:YAG laser (part 1) – FRAP. J Dent 35:787–793

Hara AT, Livengood SV, Lippert F, Eckert GJ, Ungar PS (2016) Dental surface texture characterization based on erosive tooth wear processes. J Dent Res 95:537–542

Apel C, Meister J, Ioana RS, Franzen R, Hering P, Gutknecht N (2002) The ablation threshold of Er:YAG and Er,Cr:YSGG laser radiation in dental enamel. Lasers Med Sci 17:246–252

Apel C, Meister J, Gotz H, Duschner H, Gutknecht N (2005) Structural changes in human dental enamel after subablative erbium laser irradiation and its potential use for caries prevention. Caries Res 39:65–70

Ganss C, Marten J, Hara AT, Schlueter N (2016) Toothpastes and enamel erosion/abrasion impact of active ingredients and the particulate fraction. J Dent 54:62–67

Magalhaes AC, Wiegand A, Buzalaf MA (2014) Use of dentifrices to prevent erosive tooth wear: harmful or helpful? Braz Oral Res 28 Spec 1–6. https://doi.org/10.1590/S1806-83242013005000035
Acknowledgments
The authors would like to thank Dr. Stavros Oikonomidis for his technical support to SEM observations and EDS analysis of the enamel specimens for the purposes of this study, which were performed at Solid State Physics Division, Department of Physics, Aristotle University of Thessaloniki, Greece. In addition, the authors acknowledge with thanks Dr. Alexandros Nikolaidis for his help with surface roughness and loss measurements, which were implemented at the Department of Basic Dental Sciences, Division of Dental Tissues Pathology and Therapeutics, School of Dentistry, Aristotle University of Thessaloniki, Greece.
Ethics declarations
Conflict of interest
The authors declare that they have no conflict of interest.
Research involving human participants and/or animals
There are no human participants or animals in this study.
Informed consent
For this type of study, formal consent is not required.
About this article
Cite this article
Dionysopoulos, D., Tolidis, K., Strakas, D. et al. Evaluation of a clinical preventive treatment using Er,Cr:YSGG (2780 nm) laser on the susceptibility of enamel to erosive challenge. Lasers Med Sci 34, 1089–1097 (2019). https://doi.org/10.1007/s10103-018-2679-2
Received:

Accepted:

Published:

Issue Date:

DOI: https://doi.org/10.1007/s10103-018-2679-2
Keywords
Er,Cr:YSGG laser

Enamel erosion

Soft drinks

Surface loss

Surface microhardness

Surface roughness