Abstract
A healthy female genital mucosa has an ecosystem that remains in balance through interactions between endogenous and exogenous factors. The light-emitting diode (LED) is a device that emits light at different wavelengths, with varying color and effects. Blue light in humans is most commonly used for antimicrobial purposes and has been already applied to treat facial acne and gastric bacteria. Although blue LED therapy in humans has been reported, its properties against vaginal infections have not yet been investigated. This study aims to test the safety and effects of 401 ± 5 nm blue LED on healthy vaginal mucosa. Phase I clinical trial involving 10 women between 18 and 45 years old with healthy vaginal mucosa. The participants were illuminated by 401 ± 5 nm blue LED for 30 min and anamnesis, oncotic cytology, and pH measurement were made again after 21/28 days of treatment. In the re-evaluation, adverse effects were investigated. The mean age was 27 ± 5.4 years and one of the women was excluded due to interruption of use of oral contraceptives. Oncotic cytology done before and after therapy showed that the composition of the microflora remained normal in all participants. Vaginal pH remained unchanged in eight of the women and had a reduction in one woman (5.0–4.0). No adverse effects were observed during or after illumination. 401 ± 5 nm blue LED did not generate any adverse effects or pathogenic changes in the microflora and vaginal pH. The effects of 401 ± 5 nm blue LED still need to be tested in vulvovaginal pathogens. Trial registration number: NCT03075046
Access options
Buy single article
Instant access to the full article PDF.
US$ 39.95
Tax calculation will be finalised during checkout.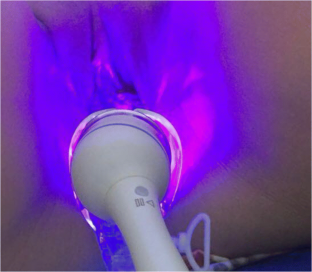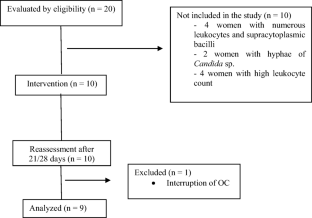 References
1.

Zhou X, Bent SJ, Schneider MG, Davis CC, Islam MR, Forney LJ (2004) Characterization of vaginal microbial communities in adult healthy women using cultivation-independent methods. Microbiology 150(Pt 8):2565–2573. https://doi.org/10.1099/mic.0.26905-0

2.

Linhares IM, Giraldo PC, Baract EC (2010) New findings about vaginal bacterial flora. Rev Assoc Med Bras (1992) 56(3):370–374

3.

Mills BB (2017) Vaginits: beyond the basics. Obstet Gynecol Clin 44:159–177. https://doi.org/10.1016/j.ogc.2017.02.010

4.

Cribby S, Taylor M, Reid G (2008) Vaginal microbiota and the use of probiotics. Interdiscip Perspect Infect Dis 2008:256490. https://doi.org/10.1155/2008/256490

5.

Miller EA, Beasley DAE, Dunn RR, Archie EA (2016) Lactobacilli dominance and vaginal ph: why is the human vaginal microbiome unique? Front Microbiol 7:1936. https://doi.org/10.3389/fmicb.2016.01936

6.

Opel DR, Hagstrom E, Pace AK, Sisto K, Hirano-Ali SA, Desai S et al (2015) Light-emitting Diodes: A Brief review and clinical experience. J Clin Aesthet Dermatol 8(6):36–44 PMC4479368

7.

Barolete D (2008) Light-emmiting diodes (LEDs) in dermatology. Semin Cutan Med Surg 27(4):227–238. https://doi.org/10.1016/j.sder.2008.08.003

8.

Murdoch LE, McKenzie K, Maclean M, MacGregor SJ, Anderson JG (2013) Lethal effects of high-intensity violet 405-nm light on Saccharomyces cerevisiae, Candida albicans, and on dormant and germinating spores of Aspergillus niger. Fungal Biol [Internet] 117(7–8):519–527. https://doi.org/10.1016/j.funbio.2013.05.004

9.

Maclean M, McKenzie K, Anderson JG, Gettinby G, MacGregor SJ (2014) 405 nm light technology for the inactivation of pathogens and its potential role for environmental disinfection and infection control. J Hosp Infect 88(1):1–11. https://doi.org/10.1016/j.jhin.2014.06.004

10.

Ganz RA, Viveiros J, Ahmad A, Ahmadi A, Khalil A, Tolkoff MJ et al (2005) Helicobacter pylori in patients can be killed by visible light. Lasers Surg Med 36(4):260–265. https://doi.org/10.1002/lsm.20161

11.

Baroni A, De Filipéia A, Oliviero G, Fusco A, Perfetto B, Buommino E et al (2017) Effect of 1064-nm Q-switched Nd:YAG laser on invasiveness and innate immune response inkeratinocytes infected with Candida albicans. Lasers Med Sci 33(5):941–948. https://doi.org/10.1007/s10103-017-2407-3

12.

Robatto M, Pavie MC, Tozetto S, Brito MB, Lordêlo P (2017) Blue light emitting diode in treatment of recurring vulvovaginal candidiasis: a case report. Brazilian Journal of Medicine and Human Health 5(4):162–168. https://doi.org/10.17267/2317-3386bjmhh.v5i4.1472

13.

Elman M, Slatkine M, Harth Y (2003) The effective treatment of acne vulgaris by a high-intensity, narrow band 405–420 nm light source. J Cosmetic & Laser Ther 5:111–116. https://doi.org/10.1080/14764170310001276

14.

Babu G, Singaravelu BG, Srikumar R, Raddy SV, Kokan A (2017) Comparative study on the vaginal flora and incidence of asymptomatic vaginosis among healthy women and in women with infertility problems of reproductive age. J Clin Diagn Res 11(8):DC18–DC22. https://doi.org/10.7860/JCDR/2017/28296.10417

15.

Morton CA, Scholefield RD, Whitehurst C, Birch J (2005) An open study to determine the efficacy of blue light in the treatment of mild to moderate acne. J Dermatolog Treat 16:219–223. https://doi.org/10.1080/09546630500283664

16.

Hill DA, Lamvu G (2012) Effect of lubricating gel on patient comfort during vaginal speculum examination: a randomized controlled trial. Obstet Gynecol 119(2 Pt 1):227–231. https://doi.org/10.1097/AOG.0b013e3182426275

17.

Higgins JA, Smith NK (2016) The sexual acceptability of contraception: reviewing the literature and building a new concept. J Sex Res 53(4–5):417–456. https://doi.org/10.1080/00224499.2015.1134425

18.

Inamura T, Tatehara S, Takebe Y, Tokuyama R, Ohshima T, Maeda N et al (2014) Antibacterial and antifungal effect of 405 nm monochromatic laser on endodontopathogenic microorganisms. Int J Photoenergy 387215:7. https://doi.org/10.1155/2014/387215

19.

Whelan HT, Smits RL Jr, Buchman EV, Whelan NT, Turner SG, Margolis DA et al (2001) Effect of NASA light-emitting diode irradiation on wound healing. J Clin Laser Med Surg 19(6):305–314. https://doi.org/10.1089/104454701753342758

20.

Karu T (1987) Photobiological fundamentals of low-power therapy. IEEE Journal of Quantum Electronics, New York 23(10):1703–1717. https://doi.org/10.1109/JQE.1987.1073236

21.

Pitsouni E, Grigoriadis T, Falagas M, Tsiveleka A, Salvatore S, Athanasiou S (2017) Microablative fractional CO2 laser for genitourinary syndrome of menopause: power of 30 or 40 W? Lasers Med Sci 32(8):1865–1872. https://doi.org/10.1007/s10103-017-2293-8

22.

Arroyo C (2017) Fractional CO2 laser treatment for vulvovaginal atrophy symptoms and vaginal rejuvenation in perimenopausal women. International Journal of Women's Health 9:591–595

23.

Opel DR, Hagstrom E, Pace AK, Sisto K, Hirano-Ali SA, Desai S et al (2015) Light-emitting diodes: a brief review and clinical experience. J Clin Aesthet Dermatol 8(6):36–44

24.

Kleinpenning MM, Smits T, Frunt MH, van Erp PE, van de Kerkhof PC, Gerritsen RM (2010) Clinical and histological effects of blue light on normal skin. Photodermatol Photoimmunol Photomed 26(1):16–21. https://doi.org/10.1111/j.1600-0781.2009.00474.x

25.

Consolaro MEL, Engler SSM (2012) Citologia clínica cérvico-vaginal, 1° edição edn. Roca, São Paulo

26.

Borges S, Silva J, Teixeira P (2013) The role of lactobacilli and probiotics in maintaining vaginal health. Arch Gynecol Obstet 289(3):479–89. https://doi.org/10.1007/s00404-013-3064-9

27.

Fashemi B, Delaney ML, Onderdonk AB, Fichorova RN (2013) Effects of feminine hygiene products on the vaginal mucosal biome. Microb Ecol Health Dis 24. https://doi.org/10.3402/mehd.v24i0.19703

28.

Bride MBM, Rhodes DJ, Shuster LT (2010) Vulvovaginal atrophy. Mayo Clin Proc 85(1):87–94. https://doi.org/10.4065/mcp.2009.0413

29.

Donders GG (2007) Definition and classification of abnormal vaginal flora. Best Practice & Research Clinical Obstetrics and Gynaecology 21(3):355–373. https://doi.org/10.1016/j.bpobgyn.2007.01.002

30.

Trelles MA, Allones I, Mayo E (2006) Combined visible light and infrared light-emitting diode (LED) therapy enhances wound healing after laser ablative resurfacing of photodamaged facial skin. Med Laser Appl 21(3):165–175

31.

Sasaki GH, Oberg K, Tucker B, Gaston M (2007) The effectiveness and safety of topical PhotoActif phosphatidylcholine- based anti-cellulite gel and LED (red and near-infrared) light on grade II-III thigh cellulite: a randomized, double-blinded study. J Cosmet Laser Ther 9(2):87–96
Ethics declarations
Conflicts of interest
The authors declare that they have no conflict of interest.
Ethical approval
All procedures performed in studies involving human participants were in accordance with the ethical standards of the institutional and/or national research committee and with the declaration of Helsinki of 1964 and its later amendments or comparable ethical standards.
Informed consent
Informed consent was obtained from all individual participants included in the study.
About this article
Cite this article
Pavie, M.C., Robatto, M., Bastos, M. et al. Blue light-emitting diode in healthy vaginal mucosa—a new therapeutic possibility. Lasers Med Sci 34, 921–927 (2019). https://doi.org/10.1007/s10103-018-2678-3
Received:

Accepted:

Published:

Issue Date:
Keywords
Vulvovaginitis

Microflora

Light-emitting diode (LED)

Blue light

Phototherapy