Abstract
To compare the efficacy and safety of UVA1 and narrowband UVB (NB-UVB) therapy in the treatment of scalp psoriasis. Patients with scalp psoriasis were randomly assigned to either UVA1 or NB-UVB therapy. Both treatments were performed three times weekly for 6 weeks. Clinical efficacy was evaluated by using Psoriasis Scalp Severity Index (PSSI), and patient-reported quality of life (QoL) was assessed by Dermatology Life Quality Index (DLQI). Totally 68 patients completed the study. Both UVA1 and NB-UVB phototherapy achieved a statistically significant reduction of PSSI and DLQI scores at the end of the treatment period. Compared with the NB-UVB group, the significantly greater improvements occurred in UVA1 treatment group at week 3, although differences declined thereafter through week 10. Both UVA1 and NB-UVB therapy were well-tolerated in this study, and the occurrence of adverse events (AEs) was uncommon. Both UVA1 and NB-UVB phototherapy could offer relief of scalp symptoms in patients with scalp involvement. Furthermore, UVA1 treatment could improve the clinical manifestations and QoL more quickly than NB-UVB therapy.
Access options
Buy single article
Instant access to the full article PDF.
USD 39.95
Price includes VAT (USA)
Tax calculation will be finalised during checkout.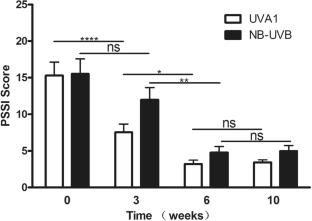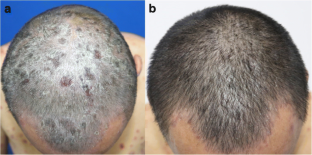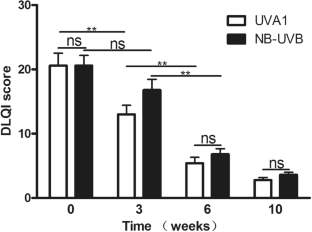 References
1.

Parisi R, Symmons DP, Griffiths CE, Ashcroft DM (2013) Global epidemiology of psoriasis: a systematic review of incidence and prevalence. J Investig Dermatol 133:377–385

2.

Wozel G, Klein E, Mrowietz U, Reich K, Sebastian M, Streit V (2011) Scalp psoriasis. Journal der Deutschen Dermatologischen Gesellschaft = Journal of the German Society of Dermatology : JDDG 9:70–74

3.

Ortonne J, Chimenti S, Luger T, Puig L, Reid F, Trueb RM (2009) Scalp psoriasis: European consensus on grading and treatment algorithm. J Eur Acad Dermatol Venereol 23:1435–1444

4.

Bagel J, Lynde C, Tyring S, Kricorian G, Shi Y, Klekotka P (2012) Moderate to severe plaque psoriasis with scalp involvement: a randomized, double-blind, placebo-controlled study of etanercept. J Am Acad Dermatol 67:86–92

5.

Tyring S, Bagel J, Lynde C et al (2013) Patient-reported outcomes in moderate-to-severe plaque psoriasis with scalp involvement: results from a randomized, double-blind, placebo-controlled study of etanercept. J Eur Acad Dermatol Venereol 27:125–128

6.

Thaci D, Daiber W, Boehncke WH, Kaufmann R (2001) Calcipotriol solution for the treatment of scalp psoriasis: evaluation of efficacy, safety and acceptance in 3,396 patients. Dermatology (Basel, Switzerland) 203:153–156

7.

Gattu S, Rashid RM, Wu JJ (2009) 308-nm excimer laser in psoriasis vulgaris, scalp psoriasis, and palmoplantar psoriasis. J Eur Acad Dermatol Venereol 23:36–41

8.

Nishida E, Furuhashi T, Kato H, Kaneko N, Shintani Y, Morita A (2011) Successful treatment of psoriasis vulgaris with targeted narrow-band ultraviolet B therapy using a new flat-type fluorescent lamp. Photodermatol Photoimmunol Photomed 27:248–250

9.

York NR, Jacobe HT (2010) UVA1 phototherapy: a review of mechanism and therapeutic application. Int J Dermatol 49:623–630

10.

Zandi S, Kalia S, Lui H (2012) UVA1 phototherapy: a concise and practical review. Skin Therapy Lett 17:1–4

11.

Roussaki-Schulze AV, Kouskoukis C, Klimi E, Zafiriou E, Galanos A, Rallis E (2005) Calcipotriol monotherapy versus calcipotriol plus UVA1 versus calcipotriol plus narrow-band UVB in the treatment of psoriasis. Drugs Exp Clin Res 31:169–174

12.

Tuchinda C, Kerr HA, Taylor CR et al (2006) UVA1 phototherapy for cutaneous diseases: an experience of 92 cases in the United States. Photodermatol Photoimmunol Photomed 22:247–253

13.

Hofbauer G (2013) Phototherapy and carcinogenesis. Der Hautarzt; Zeitschrift fur Dermatologie, Venerologie, und verwandte Gebiete 64:349–353

14.

Keyal U, Bhatta AK, Wang XL (2017) UVA1 a promising approach for scleroderma. Am J Transl Res 9:4280–4287

15.

Morita A, Werfel T, Stege H et al (1997) Evidence that singlet oxygen-induced human T helper cell apoptosis is the basic mechanism of ultraviolet—a radiation phototherapy. J Exp Med 186:1763–1768

16.

Breuckmann F, von Kobyletzki G, Avermaete A, Kreuter A, Altmeyer P (2002) Efficacy of ultraviolet A1 phototherapy on the expression of bcl-2 in atopic dermatitis and cutaneous T-cell lymphoma in vivo: a comparison study. Photodermatol Photoimmunol Photomed 18:217–222

17.

El-Mofty M, Mostafa WZ, Yousef R et al (2014) Broadband ultraviolet a in the treatment of psoriasis vulgaris: a randomized controlled trial. Int J Dermatol 53:1157–1164
Funding
This study is supported by the Shanghai Municipal Commission of Health and Family Planning Foundation (Grant No: 201740245).
Ethics declarations
Conflict of interest
The authors declare that they have no conflict of interest.
About this article
Cite this article
Zhou, J., Yi, X., Li, Y. et al. Efficacy assessment of UVA1 and narrowband UVB for treatment of scalp psoriasis. Lasers Med Sci 33, 1979–1982 (2018). https://doi.org/10.1007/s10103-018-2564-z
Received:

Accepted:

Published:

Issue Date:
Keywords
UVA1

Narrowband UVB

Psoriasis

Scalp