Abstract
The purpose of this study was to evaluate the effects of low-level laser therapy (LLLT) on morphological aspects, IL-6 and IL-1β expressions, as well as the distribution and organization of collagen in the tibialis anterior (TA) muscle of elderly rats submitted to cryoinjury. Histological photomicrographs were taken of TA muscles stained with HE and picrosirius red. Immunohistochemistry was used for the evaluation of IL-6 and IL-1β. Male Wistar rats, aged 20 months, were distributed into three groups: (1) control animals not injured or treated with LLLT (n = 5), (2) cryoinjury without LLLT treatment (n = 15), and (3) cryoinjury treated with infrared LLLT (n = 15). LLLT was applied to the TA 2 h after of the injury induction and consisted of daily applications until the sacrifice (1, 3, and 7 days). The following parameters were used: λ = 780 nm, power density 1 W/cm2, output power 40 mW, 10 s per point, 8 points, and 3.2 J of total energy. In the histomorphological analysis, the treated group exhibited a significant decrease in inflammatory infiltrate (p < 0.001) as well as an increase immature fibers and new blood vessels at 7 days compared to the untreated group (p < 0.05). Furthermore, treatment induced a better collagen distribution and organization at 7 days in comparison to the untreated group (p < 0.05). In conclusion, LLLT demonstrated a modulatory effect on the muscle repair process in elderly animals with regard to the collagen remodeling and morphological aspects of muscle tissue.
This is a preview of subscription content, log in to check access.
Access options
Buy single article
Instant access to the full article PDF.
US$ 39.95
Price includes VAT for USA
Subscribe to journal
Immediate online access to all issues from 2019. Subscription will auto renew annually.
US$ 99
This is the net price. Taxes to be calculated in checkout.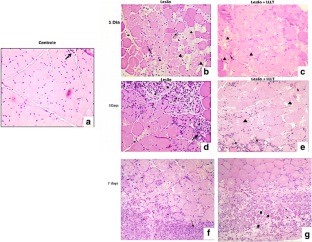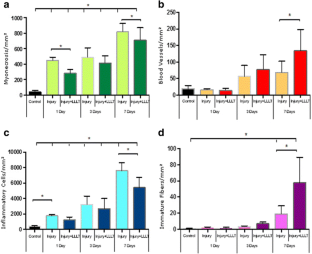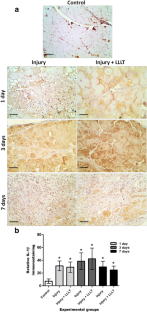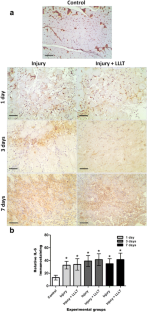 References
1.

Mitchell SJ, Scheibye-Knudsen M, Longo DL, de Cabo R (2015) Animal models of aging research: implications for human aging and age-related diseases. Annu Rev Anim Biosci 3:283–303

2.

Ceafalan LC, Popescu BO, Hinescu ME (2014) Cellular players in skeletal muscle regeneration. Biomed Res Int 957014

3.

Evans WJ, Paolisso G, Abbatecola AM, Corsonello A, Bustacchini S, Strollo F, Lattanzio F (2010) Frailty and muscle metabolism dysregulation in the elderly. Biogerontology 11(5):527–536

4.

Lexell J, Taylor CC, Sjostrom M (1988) What is the cause of the ageing atrophy? Total number, size and proportion of different fiber types studied in whole vastus lateralis muscle from 15- to 83-year old men. J Neurol Sci 84:275–294

5.

Reid KF, Fielding RA (2012) Skeletal muscle power: a critical determinant of physical functioning in older adults. Exerc Sport Sci Rev 40(1):4–12

6.

Mann CJ, Perdiguero E, Kharraz Y, Aguilar S, Pessina P, Serrano AL, Muñoz-Cánoves P (2011) Aberrant repair and fibrosis development in skeletal muscle. Skelet Muscle 1(1):21

7.

Jang YC, Sinha M, Cerletti M, Dall'Osso C, Wagers AJ (2011) Skeletal muscle stem cells: effects of aging and metabolism on muscle regenerative function. Cold Spring Harb Symp Quant Biol 76:101–111

8.

Brooks NE, Myburgh KH (2014) Skeletal muscle wasting with disuse atrophy is multi-dimensional: the response and interaction of myonuclei, satellite cells and signaling pathways. Front Physiol 5:99

9.

Peake J, Della Gatta P, Cameron-Smith D (2010) Aging and its effects on inflammation in skeletal muscle at rest and following exercise-induced muscle injury. Am J Physiol Regul Integr Comp Physiol 298(6):R1485–R1495

10.

Sobrian SK, Walters E (2014) Enhanced satellite cell activity in aging skeletal muscle after manual acupuncture-induced injury. Chin Med 5:22–33

11.

Visser M, Pahor M, Taaffe DR, Goodpaster BH, Simonsick EM, Newman AB, Nevitt M, Harris TB (2002) Relationship of interleukin-6 and tumor necrosis factor-alpha with muscle mass and muscle strength in elderly men and women: the Health ABC Study. J Gerontol A Biol Sci Med Sci 57(5):M326–M332

12.

Schaap LA, Pluijm SM, Deeg DJ, Harris TB, Kritchevsky SB, Newman AB, Colbert LH, Pahor M, Rubin SM, Tylavsky FA, Visser M, Health ABC Study (2009) Higher inflammatory marker levels in older persons: associations with 5-year change in muscle mass and muscle strength. J Gerontol A BiolSci Med Sci 64(11):1183–1189

13.

Fukuda TY, Tanji MM, Silva SR, Sato MN, Plapler H (2013) Infrared low-level diode laser on inflammatory process modulation in mice: pro- and anti-inflammatory cytokines. Lasers Med Sci 28(5):1305–1313

14.

Silveira PC, Silva LA, Fraga DB, Freitas TP, Streck EL, Pinho R (2009) Evaluation of mitochondrial respiratory chain activity in muscle healing by low-level laser therapy. J Photochem Photobiol B 95(2):89–92

15.

Dourado DM, Favero S, Baranauskas V, da Cruz-Hofling MA (2003) Effects of the Ga-As laser irradiation on myonecrosis caused by Bothrops moojeni snake venom. Lasers Surg Med 33(5):352–357

16.

Barbosa AM, Villaverde AB, Guimaraes-Souza L, Ribeiro W, Cogo JC, Zamuner SR (2008) Effect of low-level laser therapy in the inflammatory response induced by Bothrops jararacussu snake venom. Toxicon 51(7):1236–1244

17.

Barbosa AM, Villaverde AB, Sousa LG, Munin E, Fernandez CM, Cogo JC, Zamuner SR (2009) Effect of low-level laser therapy in the myonecrosis induced by Bothrops jararacussu snake venom. Photomed Laser Surg 27(4):591–597

18.

Mesquita-Ferrari RA, Martins MD, Silva JA Jr, da Silva TD, Piovesan RF, Pavesi VC, Bussadori SK, Fernandes KP (2011) Effects of low-level laser therapy on expression of TNF-α and TGF-β in skeletal muscle during the repair process. Lasers Med Sci 26(3):335–340

19.

De Souza TO, Mesquita DA, Ferrari RA, Dos Santos Pinto D Jr, Correa L, Bussadori SK, Fernandes KP, Martins MD (2011) Phototherapy with low-level laser affects the remodeling of types I and III collagen in skeletal muscle repair. Lasers Med Sci 26(6):803–814

20.

Baptista J, Martins MD, Pavesi VC, Bussadori SK, Fernandes KP, Pinto Junior D dos S, Ferrari RA (2011) Influence of laser photobiomodulation on collagen IV during skeletal muscle tissue remodeling after injury in rats. Photomed Laser Surg 29(1):11–17

21.

Fernandes KP, Alves AN, Nunes FD, Souza NH, Silva JA Jr, Bussadori SK, Ferrari RA (2013) Effect of photobiomodulation on expression of IL-1β in skeletal muscle following acute injury. Lasers Med Sci 28(3):1043–1046

22.

Alves AN, Fernandes KP, Deana AM, Bussadori SK, Mesquita-Ferrari RA (2014) Effects of low-level laser therapy on skeletal muscle repair: a systematic review. Am J Phys Med Rehabil 93(12):1073–1085

23.

Alves AN, Fernandes KP, Melo CA, Yamaguchi RY, França CM, Teixeira DF, Bussadori SK, Nunes FD, Mesquita-Ferrari RA (2013) Modulating effect of low level-laser therapy on fibrosis in the repair process of the tibialis anterior muscle in rats. Lasers Med Sci 29(2):813–821

24.

França CM, de Loura Santana C, Takahashi CB, Alves AN, De Souza Mernick AP, Fernandes KP, de Fátima Teixeira da Silva D, Bussadori SK, Mesquita-Ferrari RA (2013) Effect of laser therapy on skeletal muscle repair process in diabetic rats. Lasers Med Sci 28(5):1331–1338

25.

Vatansever F, Rodrigues NC, Assis LL, Peviani SS, Durigan JL, Moreira FM, Hamblin MR, Parizotto NA (2012) Low intensity laser therapy accelerates muscle regeneration in aged rats. Photonics Lasers Med 1(4):287–297

26.

Pertille A, Macedo AB, Oliveira CP (2012) Evaluation of muscle regeneration in aged animals after treatment with low-level laser therapy. Rev Bras Fisioter 16(6):495–501

27.

Miyabara EH, Aoki MS, Soares AG, Moriscot AS (2005) Expression of tropism-related genes in regenerating skeletal muscle of rats treated with cyclosporin-A. Cell Tissue Res 319(3):479–489

28.

Hadi AM, Mouchaers KT, Schalij I, Grunberg K, Meijer GA, Vonk-Noordegraaf A et al (2011) Rapid quantification of myocardial fibrosis: a new macro-based automated analysis. Cell Oncol (Dordr) 34:343–354

29.

Junqueira LC, Montes GS, Sanchez EM (1982) The influence of tissue section thickness on the study of collagen by the Picrosirius-polarization method. Histochemistry 74(1):153–156

30.

Rodrigues NC, Brunelli R, Abreu DC, Fernandes K, Parizotto NA, Renno AC (2014) Morphological aspects and Cox-2 expression after exposure to 780-nm laser therapy in injured skeletal muscle: an in vivo study. Braz J PhysTher 18(5):395–401

31.

Pires D, Xavier M, Araújo T, Silva JA Jr, Aimbire F, Albertini R (2011) Low-level laser therapy (LLLT; 780 nm) acts differently on mRNA expression of anti- and pro-inflammatory mediators in an experimental model of collagenase-induced tendinitis in rat. Lasers Med Sci 26:85–94

32.

Mauro A (1961) Satellite cells of skeletal fibers. J Biophys Biochem Cytol 9:493–495

33.

Blau HM, Cosgrove BD, Ho AT (2015) The central role of muscle stem cells in regenerative failure with aging. Nat Med 21(8):854–862

34.

Smythe GM, Shavlakadze T, Roberts P, Davies MJ, McGeachie JK, Grounds MD (2008) Age influences the early events of skeletal muscle regeneration: studies of whole muscle grafts transplanted between young (8 weeks) and old (13-21 months) mice. Exp Gerontol 43(6):550–562

35.

Albright JW, Albright JF (2000) Soluble receptors and other substances that regulate proinflammatory cytokines in young and aging humans. J Gerontol A BiolSci Med Sci 55:20–25

36.

Herbst A, Johnson CJ, Hynes K, McKenzie D, Aiken JM (2013) Mitochondrial biogenesis drives a vicious cycle of metabolic insufficiency and mitochondrial DNA deletion mutation accumulation in aged rat skeletal muscle fibers. PLoS One 8(3):e59006

37.

van der Poel C, Gosselin LE, Schertzer JD, Ryall JG, Swiderski K, Wondemaghen M, Lynch GS (2011) Ageing prolongs inflammatory marker expression in regenerating rat skeletal muscles after injury. J Inflamm (Lond) 8(1):41

38.

Prasad S, Sung B, Aggarwal BB (2012) Age-associated chronic diseases require age-old medicine: role of chronic inflammation. Prev Med 54(Suppl):S29–S37

39.

Tidball JG (2005) Inflammatory processes in muscle injury and repair. Am J Physiol Regul Integr Comp Physiol 288(2):R345–R353

40.

Arsic N, Zacchigna S, Zentilin L, Ramirez-Correa G, Pattarini L, Salvi A, Sinagra G, Giacca M (2004) Vascular endothelial growth factor stimulates skeletal muscle regeneration in vivo. Mol Ther 10:844–854

41.

Grounds MD, Sorokin L, White J (2005) Strength at the extracellular matrix- muscle interface. Scand J Med Sci Sports 15:381–391

42.

Kääriäinen M, Järvinen T, Järvinen M, Rantanen J, Kalimo H (2000) Relation between myofibers and connective tissue during muscle injury repair. Scand J Med Sci Sports 10(6):332–337

43.

Wynn TA (2008) Cellular and molecular mechanisms of fibrosis. J Pathol 214:199–210

44.

Carlson BM, Faulkner JA (1996) The regeneration of noninnervated muscle grafts and marcaine-treated muscles in young and old rats. J Gerontol A BiolSci Med Sci 51(1):B43–B49

45.

Pinheiro AL, Soares LG, Aciole GT, Correia NA, Barbosa AF, Ramalho LM et al (2011) Light microscopic description of the effects of laser phototherapy on bone defects grafted with mineral trioxide aggregate, bone morphogenetic proteins, and guided bone regeneration in a rodent model. J Biomed Mater Res A 98(2):212–221

46.

Melo Rambo CS, Silva JA Jr, Serra AJ, Ligeiro AP, de Paula Vieira R, Albertini R, Leal-Junior EC, de Tarso Camillo de Carvalho P (2014) Comparative analysis of low-level laser therapy (660 nm) on inflammatory biomarker expression during the skin wound-repair process in young and aged rats. Lasers Med Sci 29(5):1723–1733
Funding
This work was supported by UNINOVE and the following Brazilian fostering agencies: Conselho Nacional de Desenvolvimento Científico e Tecnológico (www.cnpq.br; process number: 305739/2014 RAMF, 311078/2015-0 KPSF, 305905/2014-7 SKB), Coordenação de Aperfeiçoamento de Pessoal do Nível Superior (www.capes.gov.br; process numbers: 1510536 BGR), and Fundação de Amparo à Pesquisa do Estado de São Paulo (www.fapesp.br; process number: 2014/12381-1 RAMF).
Ethics declarations
This study was developed at the research laboratory of the Postgraduate Program in Biophotonics Applied to Health Sciences using a methodology in accordance with international ethical standards for animal experimentation (National Research Council, 1996).
Conflict of interest
The authors declare that they have no conflict of interest.
Ethical approval and informed consent
The protocol of this study plan was approved by the Ethics Committee for Animal Research of University Nove de Julho (no. An0002/2014). This study does not include human participants.
About this article
Cite this article
de Brito, A., Alves, A.N., Ribeiro, B.G. et al. Effect of photobiomodulation on connective tissue remodeling and regeneration of skeletal muscle in elderly rats. Lasers Med Sci 33, 513–521 (2018). https://doi.org/10.1007/s10103-017-2392-6
Received:

Accepted:

Published:

Issue Date:
Keywords
Aging

Regeneration

Low-level laser therapy

LLLT

Collagen

Skeletal muscle