Abstract
Rheumatoid arthritis, an autoimmune inflammation, has a high prevalence in the population, and while therapy is available, it required often injection of drugs causing discomfort to patients. This study evaluates the clinical and histological effect of low-intensity laser therapy (LILT) as an alternative treatment, in a murine model of acute and chronic inflammation. FVB mice received either a Zymosan A injection into one knee joint inducing acute inflammation, followed after 15 min or 24 h by LILT or a collagen bovine type II injection emulsified in "Freund's Complete Adjuvant" to induce chronic arthritis, followed at 4 weeks with multiple LILT sessions. LILT mediated by either 660, 808, or 905 nm and tissue response was evaluated based on clinical symptoms and histological analysis of inflammatory infiltrate and damage to the articular surfaces. LILT can be effective in elevating clinical symptoms, so Kruskal-Wallis testing indicated no significant differences between knees affected by acute arthritis and treated once with LILT and an injured knee without treatment (p > 0.05) for 660 and 808 nm with some improvements for the 905-nm LILT. Mice receiving two treatments for acute arthritis showed exacerbation of inflammation and articular resorption following therapy with a 660-nm continuous laser (p < 0.05). For chronic inflammation, differences were not noted between LILT treated and untreated injured knee joints (p > 0.05). Among the lasers, the 905 nm tends to show better results for anti-inflammatory effect in acute arthritis, and the 660 nm showed better results in chronic arthritis. In conclusion, LILT wavelength selection depends on the arthritis condition and can demonstrate anti-inflammatory effects for chronic arthritis and reduced resorption area in this murine model.
This is a preview of subscription content, log in to check access.
Access options
Buy single article
Instant access to the full article PDF.
US$ 39.95
Price includes VAT for USA
Subscribe to journal
Immediate online access to all issues from 2019. Subscription will auto renew annually.
US$ 99
This is the net price. Taxes to be calculated in checkout.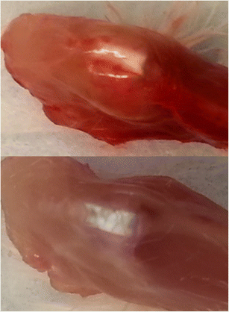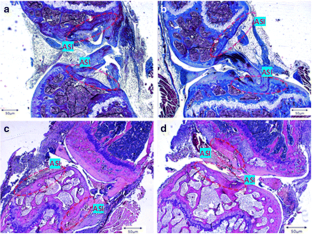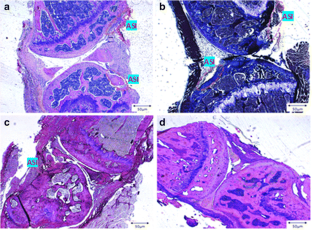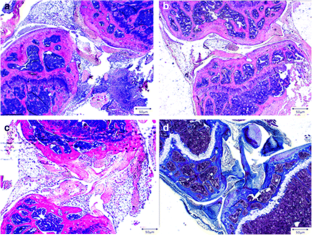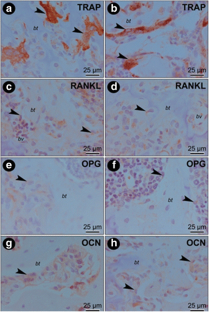 References
1.

Bértolo MB (2007) Consenso brasileiro no diagnóstico e tratamento da artrite reumatóide. Rev Bras Reumatol 47:150–150

2.

Mangini C, Mel FAFD (2003) Artrite reumatóide, terapia imunossupressora e tuberculose. Rev Bras Reumatol 43:XI–XV

3.

Moriyama Y, Nguyen J, Akens MK, Moriyama EH, Lilge L (2009) In vivo effects of low-level laser therapy on inducible nitric oxide synthase. Laser Surg Med 41(3):227–231

4.

Moriyama Y, Moriyama EH, Blackmore K, Akens MK, Lilge L (2005) In vivo study of the inflammatory modulating effects of low-level laser therapy on iNOS expression using bioluminescence imaging. Photochem Photobiol 81(6):1351–1355

5.

Henriques ÁCG, Cazal C, Castro JFL (2010) Ação da laserterapia no processo de proliferação e diferenciação celular: revisão da literatura. Rev Col Bras Cir 37:295–302

6.

Bjordal JM et al (2003) A systematic review of low level laser therapy with location-specific doses for pain from chronic joint disorders. Aust J Physiother 49(2):107–116

7.

Baddack U, Hartmann S, Bang H, Grobe J, Loddenkemper C, Lipp M, Müller G (2013) A chronic model of arthritis supported by a strain-specific periarticular lymph node in BALB/c mice. Nat Commun 4:1644

8.

Gundersen HJG, Jensen EB (1987) The efficiency of systematic-sampling in stereology and its prediction. J Microsc 147(Pt3):229–263

9.

Faria PE, Okamoto R, Bonilha-Neto RM, Xavier SP, Santos AC, Salata LA (2008) Immunohistochemical, tomographic and histological study on onlay iliac grafts remodeling. Clin Oral Implants Res 19(4):393–401

10.

Lemos GA, Rissi R, de Souza Pires IL, de Oliveira LP, de Aro AA, Pimentel ER, Palomari ET (2016) Low-level laser therapy stimulates tissue repair and reduces the extracellular matrix degradation in rats with induced arthritis in the temporomandibular joint. Laser Med Sci 31(6):1051–1059

11.

De Morais NC, Barbosa AM, Vale ML, Villaverde AB, de Lima CJ, Cogo JC, Zamuner SR (2010) Anti-inflammatory effect of low-level laser and light-emitting diode in zymosan-induced arthritis. Photomed Laser Surg 28(2):227–232

12.

Alves AC, de Carvalho PT, Parente M, Xavier M, Frigo L, Aimbire F, Leal Junior EC, Albertini R (2013) Low-level laser therapy in different stages of rheumatoid arthritis: a histological study. Lasers Med Sci 28(2):529–536

13.

Pallotta RC, Bjordal JM, Frigo L, Leal Junior EC, Teixeira S, Marcos RL, Ramos L, Messias Fde M, Lopes-Martins RA (2012) Infrared (810-nm) low-level laser therapy on rat experimental knee inflammation. Lasers Med Sci 27(1):71–78

14.

Alves AC, Albertini R, dos Santos SA, Leal-Junior EC, Santana E, Serra AJ, Silva JA Jr, de Carvalho PT (2014) Effect of low-level laser therapy on metalloproteinase MMP-2 and MMP-9 production and percentage of collagen types I and III in a papain cartilage injury model. Lasers Med Sci 29(3):911–919

15.

Veihelmann A, Hofbauer A, Crombach F, Dorger M, Maier M, Refior HJ, Messmer K (2002) Differential function of nitric oxide in murine antigen-induced arthritis. Rheumatology 41(5):509–517

16.

Alves AC, Vieira RP, Leal-Junior EC, Dos Santos SA, Ligeiro AP, Albertini R, Junior JA, de Carvalho PD (2013) Effect of low level laser therapy on the expression of inflammatory mediators and on neutrophils and macrophages in acute joint inflammation. Arthritis Res Treat 15(5):R116

17.

Imm L, Ximenes AC, Lima FAC, Pinheiro GRC et al (2004) Artrite reumatóide: diagnóstico e tratamento. Rev Bras Reumatol 44:435–442

18.

da Rosa AS, dos Santos AF, da Silva MM, Facco GG, Perreira DM, Alves AC, Leal Junior EC, de Carvalho PT (2012) Effects of low level therapy at wavelengths of 660 and 808 nm in experimental model of osteoarthritis. Photochem Photobiol 88(1):161–166

19.

Gross AR, Dziengo S, Doers O, Goldsmith CH, Graham N, Lilge L, Burnie S, White R (2013) Low level laser therapy (LLLT) for neck pain: a systematic review and meta-regression. Open Orthop J 7:396–419

20.

Nussbaum EL, Facundo HL, Pritzker KPH, Mazzulli T, Lilge L (2014) Effects of low intensity laser irradiation during healing of infected skin wounds in the rat. Photonics Lasers Med 3(1):23–36

21.

dos Santos SA, Alves AC, Leal-Junior EC, Albertini R, Vieira RP, Ligeiro AP, Junior JA, de Carvalho PT (2014) Comparative analysis of two low-level laser doses on the expression of inflammatory mediators and on neutrophils and macrophages in acute joint inflammation. Lasers Med Sci 29(3):1051–1058

22.

Huang YY, Sharma SK, Crroll J, Hamblin MR (2011) Biphasic dose response in low level light therapy—an update. Dose Response 9(4):602–618
Ethics declarations
Conflict of interest statement
The authors declare that they have no conflict of interest.
Role of funding source
The Fundação de Amparo à Pesquisa do Estado de São Paulo Brazil funding provided a travel grant for J.P.M.I and B.F.T. Funding through the Ontario Ministry of Health and Long-Term Care represents a core operations funding for the Princess Margaret Cancer Centre, not specific to any of the authors.
Ethical approval
All procedures were approved by the University Health Network's Animal Care Committee, complying with regulations of the Canadian Council on Animal Care.
Animals were monitored twice daily for the duration of the study, and a clinical monitoring sheet was used for humane endpoint determination. While humane endpoints were defined, pertaining among others to ambulation, no animal reached an endpoint during the observation period. All animals were euthanized through an intra-cardiac injection of sodium pentobarbital (>120 mg/kg) under deep anesthesia.
Informed consent
Not applicable.
About this article
Cite this article
Issa, J.P.M., Trawitzki, B.F., Ervolino, E. et al. Low-intensity laser therapy efficacy evaluation in FVB mice subjected to acute and chronic arthritis. Lasers Med Sci 32, 1269–1277 (2017). https://doi.org/10.1007/s10103-017-2235-5
Received:

Accepted:

Published:

Issue Date:
Keywords
Inflammation

Lilt

Histology

Immunohistochemistry

Repair