Abstract
The aim of the present study was to investigate the efficacy of low-level laser therapy in conjunction with conventional facial exercise treatment on functional outcomes during the early recovery period in patients with facial paralysis. Forty-six patients (mean age 41 ± 9.7 years; 40 women and 6 men) were randomized into two groups. Patients in the first group received low-level laser treatment as well as facial exercise treatment, while patients in the second group participated in facial exercise intervention alone. Laser treatment was administered at a wavelength of 830 nm, output power of 100 Mw, and frequency of 1 KHz using a gallium-aluminum-arsenide (GaAIAs, infrared laser) diode laser. A mean energy density of 10 J/cm2 was administered to eight points of the affected side of the face three times per week, for a total of 6 weeks. The rate of facial improvement was evaluated using the facial disability index (FDI) before, 3 weeks after, and 6 weeks after treatment. Friedman analysis of variance was performed to compare the data from the parameters repeatedly measured in the inner-group analysis. Bonferroni correction was performed to compare between groups as a post hoc test if the variance analysis test result was significant. To detect the group differences, the Bonferroni Student t test was used. The Mann-Whitney U test was used to compare numeric data between the groups. In the exercise group, although no significant difference in FDI scores was noted between the start of treatment and week 3 (p < 0.05), significant improvement was observed at week 6 (p < 0.001). In the laser group, significant improvement in FDI scores relative to baseline was observed at 3 and 6 weeks (p < 0.001). Improvements in FDI scores were significantly greater at weeks 3 and 6 in the laser group than those in the exercise group (p < 0.05). Our findings indicate that combined treatment with low-level laser therapy (LLLT) and exercise therapy is associated with significant improvements in FDI when compared with exercise therapy alone.
This is a preview of subscription content, log in to check access.
Access options
Buy single article
Instant access to the full article PDF.
US$ 39.95
Price includes VAT for USA
Subscribe to journal
Immediate online access to all issues from 2019. Subscription will auto renew annually.
US$ 99
This is the net price. Taxes to be calculated in checkout.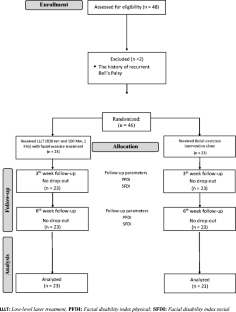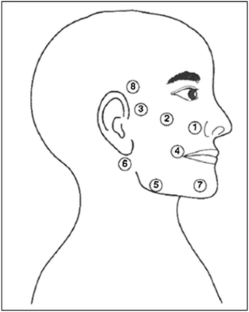 References
1.

Pereira LM, Obara K, Dias JM, Menacho MO, Lavado EL, Cardoso JR (2011) Facial exercise therapy for facial palsy: systematic review and meta-analysis. Clin Rehabil 25:649–658

2.

Ho AL, Scott AM, Klassen AF, Cano SJ, Pusic AL, Van Lacken N (2012) Measuring quality of life and patient satisfaction in facial paralysis patients: a systematic review of patient-reported outcome measures. Plast Reconstr Surg 130:91–99

3.

Kahn JB, Gliklich RE, Boyev KP, Stewart MG, Metson RB, McKenan MJ (2001) Validation of a patient-graded instrument for facial nerve paralysis: the face scale. Laryngoscope 111:387–398

4.

Teixeira LJ, Valbuza JS, Prado GF (2011) Physical therapy for Bell's palsy (idiopathic facial paralysis). Cochrane Database Syst Rev 7(12):CD006283

5.

Dalla Toffola E, Tinelli C, Lozza A, Bejor M, Pavese C, Degli Agosti I, Petrucci L (2012) Choosing the best rehabilitation treatment for Bell's palsy. Eur J Phys Rehabil Med 48:635–642

6.

Manikandan N (2007) Effect of facial neuromuscular re-education on facial symmetry in patients with Bell's palsy: a randomized controlled trial. Clin Rehab 21:338–343

7.

Lockhart P, Holland NJ, Swan I, Teixeira LJ (2010) Interventions for Bell's palsy (idiopathic facial palsy). Cochrane Database Syst Rev 2:1–9

8.

Quinn R, Cramp F (2003) The efficacy of electrotherapy for Bell's palsy: a systematic review. Phys Ther Rev 8:151–164

9.

Bernal G (1993) Helium neon and diode laser therapy is an effective adjunctive therapy for facial paralysis. Laser Ther 5:79–87

10.

Ladalardo TC, Brugnera A, Takamoto M, Castanho Garrini A, Bologna E, Pinheiro A, Campos R, Settanni F (2001) Functional and electrophysiological evaluation of the effects of laser therapy in the treatment of peripheral facial paralysis. Lasers in Dentistry VII Proc SPIE 4249:134–138

11.

Alayat MS, Elsodany AM, El Fiky AA (2014) Efficacy of high and low level laser therapy in the treatment of Bell's palsy: a randomized double blind placebo-controlled trial. Lasers Med Sci 29:335–342

12.

Beurskens CH, Heymans PG (2003) Positive effects of mime therapy on sequelae of fascial paralysis: stiffness, lip mobility, and social and physical aspects of facial disability. Otol Neurotol 24:677–681

13.

Van Swearingen JM, Brach JS (1996) The facial disability index: reliability and validity of a disability assessment instrument for disorders of the facial neuromuscular system. Phys Ther 76:1288–1298 Discussion 1298-1300

14.

Kneebone WJ (2010) Enhancement of nerve regeneration by therapeutic laser. Pract Pain Manag 10:70–72

15.

Barbosa RI, Marcolino AM, de Jesus Guirro RR, Mazzer N, Barbieri CH, de Cássia Registro Fonseca M (2010) Comparative effects of wavelengths of low-power laser in regeneration of sciatic nerve in rats following crushing lesion. Laser Med Sci 25:423–430

16.

Chow R, Armatı P, Laakso EL, Bjordal JM, Baxter GD (2011) Inhibitory effects of laser irradiation on peripheral mammalian nerves and relevance to analgesic effects: a systematic review. Photomed Laser Surg 29:365–381

17.

Tam G (1999) Low power laser therapy and analgesic action. J Clin Laser Med Surg 17:29–33

18.

AlGhamdi KM, Kumar A, Moussa NA (2012) Low-level laser therapy: a useful technique for enhancing the proliferation of various cultured cells. Lasers Med Sci 27:237–249

19.

Kujawa J, Zavodnik L, Zavodnik I, Buko V, Lapshyna A, Bryszewka M (2004) Effect of low-intensity (3.75–25 j/cm2) near-infrared (810 nm) laser radiation on red blood cell ATPase activities and membrane structure. J Clin Laser Med Surg 22:111–117

20.

Borzabadi-Farahani A (2016) Effect of low-level laser irradiation on proliferation of human dental mesenchymal stem cells; a systemic review. J Photochem Photobiol B 162:577–582

21.

Peplow PV, Chung TY, Baxter GD (2010) Application of low level laser technologies for pain relief and wound healing: overview of scientific bases. Phys Ther Rev 15:253–285

22.

Bjordal JM, Johnson MI, Iverson V, Aimbire F, Lopes-Martins RAB (2006) Photoradiation in acute pain: a systematic review of possible mechanisms of action and clinical effects in randomized placebo controlled trials. Photomed Laser Surg 24:158–168

23.

Lim W, Lee S, Kim I, Chung M, Kim M, Lim H, Park J, Kim O, Choi H (2007) The anti-inflammatory mechanism of 635 nm light-emitting-diode irradiation compared with existing COX inhibitors. Lasers Surg Med 39:614–621

24.

Shafshak TS, Essa AY, Bakey FA (1994) The possible contributing factors for success of steroid therapy in Bell's palsy: a clinical and electrophysiological study. J Laryngol Otol 108:940–943

25.

Jackson CG, Von Doersten PG (1999) The facial nerve: current trend in diagnosis, treatment, and rehabilitation. Med Clin North Am 83:179–195

26.

Prescott CA (1987) Idiopathic facial nerve palsy in children and the effect of treatment with steroid. Int J Pediatr Otorhinolaryngol 13:257–264

27.

Fontana CR, Bagnato VS (2013) Low-level laser therapy in pediatric Bell's palsy: case report in a three-year-old child. J Altern Complement Med 19:376–382

28.

Youssef M, Ashkar S, Hamade E, Gutknecht N, Lampert F, Maziar M (2008) The effect of low-level laser therapy during orthodontic movement: a preliminary study. Lasers Med Sci 23:27–33

29.

Fujiyama K, Deguchi T, Murakami T, Fujii A, Kushima K, Takano-Yamamoto T (2008) Clinical effect of CO2 laser in reducing pain in orthodontics. Angle Orthod 78:299–303

30.

Esper MA, Nicolau RA, Arisawa EA (2011) The effect of two phototherapy protocols on pain control in orthodontic procedure—a preliminary clinical study. Lasers Med Sci 26:657–663

31.

Eslamian L, Borzabadi-Farahani A, Hassanzadeh-Azhiri A, Badiee MR, Fekrazad R (2014) The effect of 810-nm low-level laser therapy on pain caused by orthodontic elastomeric separators. Lasers Med Sci 19:559–564
Ethics declarations
Conflict of interest
The authors declare that they have no conflict of interest.
Funding
The authors received no financial support for the research.
Informed consent
Written informed consent was obtained from all individual participants included in the study.
Ethical approval
All procedures performed in experiments involving human participants were in accordance with the ethical standards of the institutional and national research committee and with the 1964 Declaration of Helsinki.
About this article
Cite this article
Ordahan, B., Karahan, A.y. Role of low-level laser therapy added to facial expression exercises in patients with idiopathic facial (Bell's) palsy. Lasers Med Sci 32, 931–936 (2017). https://doi.org/10.1007/s10103-017-2195-9
Received:

Accepted:

Published:

Issue Date:
Keywords
Facial nerve palsy

Low-level laser therapy

Rehabilitation