Abstract
Chronic wounds, especially in diabetic patients, represent a challenging health issue. Since standard treatment protocols often do not provide satisfactory results, additional treatment methods—like phototherapy using low-level light therapy—are being investigated. The aim of our study was to evaluate the effect of phototherapy with light-emitting diodes on chronic wound treatment in diabetic and non-diabetic patients. Since a sufficient blood supply is mandatory for wound healing, the evaluation of microcirculation in the healthy skin at a wound's edge was the main outcome measure. Forty non-diabetic patients and 39 diabetics with lower limb chronic wounds who were referred to the University Medical Center Ljubljana between October 2012 and June 2014 were randomized to the treated and control groups. The treated group received phototherapy with LED 2.4 J/cm2 (wavelengths 625, 660, 850 nm) three times a week for 8 weeks, and the control group received phototherapy with broadband 580–900 nm and power density 0.72 J/cm2. Microcirculation was measured using laser Doppler. A significant increase in blood flow was noted in the treated group of diabetic and non-diabetic patients (p = 0.040 and p = 0.033), while there was no difference in the control groups. Additional Falanga wound bed score evaluation showed a significant improvement in both treated groups as compared to the control group. According to our results, phototherapy with LED was shown to be an effective additional treatment method for chronic wounds in diabetic and non-diabetic patients.
This is a preview of subscription content, log in to check access.
Access options
Buy single article
Instant access to the full article PDF.
US$ 39.95
Price includes VAT for USA
Subscribe to journal
Immediate online access to all issues from 2019. Subscription will auto renew annually.
US$ 99
This is the net price. Taxes to be calculated in checkout.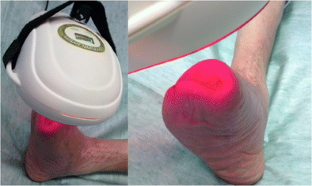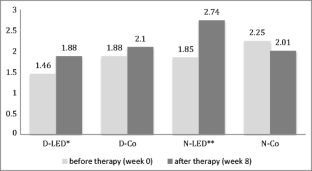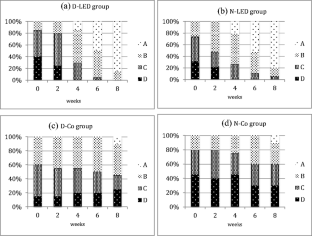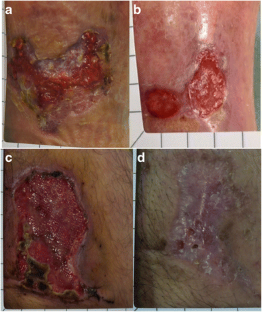 References
1.

Kilík R, Lakyová L, Sabo J, Kruzliak P, Lacjaková K, Vasilenko T, Vidová M, Longauer F, Radoňak J (2014) Effect of equal daily doses achieved by different power densities of low-level laser therapy at 635 nm on open skin wound healing in normal and diabetic rats. Biomed Res Int 2014:269253. doi:10.1155/2014/269253

2.

Chaves ME, Araújo AR, Piancastelli ACC, Pinotti M (2014) Effects of low-power light therapy on wound healing: LASER x LED. An Bras Dermatol 89:616–623

3.

Medina A, Scott PG, Ghahary A, Tredget EE (2005) Pathophysiology of chronic nonhealing wounds. J Burn Care Rehabil 26:306–319

4.

Mester E, Juhász J, Varga P, Karika G (1968) Lasers in clinical practice. Acta Chir Acad Sci Hung 9:349–357

5.

Houreld NN, Sekhejane PR, Abrahamse H (2010) Irradiation at 830 nm stimulates nitric oxide production and inhibits pro-inflammatory cytokines in diabetic wounded fibroblast cells. Lasers Surg Med 42:494–502

6.

Houreld NN, Ayuk SM, Abrahamse H (2014) Expression of genes in normal fibroblast cells (WS1) in response to irradiation at 660 nm. J Photochem Photobiol B Biol 130:146–152

7.

Farivar S, Malekshahabi T, Shiari R (2014) Biological effects of low level laser therapy. J Lasers Med Sci 5:58–62

8.

Vinck EM, Cagnie BJ, Cornelissen MJ, Declercq HA, Cambier DC (2005) Green light emitting diode irradiation enhances fibroblast growth impaired by high glucose level. Photomed Laser Surg 23:167–171

9.

Núñez SC, Nogueira GEC, Ribeiro MS, Garcez AS, Large-Marques JL (2004) He-Ne laser effects on blood microcirculation during wound healing: a method of in vivo study through laser Doppler flowmetry. Lasers Surg Med 35:363–368

10.

Hawkins D, Abrahamse H (2006) Effect of multiple exposures of low-level laser therapy on the cellular responses of wounded human skin fibroblasts. Photomed Laser Surg 24:705–714

11.

Reddy GK (2004) Photobiological basis and clinical role of low-intensity lasers in biology and medicine. J Clin Laser Med Surg 22:141–150

12.

Maiya A, Kumar P, Nayak S (2009) Photo-stimulatory effect of low energy helium-neon laser irradiation on excisional diabetic wound healing dynamics in wistar rats. Indian J Dermatol 54:323. doi:10.4103/0019-5154.57606

13.

Ribeiro MS, Da Silva DF, De Araújo CE, De Oliveira SF, Pelegrini CM, Zorn TM, Zeell DM (2004) Effects of low-intensity polarized visible laser radiation on skin burns: a light microscopy study. J Clin Laser Med Surg 22:59–66

14.

Ip D, Fu NY (2015) Two-year follow-up of low-level laser therapy for elderly with painful adhesive capsulitis of the shoulder. J Pain Res 25:247–252

15.

Lalabonova H, Daskalov H (2014) Clinical assessment of the therapeutic effect of low-level laser therapy on chronic recurrent aphthous stomatitis. Biotechnol Biotechnol Equip 28:929–933

16.

Ferraresi C, Dos Santos RV, Marques G, Zangrande M, Leonaldo R, Hamblin MR, Bagnato VS, Parizotto NA (2015) Light-emitting diode therapy (LEDT) before matches prevents increase in creatine kinase with a light dose response in volleyball players. Lasers Med Sci 30:1281–1287. doi:10.1007/s10103-015-1728-3

17.

Beckmann KH, Meyer-Hamme G, Schröder S (2014) Low level laser therapy for the treatment of diabetic foot ulcers: a critical survey. Evid Based Complement Alternat Med 2014:626127. doi:10.1155/2014/626127

18.

Sobanko JF, Alster TS (2008) Efficacy of low-level laser therapy for chronic cutaneous ulceration in humans: a review and discussion. Dermatol Surg 34:991–1000. doi:10.1111/j.1524-4725.2008.34197

19.

Gao X, Xing D (2009) Molecular mechanisms of cell proliferation induced by low power laser irradiation. J Biomed Sci 16:4. doi:10.1186/1423-0127-16-4

20.

Akyol U, Güngörmüş M (2010) The effect of low-level laser therapy on healing of skin incisions made using a diode laser in diabetic rats. Photomed Laser Surg 28:51–55. doi:10.1089/pho.2008.2425

21.

Whelan HT, Smits RL Jr, Buchman EV, Whelan NT, Turner SG, Margolis DA, Cevenini V, Stinson H, Ignatius R, Martin T, Cwiklinski J, Philippi AF, Graf WR, Hodgson B, Gould L, Kane M, Chen G, Caviness J (2001) Effect of NASA light-emitting diode irradiation on wound healing. J Clin Laser Med Surg 19:305–314

22.

Whelan HT, Houle JM, Whelan NT, Donohoe DL, Cwiklinski J, Schmidt MH, Gould LJ, Larson DL, Meyer GA, Cevenini V, Stinson H (2000) The NASA light-emitting diode medical program—progress in space flight and terrestrial applications. Space Technol Appl Int Forum 504:37–43. doi:10.1063/1.1302454

23.

Barolet D (2008) Light-emitting diodes (LEDs) in dermatology. Semin Cutan Med Surg 27:227–238. doi:10.1016/j.sder.2008.08.003

24.

Kim WS, Calderhead RG (2011) Is light-emitting diode phototherapy (LED-LLLT) really effective? Laser Ther 20:205–215

25.

Min PK, Goo BL (2013) 830 nm light-emitting diode low level light therapy (LED-LLLT) enhances wound healing: a preliminary study. Laser Ther 22:43–49

26.

Karu T (1987) Photobiological fundamentals of low-power laser therapy. IEEE J Quantum Electron 23:1703–1717

27.

Falanga V (2000) Classifications for wound bed preparation and stimulation of chronic wounds. Wound Repair Regen 8:347–352

28.

Mustoe TA, O'Shaughnessy K, Kloeters O (2006) Chronic wound pathogenesis and current treatment strategies: a unifying hypothesis. Plast Reconstr Surg 117(Suppl):35S–41S

29.

Dominguez A, Bahadorani J, Reeves R, Mahmud E, Patel M (2015) Endovascular therapy for critical limb ischemia. Expert Rev Cardiovasc Ther 13:429–444. doi:10.1586/14779072.2015.1019472

30.

Carolan-Rees G, Tweddel AC, Naka KK, Griffith TM (2002) Fractal dimensions of laser doppler flowmetry time series. Med Eng Phys 24:71–76

31.

Huang YY, Sharma SK, Carroll J, Hamblin MR (2011) Biphasic dose response in low level light therapy—an update. Dose-Response 9:602–618. doi:10.2203/dose-response.11-009.Hamblin

32.

Kaviani A, Djavid GE, Ataie-Fashtami L, Fateh M, Ghodsi M, Salami M, Zand N, Kashef N, Larijani B (2011) A randomized clinical trial on the effect of low-level laser therapy on chronic diabetic foot wound healing: a preliminary report. Photomed Laser Surg 29:109–114. doi:10.1089/pho.2009.2680

33.

Landau Z, Migdal M, Lipovsky A, Lubart R (2011) Visible light-induced healing of diabetic or venous foot ulcers: a placebo-controlled double-blind study. Photomed Laser Surg 29:399–404. doi:10.1089/pho.2010.2858

34.

Schindl M, Kerschan K, Schindl A, Schön H, Heinzl H, Schindl L (1999) Induction of complete wound healing in recalcitrant ulcers by low-intensity laser irradiation depends on ulcer cause and size. Photodermatol Photoimmunol Photomed 15:18–21

35.

Barreto JG, Salgado CG (2010) Clinic-epidemiological evaluation of ulcers in patients with leprosy sequelae and the effect of low level laser therapy on wound healing: a randomized clinical trial. BMC Infect Dis 10:237. doi:10.1186/1471-2334-10-237
Acknowledgements
The authors thank all patients for their participation, nurses of the Dept. for Surgical Infections for their additional work, and Votan for donating the LED for the purpose of this study.
Ethics declarations
Conflict of interest
The authors declare that they have no conflict of interest.
Role of funding source
There is no funding source.
Ethical approval
All procedures performed in studies involving human participants were in accordance with the ethical standards of the institutional and/or national research committee and with the 1964 Helsinki declaration and its later amendments or comparable ethical standards.
Informed consent
Informed consent was obtained from all individual participants included in the study.
About this article
Cite this article
Frangez, I., Cankar, K., Ban Frangez, H. et al. The effect of LED on blood microcirculation during chronic wound healing in diabetic and non-diabetic patients—a prospective, double-blind randomized study. Lasers Med Sci 32, 887–894 (2017). https://doi.org/10.1007/s10103-017-2189-7
Received:

Accepted:

Published:

Issue Date:
Keywords
Low-level light therapy

LED

Microcirculation

Chronic wound