Abstract
The aim of this study was to analyze the healing effects of low-level laser therapy (LLLT) on the longitudinal sternotomy incisions of patients who underwent coronary artery bypass graft (CABG). The volunteers were randomized into three groups of equal size (n = 30): control, placebo, and laser (λ = 660 nm and spatial average energy fluency [SAEF] = 1.06 J/cm2). The patients in the laser group underwent irradiation on postoperative days 2, 4, 6, and 8, and their sternotomy incisions were photographed immediately after the surgery and 8 days later for analysis. Three researchers who were blinded to the patient treatment groups analyzed the incision photographs to assess hyperemia and wound closure on the day of hospital discharge (eighth postoperative day). The sternotomy incisions in the LLLT group demonstrated less hyperemia, incisional bleeding, and dehiscence (p ≤ 0.005).
This is a preview of subscription content, log in to check access.
Access options
Buy single article
Instant access to the full article PDF.
US$ 39.95
Price includes VAT for USA
Subscribe to journal
Immediate online access to all issues from 2019. Subscription will auto renew annually.
US$ 99
This is the net price. Taxes to be calculated in checkout.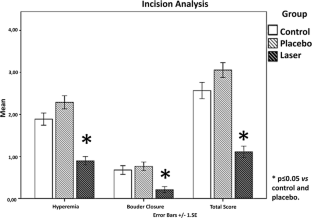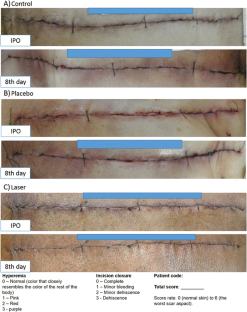 References
1.

Ferreira-González I (2014) The epidemiology of coronary heart disease. Rev Esp Cardiol (Engl Ed) 67:139–144. doi:10.1016/j.rec.2013.10.002

2.

Padua A De, Favarato D (2012) Original article mortality due to cardiovascular diseases in Brazil and in the Metropolitan Region of São Paulo : A 2011 Update. Arq Bras Cardiol 2:755–761. doi:10.1590/S0066-782X2012005000061

3.

Berry JD, Dyer A, Cai X et al (2012) Lifetime risks of cardiovascular disease. N Engl J Med 366:321–329. doi:10.1056/NEJMc1202276#SA3

4.

Ford ES (2013) Trends in predicted 10-year risk of coronary heart disease and cardiovascular disease among U.S. adults from 1999 to 2010. J Am Coll Cardiol 61:2249–2252. doi:10.1016/j.jacc.2013.03.023

5.

Zeitani J, Bertoldo F, Bassano C et al (2004) Superficial wound dehiscence after median sternotomy: surgical treatment versus secondary wound healing. Ann Thorac Surg 77:672–675. doi:10.1016/S0003-4975(03)01594-7

6.

Oliveira R de A de, Matos AF, Regina N, et al. (2013) Low-intensity laser therapy and led (light emitting diode) therapy in mechanical resistance of Rattus norvegicus chest inscision with implant of steel wire for sternal suture. Brazilian J Biomed Eng 29:166–174. doi: rbeb.2013.016

7.

Carvalho KDC, Nicolau RA, Luis A et al (2010) Estudo da resistência cicatricial cutânea de ratos tratados com fototerapia a laser. Conscientiae saúde 9:179–186

8.

Santos NRS, dos Santos JN, Sobrinho JBM et al (2010) Effects of laser photobiomodulation on cutaneous wounds treated with mitomycin C: a histomorphometric and histological study in a rodent model. Photomed Laser Surg 28:81–90. doi:10.1089/pho.2008.2380

9.

Henriques ÁCG, Cazal C, De Castro JFL (2010) Ação da laserterapia no processo de proliferação e diferenciação celular: revisão da literatura. Rev Col Bras Cir 37:295–302. doi:10.1590/S0100-69912010000400011

10.

Souza NHC, Marcondes PT, Albertini R et al (2014) Low-level laser therapy suppresses the oxidative stress-induced glucocorticoids resistance in U937 cells: relevance to cytokine secretion and histone deacetylase in alveolar macrophages. J Photochem Photobiol B 130:327–336. doi:10.1016/j.jphotobiol.2013.12.010

11.

Hillis LD, Smith PK, Anderson JL et al (2011) 2011 ACCF/AHA guideline for coronary artery bypass graft surgery: executive summary. J Am Coll Cardiol 58:2584–2614. doi:10.1016/j.jacc.2011.08.008

12.

Lahoz C, Mostaza JM, Tranche S et al (2012) Atherogenic dyslipidemia in patients with established coronary artery disease. Nutr Metab Cardiovasc Dis 22:103–108. doi:10.1016/j.numecd.2010.04.010

13.

Gurtner GC, Werner S, Barrandon Y, Longaker MT (2008) Wound repair and regeneration. Nature 453:314–321. doi:10.1038/nature07039

14.

Tuyl LJ, Mackney JH, Johnston CL (2012) Management of sternal precautions following median sternotomy by physical therapists in Australia: a web-based survey. Phys Ther 92:83–97. doi:10.2522/ptj.20100373

15.

De Moraes AAI, Abboud CS, Chammas AZL et al (2012) Long term mortality of deep sternal wound infection after coronary artery bypass surgery. Rev Bras Cir Cardiovasc 27:377–382. doi:10.5935/1678-9741.20120065

16.

De Baptista IM C, Chavantes MC, De Dallan LA O, Stolf NAG (2009) Laser de Baixa Intensidade: Nova Tecnologia para os Enfermeiros na Cicatrizaçao Pós-Esternotomia. Rev da Soc Cardiol do Estado São Paulo 19:3–8

17.

Dargaville TR, Farrugia BL, Broadbent JA et al (2013) Sensors and imaging for wound healing: a review. Biosens Bioelectron 41:30–42. doi:10.1016/j.bios.2012.09.029

18.

Terris DD, Woo C, Jarczok MN, Ho CH (2011) Comparison of in-person and digital photograph assessment of stage III and IV pressure ulcers among veterans with spinal cord injuries. J Rehabil Res Dev 48:215. doi:10.1682/JRRD.2010.03.0036

19.

Terris DD, Woo C, Jarczok MN, Ho CH (2011) Comparison of in-person and digital photograph assessment of stage III and IV pressure ulcers among veterans with spinal cord injuries. J Rehabil Res Dev 48:215. doi:10.1682/JRRD.2010.03.0036

20.

Spear M (2011) Wound photography: considerations and recommendations. Plast Surg Nurs 31:82–83. doi:10.1097/PSN.0b013e31821baa7e

21.

Akyol U, Güngörmüş M (2010) The effect of low-level laser therapy on healing of skin incisions made using a diode laser in diabetic rats. Photomed Laser Surg 28:51–55. doi:10.1089/pho.2008.2425

22.

Pinto NC, Pereira MHC, Tomimura S et al (2014) Low-level laser therapy prevents prodromal signal complications on saphenectomy post myocardial revascularization. Photomed Laser Surg 32:330–335. doi:10.1089/pho.2013.3503

23.

De Oliveira RA, Fernandes GA, Lima ACG et al (2014) The effects of LED emissions on sternotomy incision repair after myocardial revascularization: a randomized double-blind study with follow-up. Lasers Med Sci 29:1195–1202. doi:10.1007/s10103-013-1503-2

24.

Fukuda Y, Ito Y, Azumi H, et al. (2002) Cell death and proliferation in Nd-YAG laser, electrocautery, and scalpel wounds on mice skin. 28:106–118.

25.

Houreld N, Abrahamse H (2010) Low-intensity laser irradiation stimulates wound healing in diabetic wounded fibroblast cells (WS1). Diabetes Technol Ther 12:971–978. doi:10.1089/dia.2010.0039
Ethics declarations
All of the subjects signed a written declaration of informed consent. The protocol for this study was approved by the local research ethics committee CAAE 0127.0.043.000-11, and it was registered at the Brazilian Clinical Trial Registry and the International Clinical Trials Registry Platform of the World Health Organization under RBR-38wgx6 and Universal Trial Number U1111-1128-9666.
About this article
Cite this article
Fernandes, G.A., Lima, A.C.G., Gonzaga, I.C.A. et al. Low-intensity laser (660 nm) on sternotomy healing in patients who underwent coronary artery bypass graft: a randomized, double-blind study. Lasers Med Sci 31, 1907–1913 (2016). https://doi.org/10.1007/s10103-016-2069-6
Received:

Accepted:

Published:

Issue Date:
Keywords
Coronary artery bypass graft

Low-intensity laser therapy

Sternotomy

Incision healing