Abstract
Recently, a number of modalities have been used for noninvasive fat reduction. Radiofrequency (RF) technology is a promising tool for noninvasive body and face contouring. The aim of this study is to evaluate the efficacy and safety of novel noninvasive RF technology for the reduction of submental fat with 6 months of follow-up. Twenty-one subjects with submental fat accumulation were treated twice at 1-month intervals with monopolar RF, which could also be used to monitor real-time temperature. The submental fat thickness and the circumference were evaluated with ultrasonography and a tape measure, respectively, at baseline followed by 1 and 6 months after the last treatment (0, 2, and 7 months). Pain and adverse effects were documented through a questionnaire. The submental circumference and thickness showed a statistically significant reduction after treatments. There was no subject who was not satisfied with the treatment and a physician's assessment showed that 82.3 and 52.9 % of patients showed above mild improvement at 2 and 7 months. The mean pain score corresponded with discomfort or moderate pain. There were no significant adverse effects such as scars or hyper/hypopigmentation. A novel noninvasive RF technology is shown to be effective and safe for submental fat reduction. The effectiveness of fat reduction was maintained for 6 months after the last treatment.
Access options
Buy single article
Instant access to the full article PDF.
USD 39.95
Price includes VAT (USA)
Tax calculation will be finalised during checkout.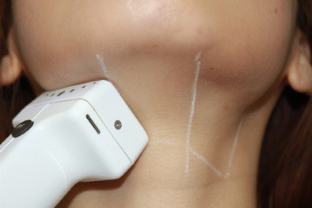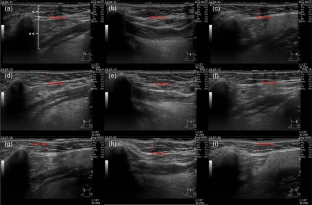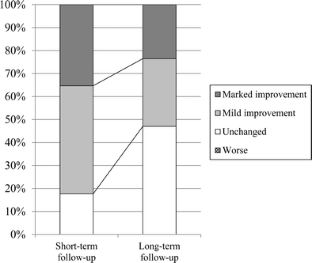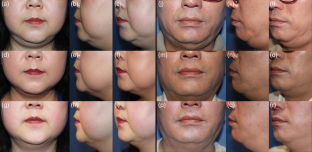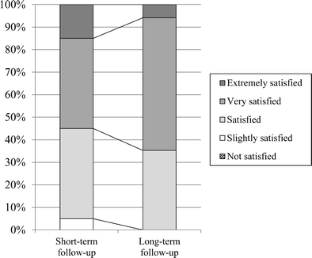 References
1.

Mulholland RS, Paul MD, Chalfoun C (2011) Noninvasive body contouring with radiofrequency, ultrasound, cryolipolysis, and low-level laser therapy. Clin Plast Surg 38(3):503–520

2.

Franco W, Kothare A, Goldberg DJ (2009) Controlled volumetric heating of subcutaneous adipose tissue using a novel radiofrequency technology. Lasers Surg Med 41(10):745–750. doi:10.1002/lsm.20876

3.

Franco W, Kothare A, Ronan SJ, Grekin RC, McCalmont TH (2010) Hyperthermic injury to adipocyte cells by selective heating of subcutaneous fat with a novel radiofrequency device: feasibility studies. Lasers Surg Med 42(5):361–370. doi:10.1002/lsm.20925

4.

Yarnitsky D, Sprecher E, Zaslansky R, Hemli JA (1995) Heat pain thresholds: normative data and repeatability. Pain 60(3):329–332

5.

Jorum E, Warncke T, Stubhaug A (2003) Cold allodynia and hyperalgesia in neuropathic pain: the effect of N-methyl-D-aspartate (NMDA) receptor antagonist ketamine—a double-blind, cross-over comparison with alfentanil and placebo. Pain 101(3):229–235

6.

Arendt-Nielsen L, Chen AC (2003) Lasers and other thermal stimulators for activation of skin nociceptors in humans. Neurophysiol Clin 33(6):259–268

7.

Paul M, Mulholland RS (2009) A new approach for adipose tissue treatment and body contouring using radiofrequency-assisted liposuction. Aesthet Plast Surg 33(5):687–694. doi:10.1007/s00266-009-9342-z

8.

Blugerman G, Schavelzon D, Paul MD (2010) A safety and feasibility study of a novel radiofrequency-assisted liposuction technique. Plast Reconstr Surg 125(3):998–1006. doi:10.1097/PRS.0b013e3181ce1820

9.

Avram MM, Harry RS (2009) Cryolipolysis for subcutaneous fat layer reduction. Lasers Surg Med 41(10):703–708. doi:10.1002/lsm.20864

10.

Garibyan L, Sipprell WH 3rd, Jalian HR, Sakamoto FH, Avram M, Anderson RR (2014) Three-dimensional volumetric quantification of fat loss following cryolipolysis. Lasers Surg Med 46(2):75–80. doi:10.1002/lsm.22207

11.

Nelson AA, Wasserman D, Avram MM (2009) Cryolipolysis for reduction of excess adipose tissue. Semin Cutan Med Surg 28(4):244–249. doi:10.1016/j.sder.2009.11.004

12.

Neira R, Arroyave J, Ramirez H, Ortiz CL, Solarte E, Sequeda F, Gutierrez MI (2002) Fat liquefaction: effect of low-level laser energy on adipose tissue. Plast Reconstr Surg 110(3):912–922

13.

Jewell ML, Solish NJ, Desilets CS (2011) Noninvasive body sculpting technologies with an emphasis on high-intensity focused ultrasound. Aesthet Plast Surg 35(5):901–912. doi:10.1007/s00266-011-9700-5

14.

Fatemi A (2009) High-intensity focused ultrasound effectively reduces adipose tissue. Semin Cutan Med Surg 28(4):257–262. doi:10.1016/j.sder.2009.11.005

15.

Fatemi A, Kane MA (2010) High-intensity focused ultrasound effectively reduces waist circumference by ablating adipose tissue from the abdomen and flanks: a retrospective case series. Aesthet Plast Surg 34(5):577–582. doi:10.1007/s00266-010-9503-0

16.

Goldberg DJ, Fazeli A, Berlin AL (2008) Clinical, laboratory, and MRI analysis of cellulite treatment with a unipolar radiofrequency device. Dermatol Surg 34(2):204–209. doi:10.1111/j.1524-4725.2007.34038.x, discussion 209

17.

Manuskiatti W, Wachirakaphan C, Lektrakul N, Varothai S (2009) Circumference reduction and cellulite treatment with a TriPollar radiofrequency device: a pilot study. J Eur Acad Dermatol Venereol 23(7):820–827. doi:10.1111/j.1468-3083.2009.03254.x

18.

Key DJ (2015) A preliminary study of a transdermal radiofrequency device for body slimming. J Drugs Dermatol 14(11):1272–1278
Ethics declarations
The study was conducted in accordance with the Declaration of Helsinki for the ethical conduct of research involving human subjects, and the protocol was approved by the Institutional Review Board at the Kangbuk Samsung Hospital (KBC13251D). This clinical trial was registered at ClinicalTrials.gov (NCT02512822).
Funding source
None.
Conflict of interest
The authors declare that they have no conflict of interest.
About this article
Cite this article
Park, JH., Kim, JI., Park, H.J. et al. Evaluation of safety and efficacy of noninvasive radiofrequency technology for submental rejuvenation. Lasers Med Sci 31, 1599–1605 (2016). https://doi.org/10.1007/s10103-016-2023-7
Received:

Accepted:

Published:

Issue Date:
Keywords
Adipocytes

Chin

Lipolysis

Lipectomy

Noninvasive

Radiofrequency

Subcutaneous fat