Abstract
Given that the pigment particles in tattoos have a relaxation time of <10 ns, picosecond lasers would be expected to be more effective than nanosecond lasers in tattoo removal. To systematically review the evidence regarding the effectiveness and safety of picosecond lasers for tattoo removal, Pubmed, Cochrane Central Register of Controlled Trials (CENTRAL), ClinicalTrials.gov, and reference lists were searched for relevant trials. The primary outcome was >70 % clearance of tattoo pigment. Secondary outcomes were 90–100 % clearance of tattoo pigment, number of laser sessions required, and adverse effects. Eight trials were included, six with human participants (160 participants) and 2 with animal models. Seven of the eight trials explored the usage of either 755, 758, 795, 1064, or 1064/532-nm picosecond lasers for black and blue ink tattoos. In the human trials, 69–100 % of tattoos showed over 70 % clearance of pigment after 1–10 laser treatments. Reported side effects included pain, hyperpigmentation and hypopigmentation, blister formation and transient erythema, edema, and pinpoint bleeding. Included articles varied in type of laser investigated, mostly non-comparative studies and with a medium to high risk of bias. There is sparse evidence that picosecond lasers are more effective than their nanosecond counterparts for mainly black and blue ink tattoo removal, with minor side effects.
Access options
Buy single article
Instant access to the full article PDF.
US$ 39.95
Tax calculation will be finalised during checkout.
Subscribe to journal
Immediate online access to all issues from 2019. Subscription will auto renew annually.
US$ 79
Tax calculation will be finalised during checkout.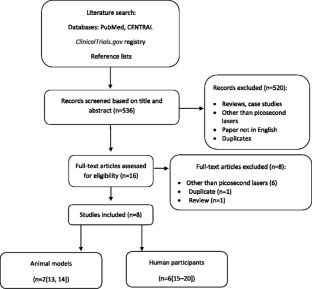 References
1.

Grumet GW (1983) Psychodynamic implications of tattoos. Am J Orthopsychiatry 53:482–492

2.

Laumann AE, Derick AJ (2006) Tattoos and body piercings in the United States: a national data set. J Am Acad Dermatol 55:413–421. doi:10.1016/j.jaad.2006.03.026

3.

Armstrong ML, Roberts AE, Owen DC, Koch JR (2004) Contemporary college students and body piercing. J Adolesc Health 35:58–61. doi:10.1016/j.jadohealth.2003.08.012

4.

Varma S, Lanigan SW (1999) Reasons for requesting laser removal of unwanted tattoos. Br J Dermatol 140:483–485. doi:10.1046/j.1365-2133.1999.02714.x

5.

Scutt RW (1972) The chemical removal of tattoos. Br J Plast Surg 25:189–194. doi:10.1016/S0007-1226(72)80043-2

6.

Goldman L, Wilson RG, Hornby P, Meyer RG (1965) Radiation from a Q-switched ruby laser. Effect of repeated impacts of power output of 10 megawatts on a tattoo of man. J Invest Dermatol 44:69–71

7.

Goldman L, Rockwell RJ, Meyer R, Otten R, Wilson RG, Kitzmiller KW (1967) Laser treatment of tattoos. A preliminary survey of three years' clinical experience. JAMA 201:841–844. doi:10.1001/jama.1967.03130110067016

8.

Anderson RR, Parrish JA (1983) Selective photothermolysis: precise microsurgery by selective absorption of pulsed radiation. Science 220:524–527. doi:10.1126/science.6836297

9.

Ho DD-M, London R, Zimmerman GB, Young DA (2002) Laser-tattoo removal—a study of the mechanism and the optimal treatment strategy via computer simulations. Lasers Surg Med 30:389–397. doi:10.1002/lsm.10065

10.

Høgsberg T, Loeschner K, Löf D, Serup J (2011) Tattoo inks in general usage contain nanoparticles. Br J Dermatol 165:1210–1218. doi:10.1111/j.1365-2133.2011.10561.x

11.

PRISMA 2009 Flow Diagram. From Moher D, Liberati A, Tetzlaff J, Altman DG. The PRSIMA Group (2009) Preferred Reporting Items for Systematic Reviews and Meta-analyses: The PRISMA STATEMENT, PLoS Med 6(6): e10000097. (2009)

12.

Downs SH, Black N (1998) The feasibility of creating a checklist for the assessment of the methodological quality both of randomised and non-randomised studies of health care interventions. J Epidemiol Community Health 52:377–384. doi:10.1136/jech.52.6.377

13.

Herd RM, Alora MB, Smoller B, Arndt KA, Dover JS (1999) A clinical and histologic prospective controlled comparative study of the picosecond titanium:sapphire (795 nm) laser versus the Q-switched alexandrite (752 nm) laser for removing tattoo pigment. J Am Acad Dermatol 40:603–606. doi:10.1016/S0190-9622(99)70444-5

14.

Izikson L, Farinelli W, Sakamoto F, Tannous Z, Anderson RR (2010) Safety and effectiveness of black tattoo clearance in a pig model after a single treatment with a novel 758nm 500 picosecond laser: a pilot study. Lasers Surg Med 42:640–646. doi:10.1002/lsm.20942

15.

Ross V, Naseef G, Lin G, Kelly M, Michaud N, Flotte TJ, Raythen J, Anderson RR (1998) Comparison of responses of tattoos to picosecond and nanosecond Q-switched neodymium: YAG lasers. Arch Dermatol 134:167–171. doi:10.1001/archderm.134.2.167

16.

Saedi N (2012) Treatment of tattoos with a picosecond alexandrite laser: a prospective trial. Arch Dermatol 148:1360–1363. doi:10.1001/archdermatol.2012.2894

17.

Bernstein EF, Schomacker KT, Basilavecchio LD, Plugis JM, Bhawalkar JD (2015) A novel dual-wavelength, Nd:YAG, picosecond-domain laser safely and effectively removes multicolor tattoos. Lasers Surg Med. doi:10.1002/lsm.22391

18.

Brauer JA, Reddy KK, Anolik R, Weiss ET, Karen JK, Hale EK, Brightman LA, Bernstein L, Geronemus RG (2012) Successful and rapid treatment of blue and green tattoo pigment with a novel picosecond laser. Arch Dermatol 148:820–823. doi:10.1001/archdermatol.2012.901

19.

Alabdulrazzaq H, Brauer JA, Bae Y-S, Geronemus RG (2015) Clearance of yellow tattoo ink with a novel 532-nm picosecond laser. Lasers Surg Med 47:285–288. doi:10.1002/lsm.22354

20.

Au S, Liolios AM, Goldman MP (2015) Analysis of incidence of bulla formation after tattoo treatment using the combination of the picosecond alexandrite laser and fractionated CO2 ablation. Dermatol Surg 41:242–245. doi:10.1097/DSS.0000000000000244

21.

Fox MA, McNichols RJ, Gowda A, Motamedi M (2004) The use of the hairless guinea pig in tattoo research. Contemp Top Lab Anim Sci 43:35–38

22.

Kilmer SL, Lee MS, Grevelink JM, Flotte TJ, Anderson RR (1993) The Q-switched Nd:YAG laser effectively treats tattoos. A controlled, dose–response study. Arch Dermatol 129:971–978. doi:10.1001/archderm.1993.01680290043007

23.

Ferguson JE, August PJ (1996) Evaluation of the Nd/YAG laser for treatment of amateur and professional tattoos. Br J Dermatol 135:586–591

24.

Mankowska A, Kasprzak W, Adamski Z (2015) Long-term evaluation of ink clearance in tattoos with different color intensity using the 1064-nm Q-switched Nd :YAG laser. J Cosmet Dermatol. doi:10.1111/jocd.12162

25.

Leuenberger ML, Mulas MW, Hata TR, Goldman MP, Fitzpatrick RE, Grevelink JM (1999) Comparison of the Q-switched alexandrite, ND:YAG, and ruby lasers in treating blue-black tattoos. Dermatol Surg 25:10–14. doi:10.1046/j.1524-4725.1999.08122.x

26.

Sardana K, Ranjan R, Ghunawat S (2015) Optimising laser tattoo removal. J Cutan Aesthet Surg 8:16–24. doi:10.4103/0974-2077.155068

27.

Kent KM, Graber EM (2012) Laser tattoo removal: a review. Dermatol Surg 38:1–13. doi:10.1111/j.1524-4725.2011.02187.x

28.

Mao JC, DeJoseph LM (2012) Latest innovations for tattoo and permanent makeup removal. Facial Plast Surg Clin North Am 20:125–134. doi:10.1016/j.fsc.2012.02.009
Acknowledgments
The review protocol was registered on the PROSPERO international prospective register of systematic reviews (CRD42015023458).
The authors certify that they have no affiliations with or involvement in any organization or entity with any financial interest or non-financial interest in the subject matter or materials discussed in this manuscript.
Institutional review board approval was not required.
Appendix PubMed search strategy
Appendix PubMed search strategy
Search phrase:
(("Lasers"[Mesh] OR lasers OR laser OR picosecond)) AND (tattoo OR tattoos)
Retrieved in July 2015.
About this article
Cite this article
Reiter, O., Atzmony, L., Akerman, L. et al. Picosecond lasers for tattoo removal: a systematic review. Lasers Med Sci 31, 1397–1405 (2016). https://doi.org/10.1007/s10103-016-2001-0
Received:

Accepted:

Published:

Issue Date:
Keywords
Laser

Laser treatment

Tattoo

Tattoo removal

Nd-YAG

755 nm

758 nm

795 nm

1064 nm

532 nm