Abstract
High-intensity focused ultrasound (HIFU) can be applied noninvasively to create focused zones of tissue coagulation on various skin layers. We performed a comparative study of HIFU, evaluating patterns of focused tissue coagulation and ablation upon application thereof. A tissue-mimicking (TM) phantom was prepared with bovine serum albumin and polyacrylamide hydrogel to evaluate the geometric patterns of HIFU-induced thermal injury zones (TIZs) for five different HIFU devices. Additionally, for each device, we investigated histologic patterns of HIFU-induced coagulation and ablation in serial sections of cadaveric skin of the face and neck. All HIFU devices generated remarkable TIZs in the TM phantom, with different geometric values of coagulation for each device. Most of the TIZs seemed to be separated into two or more tiny parts. In cadaveric skin, characteristic patterns of HIFU-induced ablation and coagulation were noted along the mid to lower dermis at the focal penetration depth of 3 mm and along subcutaneous fat to the superficial musculoaponeurotic system or the platysma muscle of the neck at 4.5 mm. Additionally, remarkable pre-focal areas of tissue coagulation were observed in the upper and mid dermis at the focal penetration depth of 3 mm and mid to lower dermis at 4.5 mm. For five HIFU devices, we outlined various patterns of HIFU-induced TIZ formation along pre-focal, focal, and post-focal areas of TM phantom and cadaveric skin of the face and neck.
Access options
Buy single article
Instant access to the full article PDF.
US$ 39.95
Tax calculation will be finalised during checkout.
Subscribe to journal
Immediate online access to all issues from 2019. Subscription will auto renew annually.
US$ 79
Tax calculation will be finalised during checkout.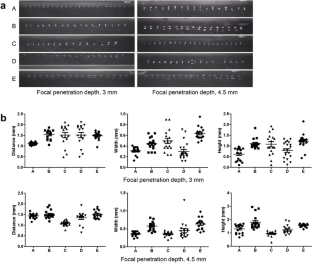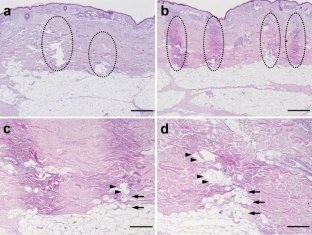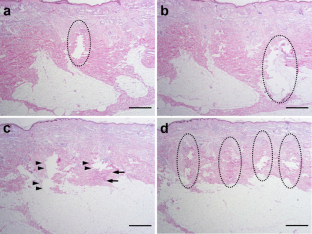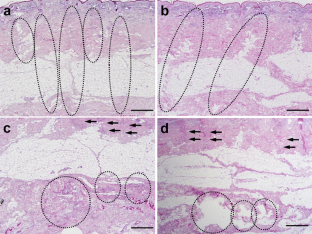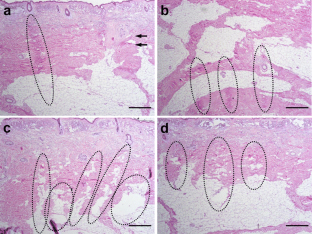 References
1.

Chu KF, Dupuy DE (2014) Thermal ablation of tumours: biological mechanisms and advances in therapy. Nat Rev Cancer 14:199–208

2.

White WM, Makin IR, Slayton MH, Barthe PG, Gliklich R (2008) Selective transcutaneous delivery of energy to porcine soft tissues using Intense Ultrasound (IUS). Lasers Surg Med 40:67–75

3.

Van Leenders GJ, Beerlage HP, Ruijter ET, de la Rosette JJ, van de Kaa CA (2000) Histopathological changes associated with high intensity focused ultrasound (HIFU) treatment for localised adenocarcinoma of the prostate. J Clin Pathol 53:391–394

4.

Laubach HJ, Makin IR, Barthe PG, Slayton MH, Manstein D (2008) Intense focused ultrasound: evaluation of a new treatment modality for precise microcoagulation within the skin. Dermatol Surg 34:727–734

5.

Suh DH, Choi JH, Lee SJ, Jeong KH, Song KY, Shin MK (2015) Comparative histometric analysis of the effects of high-intensity focused ultrasound and radiofrequency on skin. J Cosmet Laser Ther 24:1–7

6.

Choi MJ, Guntur SR, Lee KI, Paeng DG, Coleman A (2013) A tissue mimicking polyacrylamide hydrogel phantom for visualizing thermal lesions generated by high intensity focused ultrasound. Ultrasound Med Biol 39:439–448

7.

Maxwell AD, Wang TY, Yuan L, Duryea AP, Xu Z, Cain CA (2010) A tissue phantom for visualization and measurement of ultrasound-induced cavitation damage. Ultrasound Med Biol 36:2132–2143

8.

Sapareto DG, Dewey WC (1984) Thermal dose determination in cancer therapy. Br J Radiat Oncol Biol Phys Med 10:787–800

9.

Dewhirst MW, Viglianti BL, Lora-Michiels M, Hanson M, Hoopes PJ (2003) Basic principles of thermal dosimetry and thermal thresholds for tissue damage from hyperthermia. Int J Hyperth 19:267–294

10.

Haar GT, Coussios C (2007) High intensity focused ultrasound: physical principles and devices. Int J Hyperth 23:89–104

11.

Warwick R, Pond JB (1968) Trackless lesions in nervous tissues produced by high intensity focused ultrasound (high frequcncy mechanical waves). J Acoust Soc Am 102:387–405

12.

Pond JB (1970) The role of heat in the production of ultrasonic focal lesions. J Acoust Soc Am 47:1607–1611

13.

ter Haar GR, Robertson D (1993) Tissue destruction with focused ultrasound in vivo. Eur Urol 23:8–11

14.

Bani D, Quattrini Li A, Freschi G, Russo GL (2013) Histological and ultrastructural effects of ultrasound-induced cavitation on human skin adipose tissue. Plast Reconstr Surg Glob Open 1:e41
Acknowledgments
We would like to thank Hye Sun Lee, PhD (Biostatisticians, Biostatistics Collaboration Unit, Yonsei University College of Medicine, Seoul, Korea) for her help with the statistical analyses. Also, we would like to thank Anthony Thomas Milliken, ELS (Editing Synthase, Seoul, Korea), for his help with the editing of this manuscript.
Conflict of interest
The authors declare no conflicts of interest.
Additional information
Hee-Jin Kim and Han Gu Kim contributed equally to this work.
About this article
Cite this article
Kim, HJ., Kim, H.G., Zheng, Z. et al. Coagulation and ablation patterns of high-intensity focused ultrasound on a tissue-mimicking phantom and cadaveric skin. Lasers Med Sci 30, 2251–2258 (2015). https://doi.org/10.1007/s10103-015-1804-8
Received:

Accepted:

Published:

Issue Date:
Keywords
High-intensity focused ultrasound

Coagulation

Ablation

Tissue phantom

Cadaver

Comparison study