Abstract
Photodynamic therapy (PDT) using photosensitizer induces several types of cell death, such as apoptosis, necrosis, and autophagy, depending on the PDT procedure, photosensitizer type, and cell type. We previously demonstrated that PDT using the photosensitizer talaporfin sodium (mono-l-aspartyl chlorine e6, NPe6; NPe6-PDT) induces both mitochondrial apoptotic and necrotic cell death in human glioblastoma T98G cells. However, details regarding the mechanism of necrosis caused by NPe6-PDT are unclear. Here, we investigated whether or not necroptosis, a recently suggested form of programmed necrosis, is involved in the necrotic cell death of NPe6-PDT-treated T98G cells. Leakage of lactate dehydrogenase (LDH) from the cell layer into conditioned medium was significantly increased by NPe6 (25 and 50 μg/ml)-PDT, indicating that NPe6-PDT induces necrosis in these cells. NPe6 (25 μg/ml)-PDT treatment also induced conversion of microtubule-associated protein 1 light-chain 3 (LC3)-I into phosphatidylethanolamine-conjugated LC3-II accompanying autophagosome formation, indicators of autophagy; however, of note, NPe6 (50 μg/ml)-PDT did not induce such autophagic changes. In addition, both necrostatin-1 (a necroptosis inhibitor) and knockdown of necroptotic pathway-related proteins [e.g., receptor interacting serine-threonine kinase (RIP)-1, RIP-3, and mixed lineage kinase domain-like protein (MLKL)] inhibited leakage of LDH caused by NPe6 (25 μg/ml)-PDT. Taken together, the present findings revealed that NPe6-PDT-induced necrotic cell death is mediated in part by the necroptosis pathway in glioblastoma T98G cells.
Access options
Buy single article
Instant access to the full article PDF.
USD 39.95
Price includes VAT (USA)
Tax calculation will be finalised during checkout.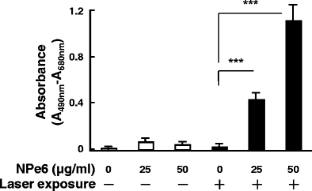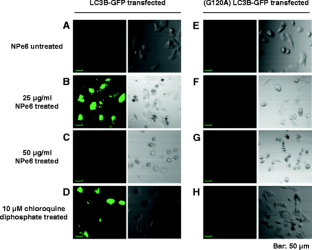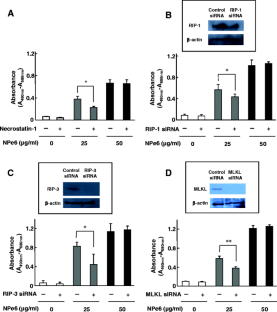 References
1.

Agostinis P, Berg K, Cengel KA, Foster TH, Girotti AW, Gollnick SO, Hahn SM, Hamblin MR, Juzeniene A, Kessel D, Korbelik M, Moan J, Mroz P, Nowis D, Piette J, Wilson BC, Golab J (2011) Photodynamic therapy of cancer: an update. CA Cancer J Clin 61(4):250–281

2.

Buytaert E, Dewaele M, Agostinis P (2007) Molecular effectors of multiple cell death pathways initiated by photodynamic therapy. Biochim Biophys Acta 1776(1):86–107

3.

Dolmans DE, Fukumura D, Jain RK (2003) Photodynamic therapy for cancer. Nat Rev Cancer 3(5):380–387

4.

Lockshin RA, Zakeri Z (2004) Caspase-independent cell death? Oncogene 23(16):2766–2773

5.

Mizushima N (2004) Methods for monitoring autophagy. Int J Biochem Cell Biol 36(12):2491–2502

6.

Degterev A, Yuan J (2008) Expansion and evolution of cell death programmes. Nat Rev Mol Cell Biol 9(5):378–390

7.

Leist M, Nicotera P (1997) The shape of cell death. Biochem Biophys Res Commun 236(1):1–9

8.

Degterev A, Huang Z, Boyce M, Li Y, Jagtap P, Mizushima N, Cuny GD, Mitchison TJ, Moskowitz MA, Yuan J (2005) Chemical inhibitor of nonapoptotic cell death with therapeutic potential for ischemic brain injury. Nat Chem Biol 1(2):112–119

9.

Vandenabeele P, Galluzzi L, Vanden Berghe T, Kroemer G (2010) Molecular mechanisms of necroptosis: an ordered cellular explosion. Nat Rev Mol Cell Biol 11(10):700–714

10.

Kaczmarek A, Vandenabeele P, Krysko DV (2013) Necroptosis: the release of damage-associated molecular patterns and its physiological relevance. Immunity 38(2):209–223

11.

Zhao J, Jitkaew S, Cai Z, Choksi S, Li Q, Luo J, Liu ZG (2012) Mixed lineage kinase domain-like is a key receptor interacting protein 3 downstream component of TNF-induced necrosis. Proc Natl Acad Sci U S A 109(14):5322–5327

12.

Cai Z, Jitkaew S, Zhao J, Chiang HC, Choksi S, Liu J, Ward Y, Wu LG, Liu ZG (2014) Plasma membrane translocation of trimerized MLKL protein is required for TNF-induced necroptosis. Nat Cell Biol 16(1):55–65

13.

Coupienne I, Fettweis G, Rubio N, Agostinis P, Piette J (2011) 5-ALA-PDT induces RIP3-dependent necrosis in glioblastoma. Photochem Photobiol Sci 10(12):1868–1878

14.

Akimoto J, Haraoka J, Aizawa K (2012) Preliminary clinical report on safety and efficacy of photodynamic therapy using talaporfin sodium for malignant gliomas. Photodiagnosis Photodyn Ther 9(2):91–99

15.

Miki Y, Akimoto J, Yokoyama S, Homma T, Tsutsumi M, Haraoka J, Hirano K, Beppu M (2013) Photodynamic therapy in combination with talaporfin sodium induces mitochondrial apoptotic cell death accompanied with necrosis in glioma cells. Biol Pharm Bull 36(2):215–221

16.

Kabeya Y, Mizushima N, Ueno T, Yamamoto A, Kirisako T, Noda T, Kominami E, Ohsumi Y, Yoshimori T (2000) LC3, a mammalian homologue of yeast Apg8p, is localized in autophagosome membranes after processing. Embo J 19(21):5720–5728

17.

Kessel DH, Price M, Reiners JJ Jr (2012) ATG7 deficiency suppresses apoptosis and cell death induced by lysosomal photodamage. Autophagy 8(9):1333–1341

18.

Iwai-Kanai E, Yuan H, Huang C, Sayen MR, Perry-Garza CN, Kim L, Gottlieb RA (2008) A method to measure cardiac autophagic flux in vivo. Autophagy 4(3):322–329

19.

Miki Y, Akimoto J, Hiranuma M, Fujiwara Y (2014) Effect of talaporfin sodium-mediated photodynamic therapy on cell death modalities in human glioblastoma T98G cells. J Toxicol Sci 39(6):821–827

20.

Wang Z, Jiang H, Chen S, Du F, Wang X (2012) The mitochondrial phosphatase PGAM5 functions at the convergence point of multiple necrotic death pathways. Cell 148(1-2):228–243

21.

Moujalled DM, Cook WD, Murphy JM, Vaux DL (2014) Necroptosis induced by RIPK3 requires MLKL but not Drp1. Cell Death Dis 5, e1086

22.

Firczuk M, Nowis D, Golab J (2011) PDT-induced inflammatory and host responses. Photochem Photobiol Sci 10(5):653–663

23.

Ogawa A, Wada T, Tedo T, Namiki T (1979) Delayed radiation necrosis of the brain. Neurol Med Chir (Tokyo) 19(4):367–372
Acknowledgments
Talaporfin sodium (NPe6) was provided by Meiji Seika Pharma Co., Ltd. (Tokyo, Japan). The semiconductor laser irradiation device was provided by Panasonic Healthcare Co., Ltd. (Ehime, Japan).
Conflict of interest
The authors declare no conflicts of interest.
About this article
Cite this article
Miki, Y., Akimoto, J., Moritake, K. et al. Photodynamic therapy using talaporfin sodium induces concentration-dependent programmed necroptosis in human glioblastoma T98G cells. Lasers Med Sci 30, 1739–1745 (2015). https://doi.org/10.1007/s10103-015-1783-9
Received:

Accepted:

Published:

Issue Date:
Keywords
Autophagy

Necroptosis

Glioma

Photodynamic therapy

Talaporfin sodium