Abstract
This review aimed to evaluate the clinical outcome of different lasers management on orthodontic pain. Cochrane Library (Issue 7, 2014) and MEDLINE (1966–2014.7) were searched to collect randomized controlled trials on lasers for orthodontic pain. Studies meeting the inclusion criteria were systematically evaluated. The Cochrane Collaboration tools RevMan5.1.7 and GRADEpro 3.6 were used in this systematic review and meta-analysis. As a result, 11 randomized controlled trials (RCTs) studying on low-level laser therapy (LLLT) for orthodontic pain control were included. Meta-analysis and risk of bias assessment were implemented using RevMan5.1.7, and level of evidence assessments was measured by GRADEpro 3.6. In the outcome of the score of the most painful day, the comparison of laser versus placebo (pain associated with tooth movement) demonstrated that LLLT reduced the pain score significantly compared with placebo groups (MD = −4.39, 95 % CI range −5.9–−2.88, P < 0.00001). In the same way, the most painful day was significantly brought forward in laser versus control group (MD = −0.42, 95 % CI range −0.74–−0.10, P = 0.009). Furthermore, the outcome of the end of pain day showed a trend of pain termination earlier in laser versus control and placebo groups, but without statistical significance (MD = −1.37, 95 % CI range −3.37–0.64, P = 0.18 and MD = −1.04, 95 % CI range −4.22–2.15, P = 0.52). However, for the reason of downgrade factors, all the GRADE level of evidences of eight comparisons for three outcomes showed a very low quality. Therefore, for the methodological shortcomings and risk of bias of RCTs included, insufficient evidence was submitted to judge whether LLLT was effective in relieving orthodontic pain. Further and more perfect researches should be done in order to recommend LLLT as a routine method for orthodontic pain.
This is a preview of subscription content, log in to check access.
Access options
Buy single article
Instant access to the full article PDF.
US$ 39.95
Price includes VAT for USA
Subscribe to journal
Immediate online access to all issues from 2019. Subscription will auto renew annually.
US$ 99
This is the net price. Taxes to be calculated in checkout.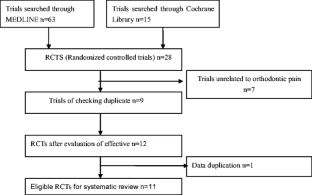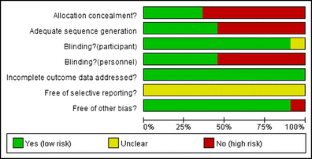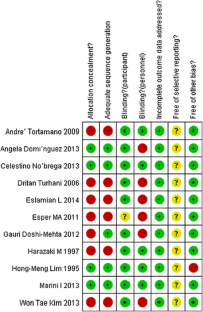 References
1.

Jones ML (1984) An investigation into the initial discomfort caused by placement of an archwire. Eur J Orthod 6(1):48–54

2.

Roth PM, Thrash WJ (1986) Effect of transcutaneous electrical nerve stimulation for controlling pain associated with orthodontic tooth movement. Am J Orthod Dentofacial Orthop 90(2):132–138

3.

Ngan P, Kess B, Wilson S (1989) Perception of discomfort by patients undergoing orthodontic treatment. Am J Orthod Dentofacial Orthop 96(1):47–53

4.

Sergl HG, Klages U, Zentner A (2000) Functional and social discomfort during orthodontic treatment: effects on compliance and prediction of patients' adaptation by personality variables. Eur J Orthod 22(3):307–315

5.

Oliver RG, Knapman Y (1985) Attitudes to orthodontic treatment. Br J Orthod 19(1):47–54

6.

Bos A, Hoogstraten J, Prahl-Andersen B (2005) Towards a comprehensive model for the study of compliance in orthodontics. Eur J Orthod 27(3):296–301

7.

Blechman AM (1998) Pain-free and mobility-free orthodontics? Am J Orthod Dentofacial Orthop 113(4):379–383

8.

Krishnan V (2007) Orthodontic pain: from causes to management—a review. Eur J Orthod 29(2):170–179

9.

Bergius M, Kiliaridis S, Berggren U (2000) Pain in orthodontics. J Orofac Orthop 61(2):125–137

10.

Polat O, Karaman AI (2005) Pain control during fixed orthodontic appliance therapy. Angle Orthod 75(2):210–215

11.

Polat O (2007) Pain and discomfort after orthodontic appointments. Semin Orthod 13(4):292–300

12.

Bondemark L, Fredriksson K, Ilros S (2004) Separation effect and perception of pain and discomfort from two types of orthodontics separators. World J Orthod 5(2):172–176

13.

Erdinç AME, Dinçer B (2004) Perception of pain during orthodontic treatment with fixed appliances. Eur J Orthod 26(1):79–85

14.

Williams OL, Bishara S (1992) Patient discomfort levels at the time of debonding: a pilot study. Am J Orthod Dentofacial Orthop 101(4):313–317

15.

Steen Law SL, Southard K, Law AS, Logan HL, Jakobsen JR (2000) An evaluation of preoperative ibuprofen for treatment of pain associated with orthodontic separator placement. Am J Orthod Dentofacial Orthop 118(6):629–635

16.

Bird SE, Williams K, Kula K (2007) Preoperative acetaminophen vs. ibuprofen for control of pain after orthodontic separator placement. Am J Orthod Dentofacial Orthop 132(4):504–510

17.

Simmons KE, Brandt M (1992) Control of orthodontic pain. J Indiana Dent Assoc 71(1):8–10

18.

Bernhardt MK, Southard KA, Batterson KD, Logan HL, Baker KA, Jakobsen JR (2001) The effect of preemptive and⁄or postoperative ibuprofen therapy for orthodontic pain. Am J Orthod Dentofacial Orthop 120(1):20–27

19.

Polat O, Karaman A, Durmus E (2005) Effects of preoperative ibuprofen and naproxen sodium on orthodontic pain. Angle Orthod 75(5):791–796

20.

Salmassian R, Oesterie L, Shellhart WC, Newman SM (2009) Comparison of the efficacy of ibuprofen and acetaminophen in controlling pain after orthodontic tooth movement. Am J Orthod Dentofacial Orthop 135(4):516–521

21.

Lim HM, Lew KK, Tay DK (1995) A clinical investigation of the efficacy of low level laser therapy in reducing orthodontic postadjustment pain. Am J Orthod Dentofacial Orthop 108(6):614–622

22.

Limpanichkul W, Godfrey K, Srisuk N, Rattanayatikul C (2006) Effects of low-level laser therapy on the rate of orthodontic tooth movement. Orthod Craniofacial Res 9(1):38–43

23.

Turhani D, Scheriau M, Kapral D, Benesch T, Jonke E, Bantleon HP (2006) Pain relief by single low-level laser irradiation in orthodontic patients undergoing fixed appliance therapy. Am J Orthod Dentofacial Orthop 130(3):371–377

24.

Tortamano A, Lenzi DC, Haddad AC, Bottino MC, Dominguez GC, Vigorito JW (2009) Low-level laser therapy for pain caused by placement of the first orthodontic archwire: a randomized clinical trial. Am J Orthod Dentofacial Orthop 136(5):662–667

25.

Youssef M, Ashkar S, Hamade E, Gutknecht N, Lampert F, Mir M (2008) The effect of low-level laser therapy during orthodontic movement: a preliminary study. Lasers Med Sci 23(1):27–33

26.

Pinheiro AJ, Cavalcanti ET, Pinheiro TI, Alves MJ, Manzi CT (1997) Low-level laser therapy in the management of disorders of the maxillofacial region. J Clin Laser Med Surg 15(4):181–183

27.

Fork RL (1971) Laser stimulation of nerve cells in aplasia. Science 171:901–908

28.

Vizi ES, Mester E, Tisza S, Mester A (1977) Acetylcholine releasing effect of laser irradiation on Auerbach=s plexus in guinea pig ileum. J Neural Transm 40(4):305–308

29.

Ponnudurai RN, Zbuzek VK, Wu WH (1987) Hypoalgesia effect of laser photostimulation shown by rat tail flick test. Acupunct Electrother Res 12(2):93–100

30.

Harazaki M, Isshiki Y (1997) Soft laser irradiation effects on pain reduction in orthodontic treatment. Bull Tokyo Dent Coll 38(4):291–295

31.

Fukui T, Harazaki M, Muraki K, Sakamoto T, Isshiki Y, Yamaguchi H (2002) The evaluation of laser irradiated pain reductive effect by occlusal force measurement. Orthod Waves 61(2):199–206

32.

Saito S, Mikikawa Y, Usui M, Mikawa M, Yamasaki K, Inoue T, Shibasaki Y (2002) Clinical application of a pressure-sensitive occlusal sheet for tooth pain—time-dependent pain associated with a multi-bracket system and the inhibition of pain by laser irradiation. Orthod Waves 61(1):31–39

33.

Genovese MD, Olivi G (2010) Use of laser technology in orthodontics: hard and soft tissue laser treatments. Eur J Paediatr Dent 11(1):44–48

34.

Koji F, Toru D, Takashi M, Akihito F, Kazuhiko K, Teruko T (2008) Clinical effect of CO2 laser in reducing pain in orthodontics. Angle Orthod 78(2):299–303

35.

Xiaoting L, Yin T, Yangxi C (2010) Interventions for pain during fixed orthodontic appliance therapy. A systematic review. Angle Orthod 80(5):925–932

36.

Angelopoulou MV, Vlachou V, Halazonetis DJ (2012) Pharmacological management of pain during orthodontic treatment: a meta-analysis. Orthod Craniofacial Res 15(2):71–83

37.

He WL, Li CJ, Liu ZP, Sun JF, Hu ZA, Yin X, Zou SJ (2013) Efficacy of low-level laser therapy in the management of orthodontic pain: a systematic review and meta-analysis. Lasers Med Sci 28(6):1581–1589

38.

Kim WT, Bayome M, Park JB, Park JH, Baek SH, Kook YA (2013) Effect of frequent laser irradiation on orthodontic pain. A single-blind randomized clinical trial. Angle Orthod 83(4):611–616

39.

Domínguez A, Velásquez SA (2013) Effect of low-level laser therapy on pain following activation of orthodontic final archwires: a randomized controlled clinical trial. Photomed Laser Surg 31(1):36–40

40.

Nóbrega C, da Silva EM, de Macedo CR (2013) Low-level laser therapy for treatment of pain associated with orthodontic elastomeric separator placement: a placebo-controlled randomized double-blind clinical trial. Photomed Laser Surg 31(1):10–16

41.

Eslamian L, Borzabadi-Farahani A, Hassanzadeh-Azhiri A, Badiee MR, Fekrazad R (2014) The effect of 810-nm low-level laser therapy on pain caused by orthodontic elastomeric separators. Lasers Med Sci 29(2):559–564

42.

Marini I, Bartolucci ML, Bortolotti F, Innocenti G, Gatto MR, Alessandri Bonetti G (2013) The effect of diode superpulsed low-level laser therapy on experimental orthodontic pain caused by elastomeric separators: a randomized controlled clinical trial. Lasers. Med Sci. May 11

43.

Lim HM, Lew KKK, Tay DKL (1994) Low level laser to control orthodontic post-adjustment pain

44.

Esper MA, Nicolau RA, Arisawa EA (2011) The effect of two phototherapy protocols on pain control in orthodontic procedure—a preliminary clinical study. Lasers Med Sci 26(5):657–663

45.

Doshi-Mehta G, Bhad-Patil WA (2012) Efficacy of low-intensity laser therapy in reducing treatment time and orthodontic pain: a clinical investigation. Am J Orthod Dentofacial Orthop 141(3):289–297

46.

Eslamian L, Borzabadi-Farahani A, Edini HZ, Badiee MR, Lynch E, Mortazavi A (2013) The analgesic effect of benzocaine mucoadhesive patches on orthodontic pain caused by elastomeric separators, a preliminary study. Acta Odontol Scand 71(5):1168–1173

47.

Turner J, Hode L (2002) Laser therapy. Clinical practice and scientific background. Prima Books, Granges berg, Sweden

48.

Brugnera A Jr (2009) Laser phototherapy in dentistry. Photom Laser Surg 27(4):533–534

49.

Huck SW, Cormier WH, Bounds WG (1975) Reading statistics and research. Harper and Row, New York

50.

Kert J, Rose L (1989) Clinical laser therapy—low-level laser therapy. Scandinavian Medical Laser Technology, Ballerup, Denmark
About this article
Cite this article
Li, F.J., Zhang, J.Y., Zeng, X.T. et al. Low-level laser therapy for orthodontic pain: a systematic review. Lasers Med Sci 30, 1789–1803 (2015). https://doi.org/10.1007/s10103-014-1661-x
Received:

Accepted:

Published:

Issue Date:
Keywords
Low-level laser therapy

Randomized clinical trials

Orthodontic pain

Systematic review