Abstract
Patients undergoing hematopoietic stem cell transplantation (HSCT) are submitted to a conditioning regimen of high-dose chemotherapy, with or without radiation therapy, which usually results in oral ulcerations and mucosal barrier breakdown. Oral mucositis (OM) is a common and debilitating toxicity side effect of autologous and allogeneic HSCT. The aim of this study was to evaluate the effect of low-level laser therapy (LLLT) on the severity of OM and inflammatory mediator (TNF-α, IL-6, IL-1β, IL-10, TGF-β, metalloproteinases, and growth factors) levels in saliva and blood of HSCT patients. Thirty patients were randomly assigned to two groups: control (n = 15) and laser (n = 15). LLLT was applied from the first day of the conditioning regimen until day 7 post-HSCT (D + 7). Saliva and blood were collected from patients on admission (AD), D-1, D + 3, D + 7, and on marrow engraftment day (ME). Clinical results showed less severe OM in the laser group (p < 0.05). The LLLT group showed increased matrix metalloproteinase 2 (MMP-2) levels in saliva on D + 7 (p = 0.04). Significant differences were also observed for IL-10 on D + 7 and on ME in blood plasma, when compared to the control group (p < 0.05). No significant differences were seen in saliva or blood for the other inflammatory mediators investigated. LLLT was clinically effective in reducing the severity of chemotherapy-induced OM in HSCT patients, and its mechanism of action does not seem to be completely linked to the modulation of pro- or anti-inflammatory cytokines, growth factors or matrix metalloproteinases.
Access options
Buy single article
Instant access to the full article PDF.
USD 39.95
Price excludes VAT (USA)
Tax calculation will be finalised during checkout.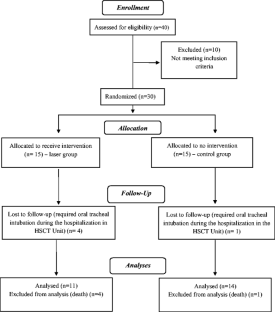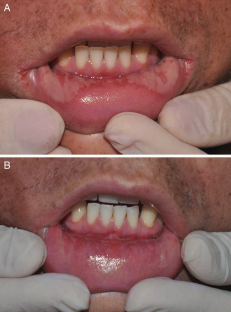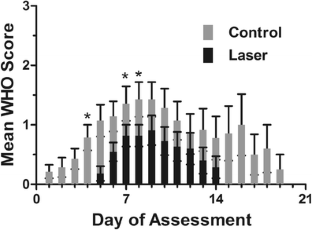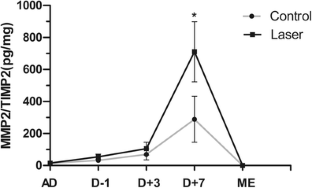 References
Papas AS, Clark RE, Martuscelli G, O'Loughlin KT, Johansen E, Miller KB (2003) A prospective, randomized trial for the prevention of mucositis in patients undergoing hematopoietic stem cell transplantation. Bone Marrow Transplant 31:705–712. doi:10.1038/sj.bmt.1703870

Scully C, Epstein JB, Sonis ST (2003) Oral mucositis: a challenging complication of radiotherapy, chemotherapy, and radiochemotherapy: part 1, pathogenesis and prophylaxis of mucositis. Head Neck 25:1057–1070. doi:10.1002/hed.10318

Sonis ST, Oster G, Fuchs H, Bellm L, Bradford WZ, Edelsberg J et al (2001) Oral mucositis and the clinical and economic outcomes of hematopoietic stem-cell transplantation. J Clin Oncol 19:2201–2205

Donnely JP, Muus P, Schattenberg A, de Witte T, Horrevorts A, De Pauw BE (1992) A scheme for daily monitoring of oral mucositis in allogeneic BMT recipients. Bone Marrow Transplant 9:409–413

Blijlevens NM, Donnelly JP, De Pauw BE (2000) Mucosal barrier injury: biology, clinical counterparts and consequences of intensive treatment for haematological malignancy: an overview. Bone Marrow Transplant 25:1269–1278. doi:10.1038/sj.bmt.1702447

Raber-Durlacher JE, Elad S, Barasch A (2010) Oral mucositis. Oral Oncol 46:425–456. doi:10.1016/j.oraloncology.2010.03.012

Vagliano L, Feraut C, Gobertto G, Trunfio A, Errico A, Campani V, Costazza G, Mega A et al (2011) Incidence and severity of oral mucositis in patients undergoing haematopoietic SCT-results of a multicentre study. Bone Marrow Transplant 46:727–732. doi:10.1038/bmt.2010.184

Qutob AF, Gue S, Revesz T, Logan RM, Keefe D (2013) Prevention of oral mucositis in children receiving cancer therapy: a systematic review and evidence-based analysis. Oral Oncol 49:102–107. doi:10.1016/j.oraloncology.2012.08.008

Elad S, Ackerstein A, Bitan M, Shapira MY, Resnick I, Gesundheit B et al (2006) A prospective, double-blind phase II study evaluating the safety and efficacy of a topical histamine gel for the prophylaxis of oral mucositis in patients post hematopoietic stem cell transplantation. Bone Marrow Transplant 37:757–762. doi:10.1038/sj.bmt.1705331

Keefe DM, Schubert M, Elting LS, Sonis ST, Epstein JB, Raber-Durlacher JE et al (2007) Updated clinical practice guidelines for the prevention and treatment of mucositis. Cancer 109:820–831. doi:10.1002/cncr.22484

Rubenstein EB, Peterson DE, Schubert M, Keefe D, McGuire D, Epstein JB et al (2004) Clinical practice guidelines for the prevention and treatment of cancer therapy-induced oral and gastrointestinal mucositis. Cancer 100:2026–2046. doi:10.1002/cncr.20163

Sonis ST (2004) The pathobiology of mucositis. Nat Rev Cancer 4:277–284. doi:10.1038/nrc1318

Amaral TMP, Campos CC, Santos TPM, Leles CR, Teixeira AL, Teixeira MM et al (2012) Effect of salivary stimulation therapies on salivary flow and chemotherapy-induced mucositis: a preliminary study. Oral Surg Oral Med Oral Pathol Oral Radiol Oral Endod 113:628–637. doi:10.1016/j.oooo.2011.10.012

Kreisler M, Christoffers AB, Al-Hah H, Willershausen B, d'Hoedt B (2002) Low level 809-nm diode laser-induced in vitro stimulation of the proliferation of human gingival fibroblast. Lasers Surg Med 30:365–369

Demidova-Rice TN, Slomatina EV, Yaroslavsky AN, Herman IM, Hamblin MR (2007) Low-level light stimulates excisional wound healing in mice. Lasers Surg Med 39:706–715. doi:10.1002/lsm.20549

Migliorati C, Hewson I, Lalla RV, Antunes HS, Estilo CL, Hodgson B et al (2013) Systematic review of laser and other light therapy for the management of oral mucositis in cancer patients. Support Care Cancer 21:333–341. doi:10.1007/s00520-012-1605-6

Logan RM, Stringer AM, Bowen JM, Gibson RJ, Sonis ST, Keefe DMK (2008) Serum levels of NFkB and proinflammatory cytokines following administration of mucotoxic drugs. Cancer Biol Ther 7:1139–1145. doi:10.4161/cbt.7.7.6207

Logan RM, Stringer AM, Bowen JM, Gibson RJ, Sonis ST, Keefe DMK (2009) Is the pathobiology of chemotherapy-induced alimentary tract mucositis influenced by the type of mucotoxic drug administered? Cancer Chemother Pharmacol 63:239–251. doi:10.1007/s00280-008-0732-8

Silva GB, Mendonça EF, Bariani C, Antunes HS, Silva MA (2011) The prevention of induced oral mucositis with low-level laser therapy in bone marrow transplantation patients: a randomized clinical trial. Photomed Laser Surg 29:27–31. doi:10.1089/pho.2009.2699

World Health Organization (1979) Handbook for reporting results of cancer treatment. Geneva World Health Organ 48:15–22

Antunes HS, de Azevedo AM, da Silva Bouzas LF, Adao CA, Pinheiro CT, Mayhe R et al (2007) Low-power laser in the prevention of induced oral mucositis in bone marrow transplantation patients: a randomized trial. Blood 109:2250–2255. doi:10.1182/blood-2006-07-035022

Corazza AV, Jorge J, Kurachi C, Bagnato VS (2007) Photobiomodulation on the angiogenesis of skin wounds in rats using different light sources. Photomed Laser Surg 25:102–106. doi:10.1089/pho.2006.2011

França CM, Núñz SC, Prates RA, Noborikawa E, Faria RM, Ribeiro MS (2009) Low-intensity red laser on the prevention and treatment of induced-oral mucositis in hamsters. J Photochem Photobiol B 94:25–31. doi:10.1016/j.jphotobiol.2008.09.006

Meirovtz A, Kuten M, Billan S, Abdah-Bortnyak R, Sharon A, Peretz T et al (2010) Cytokines levels, severity of acute mucositis and need of PEG tube installation during chemo-radiation for head and neck cancer – a prospective pilot study. Radiat Oncol 5:16. doi:10.1186/1748-717X-5-16

Lalla RV, Pilbeam CC, Walsh SJ, Sonis ST, Keefe DMK, Peterson DE (2010) Role of the cycloxygenase pathway in chemotherapy-induced oral mucositis: a pilot study. Support Care Cancer 18:95–103. doi:10.1007/s00520-009-0635-1

Morales-Rojas T, Vieira N, Morón-Medina A, Alvares CJ, Alvares A (2012) Proinflammatory cytokines during the initial phase of oral mucositis in patients with acute lymphoblastic leukaemia. Int J Paedatr Dent 22:191–196. doi:10.1111/j.1365-263X.2011.01175.x

Efron PA, Moldawer LL (2004) Cytokines and wound healing: the role of cytokine and anticytokine therapy in the repair response. J Burn Care Rehabil 25:149–160

Mateo RB, Reichner JS, Albina JE (1994) Interleukin-6 activity in wounds. Am J Physiol 266:1840–1844

Goodman L, Stein GH (1994) Basal and induced amounts of interleukin-6 mRNA decline progressive with age in human fibroblasts. J Biol Chem 269:19250–19255

Min CK, Lee WY, Min DJ, Lee DG, Kim YJ, Park YH et al (2001) The kinetics of circulating cytokines including IL-6, TNF-alpha, IL-8 and IL-10 following allogeneic hematopoietic stem cell transplantation. Bone Marrow Transplant 28:935–940

Al-dasooqui N, Gigson RJ, Bowen JM, Keefe DM (2009) Matrix metalloproteinases: key regulators in the pathogenesis of chemotherapy-induced mucositis? Cancer Chemother Pharmacol 64:1–9. doi:10.1007/s00280-009-0984-y

Manicone AM, McGuire JK (2008) Matrix metalloproteinases as modulators of inflammation. Semin Cell Dev Biol 19:34–41. doi:10.1016/j.semcdb.2007.07.003
Acknowledgments
This study was sponsored by grants from the Foundation for Research Support in the State of Goiás (FAPEG—Grant 2010102670007) and the National Council for Scientific and Technological Development (CNPq—Grant 479587/2010-8). The authors wish to thank Araújo Jorge Hospital, Goiás Cancer Combat Association, Goiânia, Brazil.
Conflict of interest
None declared.
About this article
Cite this article
Silva, G.B.L., Sacono, N.T., Othon-Leite, A.F. et al. Effect of low-level laser therapy on inflammatory mediator release during chemotherapy-induced oral mucositis: a randomized preliminary study. Lasers Med Sci 30, 117–126 (2015). https://doi.org/10.1007/s10103-014-1624-2
Received:

Accepted:

Published:

Issue Date:

DOI: https://doi.org/10.1007/s10103-014-1624-2
Keywords